New tools are developed every day to make things easier for internet users. Sometimes digital marketers and social media specialists are required to handle ten accounts, in addition to keeping an eye on hundreds of others.
Many tools offer great help for handling different social media channels – one of these being TweetDeck. If you are just getting started in social media marketing, then this article will save your day by introducing you to what you can do with TweetDeck.
What Is TweetDeck?
TweetDeck is one of the most popular social media management tools used by individuals or businesses. It currently only supports Twitter accounts, although in the past it supported Facebook and LinkedIn as well. Twitter describes it as 'your personal browser for staying in touch with what's happening now.'
TweetDeck is a browser-based tool, which means it does not require installing or downloading. It is designed specifically to facilitate managing more than one account. So its most important feature is allowing you to add an unlimited number of accounts without having to log out and switch to another one.
You can keep track of all tweets, mentions and direct messages that belong to different accounts at the same time and in the same place. You also have the choice to choose which account is the default one.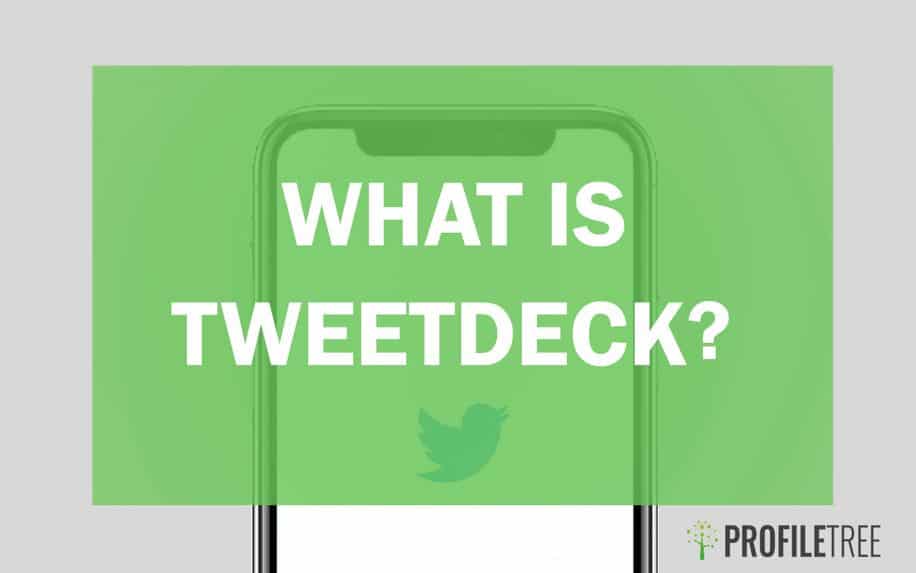 If you want to tweet, it will show all the accounts you added, so you can highlight the one you want to send your tweet from. You can also send a tweet from more than one account if you want.
How to Log In to TweetDeck
Logging into TweetDeck is simple. All you need is a Twitter account and you should be ready to go. Since it is a browser-based web tool, the second thing you need is a browser. Once you are on the browser go to tweetdeck.twitter.com and you will find a login page.
Simply sign in with your Twitter account username and password and you should be automatically taken to the TweetDeck dashboard, shown below. Not only is the social media management tool easy to use, it is also completely free to everyone.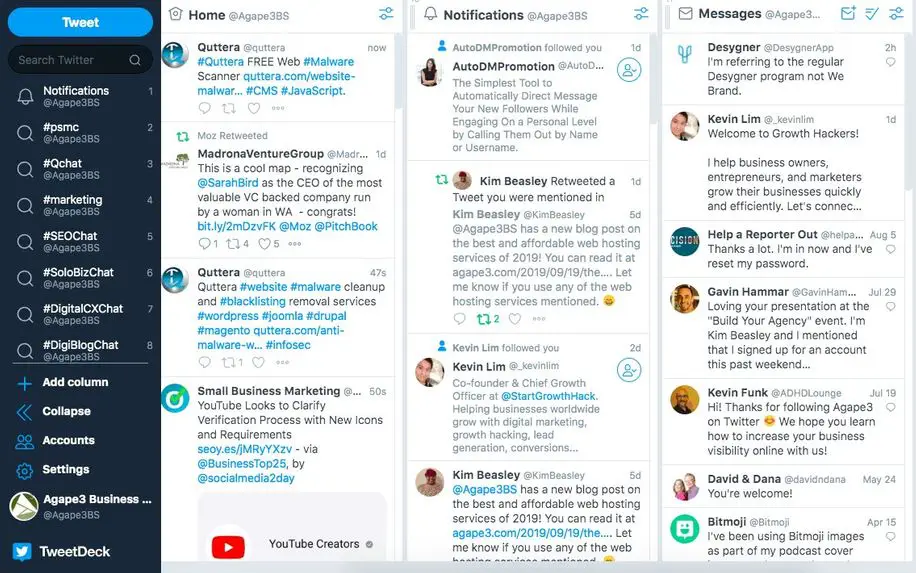 In this panel there are four individual columns: home, notifications, messages and activity. The home column is your normal tweet stream that you would see if you were on the normal Twitter browser. It will show everyone who you follow and their tweets they post.
In the notifications panel you will find all interactions. This shows if someone follows you, likes a tweet and even if someone retweets one of your tweets.
All your direct messages are shown in the next column and the last feed is activity, which shows a constant stream of all your followers actions.
To add an account to the TweetDeck, you need to go to the accounts settings in the side control panel to the left. Here you can enter details of other accounts to the TweetDeck.
You can make the first account an admin over the rest of the accounts added to TweetDeck. You can also add new members to the 'team' without sharing the passwords of the account. This is great for businesses and companies, like ProfileTree.
The TweetDeck Columns
Below are all the different types of columns you can add to your TweetDeck dashboard and they are all useful in various ways. If you have multiple accounts connected within TweetDeck, you can see columns from all accounts on your dashboard by adding single message columns for specific accounts.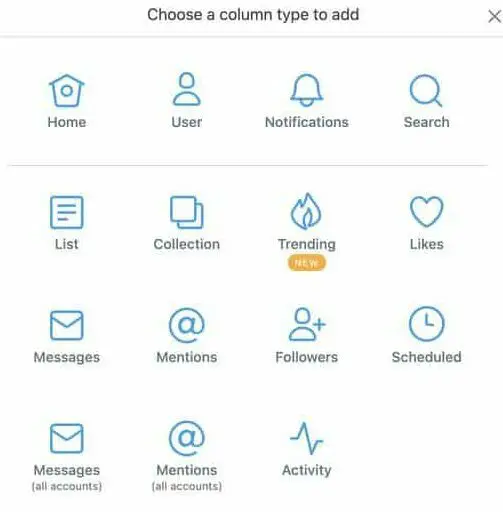 Many are straightforward to understand – the home column directs you to the timeline of your Twitter feed. All posts from others you follow etc., will be shown here.
Notifications show alerts of all new followers, retweets and likes from your posts. Others columns such as Messages, Likes, Followers and Search are pretty self-explanatory, however, some features may be new to users:
List
You can create different lists for accounts you want to keep an eye on. Whether they are accounts that belong to your competitors or ones with really good content that inspire you, you can gather them in different lists and give them names. This column will show you all tweets from people on your list so that you do not miss on any important tweet.
Collection
A collection column can be set up by you to make a timeline of tweets, hand selected by you, that you wish to share with others. You can save a timeline of memes, important articles and much more. It can be work-related, personal or just for fun.
Activity
An activity column allows you to see a full list of what happens with you and your followers/following on Twitter. It is common to see liked posts from your followers as well as retweets by followers and comments. This is where you can see what others are doing and keep up with specific accounts and their posts.
User
The user column is similar to the home column but it is an update of your own Twitter feed. All tweets and retweets from you will be shown here in order of when you posted. This stream is solely focused on your activity – pretty straightforward.
Mentions
You can choose to show tweets that have mentioned you for one specific account or for all of them. If you choose all accounts to be shown, TweetDeck automatically replies with the account that was mentioned.
Any social media manager surely knows that it is crucial to know what is said about his or her business and who is saying it. This feature allows you to keep up with the talk surrounding your business.
Scheduled
This feature allows you to schedule tweets to be sent on a specific date and at a certain time, even if you are not online. This option is particularly helpful if you manage accounts for viewers with a different time zone than yours. You can also maintain being active while you are finishing other tasks or away from your desk, helping with overall organisation.
A good piece of advice here would be to pay attention to the timing where you get the highest retweets or likes, and always schedule your tweets accordingly. You do not want to miss the timeline's golden hour.
Trending
A trending column is used to monitor the most current and popular topics talked about on Twitter. It's a great place to jump on the bandwagons of trending topics around the world. Joining in on these topics also means that your tweet could be seen by more people, especially if you use the trending hashtag.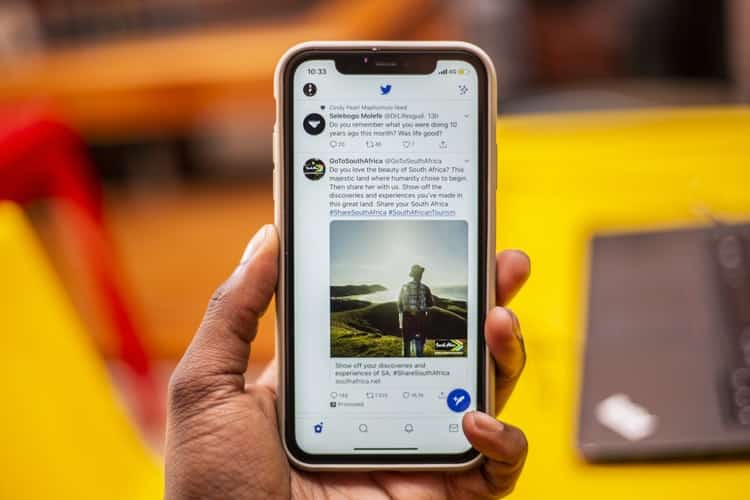 How to Add a Column to TweetDeck
On TweetDeck, you can add additional columns that show beside the four that are already there. You can add a column for messages, followers, scheduled tweets and many others. These ultimately make a users' experience on the platform a lot easier.
To add a column all you need to do is click on the plus icon at the bottom of the control panel on the left (this can be seen in the image below). You can then choose which feature you to add to your dashboard for more accessibility.
By now, you have an overview of what TweetDeck is and how it can help you run several Twitter accounts and organise them smoothly. Make the most out of the features – they are perfectly designed to give you a professional Twitter experience.
To summarise, 'what is TweetDeck?' – it's a tool which allows you to monitor different Twitter accounts with the least amount of effort. you can also check out this article for more information on Twitter monitoring and the different tools that you can use for tracking engagement.
If you are a social media manager, TweetDeck could be what you are looking for. If you are an individual business owner who is trying to brand his start-up on Twitter, the browser is also for you. Even if you are an individual who is highly active on Twitter for a cause or for promoting your blog, TweetDeck is made for you too.
For more advice or information get in touch with us here.