One of the reasons that WordPress has become such a dominant force online is how easy it makes creating and publishing high quality blog posts. Because of this, knowing how to create a post in WordPress is absolutely essential.
This is exactly what the second part of our WordPress basics series will cover.
The beauty of WordPress is that you can create a high quality, professional website with very little investment or technical know-how. However, to make the most of this, it's important to have a strong foundation in how to use WordPress.
Following on from our tutorial on setting up your WordPress site, today we're going to cover how to get started with creating your first blog posts.
Specifically, we'll cover everything from how to navigate your WordPress admin panel to find your Posts section, to how to publish your latest masterpiece. First of all though, let's answer a fundamental question about why this matters.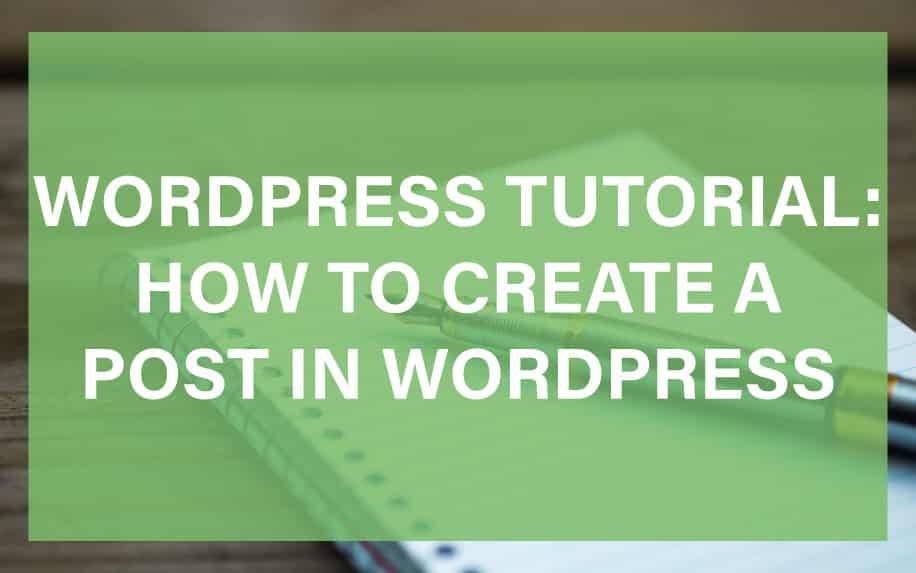 Why You Need to Create Posts in WordPress
You've likely noticed that most successful websites feature a blog of some description. This isn't simply for the writer's enjoyment. Rather, blog articles play a huge role in how your site attracts visitors, and converts them into paying customers.
Specifically, an effective content marketing strategy is one of the best ways to improve website traffic through both organic search and referrals. Once users enter your site, they're also one of the best ways to lead them along your sales funnel.
Once you have figured out your content strategy, drafted your blog posts, the final step is to add them to your site in an effective and appealing way. This includes giving your post the right attributes, formatting it the right way, and publishing it at the right time.
With that in mind, here's our step-by-step guide to creating a post in WordPress.
Step 1: Navigate to your WordPress Posts
The first step to making a post on WordPress.com is to firstly open up your WordPress control panel for your site. It should look something very similar to the below.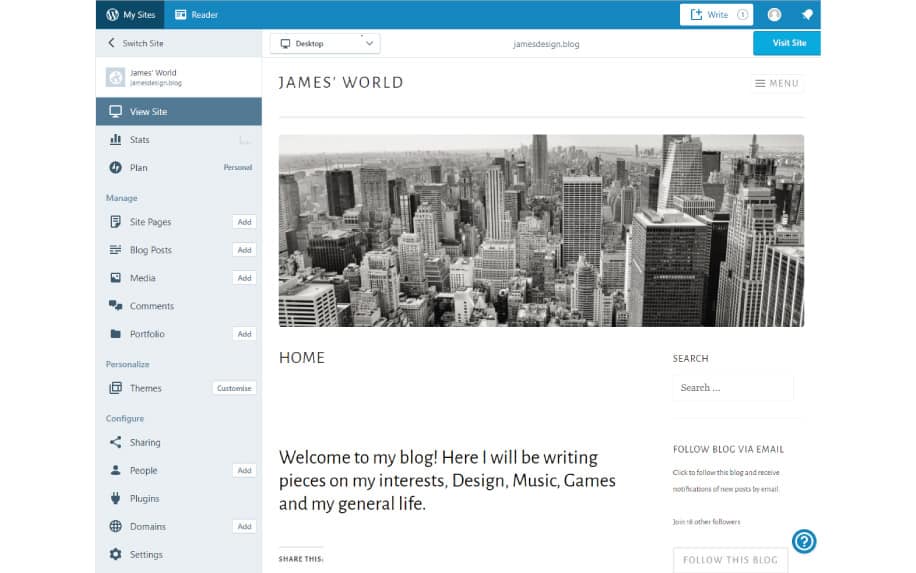 Here, you'll find all of the content which is currently published on your site's blog. This allows you to make edits to your articles, as well as check out their performance to date. It's also the portion of your admin dashboard where you can add new content to your blog.
Step 2: Add a New WordPress Post
In your Posts menu, you can then click the Add button to create a new post. Depending on your theme, this might have a slightly different name. For example, some themes may refer to the Posts section as Blog Posts, for example, if you have both a blog and a news section on your site, with separate subdomains.
Additionally, there might be some minor variations in how the Add Post button is labeled. For instance, under some themes this might simply say New. In most cases, these differences should be fairly self-explanatory.
In our example site, the posts are represented by the orange yellow in the image below. You will need to click on the add button to add a post, otherwise it will take you into all of the posts you have created already.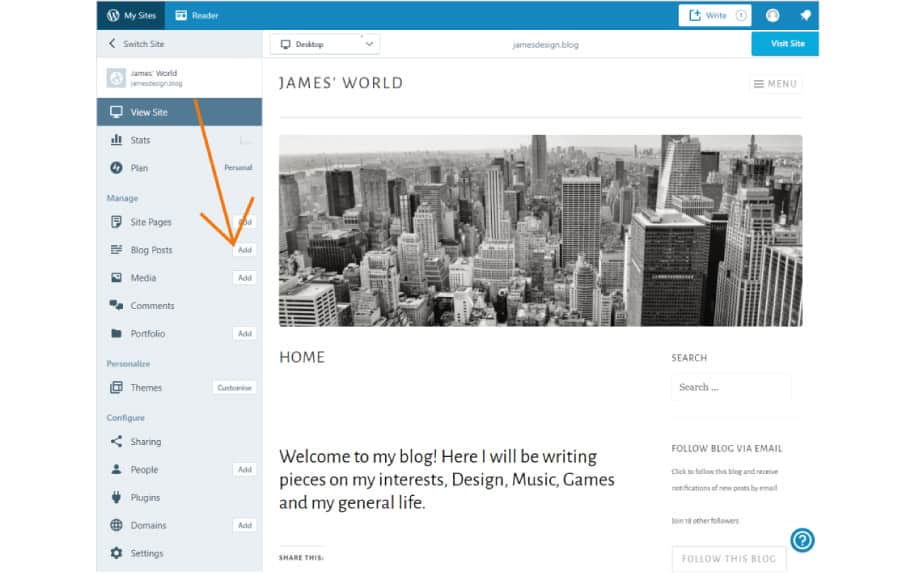 Step 3: Write a New Blog Article in WordPress
When you are to click onto the add post button. A page like the one below should be displayed. Depending on your theme and plugins this may look a little different, but again, any differences should be relatively minor.
Here you are able to write your post and give it a title.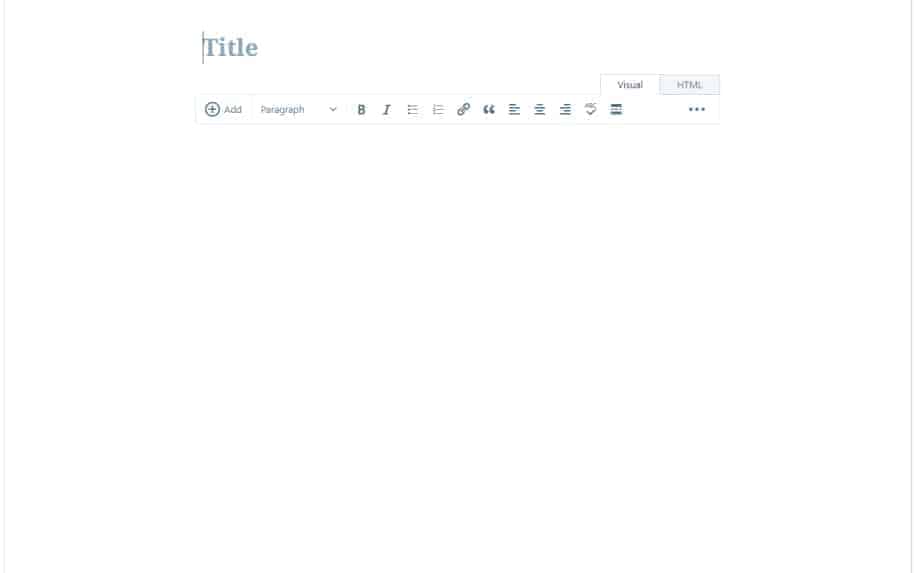 You will have access to many different text features including bold, italic and a strike-through feature, which puts a line through parts of the text. The three dots icon also offers more features and rich elements you can add to your article.
There are a number of ways to actually enter the copy for your new article into WordPress. Many people choose to simply draft their articles directly in the WordPress editor.
Some companies with more complex publication pipelines prefer to have writers draft articles outside of WordPress, and then copy and paste them into the Posts editor once all revisions have been finalised.
Step 4: Add Categories to a WordPress Post
You can also add categories, tags, and many other options to the post under post settings. To add the categories and tags to your individual posts, you will need to go to the settings button at the top bar, seen in the previous step.
Once you click the settings you will see a panel in which you can add tags, categories, a featured image and also choose if you would like the post to be automatically shared on your social media. This panel is shown below: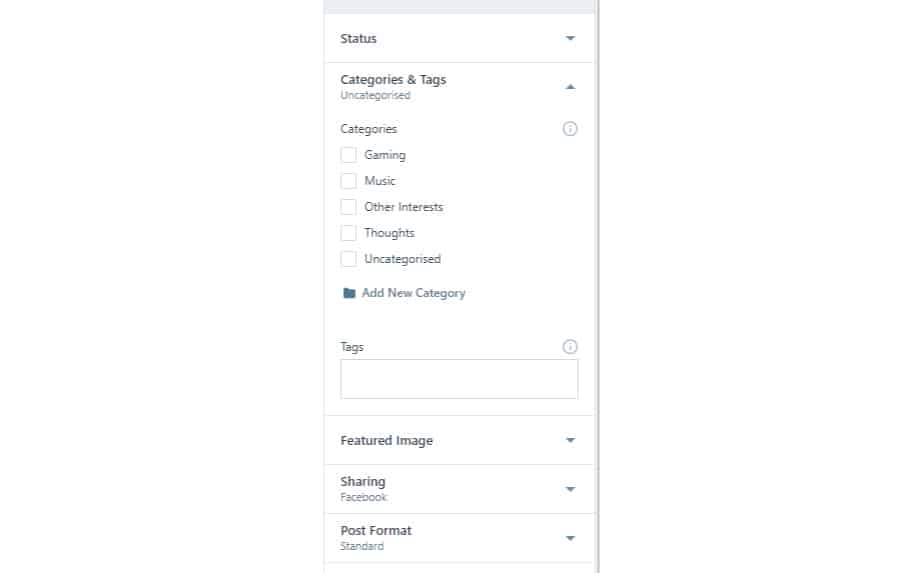 From the image above you can see the settings panel and all the options you receive with the personal plan. Here we have added multiple categories, which is very simple to do by clicking on 'Add New Category' shown above.
Categories are used to filter your posts. If you have many interests that you are talking about in your blog, it is best to sort them by categories.
This is because not everyone would be interested in gaming posts for example but could be interested in all your music posts. So this just makes it easier for your audience to find pots that interest them.
Step 5: Add a Featured Image in WordPress
The next step creating a post is to add a featured image. This is also very straightforward. In the settings panel shown in step 4, just click on the featured image button, and you will get a panel like the one below.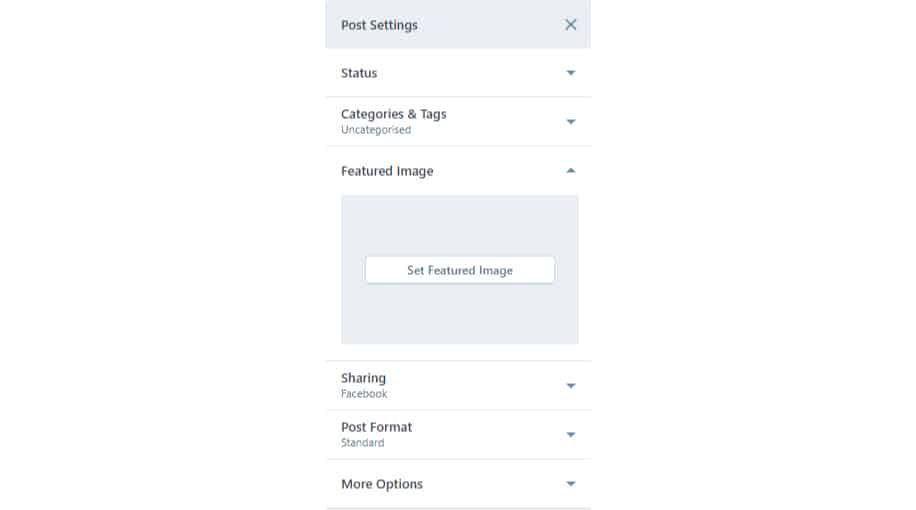 Here you'll find the section of the settings panel in which you can set a featured image. Once you are here, click on 'set featured image'. A panel will show that will allow you to choose your featured image.
Step 6: Upload or Choose a Featured Image
You'll be offered the option choosing an image which is already in your media library, as well as the chance to upload a new image. Your theme should also give you the optimal dimensions for your featured image.
This image will be used as the main image shown on shares of your post and the main image on your blog page. This is very important as your image should always be relevant to your post to draw in more readers of your post.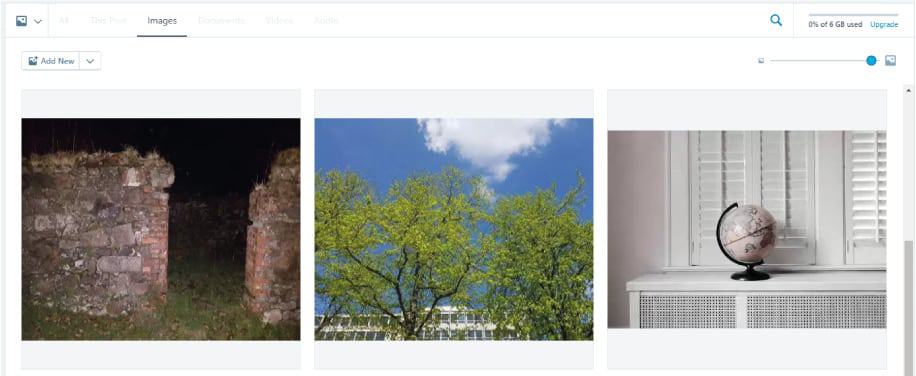 You will be shown a panel like this. You have the option to choose an existing image that is uploaded to your site or to add a new image. Most of the time you will add a new image.
Step 7: Double Check your WordPress Post
The final step before publishing your post online is to double check all the information in your post for its accuracy.
This includes your spelling, punctuation and grammar. If you find mistakes, make sure to correct them, because the more mistakes in your article, the less believable it becomes to a reader.
You may choose to use WordPress plugins to make this step easier. Specifically, many sites use an SEO plugin like Yoast to check their copy for SEO optimisation, readability and metadata issues.
Step 8: Publish your New WordPress Article
This is the final step — publishing your post. First of all, always preview your post to make sure it looks good. If the post does not fit what you would like, go back and edit it. In particular, look out for design issues relating to text size and image dimensions.
If it's good to go all you need to do is to hit the publish button.
The button is located beside the preview and settings panel button.
Alternatively, you might use the calendar function below the publish button in order to schedule your post to go live at a specific date and time. This is useful, as how the publication of your articles is timed can often impact their success.
How to Create a Post in WordPress
Creating a post in WordPress is a very simple process. Indeed, this is one of WordPress' biggest selling points. By following the above steps, just about anyone with an internet connection can publish and manage a successful blog.
Once you have published your post, it's time to relax by starting your next post. While you are writing your other post be sure to check the statistics and popularity of your post.
This is one of the fundamental skills in running a successful site. To continue building your WordPress skills, check out our next guide, dealing with how to add and edit content on the permanent pages on your site.