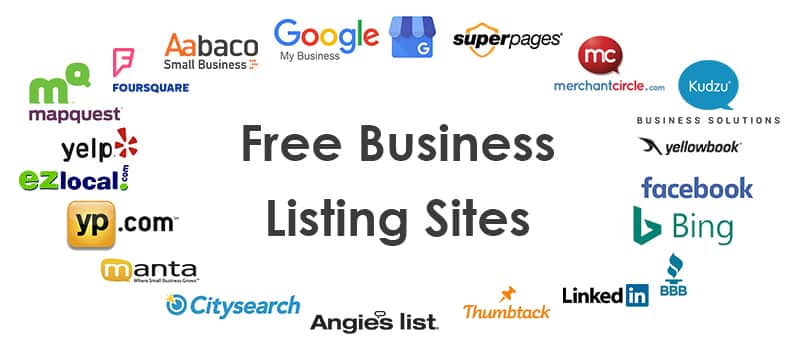 As a small business owner, you're probably focused on getting your business out there. If you don't have much experience when it comes to marketing, you may not know where to start. Fortunately, there are many tools on the Internet that will help you get started.
Not all transactions and online searches are performed on a search engine. There are also directories and social media websites that will allow you to expand the reach of your business. Whether these marketplaces are free or paid, you will find that they are helpful when it comes to advertising your business.
Should You Submit to Online Directories?
If you're new to the business world, you may be wondering whether you should submit your business and website information to relevant directories. If you want your business to be "found," this is a great move. Find a list of online directories and submit your business to these online directories. If your application ends up being successful, the online directory will serve as a source of referral traffic, leads, and customer reviews. Once you have a profile, you should take the time to update all inaccurate information. Include as much information about your business as possible. That way, you may be able to attract new consumers. Be sure that you claim ownership for your business as soon as possible so that you will be able to respond to both positive and negative reviews.
How Many Online Directories Is Enough?
There is no specific number of directories that you should aim for your business to be in. Instead of focusing on the number of online directories your business is in, you should focus on the relevancy and quality of the directories. You don't want your business to belong to low quality, spam directories. If your website is receiving backlinks from such directories, search engines like Google may penalize your website.
How to Tell Which Directories Are Reputable
There are hundreds of online directories on the Internet. Therefore, it can be difficult determining which online directories are reputable. To evaluate the reputability of an online directory, you should look up the domain authority of the website and any reviews available on the Internet. Stick to the best online directories and remember that quality trumps over quantity. Ensure that all information posted on these online directories are accurate and up-to-date.
Getting Started
If you want to start getting your business on online directories, you should navigate to the first online directory on your list and check if your company is already listed. Instead of creating a duplicate listing, you should claim control of any existing listings. Here is a list of the top free business listing sites with which you should start.
Top Free Business Listing Sites You Should Be On
Google My Business
Undoubtedly, Google is the top search engine. Therefore, it makes sense to start with Google when it comes to business listing sites. Google My Business allows you to add your business name, hours, location, and other basic details. This allows customers to see this information when they search for your business.
Bing
Bing also offers an option similar to Google My Business. However, Bing allows you to add contact information and photos of your business.
Aabaco
Yahoo runs Aabaco, which is a small business directory that allows you to add business information, market your company to your local company, and make websites.
Yelp
On Yelp, you can add the location, hours, and even the menu of your business. Many consumers use Yelp to learn more about local businesses. You can also respond to online reviews posted on Yelp about your business.
YP.com
YP.com serves as the online hub for Yellow Pages. On YP.com, you can add your location, category, business name, and other details. This allows customers to find the best businesses and service providers for their needs.
Better Business Bureau
Better Business Bureau allows consumers to look for companies in a certain area. You can also sort local businesses by BBB accreditation. If you can get BBB accreditation for your business, this will help you build rapport with your consumers.
Manta
You can create a listing for your business on Manta. Every month, Manta receives over 20 million customers. Therefore, using Manta could potentially expose your business to many people. There are also marketing tools and educational resources available on Manta.
Citysearch
You can use Citysearch to post basic business information to make it easier for consumers to find your company. There are also lists and local guides available on Citysearch to help customers find businesses and service providers.
MerchantCircle
You can add business information, respond to customer reviews, post pictures, and publish blog posts to your business page on MerchantCircle.
Angie's List
Use Angie's List to set up a free profile and add your business information. Customers can leave reviews about your products and services on your profile. You can respond to any reviews you receive on this platform.
EZlocal
Add your business to EZlocal so that you can publish your basic company information. You can also add extra information on your EZlocal profile like the payment methods your business accepts and whether you have free WiFi. EZlocal will ensure that the information you publish is added to other platforms like Bing and Google.
Kudzu
If your business offers home services and home repair, you should post a listing for your business on Kudzu. You can make a free listing for your small business or you can pay a fee to upgrade your listing. Upgrading your listing will increase the likelihood that consumers will come across your listing.
Superpages
Use Superpages to publish contact information and other basic details for your business. A profile on Superpages will make it easy for customers to get in touch with you.
Thumbtack
Thumbtack is a platform that provides customers with quotes based on their answers to a few questions. These questions allow Thumbtack to determine what customers are looking for in a professional. You can sign up for an account on Thumbtack and receive updates about the customers who want quotes.
Facebook
Not only is Facebook popular among those looking to connect with friends, family, and colleagues, but the social media website is popular among those looking for information about a business. Even though Facebook is not a business directory, you can create a business page for your company. Facebook users will be able to find your business and look up information about it.
LinkedIn
You can add basic information about your business on LinkedIn. You can also post company updates, post jobs, and publish blog posts.
Foursquare
Foursquare is a social platform that is based on your location. You can add basic business information so that potential customers can find you. You can also post promotions or offers for those who use the Foursquare app.
Whitepages
On the Whitepages platform, consumers can look up businesses, individuals, addresses, and phone numbers. Create a platform on Whitepages for your business and add your contact details and business name. That way, customers will be able to contact you and inquire about your products or services easily.
Yellowbook
Yellowbook is another online business directory where you can post the basic contact information for your business. You can also use this platform to offer deals and coupons to local customers.
USdirectory.com
USdirectory.com is similar to many online phone book sites. On this platform, you can add basic information about your business. There are also city guides on this website that consumers can use to find good businesses in their community.
MapQuest
Consumers who want to see an actual map to find a business, they can use MapQuest. Update the listing for your business on MapQuest and post basic information on your business profile.
The Business Journals
Use the Business Journals to add information about your business. The thousands of readers of BizJournals.com will be able to look up your business on this platform.
Discover Our Town
Discover Our Town is tourism, online travel, and relocation guide. Add basic information about your business on this platform. That way, tourists or people who are relocating will be able to find your business.
YellowBot
If you have a YellowBot listing, you will be able to update the name, location, and contact information of your business. You can also pay for a premium listing that allows you to have complete control over the profile of your business.
CrunchBase
While CrunchBase does not appear to be a business directory, you can use this platform to update information about your business as well as yourself. This platform is crowdsourced and receives many visitors every month.
TripAdvisor
TripAdvisor is a website intended mainly for tourists. If you own a hotel or restaurant, creating a profile for your business on TripAdvisor can be a great way to connect with your customers.
HomeAdvisor
If you are home improvement, plumbing, or remodelling professional, you can use HomeAdvisor to reach out to customers and provide basic information about your company. You can also read and respond to customer reviews.
Undoubtedly, posting a listing for your company on online business directories can be a great way to attract new customers. For more information about the top online business directories, don't hesitate to contact us.