What's the best way to deliver newspaper marketing in a changing era for print? And what can the digital revolution in the newspaper industry teach us about marketing and branding?
ProfileTree were given a great opportunity to learn from the heart of the industry when marketer John Brolly of the highly-successful Irish News took part in a far-reaching video interview.
Covering a huge range of subjects including media trends and newspaper subscription models (see full video), John began by introducing the Irish News (a Belfast-based daily): "The Irish News is…thankfully the top performing newspaper in the local newspaper market.
"We have won numerous awards in terms of our editorial content, we have a very very good Editor and a very very good team of journalists. Thankfully we seem to be satisfying the news need that's out there.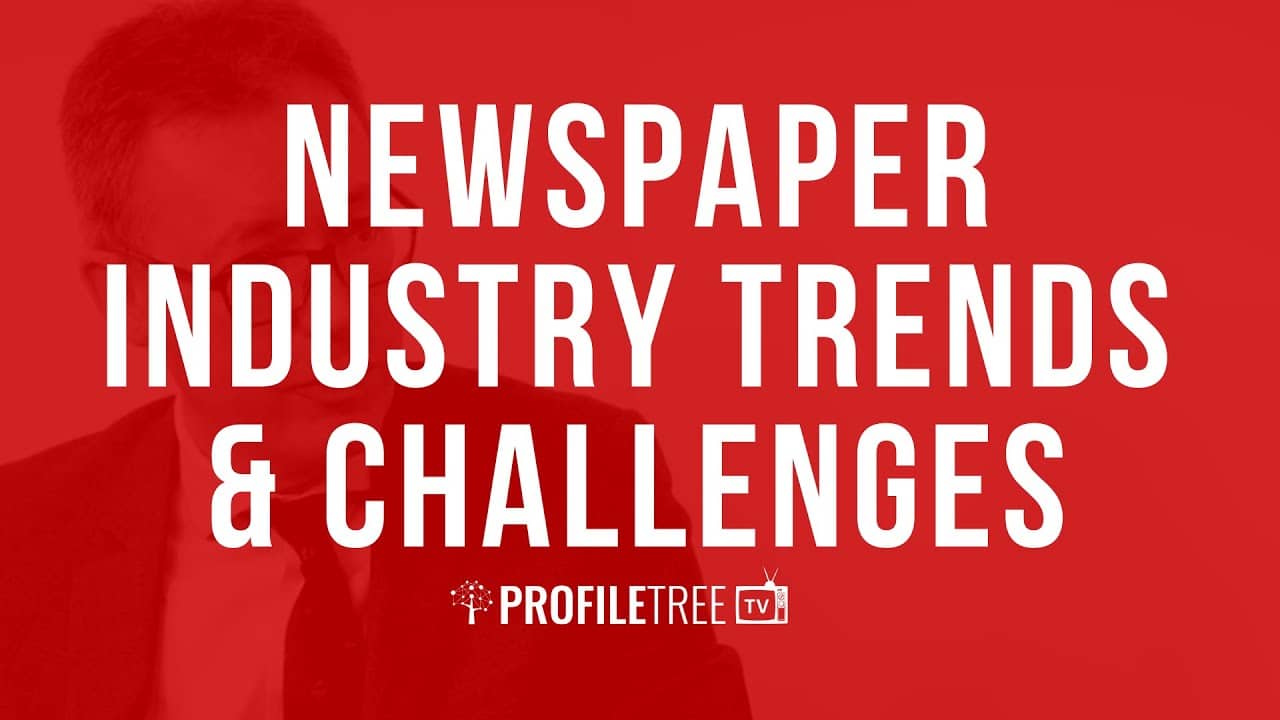 "We're a go-to product on a daily basis, and long may that continue as it is a challenging market."
John also explained his work with the newspaper: "I've been with the Irish News for 17 years and I've enjoyed it, which is why I've stayed there for so long. Previous to that I was with Diageo where I was Brand Manager for a few years, and I spent some time in the advertising industry.
"It is a very tough time but at the end of the day you just have to cater for the challenges that are out there in terms of your content and the product offerings that you are putting out.
"For us, print is very much a core part of the business and we hope that is very much so in the future. But we also have an e-paper available on a daily basis from 5am, so if people want to read us electronically on their tablet or their phone they can do that whether they are in Belfast or Dubai or Sydney.
"So, we're basically opening up now to a global audience. We have a website as well, so for some people who might not want to go for the full e-paper product we have different subscription packages."
The key? Understanding that "these days there's no one fit" for everyone.
Also, being sure to excel in a number of areas – such as sport, business and lifestyle – with the right colleagues the key to making this happen.
"It is all about the people in any business, we have an excellent team. We actually did commission a sizable piece of research in the last 12 months and the focus groups that we did in terms of our business content were really strong.
"Business within the Irish News got a revamp this year because it is the go-to area for everyone at the moment in time, there's a lot of unknowns out there as regards Brexit etc."
To find out more about this, and much more besides, click on John's video interview for a range of fascinating, specialist insights.
More Business Leader Interviews from ProfileTree TV
Business Interviews:
Two Years to £27 Million | Should Your Business be Concerned about Brexit? | The Business Mindset | Workplace Wellness | What is Company Culture? | Business Broadband NI | How to do Business Internationally? | Do you have a HR Strategy? | What is Innovation? | What is a Business Development Manager? | Importance of HR | Accounting Strategy
Different Business Types:
What is a Franchise Business? | FitzWilliam Hotel Belfast | Newspaper Marketing Trends | Discussing Product Development
Personal Development:
The 'PROVE IT' Guy | Performance Consultant and Speaker | How to Build Self-Confidence | What is NLP Therapy? | Feel Good Hypnosis
Marketing:
How to use Psychology Marketing? | What is Growth Hacking?
Technology:
Augmented Reality in Education | Why is Technology Important in Business?
Other: