In the age of the internet, digital marketing has become an essential part of how you attract and retain customers. Thanks to the wide use of the internet, you can expect to reach the world's population at a fairly low cost.
In order to properly implement digital marketing methods, it is important to understand how they work. That's why we've got you covered with the ultimate guide to help you get started.
What is Digital Marketing?
In contrast to traditional marketing, digital marketing revolves around the use of the internet to deliver your marketing efforts to audiences digitally.
Digital marketing is incredibly versatile. You can choose to target a wider, global audience or you can focus your efforts on a specific target audience.
Additionally, digital marketing is infinitely more affordable than traditional marketing ,with the added benefit of providing you with long term benefits to your business.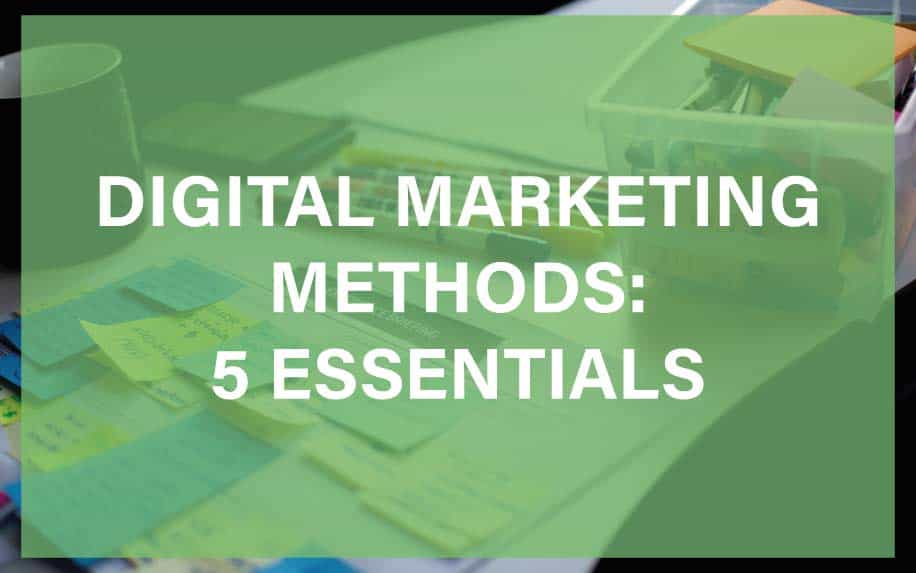 Not only will we first identify the various digital marketing channels but we will also provide you with valuable tools to get you started.
Essential Digital Marketing Methods
Traditional marketing offers physical text ads, audio commercials and even video commercials on tv.
Digital marketing has similar channels in addition to more unique ones that have added benefits such as allowing for two-way communication, viewer engagement or even creating communities around your brand.
The most common digital marketing methods are:
Display ads,
Social media,
Email marketing,
SEO and
Content marketing.
Let's take a look at each of these in turn.
Display Ads
This is perhaps the simplest digital marketing channel. Here, you can create simple banners for others to see presented on various websites that they use.
They often consist of simple text and an image to provide a minimal distraction to the viewer since you don't want it to be too intrusive.
These ads will often link to your own website which helps you direct traffic towards your business's website. Constant traffic to your website is an essential part of establishing a strong online brand.
Once you have directed traffic to your website, you can offer them the opportunity to remain up to date with your latest offers using lead magnets to gain email signups.
1. Creating your Display Ads
The first step to display ads is to create them. Thankfully, there are various online tools that can help you design them.
Bannersnack is an online tool that will allow you to create professional banner ads for your business. They offer a wide variety of templates as well as the ability to create your own ads from scratch.
Using this tool, you can be sure that your image can be brought to life. In addition to static ads, you can also animate your ads in order to make them more appealing for the viewer.
In addition to creating ads, Bannersnack also allows you to collaborate with your team on creating display ads. Your team will be able to view, comment and alter ads before they are finalized.
This will save you valuable time and will ensure that your team's creativity is not wasted.
2. Pay Per Click
Once you have designed your display ads, you'll need places to post these ads.
Thankfully, there are many companies that offer their services to simplify the process of ad placement.
The best part about it is that unlike traditional mediums, you'll only pay for customers that have clicked on your ad. Making this one of the most cost-effective advertising methods available to your business.
If you'd like to get started with PPC advertising, a good place for you to start is Google's Adwords. This is arguably the number one provider for PPC services and it will also allow you to track valuable demographic analytics about users that view your ads.
This will ultimately allow you to narrow down your target audience which can directly be translated into more sales for your business.
Google's Adwords automatically generates reports about how well your ads are doing, your audience and your most popular locations for your ads. This will allow you to be confident that your company's resources are being well utilized for furthering your online brand.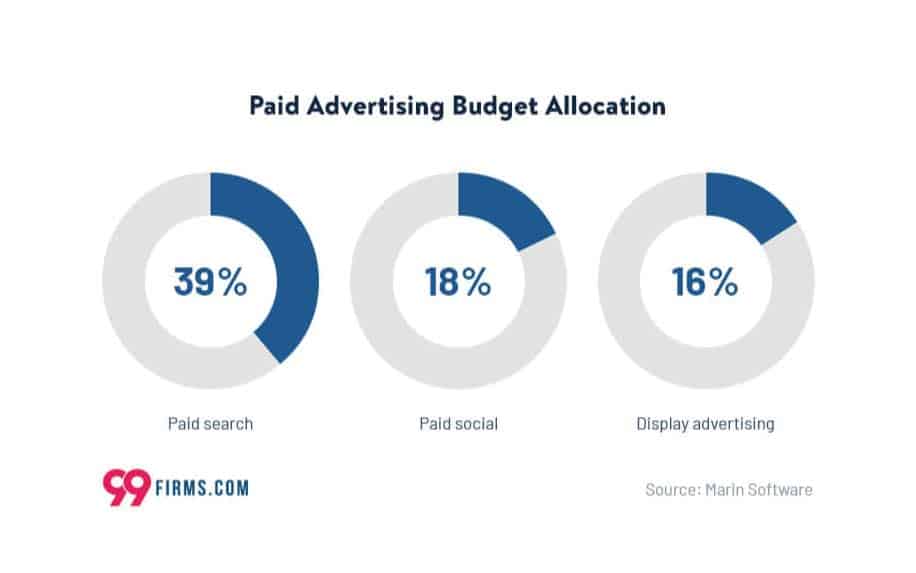 Email Marketing
Once you have established a database of potential customers, you can notify them via email about your latest offers, marketing campaigns or new products that your business offers. This is a great way to engage existing customers to maintain their loyalty to your brand.
Additionally, you can offer discounts to customers that subscribe to your emails in order to further expand your audience. If you're interested in email marketing, we've got you covered with some tools that'll help you streamline the process.
1. Creating a Database
The first thing is to create a database of individuals that are interested in your business. This can be done by funneling your advertising efforts towards your sites where you can offer them incentives to sign up for your email ads.
This can be in the form of discounts, offers or even free trials. Next, you'll need a way to create a database of all that information.
OptinMonster is a plugin for your website that will allow you to do just that. It is fairly simple and does not require any coding knowledge. However, you will be able to customize the forms to better suit the nature of your business.
Additionally, your collected data can then be imported into email marketing services to save you time and effort.
2. Sending Your Emails
Now that you have established your database, it is now time to send your email advertisements to your potential customers. Traditionally, that was a time-intensive task.
However, other online tools will automate the process for you in order to save your time and effort.
Constant Contact is an online tool that will allow you to create professional looking email advertisements fairly easily. Its appeal comes from the fact that it's incredibly easy to use while also allowing you the flexibility to create completely custom advertisements.
In addition to providing professional looking templates, they also offer mobile-friendly ones and will also track statistics about your advertisements. This will let you know the percentage of your audience that clicks on your ads as well as valuable demographics about them.
You'll also be able to customize the email according to the recipient. Small details like using the user's name can boost your chances of obtaining a new customer. Additionally, you'll also be able to schedule emails to be automatically sent out.
This can be useful to add a personal touch to your brand by wishing your customers a happy birthday or on holidays relevant to their interests.
Affiliate Marketing
Affiliate marketing involves the use of an already established audience in order to promote your products or services. This is often done on a commission basis where you pay that person a certain percentage of every sale made.
This can provide your business with a definite boost, however, you need to initially identify your target audience then find a suitable entity with a similar audience.
If you'd like to learn more about affiliate marketing, be sure to check out our guide on online affiliate marketing to better understand how it fits within your digital marketing efforts.
1. Identify Your Niche
Before you can choose an appropriate affiliate, it is important to first identify a specific demographic that you'd like to target. That way, you can ensure that the individuals being directed to your site are interested in what you have to offer.
This niche can be a certain hobby or age group or even a fan base. Once you've identified your niche, you can start doing research to find that existing audience and make a deal.
2. Affiliate Marketing Models
The best thing about digital marketing is its transparency. You can observe other's marketing models and adapt them to your business. There are many ways to implement affiliate marketing, here are some of the most popular models that have proven their effectiveness:
Cost per Sale
You may find this useful if your business sells physical goods. You pay Affiliates on finalized sales only. This is the simplest affiliate marketing model since you'll only be paying for confirmed profit.
Cost Per Action
Similar to cost per sale, this affiliate model involves paying an affiliate for each individual agreed upon action.
You only pay them when they make a viewer click on your website, sign up or make an online purchase. This model is limited to online use as it requires some form of campaign tracking to confirm the completion of the desired action.
Content Marketing
This is another essential part of digital marketing that has gained quite the popularity over the years. Content marketing revolves around creating content that attracts your target audience to your business's online presence.
This greatly compliments your other digital marketing efforts as it serves to generate more traffic for your various marketing campaigns. Here is how you can begin your journey of content marketing.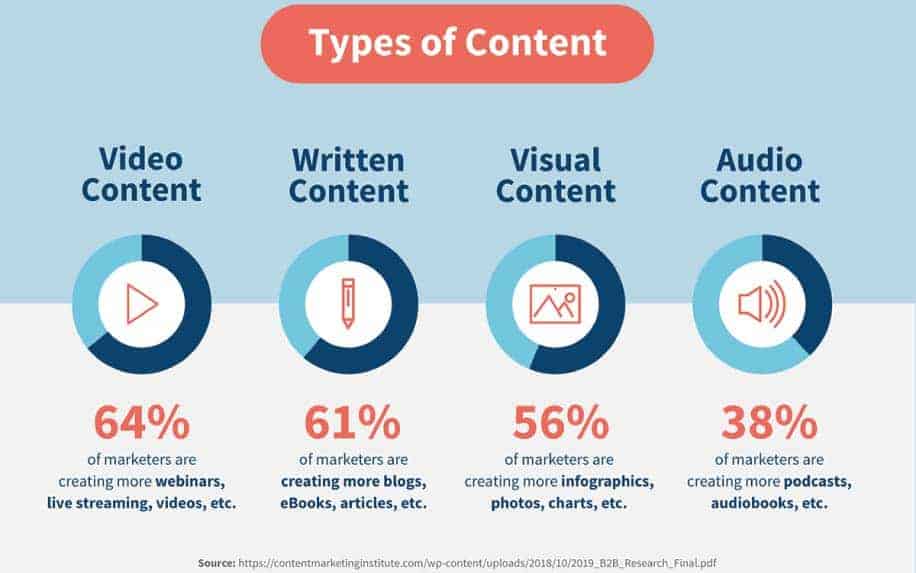 1. Keyword Research
Before you begin creating content, you need to first know what interests your audience.
You can begin by following various communities filled by your target audience. This will allow you to identify the topics of interest that are often discussed and use those topics as primary keywords for your created content.
You're looking for the best combination of high monthly searches and low competition.
You should always make sure that every piece of content revolves around a certain keyword. This will simplify the process of indexing your content and will help others reach your content more easily.
Traditionally, you'd have to manually conduct keyword research by observing social media, community forums or world news. Thankfully, there now exists online tools that will help you conduct your keyword research fairly quickly.
One of those tools is Google's keyword planner. This free online tool will allow you to easily conduct keyword research. By providing you with valuable statistics about commonly searched terms, you can find ones that are relevant to what your business has to offer.
2. Content Creation
Once you have identified the keywords that you'd like to use, now comes the time to create content around them. You can achieve this through copywriting. Copywriters are individuals that are well versed in both creating interesting content and Search Engine Optimization.
They will be able to create content that ranks well in SERPs while also capturing the interest of your potential audience. This not only generates more traffic for your business but it will also improve the customer's brand perception towards your business.
In order to fully utilize your content writers, there needs to be a system in place that helps you deliver your vision to them and helps them collaborate on their work. This is where content management systems come in place.
These tools will simplify the process of assigning and reviewing pieces of content assigned to each member of your team. They'll also be able to share their in-progress work with you in order to minimize the downtime between creation and review.
These tools are incredibly popular due to their ability to save you time. In the highly competitive global digital market, being efficient gives you a competitive edge over other businesses which ultimately lead to more sales.
If you're interested, check out our guide on free content management systems to help you get started.
Search Engine Optimization
This final part of digital marketing compliments all of the previous digital marketing efforts. Search engines are one of the biggest ways for your customers to find you. That's why it is extremely important to rank high on SERPs.
There are many rules that search engines like Google use to rank pages. By following their rules you can be confident that your business will achieve a high ranking on a results page. If you'd like to learn more about SEO, be sure to check out our ultimate SEO guide.
If you, however, are not interested in the technical aspects of SEO, we've got just the solution for you. There are several SEO agencies that'll do all the SEO work for you. These agencies are a team of professionals that have mastered the art of SEO.
By hiring a specialized SEO agency you can have all the benefits of SEO without any of the guesswork. They will be able to audit your website, implement changes and even suggest improvements to boost your rank.
You can learn more about SEO agencies in our SEO agencies guide.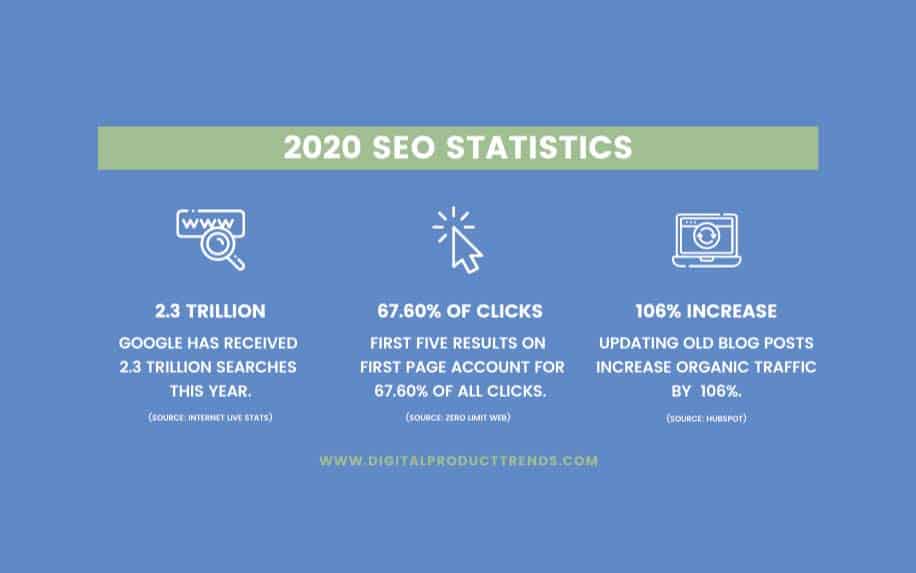 Start Using Essential Digital Marketing Methods
By reading this article, you should have identified the five major aspects of digital marketing. This should help you take the first steps in building your online digital presence.
By implementing these digital marketing techniques, you can expect to establish your brand online, increase traffic to your website and obtain a large, more global audience for your business.
If you'd like to further improve your knowledge of digital marketing, be sure to check out our guide on online marketing courses.