Why is IT support important? This modern business essential was explored during a ProfileTree video interview with business IT systems expert Scott Wilson.
Scott, of Wilson Computers, also shared some insights into choosing the right IT for your company and discussed digital data security.
He introduced himself and his business by explaining that his team offers IT support and sales to companies in the Greater Belfast area.
"We have three main types of service: firstly, technical support where we would be reacting to problems for a company.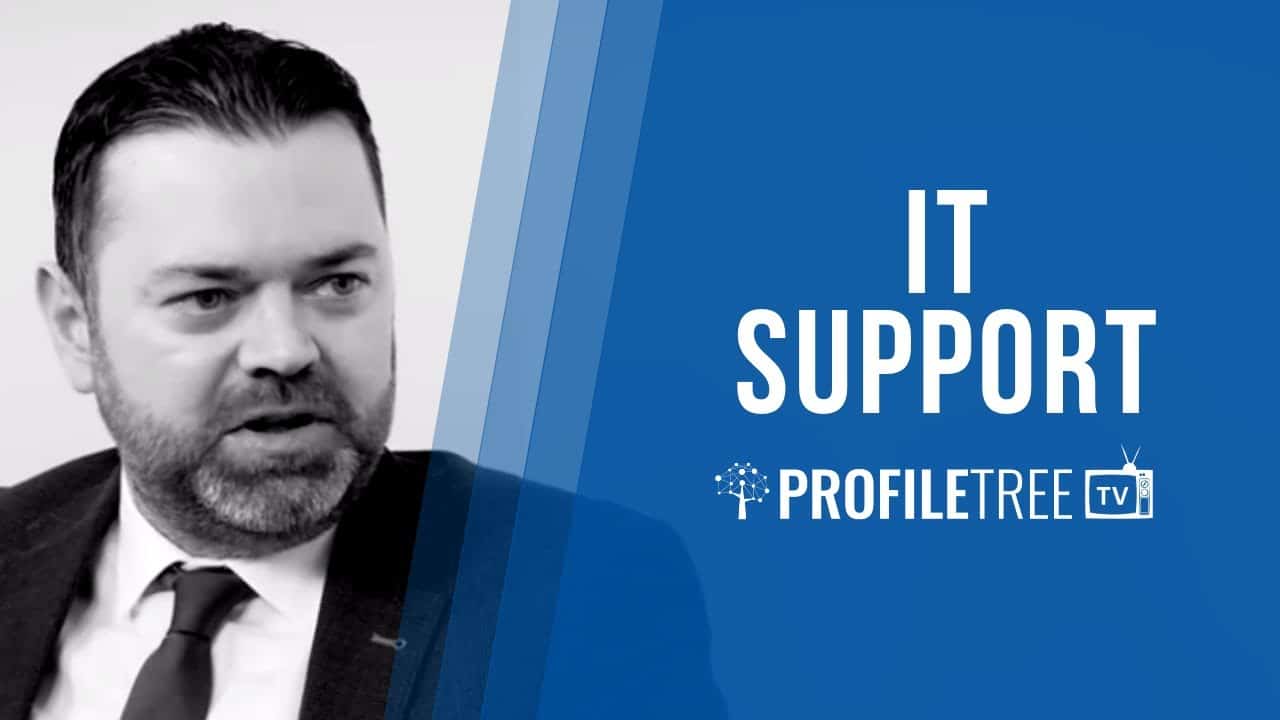 "However, we would have a more hands-on approach for our bigger clients where we can be more proactive and have software installed to detect issues before they become a problem.
"The second type of service would be hardware and software, so we would supply laptops, desktops, printers, networking equipment and servers. We can provide the infrastructure for running the systems within a business.
"Thirdly, our hosted security services include cloud back-up, providing a secure daily back-up with reports sent back to us so we can monitor for problems. There's also Office 365 which would be very popular and about as good as it gets in terms of email. It's secure, it's encrypted and it's a fantastic subscription companies can go for to give them not only the Office suite but also email."
Part of the company's work also includes dealing with the issues a business may have with their data and online security.
"Unfortunately we hear about these things after there's been a problem. With the companies where we can have a hands-on approach we have our software installed to proactively make sure such things don't happen.
"We're also giving advice about the scams and security risks but with the people we'd deal with on an ad-hoc basis we'd get calls saying 'I've transferred several thousand pounds into the wrong bank account'.
"It's really down to education as well, you could have all the systems in place but if you don't know what to look out for you you could become a victim to one of these scams. There are lots of threats out there and it's about being aware of those and having a good IT company who'll make sure your systems are protected."
During a wide-ranging interview, Scott also explored the pending arrival of 5G to Belfast and its potential effect on the business community.
"I think 5G will be very important for companies in locations where it is difficult to get fast broadband. If you have a rural business, with things being submitted online, there really is no avoiding going online now.
"For those hard to reach places 5G seems to be a fantastic solution where it wouldn't really be practical to run a fibre cable.
"For businesses in urban areas, in the short term anyway, I think it will be a case of fibre to the premises and having good wi-fi within the building to get the best possible connection. I don't think 5G is going to change that any time soon, but it is certainly interesting and who knows what it will look like in 10 or 20 years.
"It could be in the future that we don't need to have any cables going to any premises."
To discover more about these topics, and much more, see our full video interview.
Wilson Computers – WilsonComputers.co.uk
ProfileTree Business Leaders Series
Future of Car Industry | What is Sustainable Tourism | How to Create Digital Products | Online Learning for Business | Why is FDI Important | How to create a culture of Innovation | What is Augmented Reality | How to Manage a Restaurant | Do you have a Tourism Strategy | What is Conflict Resolution | Intercultural Training | How to use Mindfulness at Work | Bookkeeping for Small Businesses | How to get a Better Job | How to Start an ECommerce Business| What is Learning Technology | Could Digital Transformation Help Your Company