Converting a Traditional Business to Online sounds like the norm. But believe it or not – even businesses that first date back to the 1930s are still in the process of being fully digitised.
Without moving traditional businesses online, there is a risk of being left behind by their customers and the world as technology evolves. For launderettes, this was becoming a close call – until Ninjadry took Belfast by storm.
In this week's ProfileTree TV interview, Ciaran Connolly sits down with Louise Houliston, owner of Ninjadry, an online laundry and drycleaning service.
Throughout the interview, Louise talks about idea conception, marketing – and her plans for Ninjadry's future.
If you are contemplating taking your business to the next level and developing an online strategy, then this Business Leaders episode will be very beneficial to check out. Watch the video and read on to find out more.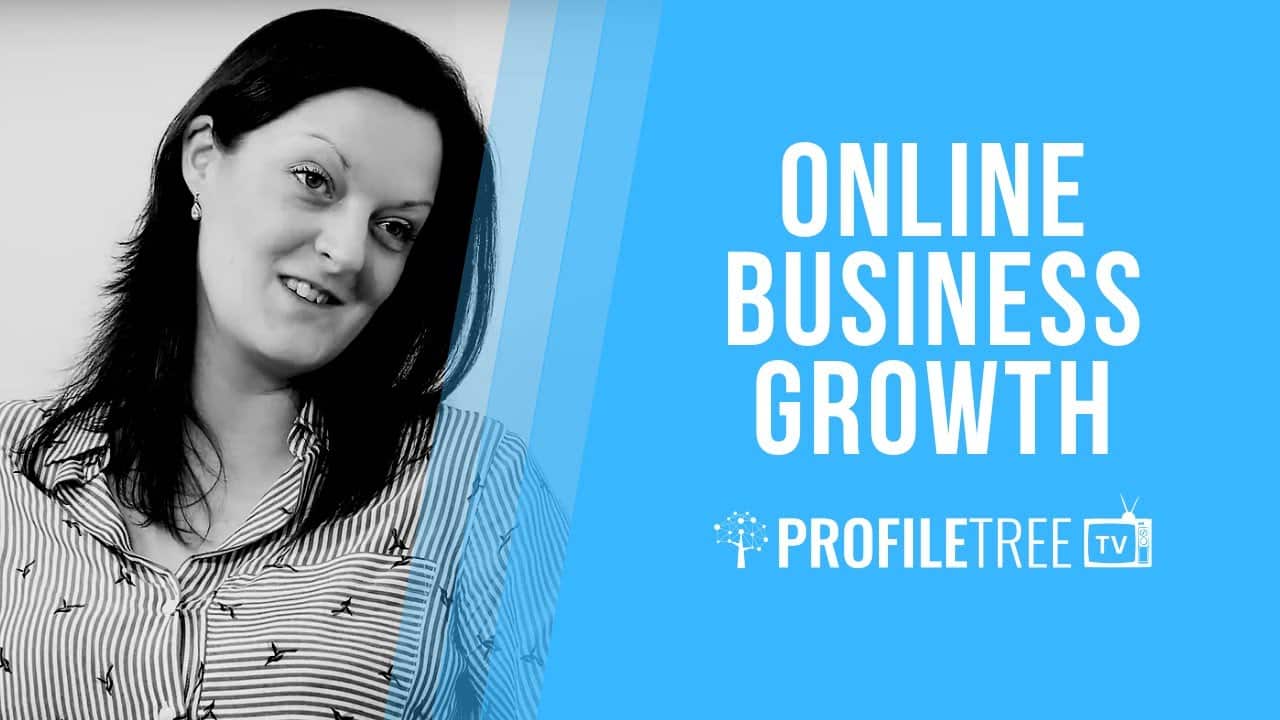 Ninjadry: From An Idea to an Industry Revolution
Louise embarked on her entrepreneurial journey after identifying a common problem and an underserved solution – as well as simply wanting more time to savour with her young family.
Speaking on how Ninjadry came to life, Louise relives her 'eureka' moment and reflects on how much her life has changed.
"I started my career as a primary school teacher in England. I taught for seven years there, was very enthusiastic and passionate about my job but made the decision when I started my family to take time out and have a career break.
"I was at home until my children were school age. Then I made the decision to go back to work and fulfil my own career aspirations.
"That's how Ninjadry was born – the concept came from me wanting to return to work and also that worry of how I was going to balance everything, spend time with my children and keep up with working life.
"In the background I worried about what would change in terms of all those mundane household chores that still need to be done with a young family. When I moved back to Belfast, I had experience in London where it would be more commonplace for services to come to the door. So this is where the idea came from."
Not only did this daily inconvenience convince Louise to take the plunge – but analysing the market and conducting market research also played a big part in Ninjadry's creation.
"We are obviously trying to break and disrupt the market – we are the only company over here at the moment with the online platform. I guess when we did our market research and analysed the market – it did feel very aged and needed that injection of modernisation and that's what we're trying to do in Belfast."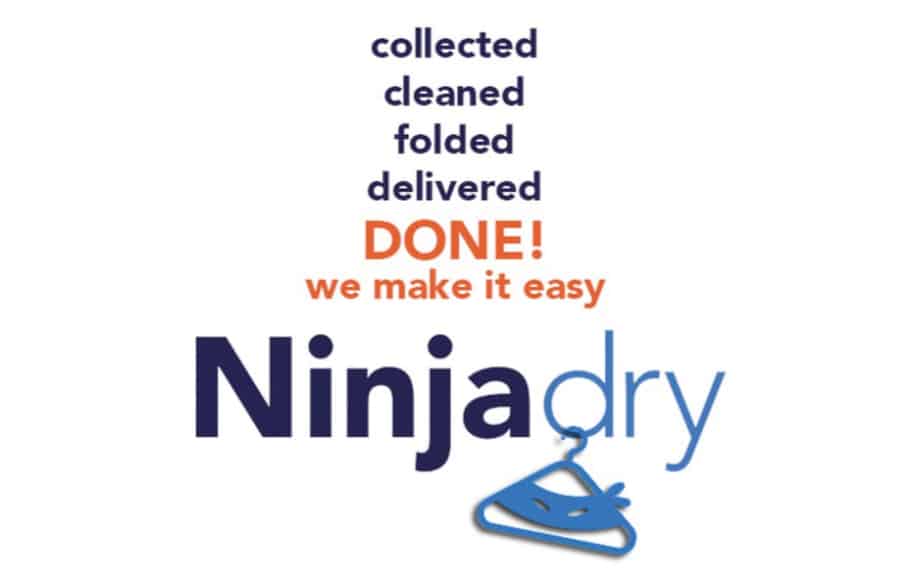 What Do Ninjadry Offer?
It may seem simple, but Ninjadry do not limit themselves when it comes to online launderette services. Talking about how Ninjadry operates, Louise explains what makes the business so unique and ahead of the curve in Belfast.
She said the way it works is: "Ninjadry has a website, customers place their orders online, a driver comes to the door – we collect the order and it is guaranteed to be returned 48 hours later. We also have four different categories for people to choose from in terms of their laundry needs, so it is specialised."
As time is a luxury these days, Louise emphasises how Ninjadry's mission is to give time back to people. With so many people online more regularly, Ninjadry addresses these factors by creating a culture around laundry service convenience and accessibility.
"Where families would spend two and a half to three hours a week on laundry chores, we at Ninjadry are trying to give that time back to the customer by creating this simple, convenient service.
"We coordinate with text messages and emails throughout the process, so customers can be informed and track their order. It is very seamless. We really pride ourselves on returning clothes immaculately and providing the best possible service."
With Ninjadry being only 14 months old – Louise's statistics prove that there is an increasing need and relief for Ninjadry's services.
"We have an 80% customer retention rate so we're thrilled about this. Ninjadry is catching on in Belfast."
Ninjadry's Marketing Techniques
Business owners and managers alike will know that oftentimes they try to wear too many hats. Not only do you need to be an organised leader – but you also need to be an innovative creative.
Louise explains how she brought her transferable teaching skills over to Ninjadry.
"I would have been creative in my career, a lot of these transferable skills have been brought over to Ninjadry. I have really enjoyed the creative side with marketing and visuals for artwork, digital marketing and every aspect to the branding."
Marketing a new product can be a difficult trial and error process. Where Ninjadry has noticed exponential traction is through online marketing.
"Marketing and sales is certainly a challenge. Just even finding those touch points where people can find us. Digital marketing and social media have been successful for getting our name out there – far more than the traditional marketing.
"We have different types of customer personas. You can find groups of different customers on different platforms. We run our Facebook, Twitter, Instagram and LinkedIn – and we have found all of that very successful in finding customers and keeping them updated with promotions and offers."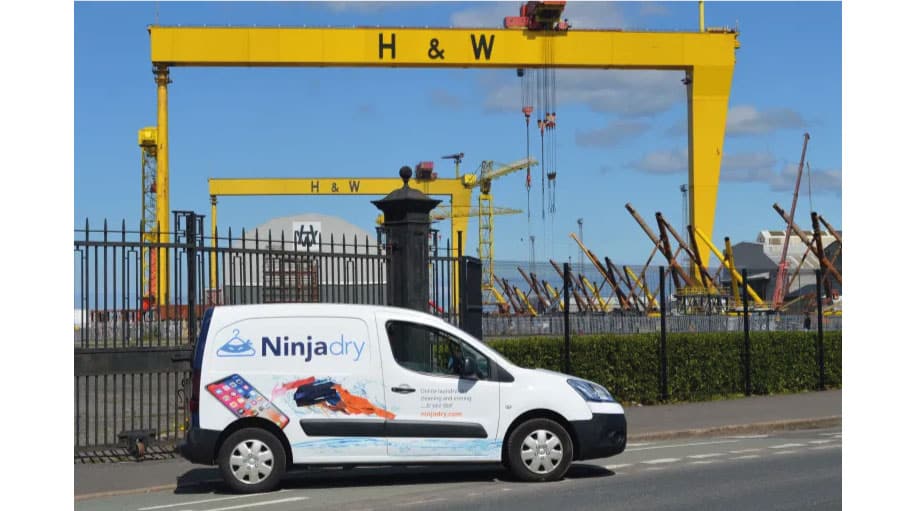 The Future of Ninjadry
While Ninjadry may have already futurised a traditional service, they are nowhere near finished yet as Louise reveals the big plans she has for Ninjadry's future.
"We have a big vision to be one of the market leaders here in Belfast. We want to tap in and create a new trend of being a standard thing for families to outsource their laundry and create that consumer habit. It's just as simple as your grocery order, your Amazon delivery – we want to be the next biggest convenient service for laundry and dry cleaning in Belfast. We have so many ideas!"
Become a Part of Our Business Leaders Series
Interested in featuring on our Business Leaders series? In our acclaimed series, we share amazing advice, tips and stories from business owners, managers and senior leaders.
From growing your business to looking after your staff, new industry insights and innovative ideas – we cover everything to inspire professionals across all sectors. If you want to become a part of it, simply drop us a message.