Insights from Consultant Jude Franks
An Australian consultant with a diverse range of experience across tourism and marketing has shared a range of fascinating insights covering both disciplines.
Jude Franks began by outlining her substantial professional expertise in the tourism sector.
"I've been involved in the tourism industry for 35 years, predominantly here in Australia and in Tasmania, which is my native home.
"Over that period of time I've worked with a lot of new projects, a lot of small businesses and been involved in ecotourism both here and as a Director of Ecotourism Australia.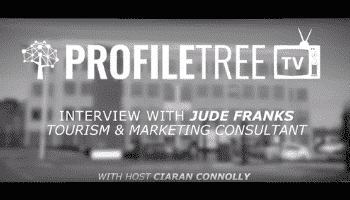 "I've also been involved in heritage and culture tourism, I'm on the board of Port Arthur Historic Site here in Tasmania and I've worked extensively throughout the rest of Australia in product development and experience development."
For Jude, who has also been involved with country branding in South-East Asia, her clients and the types of project she has worked on have been as diverse as her own career.
"It's been a really eclectic mix of connections.
"I've worked on everything from being a sole consultant working with a particular product or area or region. I've built teams and worked as a member of a teams.
"I've also worked in senior executive roles; one of my roles here, which ended up being a really market-shaping era for our state of Tasmanian, was with a group called the Federal Group.
"They were going through understanding, and creating on the ground, experiential tourism and the understanding of how you connect to people through that.
"I sit on a number of boards, both at the board table and also working as an executive member delivering projects like, at the moment in Tasmania, the Mount Wellington Cable Car.
"I often do some mentoring, which isn't part of paid consulting, because I'm very passionate about making a difference."
Jude gave an example of her work on Ecotourism and explained why this type of tourism is giving people a responsible way to access new experiences.
"I work, for example, with a highly-regarded architectural company here in Tasmania who work throughout Australia, and elsewhere, on Ecotourism and specialising in on-the-ground solutions.
"I guess the concept of eco and nature-based tourism is something that was almost super-niche previously.
"People are now drawn to being immersed in authentic experiences and being able to access areas that previously were only for those who were really prepared to make the effort."
Jude explored the risk of tourism volumes impacting on quality of experience and on the lives of local people.
"We're not just talking about profitability here, it's about ensuring that quality of life for people who need to go about their daily lives. which is one of the attractors to places that people want to engage with.
"It needs to be understood all the way from the top to the bottom that this isn't about an anti-tourist mentality, it's just about making sure that we protect every aspect of that mix.
"It's about protecting quality of life, social fabric and protecting our cultural identity as part of that. The visitor experience does suffer if we just look at mass market, it's not what we want people to experience."
Jude explained that she expects "there is significant growth in tourism" across the world.
"We really do need to be very serious about putting measures into play. We need to do it before the locals have banners saying 'go away'."
She also touched on tourism driven by film and TV location visitors, a topical subject in ProfileTree's home of Northern Ireland.
"There are some places that have benefited enormously from film tourism. The domino and multiplier effects have been shown to be incredible.
"Most places are accessible and affordable as people can travel very easily. Understanding how that is balanced is going to be a real issue for us going forwards."
To discover more expert insights from Jude Franks watch our full video interview.
Jude Franks – LinkedIn
Business Leader Interviews from ProfileTree TV
Business Insights:
Two Years to £27 Million | Should Your Business be Concerned about Brexit? | The Business Mindset | Workplace Wellness | What is Company Culture? | Business Broadband NI | How to do Business Internationally? | Do you have a HR Strategy? | What is Innovation? | What is a Business Development Manager? | Importance of HR | Accounting Strategy
Business Types:
What is a Franchise Business? | FitzWilliam Hotel Belfast | Newspaper Marketing Trends | Discussing Product Development
| Using UX in Tourism
Personal Development:
The 'PROVE IT' Guy | Performance Consultant and Speaker | How to Build Self-Confidence | What is NLP Therapy? | Feel Good Hypnosis
Marketing:
How to use Psychology Marketing?  | What is Growth Hacking?
Technology:
Augmented Reality in Education | Why is Technology Important in Business?