John Ferris Explains Ulster Bank Accelerator
Thinking of setting up a business? In the early days of your company? Discover inspiration, advice and startup support know-how through our interview with Ulster Bank business specialist John Ferris.
John, who is the bank's Entrepreneur Development Manager, works with newer businesses to help "open doors" for owners at the crucial, initial stages of their company's growth.
He explained that the Ulster Bank's Accelerator support programme attracts a wide range of companies.
"Our Accelerator isn't specific, it isn't a tech Accelerator and it isn't a FinTech accelerator. It's for any business that wants to grow and scale their business.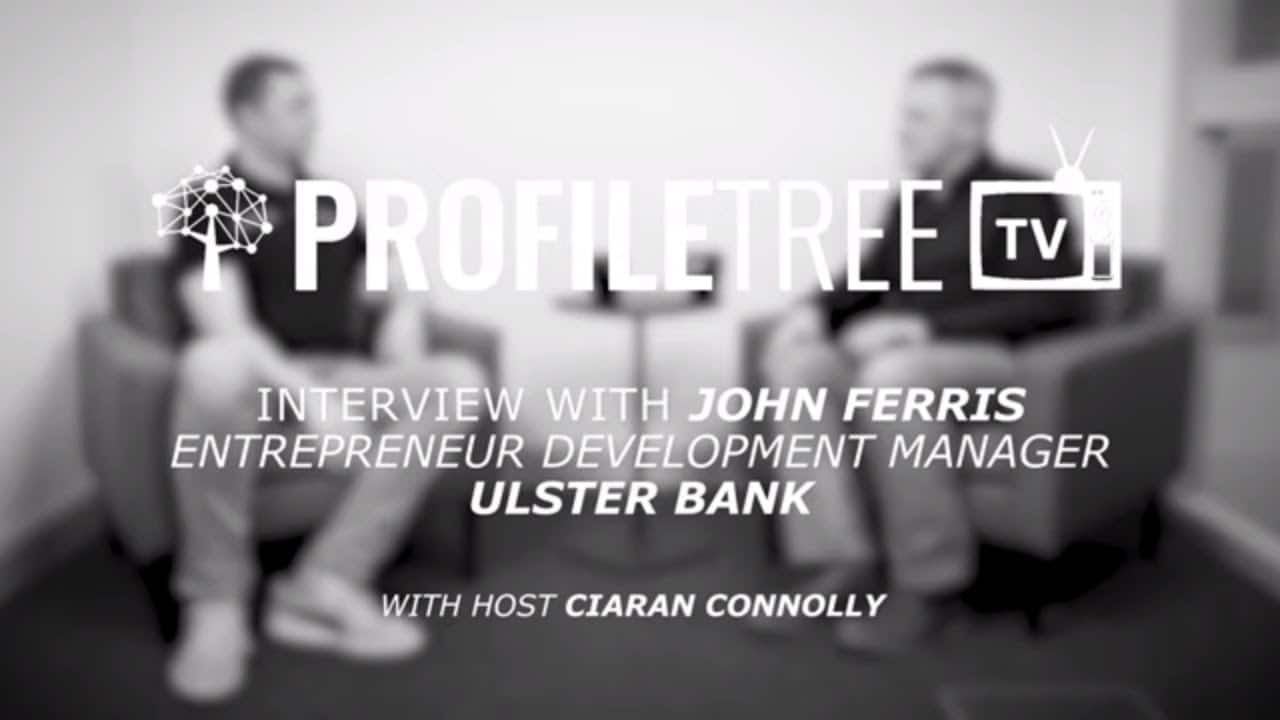 "That puts me in touch with a wide range of businesses. You don't know what's coming next and you don't know what kind of businesses you're going to get in.
"There's that massive mix of all types of businesses that we work with from food and drink businesses to the tech startups of this world. So it does keep you on your toes."
John explained how the Accelerator programme works and how it helps local businesses in Northern Ireland and beyond.
"We have an intake every six months and people will stay with us for up to 18 months. Everything we do is free.
"What we're trying to do is drive entrepreneurship. It's not about making money, it's about how we create an entrepreneurial culture here and in Cardiff, Scotland and England."
See also: How to Build a Spin-Out Company
He also outlined his own career background, outlining a "weird" route to becoming an entrepreneurship specialist!
"I started off as a coder and spent some time in Pittsburg coding for a healthcare company who had an office on the Falls Road.
"I'd been a coder from 11 years old on a Commodore 64, and went through university, but once I had a job working on it in the real world I thought to myself 'I don't like it!'.
"A newspaper asked me to come and do some graphic design for a couple of days, I took those couple of days and it turned into nearly 15 years there. I became the Editor of a newspaper on that journey.
"I think journalism gives you that insight into the everyday world, which is where I am now working with entrepreneurs. It can be radically different from one hour to the next, never mind one day to the next, so being in the newspaper industry where you experience that a lot was a good test bed for me."
After being part of the newspaper industry during what he described as an "interesting" time, due to trends such as the decline of print ad sales, John also had a chance to experience starting a business for himself.
"When I left that I went out and started a tech startup, which was equally interesting.
"It was a Wi-Fi software business, it was fun for a good couple of years but as I've noticed working with entrepreneurs if there isn't that passion and drive behind an idea it is a struggle to keep going after a while.
"After three years it was time to move on to something else."
How has this business experience translated into something John can share with fledgling businesses today?
"The one thing that brought me into this business? I'd been on the Accelerator programme previously with my own startup.
"I think as I was figuring out that it wasn't really for me, the opportunity to work with other startups seemed really exciting as I still had that entrepreneurial drive in me.
"For me, it was about getting on the other side of the table to discover what would make a startup work, what was I not doing well enough in my last business. It was getting into understanding what makes a great founder and what makes a great business."
John pointed out that his newspaper experience also helps when dealing with new businesses.
"You need to know a lot about a lot of things, which journalism helps with, because when you're going to interview someone you have to have a base level of understanding so you know what to ask them and how to question them.
"So for me, it's the same thing with Accelerator. You have to know a lot about a lot of different businesses."
Discover more insights from John by watching our full video interview.
Insights from ProfileTree Business Leaders
What is Energy Monitoring | What is Sustainable Tourism | How to Create Digital Products | Online Learning for Business | Why is FDI Important | How to Create a Culture of Innovation | What is Augmented Reality | How to Manage a Restaurant | Do you have a Tourism Strategy
What is Conflict Resolution| Intercultural Training | How to use Mindfulness at Work | Bookkeeping for Small Businesses | How to get a Better Job | How to Start an ECommerce Business|What is Learning Technology | Starting a Business| How to Scale a Business| The Importance of Financial Planning