Talking Financial Advice with Fairstone Financial Management NI
How important is planning for your retirement? And what role should financial planning play in making sure your future plans have a firm footing?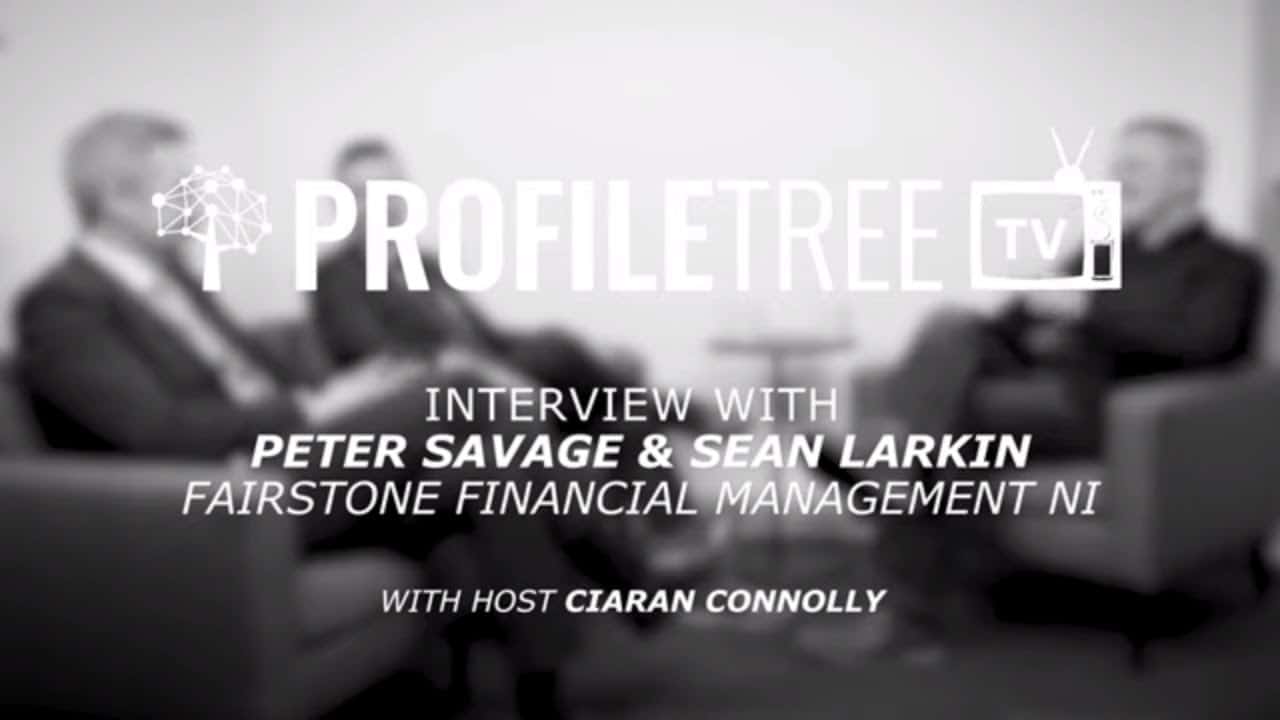 Peter Savage and Sean Larkin, of Fairstone Financial Management NI, discussed these essential topics and many more during a ProfileTree Business Leaders interview.
Peter and Sean met while working for Barclays, where they discovered they had "a different vision about how financial services should be delivered to clients".
Peter explained: "We had similar ideas about how to work with clients, there was good synergy between ourselves. Sean is very good at certain aspects, I'm maybe better at other ones.
"We thought we'd make a good team."
Around 12 years ago they formed Fairstone Financial Management NI and the company has been "going from strength to strength" since then.
Peter added: "We have been pushing our own qualifications and growing organically. Sean is extremely qualified in pretty much everything while I'm a Chartered Financial Planner.
"Back in 2017 I was awarded the Financial Times Money Market Retirement Planner of the Year."
Sean outlined the services offered by Fairstone Financial Management NI.
"We have a lot of specialists within our business so we can cover all areas of financial planning.
"I specialise in retirement and estate planning, while Peter is very much into investments and retirement, but we do have other advisors within the firm who would specialist in mortgages and deal with corporate companies and the likes of medical professionals, consultants and dentists."
He also addressed a common misconception surrounding financial planning.
"A lot of people think financial planning is about selling a product. It definitely isn't, although that might be part of the solution.
"It's fundamentally about giving people a lot of peace of mind and taking away a lot of the stress people might have about money. From our experience, it's also a good way to give people confidence to chase their financial dreams and financial goals.
"It's very much about providing people with confidence, security and peace of mind but also accountability as they know they'll be speaking to us on a regular basis.
"We can keep them on track so they can eventually be in the financial position they want to be in."
Part of the Fairstone Financial Management NI success story has been an ethos of continuing personal development.
"I think from a business perspective, if you want to be on top of your game you have to do the work.
"All of our advisors and staff develop themselves, through various qualifications, through on the job learning or through courses.
"This allows us to deliver a far better service to our existing clients and also allows us to engage with and meet other clients as well."
A constantly changing legislative and compliance climate in financial planning, and beyond, is another reason for this approach.
Sean said: "Part of the reason why we have to do lots of professional development is to ensure that we can keep abreast of all those changes and regulations.
"A lot of that can have a substantial impact on clients and on personal finance.
"One of the biggest ones was the reform to pensions, it created massive opportunities for clients within the financial planning space.
"It's important that we're aware of what those changes are and how we explain them to clients in a way they'll understand as well as, potentially, ensure that what they have is still suitable for whatever it is they want to achieve."
Peter passed on some expertise around retirement planning.
"Quite simply, the earlier you start the more you can accumulate and the easier it is at retirement as you have more choices.
"It gives me, as a financial planner, more to work with if a client has more assets. We can built a realistic financial plan for them.
"The earlier you start, the easier it is."
How early is too early?
"I would say 'as soon as'. Little and often builds up rather than trying to create these assets in the last ten years and putting yourself under pressure."
To explore more expertise from Peter and Sean see our full interview.
Fairstone Financial Management NI – www.fairstoneni.co.uk