Talking Money With Nick Lawlor
The importance of financial wellness? Find out first-hand from financial planning specialist Nick Lawlor of Dublin and Cork-based financial specialists, New Beginning.
Nick explains how the right approach to income and money can help people to stay well-prepared for a range of eventualities at every stage of life.
During a ProfileTree Business Leaders interview, Nick explored a range of topics including his own financial services ethos.
He began by recalling his career decision to move own focus away from selling financial products and towards helping customers to make the right decisions for their own circumstances.
"I've been working in the financial services industry for around 20 years now. When you enter any industry it's important to believe in the stuff that you're doing, so quite quickly I figured that everybody needs a pension and everyone needs financial stuff.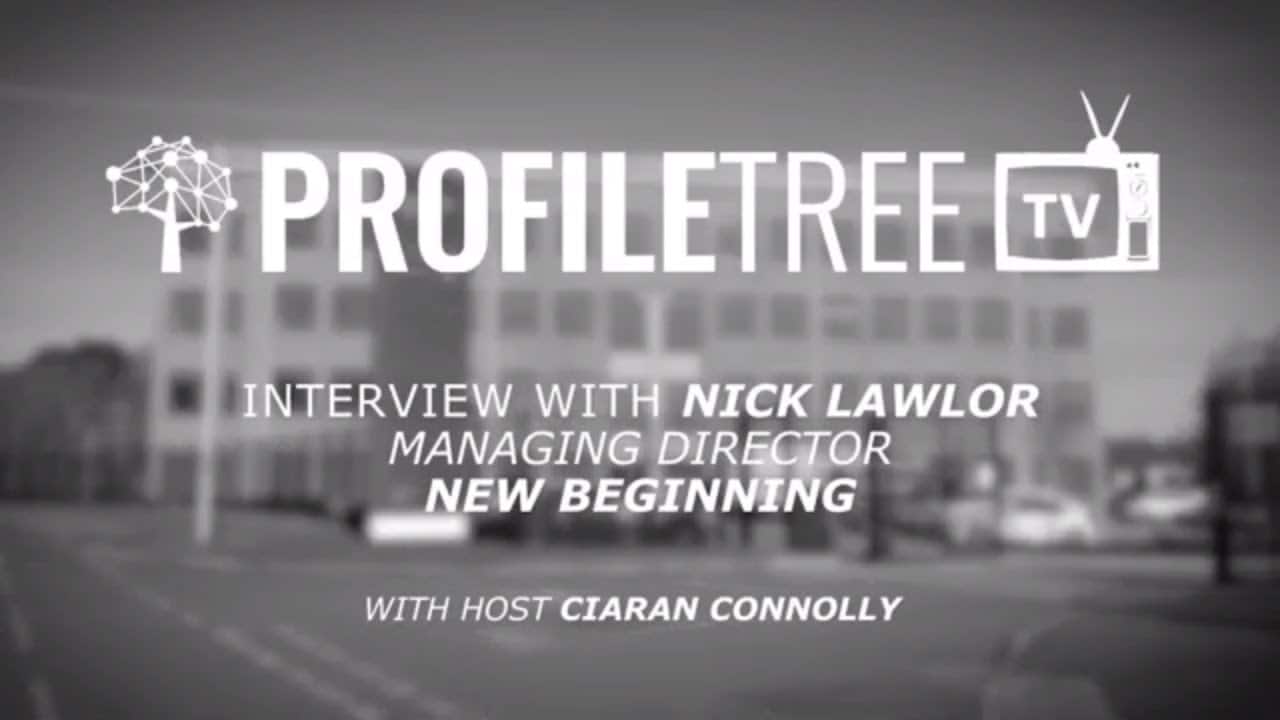 "I think where the disconnect was that the industry works on a very sales-driven basis when the reality is that people in majority of industries, whether it be a solicitor or an accountant or an architect, work for you for your fees.
"While I learnt my trade in a sales-focused company, my belief throughout that time and when I became self-employed was in genuine impartial financial planning advice.
"Not all roads need to lead to a product for a client to be better off."
Nick's approach with New Beginning is to "move the dial away away from products and onto financial planning being a service in its own right".
"Let's separate what is a product, because ultimately products are fine and people still need products, and look at what your own life goals are. What problems do people encounter over the course of their careers they aren't prepared for?".
This led to Nick developing a "no surprises" method of helping clients to plan their finances.
"Our philosophy is that you should absolutely plan for tomorrow but live for today. You should never arrive at a future financial event and be surprised by the cost of it.
"That holds true if you at arrive at your kids' education or if you arrive at retirement. Also, God forbid, if there's illness or injury how will you manage?"
How, then, should people approach retirement planning in a better way?
"I'm a big believer that 'age' and 'old' are two very different things.
"We need to change our mindset a little bit as for years people approached retirement with the view that getting to 65 was some kind of utopian solution.
"We all know someone who thinks 85 years of age is still young, conversely we all now someone who gets to 60 years of age and thinks they are old.
"Often when someone downs tools they get old quickly, so when it comes to financial planning around retirement choice is the key word because some people will want to work.
"Financial planning is allowing people to be able to make those choices."
At the other end of their careers, people starting out in work also face unique financial challenges.
"Some of our seminars speak specifically to that early career cohort.
"The reality for those people is quite simple: their salaries are probably at the lower end, in terms of where they are likely to go, and they are also faced with having great earning potential but not a huge ability to save or build up any sort of wealth in the early part of their career.
"Now they're faced with a situation where rents, specifically in Dublin, are really high. Secondly, if somebody wants to buy a property in Dublin for €350,000 they're likely to need €35,000.
"So when you're earning an entry-level salary, how do you pay rent but also save €35,000? That's a really, really difficult challenge."
This situation, Nick explained, is leading to people arriving at retirement age with mortgage debt due to waiting until later in life to buy a home.
To explore a range of financial wellness insights from Nick, see our full interview.
New Beginning also holds seminar events to share expertise on a range of subjects.
New Beginning – www.newbeginning.ie
Employee Financial Wellness – www.employeefinancialwellness.ie
The Wellness Crew – www.thewellnesscrew.ie
Insights from ProfileTree Business Leaders
What is Energy Monitoring | What is Sustainable Tourism | How to Create Digital Products | Online Learning for Business | Why is FDI Important | How to Create a Culture of Innovation | What is Augmented Reality | How to Manage a Restaurant
Do you have a Tourism Strategy | What is Conflict Resolution | Intercultural Training | How to use Mindfulness at Work | Bookkeeping for Small Businesses | How to get a Better Job | How to Start an ECommerce Business| What is Learning Technology | Starting a Business| How to Scale a Business