Ah, corporate video production! It seems a big topic, but we will simplify it for you to get started without hassle.
Corporate video content has been changing the marketing landscape. Now more than ever, everyone loves watching video marketing, and this demand continues to grow, according to many video marketing statistics.
Instead of sifting through vast chunks of information, this marketing model is easily digestible, highly engaging, and easily accessible. As a result, many businesses across each industry are taking advantage of this trend for various applications.
However, just creating a video for the sake of following the trend can't help you more. Creating a simple video to prompt a product is not enough. You need a whole content marketing strategy based on your audience, business objectives, and long-turn vision.
Now, how do you create a great corporate video that reflects your goals and objectives?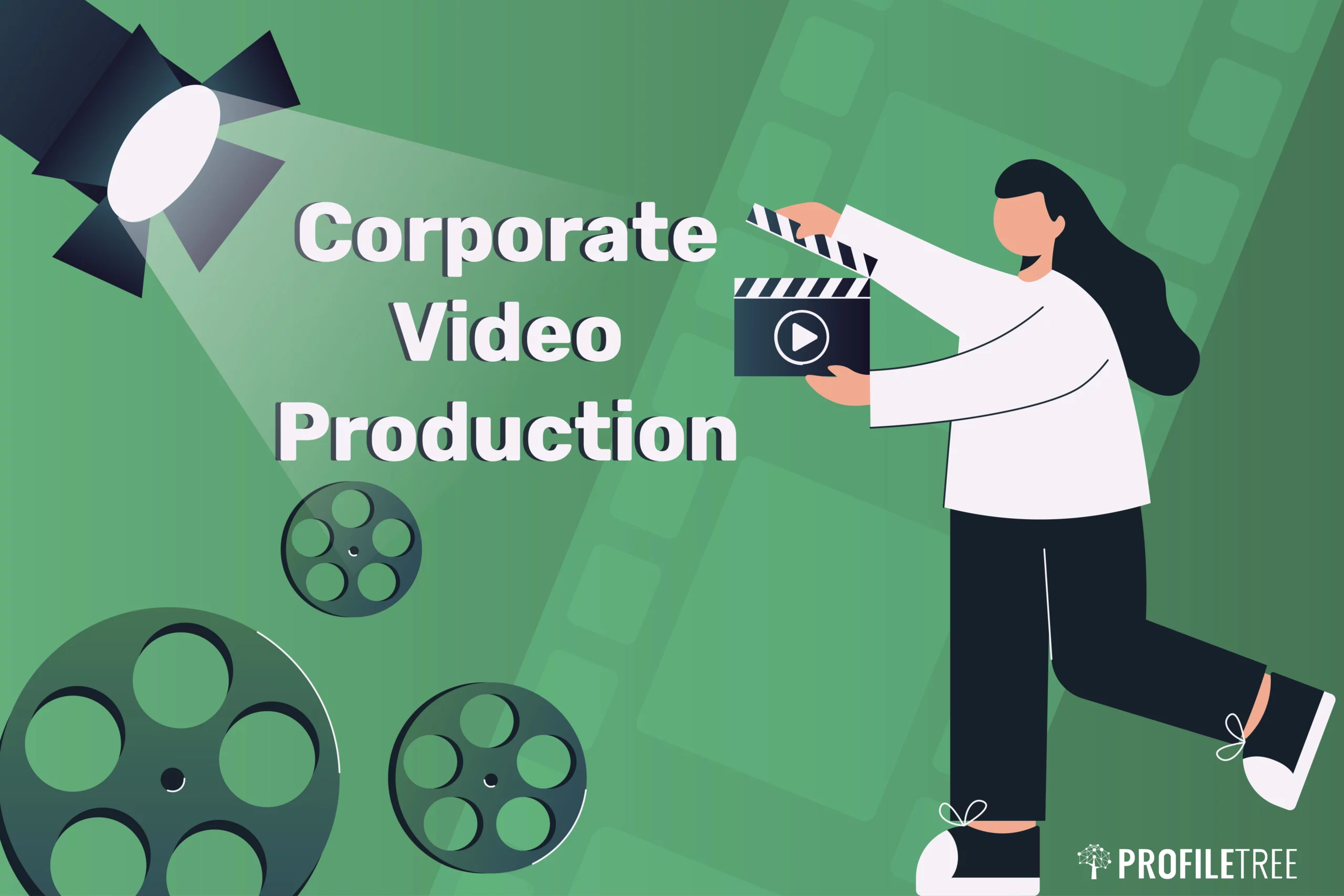 Indeed, this kind of content requires money, time, and resources to get it right, but we need to ensure you've covered all the basics.
That's why we are here for you!
By the end of this article, you can understand everything about corporate video production. Also, we will guide you to discover the best resources and tips, so your business can successfully start developing corporate videos immediately.  
Table of Contents
What Is Corporate Video Production?
In today's competitive digital world, you badly need to grab your customers' attention by creating compelling corporate videos that inspire and energise your audience, keeping them engaged and invested in what you say and offer.
That's the primary purpose of producing a corporate video.
But what does it actually mean?
Corporate video production is developing videos by the business for either external marketing purposes (ads, case studies, product demos, product launching) or internal purposes (training, recruiting, onboarding, and more).
Furthermore, corporate videos are often displayed in various business settings and for different reasons.
They can be used for:
Marketing and advertising
Communicating with employees
Explaining new producers or products or tweaking a company's image.
A business video can serve countless functions. Because of its efficacy in reaching a wide audience, corporate video production is increasingly used for business marketing and advertising. Yes, it's a powerful instrument for self-promotion, but more importantly, it can establish credibility and raise brand recognition, facilitating the development of an engaging brand identity.
Any content created by corporate comes directly under the umbrella term "corporate video production." However, successful corporate video production mainly depends on the script's quality! If you heavily invest in high-quality cameras without a meaningful message.
It's one of the areas where many companies fall short because they don't put much effort into developing a plan before filming begins.
Indeed, compelling and successful corporate video production should include three main aspects:
A well-written script outlining the company vision, purpose, and tone of the video aligned with the brand style.
An experienced crew who can translate the script from written form to a vivid image in an engaging way.
High-quality equipment (lenses, cameras, and others).
So, who can create it?
Often, a video agency such as Profiletree or an in-house videographer creates these videos. There are different types of corporate videos we will talk about later in this post.
So, what does it take to do these videos right?
It's about planning!
How to Plan for Successful Corporate Video Production
When it comes to making a compelling corporate video, the planning phase is crucial. Your defined goals are put into motion after thorough consideration and exploration of all relevant factors.
While the production process varies quite a bit based on which type of project you're willing to work on, the planning stage tends to follow the same main path.
Now, let's explore some types of cooperation videos you can create which determine how you can plan your corporate video.
Types of Corporation Videos
Corporate video production can be offered in a wide range of formats. Just check your social media accounts, TV, news, the web, and so on.
Any video you see that is related to a brand or business is essentially a corporate video. Below are a bunch of common video formats you can start with:
Marketing and Commercials
That form could be the most crucial for generating additional revenue. Commercial videos may also serve a marketing purpose, but distinguishing between the two is important. The boundaries between business video genres are porous at best.
Advertising videos used to only air on television, but today they permeate every medium imaginably. Business promotion is inherent in any corporate video; it's all about sales. Meanwhile, you can use corporate videos for only introducing a new service or product to your audience.
It starts with a problem that your target market may be experiencing and then offers a solution that can only be achieved through the use of your service or product. Some businesses excel at this by producing an original video and story, while others prefer to get right to the point. A striking pattern emerges, however, when all of the similarities are considered.
The varieties are endless. Just take your time to come up with the most suitable combination aligned with your purpose.
Product Demos and Lanches
Product promos are often live-action, displaying the product in use; sometimes, companies nail it by creating a creative module.
For instance, product demos are frequently done with an expert or a presenter explaining how a product works.
The product demos videos detail product features with infographics or text. Also, you can create short versions which will be easily turned into ads. Product launches might be live-streamed, which may prove challenging when things go wrong (We can't forget what Elon Mush made when introducing his Tesla, smashing the bulletproof window live on stage!)
The product-based video could be dull. Because of this, making content that is both useful and interesting is more difficult.
After a product has been released, it is common to see a sponsored influencer review video highlighting the product's positive qualities in an effort to increase sales.
Social Media Videos
To reach the target audience, most businesses start by building an attractive presence through social media— Facebook, YouTube, Instagram, and Twitter. Thanks to a well-laid social media strategy, they can run successful businesses and gain momentum.
The vast majority of these channels exclusively or frequently use video content within their posts. Several businesses provide live streaming of events such as product demonstrations, launches, and Q&A sessions.
Not only that, but the quality of these videos can vary widely, from professionally made films to amateur cell phone footage and beyond. Others conduct some form of advertising, but some are expanding in a natural way based on organic growth. To a greater or lesser extent, social media will be incorporated into most B2C and B2B marketing campaigns.
Showreels, brief videos that highlight a business persona through various concepts, are currently the most popular and fashionable type of social video.
How to Use a Reel for Corporate Production
It's usually around 90-180 seconds in length, featuring footage from various projects you've worked on; for example, you can use a part of an interview or show your business culture.
Many different reasons lie in creating this short format, most notably to showcase one person's talent in a company or to communicate with the audience stylishly. Organisations use these reels for brand management and other advertising or marketing communication forms.
As a business owner, you can use it as a digital portfolio to show new clients and customers what you're capable of. That gives prospects a simple way to view your work on screen and in action without redundancy.
Testimonials & Case Studies
Usually, testimonials videos are based on interviews with people to talk about their experience with a product or service, reflecting their personal views about how this product helps them end their dilemma.
These videos can be longer, between 2-3 minutes or even longer, depending on the B-roll displaying what is being talked about to illustrate the story by smoothing over cuts. Focus on what will show the essence of the product or service. That's how you build trust with your customers and keep them engaged with what you're offering!
The primary purpose is to illustrate product effectiveness through the eyes of actual customers.
Business Story
Similar to case studies marketing videos, these videos are often interview based. The only difference is that it primarily focuses on the originator or owner of a business or the CEO of a large corporate. First, however, you need to tell the company's origin story through inspiring narration.
A business story video will tell clients about your values for brand awareness and building trust in what you offer. It's the company's way to stand out and showcase who they are, why customers should choose them, what they do, and what the business stands for to build loyalty and enhance brand persona.
However, this is only part of the story! The list can go on.
You can set up corporate video production by maxing the whiteboard videos, animated explainer videos, and daily business operation videos.
Once you determine your purpose, you can create something unique that speaks to your target audience.
How Much Does it Cost For Corporate Video Production?
Now, we will get to the most frequently asked question. There is no short answer. But generally, professional corporate video production can cost anywhere between £300 – £25,000, depending on equipment, duration, and the industry.
Ads will cost you between £100 to £5000 per minute, but highly professional production for giant organisations might exceed £800,000 per minute.
Let's closely look at the different factors involved in capturing a corporate video and their expected prices.
Content/Storytelling Creation
Someone with experience in conception, storytelling, scriptwriting, message development, and video production should be contracted for this job.
Can anyone help? Find a digital marketer who is also skilled at creating videos. They usually have great storytelling skills and can make videos that exactly do what they set out to do (whether marketing or persuading an investor). It costs about $200 an hour to hire a professional storyteller.
Editor
Corporate videography teams often include video editors whose job is to optimise raw footage by adding music, voiceovers, graphics, and more for more spicy production. Makeup artistry skills are essential for a successful career as an editor. The final edit can be completely transformed by their efforts.
One who edits well is also a master storyteller with images. ‍‍Depending on their level of expertise, video editors can cost anywhere from £35 to £180.
Cameraman/Videographer
It's not hard to whip up some basic corporate videos. The camera operator may, for instance, be tasked with recording an interview.
You might need to hire a whole crew, including a videographer, director of photography, lighting specialist, and camera assistant, for high-budget, professionally produced corporate videos.
Experienced camera operators might cost between £40 – £200 per hour, depending on the project size and industry.
What if you need more affordable options?
Then, you can hire a freelancer— or you can contact us, and one of our professional marketing team will offer you a whole package for corporate video production.
Shooting Equipment
Depending on a set of requirements, the equipment cost might vary wildly. That's why it's important to know the best camera for capturing video serving your objectives before you get started.
Also, you must determine if you must invest in drone photography to capture aerial footage. Or you have to rent a track trolly or motion rig.
Also, consider other audio equipment such as a lav mic or a boom. Finally, it's worth noting that you have to figure out the lighting equipment for different scenarios.
You can hire a video production agency to handle all this for you if you don't have time for that. However, if you choose to corporate with a freelance or an in-house person, they might ask you to purchase or rent the above gear.
So, the cost can be anywhere from £20 – £85 per hour or maybe more, depending on the specific items required.
Actor/Narrator
Invest in talent within the company ranks if you're planning to produce training and onboarding videos. Otherwise, you may need to hire professional voiceover specialists or actors for marketing or animated videos.
Narrators and voiceover experts can set you back £160 – £2000 per minute. Actors will charge you more— £200 – £400.
How to Choose a Corporate Production Company
When looking for a professional video production company or digital advertising agency in the United Kingdom, you won't be at a loss for options.
Type that into Google, and you will get a tonne of results from businesses promising to create the best corporate video possible.
But how do you choose? How can you separate the wheat from the chaff?
Here's your insider guide.
Check out Their Website
That has to be your very starting point.
Business websites can tell you more about how this company can be good for you.
If their website is poor and has nothing to engage you to find out more, they are not the right option because they don't understand the core of customer engagement.
Engagement is at the heart of any video production because you need to draw people in.
So, let's test it; if you're bored within the first minute of being on their site, there is something wrong, right?
You need to answer this question loudly: what kind of video are they going to create for you?
Absolutely, something you will never be satisfied with. Because if a viewer is bored within 20 seconds of watching your video (in Instagram and TikTok, it will be less than that, just 5 seconds), then this isn't going to generate any pleasing results!
It's an early big red flag!
For people to commit to watching a video, it must have compelling content (Yes, despite cutting-edge tools for making the best video ever, "content is king" still rings true).
Everything needs to look more professional and represent your brand and business voice, from the graphics you use to filters and the transitions between each scene.
If you're trusting an agency to produce a corporate video, their website should reflect their creativity and expertise.
But what if you bounce back immediately from their website? How could you trust them to produce your corporate video?
Your ultimate goal here is to grab your audience's attention. But if this agency failed to convert you to a lead, how would you trust them?
And you don't want your prospects to have the same experience, right?
So, keep searching for another agency!
Check Their Previous Work
Choose the best company for corporate video production carefully. You should start by looking at what they've already done.
Naturally, every company will insist they are the best option and that you should use their services rather than anyone else's.
However, remember, the proof is in the pudding!
Most production companies will feature videos on their site, but it's essential you look past this. As the saying goes (actually, my manager always says that), being a good company is easier than pretending to be a good company.
Companies will use this space to show the best of their work as they know this video will be one of the first things everyone sees when visiting their website.
Don't fall for it.
Take your time to check their previous work. Plus, you can depend on these questions to help you make the best decision.
Did their videos look professional?
Have they worked in your industry before?
Which approach did they use to produce a video? (you can ask the company itself)
Moreover, a professional video production company should have a highly-qualified team that offers more than just shooting a video to ensure that your video meets the best broadcasting standards— such as writing scripts, choosing a great filming location, and coming up with different creative ideas to develop your project.
Take your time to discuss with their time to see what they are capable of producing. That will give you a complete picture of what they can generate for your business.
Also, you can go beyond this stage by searching for their work on social media. From here, you will identify how much engagement their videos received in terms of comments, likes, and shares.
Thus, this strongly indicates potential engagement for your upcoming projects and demonstrates how well the audience will resonate with your content.
Eventually, if you don't like their work quality or feel unsure about the style or tone the agency has used, then you can cross them off your corporate video production companies list.
That will help narrow your shortlist because you need to be 100% confident that this company is right for you.
Experienced Teams
You should feel comfortable with the corporate video production company you hire serving as an extension of your team. You trust them and could spend more time working together. They should be open to talking and accept making edits till you get the best outcome they promised.
Consequently, you should have trust that they have assembled a competent group capable of completing the task at hand. You should start by learning about the current team's structure, such as who handles tasks and projects, who writes the script, who you should contact with questions, and who makes the videos.
Such an agency you'd like to work with is an agency that has a customised service to offer to its clients. As this process will be continuous and consistent, the last thing you need is a company with unprofessional customer service! If you need a project manager (or maybe a team) to communicate with you directly to put you enlighten with any updates, ask for that!
Case Studies or Testimonials
In today's era of customer-centric marketing, it's important to hear from someone who has used the service in question. Consequently, that will carry much more weight. Solicit positive feedback from satisfied customers, particularly from those operating in your field of expertise.
That is because customers are not biased— when they say something is good, they mean it. They are not gaining anything from enticing you to buy a service or product. It's a genuine recommendation. If your customers have positive feedback, they will love to share.
We are all consumers of another company, so we're not daft, and we can see what we're being sold.
Therefore, reviewing case studies and consumer testimonials from previous clients is a brilliant way of demonstrating expertise.
Trust a company that urges customers to share any feedback and stories about how its products have helped them because they're confident about what they're offering and how their product fills in a market need.
A successful agency should have a section on its website dedicated to examples or case studies of its previous work. That lets you browse through projects that they have worked on and get a test of the sort of work they generate.
Pro tip: the case study should include numbers telling how the agency helped clients to achieve specific results, as this is live proof of success.
‍
Key Takeaways
Corporate video production is creating a video showing your company's vision and goals. The most important part of this process is to define the purpose of your video.
You have the world to decide the direction of your video. It can be an explainer, a short sales pitch or material to teach employees more about your company objectives.
Also, your corporate video can show information about a new product (how-it-works video) to grab attention to your offer and generate leads.
Corporate movies can be used for everything from showcasing a new product to illustrating a new business strategy.
The capacity to convey messages and create engaging content while being viewed by thousands, if not millions, of people simultaneously is a hallmark of the most effective corporate video production.
The main idea you should strive for is to remain your audience entertained with your video.
Several aspects contribute to producing a superb corporate video; the most important is the video itself.
How to do so? A bunch of methods you can approach; some companies make an inspiring message, while others allocate a higher budget for hiring skilful actors and filming a video in a desirable location.
Also, animated videos are great if you focus on telling a story rather than just displaying information.
Marketing influencers can make all the changes when creating a corporate video.
Creating a corporate video with a lot of moving parts is challenging but not impossible. When executed properly, these operational videos can have a big impact on the expansion of your brand and the success of your company.
How Can Profiletree Help You?
An award-winning video production agency that will never compromise on quality! Creating engaging videos is what we master. Whatever you want, social media videos, paid campaigns or explainer videos, we will make it for you! You will be able to demonstrate your brand with market-leading video content.
As a digital marketing agency, we create material that is specific to your business and is intended to bring customers to your mailbox. You won't have to recruit an in-house photographer, chase freelancers, or hire a full-time marketing team.
Our creative team includes photographers, motion graphics, videographers, designers, graphic designers, storytellers, planners, and strategists.
We have an experienced team well-prepared to create social-first content that will polish your brand.
Let's work together!
SEE ALSO: Automatic Video Editing Software | DJI Mini 3 Pro | DJI Osmo 4 | What is the Best Podcast Equipment? | DJI Osmo 5 | Graphic Design Essentials.