Why use a video editing tool? Video editing tools are essential to every YouTuber, filmmaker and even for most social media stars (to name only a few).
Without the right editing, the context and message of the video may not reach the viewer. Therefore these tool are very useful and also, therefore, very important.
Premiere Pro is just one of the many video editing tools you can use. It is a tool produced by Adobe and it makes video editing simple, whether you're experienced with editing or not.
The video below is a Premiere Pro tutorial for beginners. It will show how to get started with Adobe Premiere Pro and some of the basics, such as importing clips, bins, sequences, timelines, audio and workflow principles.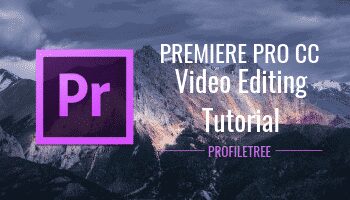 Getting Started with Premiere Pro
It is easy to get started with Abobe Premiere Pro. You first need an account for Premiere Pro. This could either be the Adobe creative cloud or an account simply just for Premiere Pro itself. Once logged into your account, you will see a tab named 'Start'.
Here is where you can start a new project, open a previous project or even open or make a new team project. For the purpose of the video, to get started, just click on 'New Project'.
When you click new project, a large number of settings will appear. Name your project appropriately and don't touch any of the other settings except the rendering device for now. Choose your graphics card if you have one, if not leave it with your CPU. Once you're satisfied click 'OK' and a new window will appear. This windows shows the Premiere Pro dashboard/work-space.
Importing Media to Premiere Pro
With Premiere Pro, it is very easy to import media into your edit. When you're in the work-space, you will see a number of different windows. These are all named source, program, project and timeline. Usually the project tab is opened in the bottom left of the work-space. This is the place where you can import media into your work-space. All the windows can be moved accordingly to you.
Once you've found the right tab, all you need to do is right click on the tab. A list of options will appear, and you will see 'import'. Click on 'import' and your documents window should appear. Find the right documents you want to import. Alternatively if you have the documents ready to be imported, you can also drag and drop them from a documents window, into the projects tab.
You can also click on the tab, and a window with files should popup. Once in your documents, you can choose a single file, multiple files or even a folder to import. As soon as you import, bins will be created.
What are Premiere Pro Bins?
If you have imported a folder in your work-space, Premiere Pro will have automatically created a folder within the projects. Double click on the folder and bins will appear.
Bins are a great tool within Premiere Pro as they help organise your files within your work-space. You can create new bins within the projects by right clicking in the projects. This is similar to 'how to import'. A new bin will appear within the projects. You can name this bin.
Many people create bins for different types of files. For instance you can have a bin for music, a bin for sound effects and a bin for different shoots. Bins are ideal for bigger projects and larger style videos.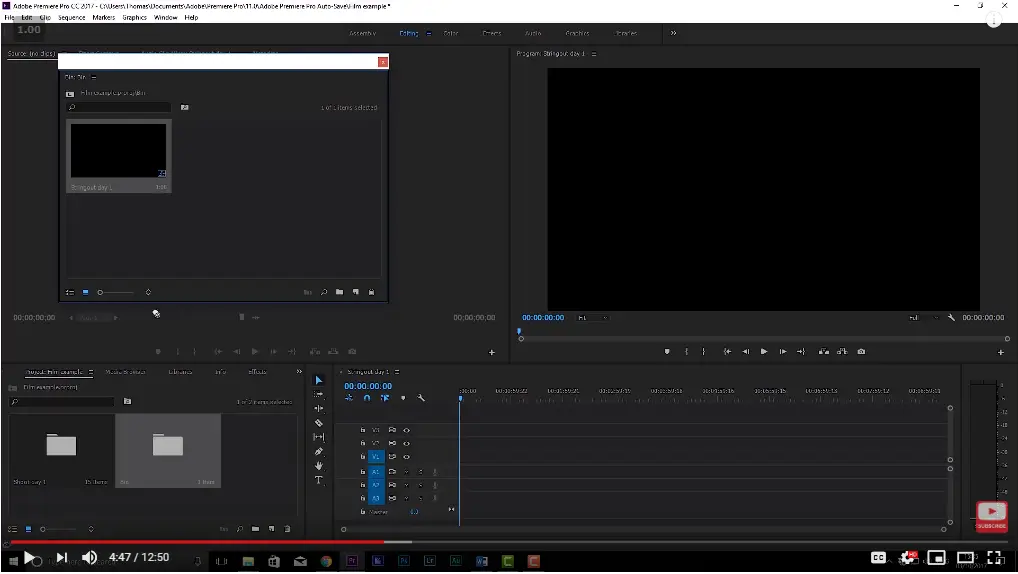 Timelines and Sequences in Premiere Pro
To start creating a new sequence on Premiere Pro, all you need to do, is go to file, new, then sequence. It is also ctrl + nas a keyboard shortcut. The new sequence window should appear.
The first step to creating your sequence is to choose the correct preset. The preset is the camera you've used to shoot the video. Most film makers use a DSLR at 24 frames per second. Just double check which camera you've used. Re-name your sequence appropriately and click OK. This will create your timeline.
Your timeline will then show in a bin created. You can drag and drop the timeline into the projects, so you can easily change between timelines and folders. This makes it easier to re-open if you ever close the timeline down.
Within the timeline, you can see all the different video and audio layers. You can also navigate through the timeline using the blue lined arrow.
How to Sync Audio in Premiere Pro
The first step to syncing audio, is importing the audio files you need, into your Premiere Pro. Once you've uploaded the audio, drag and drop the appropriate file into your timeline.
To sync sound, find the right part of your timeline where the audio peaks. Match up the sound-waves of the audio with the audio from the video layer. To get more accurate syncing, right click on the timeline and click, 'show audio time units'.
To delete the video audio, unlink the video audio with the audio layer. You will see a list of options, click un-link. You can now delete the video audio layers. You can then match the audio with the video by clicking on both layers together, by clicking and using shift. Right click on the layers and you will see the a similar list of options to before and click link.
Previewing and Adding Another Video in Premiere Pro
To preview your files within Premiere Pro, head to your files within the bins. Double click on the file you wish to preview. It will show in the source window.
If the video you have previewed is the video you wanted, you can then add it to your timeline or take clips from it to add to your timeline. To take a clip from the video, you will need to create an in and out point.
To take a clip, go to the start point of the clip you want and click on the 'mark in' icon. Or click I on the keyboard. You will then need to make an out point. Let the video continue on to the point you wish to end the clip. Click on the 'mark out' icon, alternatively click O on the keyboard.
You can then drag the clip to your timeline and add. You also have the option to only drag the video of the clip or just the audio.
Summary: Your Next Steps with Premiere Pro?
Overall in this video you will have gained knowledge on the basics of how to use Premiere Pro. This includes how to upload files and how to use them appropriately within Premiere Pro.
To learn more about Premiere Pro, we have a range of tutorials. Find them on our YouTube or in our blog.
Want to learn more from Adobe?
Colour Grading and Masking – Using Timeline and Workflow – Transitions, Titles and Effects – Colour Grading and Correcting – How to Render and Export