The Instagram algorithm is constantly changing and making it difficult for marketers to keep up. In order to avoid scrambling, it is important to stay up-to-date with the app's algorithm and stay ahead of the game. How can you make the algorithm work for your brand and continue to drive engagement and gain followers? Check out these 8 strategies to beat Instagram's algorithm.
How Does Instagram's Algorithm Work?
In 2016, the Instagram algorithm changed from a reverse-chronological order to a more sophisticated and personalised algorithm similar to the one Facebook uses. This
algorithm
instead prioritises posts that are timely, recent, and relevant to the interest of the user. Instagram has since specified its algorithm, giving marketers six key signals to focus on. These are:
Interest: A user's interest in new content is based on their engagement with content of similar topics.
Timeliness: New posts are prioritised over older ones.
Relationship: Content from accounts that the user follows and interacts with are prioritised.
Frequency: How often users use Instagram affects what content will be at the top of their feed.
Following: The number of accounts a user follows impacts what content they see on their feed. If they follow a lot of accounts, they will see less content from each account.
Usage: Users who spend more time scrolling through their feed are more likely to see posts that the Instagram algorithm pushes for them.
Once you understand these six signals, you can begin breaking down how to hack Instagram's algorithm.
8 Strategies To Beat the Instagram Algorithm
Although there isn't a perfect strategy for gaming the Instagram algorithm, growing your reach and engagement is easily achievable thanks to what we do know about what Instagram prioritises. In order to guarantee that your audience will see your content, make sure to use these tried and true strategies.
Up Your Image Quality
While this may seem obvious, Instagram has directly stated that better content leads to ranking higher in your audience's feeds. The question is: what is good content? It depends on the user. No matter what content you're posting, it is good practise to share images that are visually appealing and capture your audience's attention. Try posting beautiful sceneries or using bold colours. These kinds of things are what makes someone stop scrolling and like your photo. Even if you're in a "boring" industry, you should be using these tactics to make your content pop! If you're struggling with ideas, check out some of your competitors' pages, and try using editing apps to give your photos a professional look.
Post Consistent Stories
Although stories do not influence the Instagram algorithm, they are still very powerful for marketing on the platform. Stories are located at the top of your follower's feeds, which can put you front and center as soon as they open the app. If they're seeing your content first, your brand will be on their mind.
Push More Video Content
Even though Instagram does not directly prioritise video content over photos, there's no denying that video is just as, if not more, important. Video content is uniquely eye-catching for audiences because video automatically begins playing as they scroll past the post. This alone can make video content better than images at making consumers stop and look at your content. If you're looking into adding more video content to your strategy, Instagram is already one step ahead of you. The platform has continuously been adding new video features such as
IGTV
and
Reels
, which can appear in the general feed and on their own tabs within your profile. Although creating video content may sound like a very time consuming process, it actually can be quite simple. While branded commercial ads need to be more professional and well edited, many audiences strongly prefer amateur looking content. It makes brands feel more human and relatable.
Go Live
Just like Stories, Lives don't specifically impact the Instagram algorithm. However, the feature still has many benefits. When you host an Instagram Live, notifications can be sent out to your followers to invite them to join the audience. Even if they don't get the notification, Lives are shown at the very top of users' feeds, in front of other pages' Stories, which can put you front and center. Similarly to video content, the great thing about Live videos is that they are authentic and build a relationship with your audience. Brands can use this feature to host Q&A's digital events, and product announcements. All of these invite consumers to actually get to know the people behind the brand.
Create Interactive Captions
Interaction and engagement drives the Instagram algorithm. On the platform, likes, shares, and comments are very valuable. One great way to drive engagement is to ask for it! Captioning your post with a question, or "tag a friend who…" will get your followers
interacting with your content
and boost your brand within the Instagram algorithm. Make sure not to use these captions on every post, however. When it is overused, the platform may punish you for baiting engagement and not show your posts high in users' feeds. Instead, use meaningful engagement captions and vary your copy for different posts.
Use Hashtags to Your Advantage
Hashtags are what allows your content to be searchable on Instagram. By using branded, industry, and community hashtags, you can help new customers find your content. Instagram allows you to add up to 30 hashtags onto your posts. However, just because you can, doesn't mean you should. Make sure the ones you use are relevant to your brand and not just spam. When looking for
the right hashtags to use
, you may be drawn to ones that are incredibly viral and popular. However, using a hashtag that is also used on hundreds of thousands, or even millions, of other posts will cause your content to get lost among all the others. Instead, try to find relevant hashtags with 10,000 to 300,000 posts. This means that people are interested in them, and will also be able to find your specific content.
Host Contests or Giveaways
Contests and giveaways are some of the most engaged with posts on Instagram – because who doesn't love free stuff! Contests on Instagram are a great way to reach a larger audience. To enter, have your followers post a photo with your branded hashtag or share your post on their Story. This way, their followers will see it, and may want to enter too! If you are going to host a giveaway or contest, make sure you can handle the number of entries and produce whatever the prize is, whether it's a giftcard to your shop or something more. Also, try to space these out so there is enough time to plan and generate excitement for your next contest.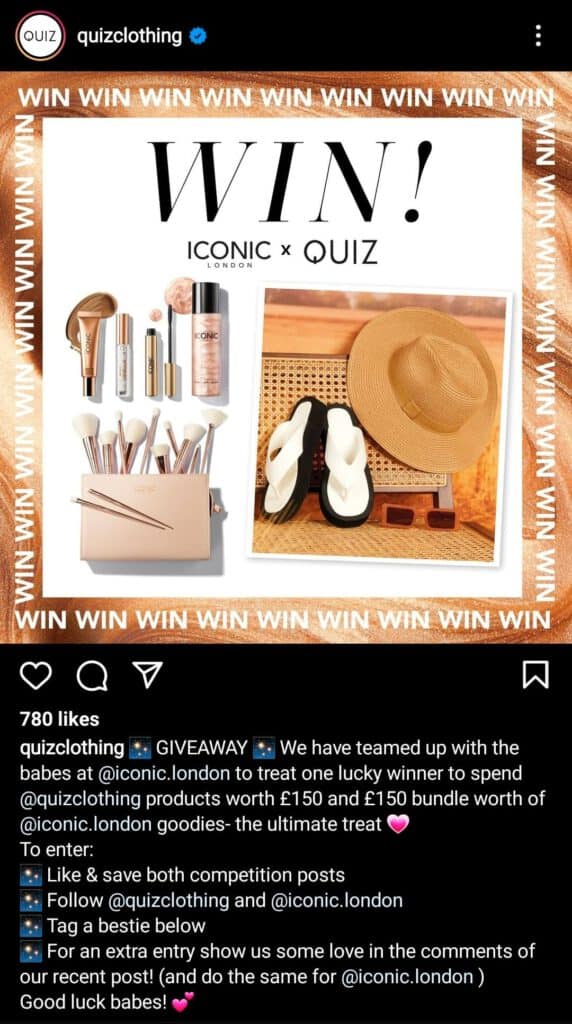 Know Your Audience's Schedule
One of the easiest ways to beat the Instagram algorithm is to post when your audience is online. In order to figure out when your audience is using the app, check your analytics. If you have an Instagram for Business account, you can find this information on Instagram Insights on your profile. While posting during these times does not completely guarantee that your audience will see your post, it will help you hit some of the five key signals that Instagram's algorithm looks for, such as timeliness.
How To Crack the Instagram Algorithm
Although algorithms change frequently, they don't have to ruin your current marketing strategy. Even with the new changes, there's still many ways for brands to engage their audience and create unique, interesting content. By taking note of the changes made, using the new features, and catering to your audience, you can take on the new algorithm in stride. You should also check out the blog on
Instagram facts
to stay up to date with current changes on the social media platform. To learn more about improving your digital marketing strategy,
contact ProfileTree
today.