The DJI Mini 3 Pro is a game-changer in the drone market. This model offers enhanced features and better functionality, making it one of the industry-leading pieces of drone equipment that's available on the market.
In this article, we will break down the full features of the drone, giving an adequate DJI Mini 3 Pro review and showing you how it has improved since its predecessor and what new features you can expect should you choose to invest in the equipment.
Please note that we have no affiliations with DJI, this is an entirely independent product review, that is not influenced by sponsorships, paid advertisements or third-party persuasion.
Table of Contents
DJI Mini 3 Pro Release Date
The model was initially released on the 10th of May, 2022 and since then it has become a reputable drone apparatus, loved by videographers and content creators alike.
DJI Mini 3 Pro Drone
The DJI Mini 3 Pro Drone is supported by the DJI RC, which makes it a much better model in comparison to the DJI Mini 2 model.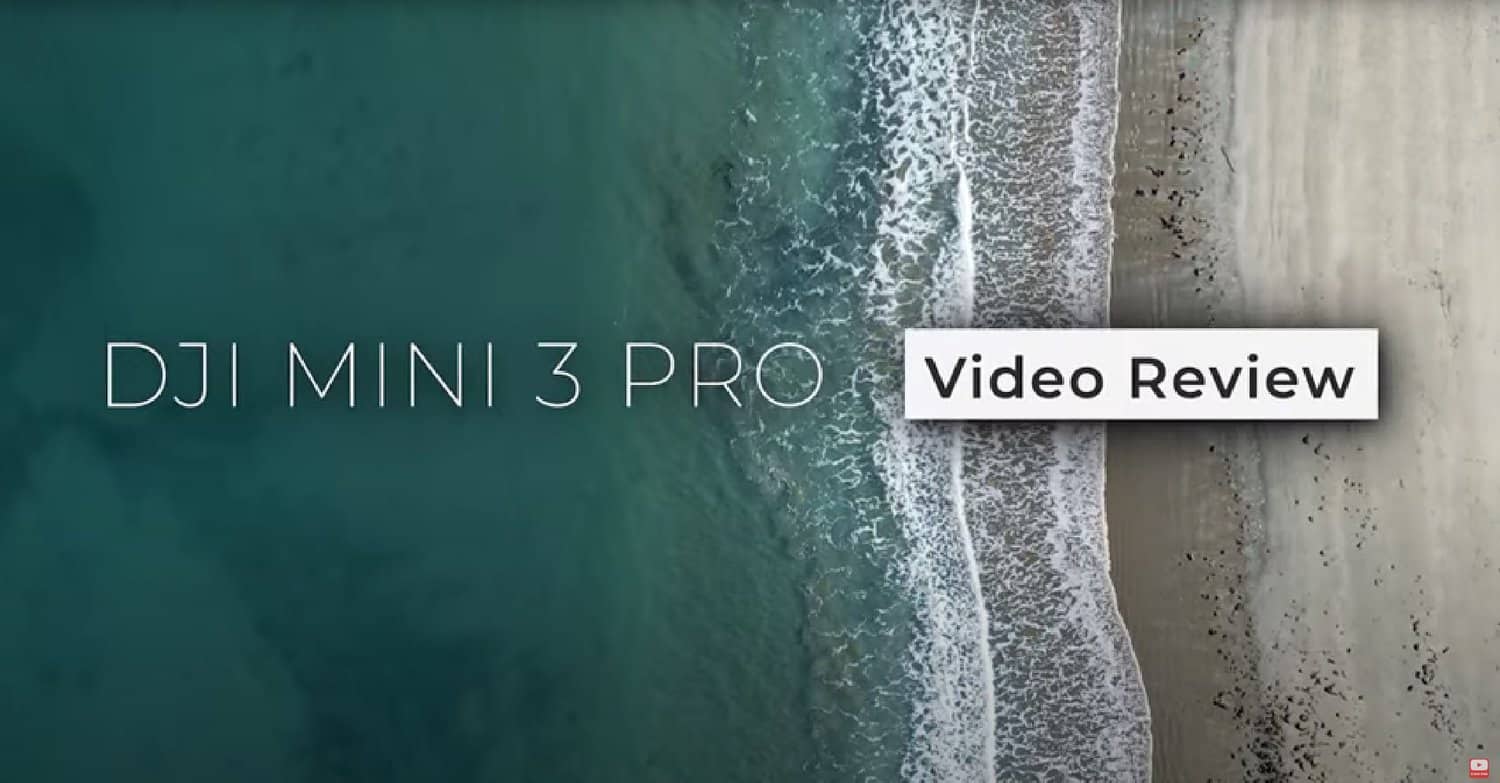 The DJI Mini 3 Pro has corrected the limitations of the previous model, which previously had no obstacle detection and required a cell phone or the more expensive DJI Smart controller to fly.
The DJI Mini Pro 3 also has a 1/1.3 inch CMOS sensor that features dual ISO which ranges from 100-6400 stops both for video and photo.
Pros of the DJI Mini Pro Drone
1/1.3" Sensor
48mp stills
4k @ 60fps video recording
Dual Native ISO which are at stops, ( ) & ( )
Compatibility with separate DJI Drone hand controller
True Vertical Shooting mode – Portrait
The remote also has 03 image transmission system with 4 antennas which brings you a full HD live feed up to 12 kilometres.
DJI Mini 3 Pro Price
At the time of this review and according to the DJI website, the pricepoint for the DJI Mini 3
Pro stands at £709.
If you are purchasing this equipment as an upgrade to your existing drone, you can get it at £639 if you plan on using the existing DJI RC-N1 remote controller.
DJI Mini 3 Pro Review of Video Format
The video formats with the DJI Mini 3 Pro include:
4k at 60fps and slow-motion video with 1080p at 120.
4K: 3840×2160@24/25/30/48/50/60fps
2.7K: 2720×1530@24/25/30/48/50/60fps
FHD: 1920×1080@24/25/30/48/50/60fps
Slow Motion: 1920×1080@120fpsfps.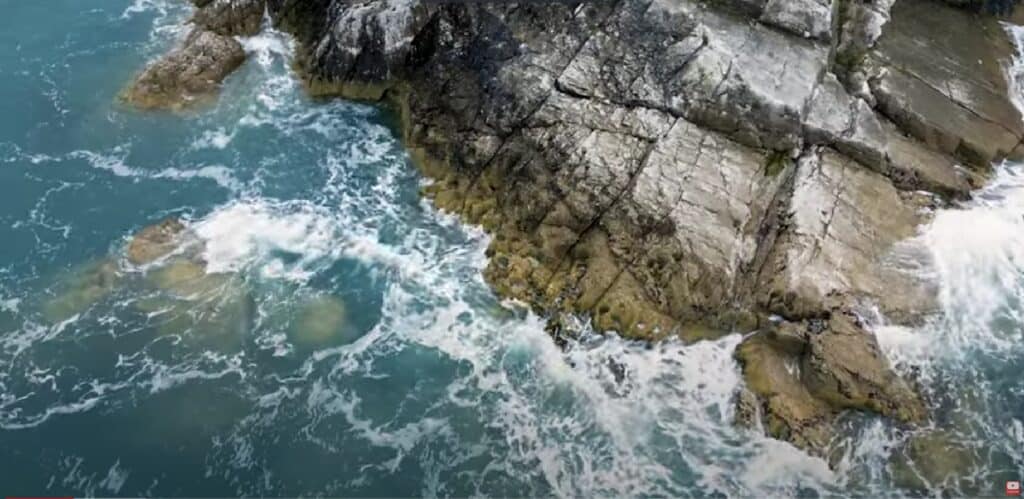 DJI Mini 3 Pro Weight and Dimensions
Coming in at less than 250 grams it weighs as much as the 'Pro Max' version of an iPhone. It has the ability to shoot with a flat D-Cinelike colour profile that provides more visual information which you can grade with more possibilities and flexibility in the editing.
The versatility of this device is exceptional, when folded up, it can actually fit inside your coat or trouser pocket, not saying that is a practical method of carrying the device however, it is a notable factor as this means it could most likely fit into any kind of carry bag.
Compared to other drones from DJI, like the Mavic model, the mini 3 pro definitely feels more like a plastic toy but the reduction in weight means that the mini 3 pro is effortless to carry around in your camera bag and it holds up very well against the force of strong wind.
DJI Mini 3 Pro Battery
The battery life has been extended to up to 34 minutes of flight time according to DJI. In our product review, however, we found that if you're flying the drone, you will only get around 25 – 30 minutes of flight time per battery, if fully charged beforehand.
DJI Mini 3 Pro Review of Obstacle Avoidance
Obstacle avoidance is a really nice addition to this model as the previous Mini 2 did not have this feature. Most of DJI's flagship drones have obstacle avoidance features but until now the mini-series has not.
In the Mini 3 pro, there are 3 ways in which obstacle avoidance sensors work, from the front, the back and below the drone with dual vision sensors. This is called Tri-Directional Obstacle Sensing.
There are 2 different modes for obstacle avoidance in the menu, on the first mode the drone will stop if there is an object in its pathway or the second mode in which the drone bypasses obstacles with the help of an advanced pilot assistance system. So if you send the drone on, it should find a way through or past the obstacle.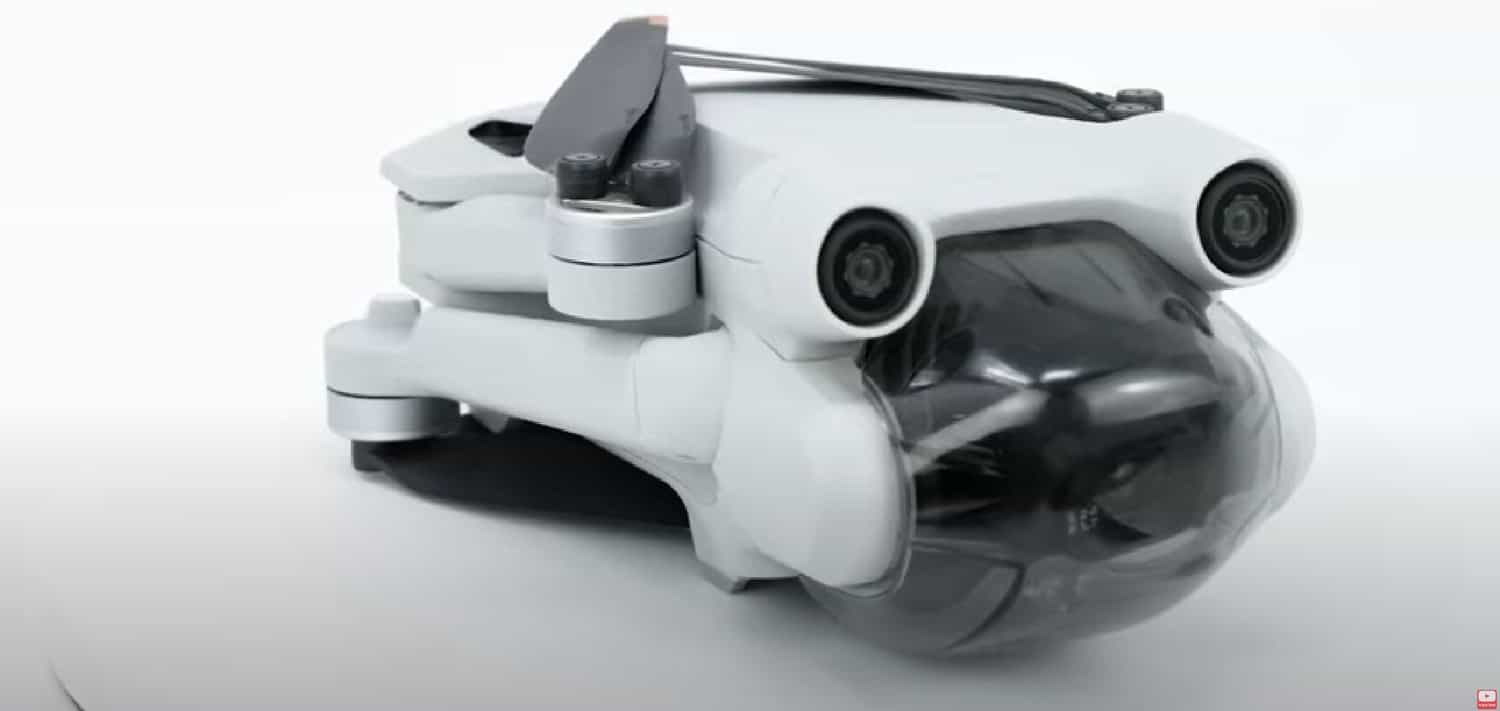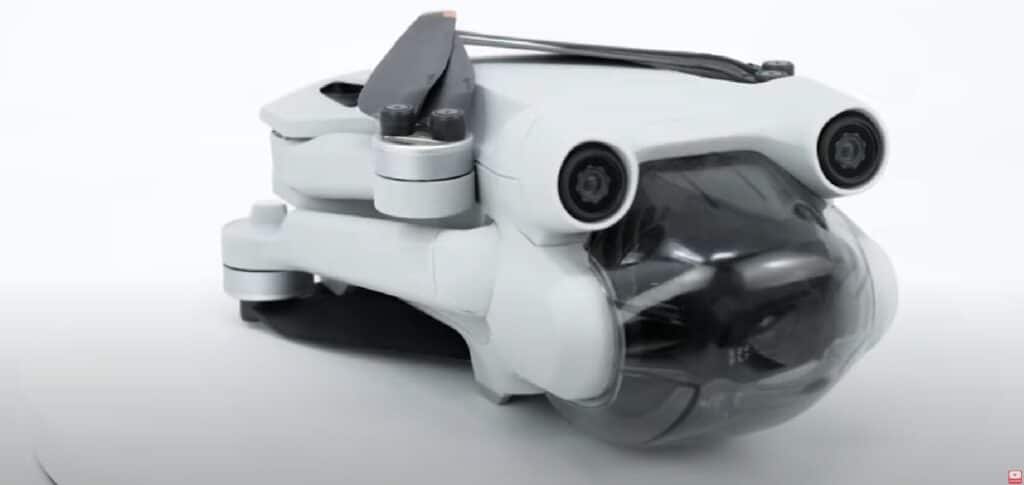 DJI Mini 3 Pro Review of Speed
There are 3 flying modes on the DJI Mini 3 Pro including;
Sport's mode: Which I tend to stay away from but in this mode, you can travel as fast as 35mph.
Normal mode: This enables obstacle detection and can travel at speeds up to 22mph.
Cinematic mode: This is my preferred option and can fly up to 13mph.
DJI Mini 3 Pro Review of Distance
Max Flight Distance in windless conditions is 18 km with Intelligent Flight Battery (34 minutes) and 25 km with the Intelligent Flight Battery Plus (47 minutes).
DJI Mini 3 Specs
The specifications and features of the DJI Mini Pro 3 are quite impressive. Check out the full spec below.
Focus Tracking
The focus tracking on the Mini 3 pro is a very useful feature. It couldn't be easier to use with the RC controller, simply draw a box around the subject and when the drone locks on, it goes into Spotlight mode which follows the subject around but the drone stays stationary and rotates on the spot.
You can alternatively take control of the drone and fly around whilst the drone stays in spotlight mode.
Focustrack – ActiveTrack 4.0
The active track has two modes, trace and parallel. Trace will follow the subject using the obstacle avoidance keeping a constant altitude and distance. You can set the framing before you start. Parallel will follow you from the side as you walk or run but there are no side sensors so just be careful if you are using the parallel mode.
Focustrack – Point of Interest 3.0
Choose a subject and set a direction for the drone to circle around and choose a speed.
Master shots
This is another cool feature with the DJI Mini 3 Pro, this essentially allows you to program the drone to automatically film some orbital manoeuvres by selecting a subject or object and setting some parameters for distance and height.
To let the drone know how far or wide you want the shot to be from the subject and hit the record button. The drone will fly off and around the subject in a single clip format for around 2/3 mins depending on the setting you have chosen. You could then edit this clip in post-production or edit it with a template in the DJI fly app.
Quick Shots
This is a template version of the master shots really, you can set parameters for distance etc.. but this time there is a list of 6 different moves the drone can perform. These include:
Dronie: this is where the drone flies backwards and ascends with the camera locked onto the subject, which is really good for revealing beautiful landscapes, etc.
Rocket: this is a move where the drone flies up into the air whilst tilting down the camera onto a locked-on subject, giving more of a bird's eye view angle.
Circle – is a little self-explanatory, but it enables the drone to circle around the tracked subject in whatever direction you chose.
Helix is similar to the circle mode but the difference is that the drone is ascending whilst circling the subject.
Boomerang – Similar again to helix but the drone ascends when going away from the starting point and descends when approaching the starting point as shown.
Asteroid – This is a pretty unique feature where the drone flies up and takes a bunch of images to piece together, creating a 360 video-style clip.
Please note, that Mastershots and Quickshots are not supported in portrait mode.
DJI Mini 3 Pro Fly More Combo
I would also recommend the fly more kit which includes:
Two intelligent flight batteries
A two-way charging Hub
A shoulder bag to keep everything neat
Some extra propellers to keep as a spare for all your accident-prone pilots out there.
DJI Mini 3 Pro Review
We have been using The DJI RC with the mini 3 pro and it has been such a good investment for video production.
The DJI RC or RemoteControl is a lightweight Full HD display with an ultra-long battery life allowing you to control the drone without using your mobile phone. This is supported by the O3+ video transmission technology and can provide low-latency HD 1080p at 60fps with a range of 15km.
What an incredible piece of kit! It comes with two ports, a USB-C and a microSD, just below the display screen. It takes no time at all to connect with your drone and allows you to start shooting straight away!
The DJI mini 3 pro has some amazing features for both video production and photography.
I would absolutely recommend this drone to anyone, whether you are starting off as a beginner or have years of experience with flying drones and video content creation, you'll find the DJI Mini 3 Pro to be an invaluable addition to your equipment.
If you're hoping to upgrade on expand on your video equipment, check out our other product reviews including; DJI Osmo Mobile 2 | DJI Osmo 5 | DJI Ronin S | Powervision S1 | DJI Osmo 4 SE.