No one can deny the power of video to promote your brand or even to increase your reach! So we've compiled the most important video marketing statistics you can not ignore.
By telling a story through a video, you have the superpower to connect with your audience on a deeper level.
You can even notice it easily by browsing your Instagram reels.
That can ultimately help you build brand awareness, generate momentum around your brand image, provide real value, and direct much more traffic back to your website.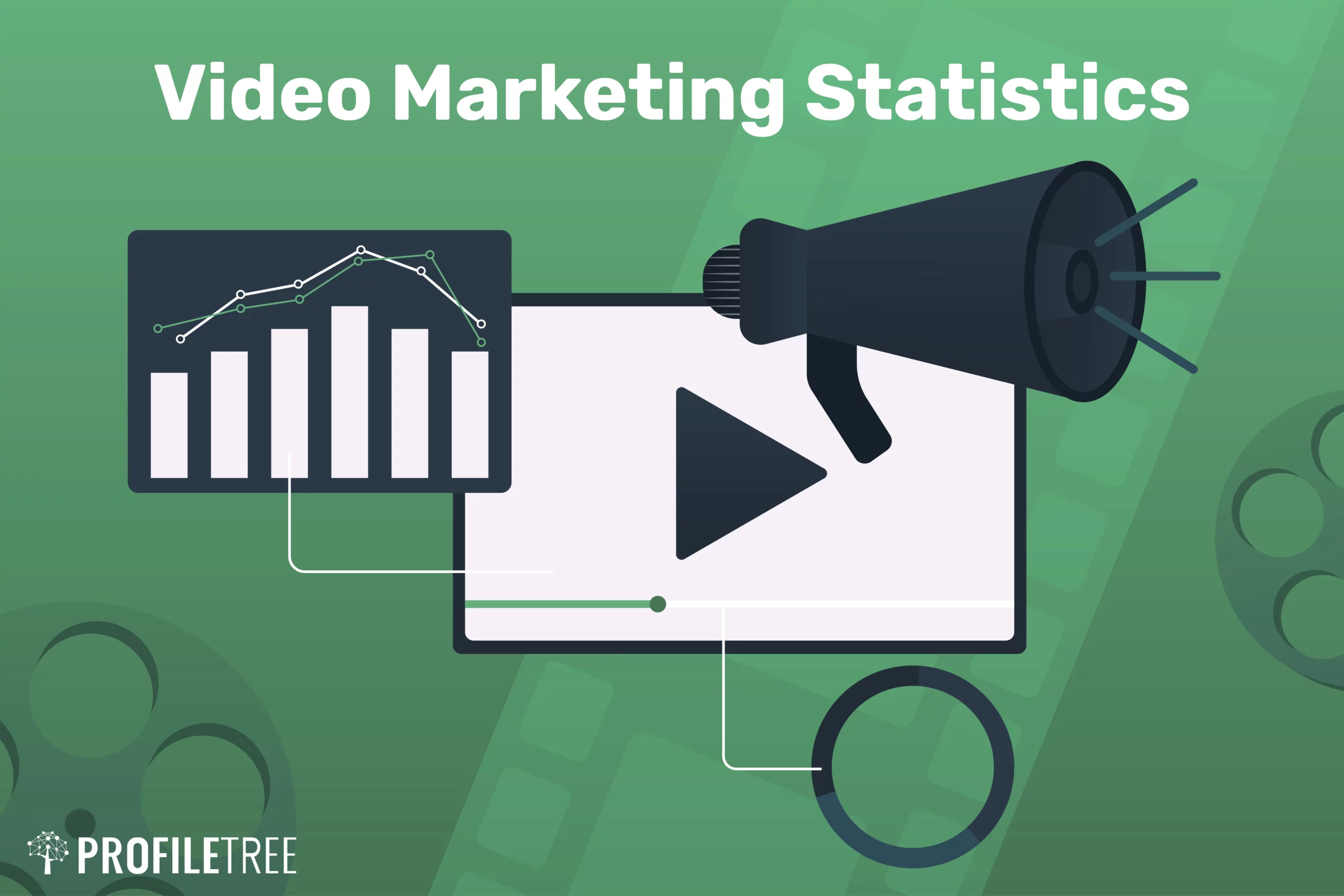 And yes, it can assist you in landing conversions, for sure!
Just keep that: 54% of businesses use videos on their landing pages to bring more leads. And it always works out!
However, producing video content is not easy as it seems. For example, this 15-second reel needs at least 2 hours to prepare, edit, shoot, create captions, and so on.
Not to mention that setup Youtube channels can be costly when considering the effort, equipment, and time involved— even more, checking the insights and analysis frequently to get a good understanding of your audience.
Whether that's working with a video marketing team or doing it in-house, you have a long checklist to run down before publishing.
For that reason, some brands are hesitant to jump on board.
It's effective. Yes. It's pricy. Yes, as well!
If you are on the fence about wondering if video marketing is worth an investment for your business— or you can apply for another marketing technique, this post is for you.
Here, you can find inspiring video marketing statistics before starting your new strategy to highlight how effective videos are for businesses, so you can see how desirable they can be to your online presence.
Video Marketing Statistics You Should Know Before Creating Your Strategy
As marketers find more catchy and innovative ways to attract audiences, making videos has become a meaningful part of any strategic conversation.
Having a video marketing strategy for your business growth is no longer an "up-and-coming" content plan. It's here. It's an increasingly powerful approach to communicating your brand story, building relationships with your prospects and customers, and explaining your value proposition and selling points.
In this section, we collected the most interesting and vital numbers based on marketers to learn about the recent video trends and how you make them work for you, no matter your industry.
Here are the key video marketing statistics you should bear in mind to inform your strategy.
A news leak: data shows that video is not just compelling for any marketing initiatives— the demand for it's growing at an unbelievably rapid pace. It has impressive potential.
People From 13-44 Enjoy Watching Videos More than Any Age Group
More and more videos are being watched.
In 2020, the number of people watching videos in the US reached more than 244.4 million— hitting YOY growth levels that even far exceed what experts had predicted earlier. (Source: Business Insider, 2020)
Consequently, the video marketing industry in the US alone is worth more than $135 billion! (Source: Social Media Week)
Online video consumption increased across all age groups during the last 5 years, but the most considerable increase is seen in users over 46 years old. (Source: Limelight)
Through this analysis, experts said the oldest and youngest age groups largely drove this growth surge. However, the latest data still shows that most viewers who enjoy watching digital videos are young adults.
Indeed, more than nine out of ten US consumers between 13 and 44 years of age spend more time on digital videos, based on the same search.
For more insightful data, you need to have a deeper look at this, as it will tell you that a whopping 97.8% of US internet users aged between 18 and 24 said they consider themselves heavy video viewers. That is followed by viewers aged 12 to 17, of which 96.2% like watching videos online.
The lowest number of digital video viewers lies in the 65-years-and-above age group— only 63% of people in this age watch videos online.
More Video is Being Uploaded in 30 days than on US TV in 30 Years
It's one of the really interesting video marketing statistics! Just imagine that more video content is being uploaded within 30 days than what giant television networks in the United States have created during the past 30 years! (Source: WordStream).
86% of Enterprises Use Video Marketing
In 2021, 86% of businesses will use video as a marketing tool. It's hovered around the same number for the last few years, ranging from 85% in 2020 and 87% in 2019. However, this mark is up substantially from 61% in 2016.
But what now?
Online video has accounted for over 82% of all consumer internet traffic, which is 15 times more than in 2017. (Source: VNI Complete Forecast Highlights)
3.37 Billion Internet Users Watching Video Content in 2022
Over 3 billion persons consume streaming or download videos at least once every month in 2022. (Source: Statista)
This number is projected to double annually, ultimately calculating nearly 2.5 billion in 2023.
36% of Marketers Create Videos for Brand Awareness
36% of marketers say the primary goal of their video marketing campaigns is to increase brand awareness and reach more audiences. (Source: Hubspot)
People Want to See More Video Content
The preference for video content is not limited to entertainment purposes. Yes, we love to watch cute babies and hilarious puppies, but it's not just the case.
Video extends to brands. Some studies show that 54% of consumers love seeing more videos about their beloved brands or business they like to buy from. (Source: Hubspot)
With the increasing demand for video, many companies and industry influencers can be seen to be actively producing different types of visual content to meet the rising need.
The respondents of Hubspot's survey claimed that video content is in high demand, mainly because users are more likely to focus on a single thing in a world full of distractions.
Also, there is a higher tendency to skip parts of written content or audio. So video is an excellent place to go for brands to receive more of the audience's attention.
One-Third of all Online Activity Goes to Videos
If you're wondering what people are doing online, video marketing statistics show that more than one-third of all online activity comes from watching videos. (Source: WordStream).
Also, people watch more than 16 hours of video per week, a 52% increase in recent years.
Video Generates 1200% More Shares
Studies show social video generates 1200% more interactions and shares than image and text content combined. That will give you an unmissable opportunity to grow and build awareness. (Source: WordStream).
Not just that, but viewers retain 95% of your message when they watch it in a video, while this marked decline to 10% when they read a text.
50% of Those Who Depend on Video Marketing Have Been Doing This for at Least a Year
Also, video marketing statistics uncover that consistency is a critical factor for success when producing video content.
That's why 50% of marketers who use video keep doing so for at least one year, and the other 50% who have only recently started using video see how quickly video marketing helps them to grow. (Source: Biteable).
This high momentum in popularity emphasises that you can not grow in the online market by creating video content.
On the other hand, 24% of marketers only started creating videos in 2020, and 51% of those new to this type of content said they jumped on the bandwagon due to using videos has become more accessible.
Also, 47% of survey respondents said the video was a way to prepare for new challenges such as high compilation and the pandemic. (Source: Wyzowl).
84% More Leads With Video Marketing
It's not just about social media algorithms and how they help you grow and increase your exposure. It's also about the conversions you will gain.
Data shows that video marketing generates 84% more leads and directly contributes to a 78% increase in sales. (Source: Wyzowl).
Online Videos Have a 92% Reach Worldwide
Online videos had an audience reach exceeding 92% of internet users worldwide. (Source: Statista).
The most popular and desirable types of videos during this framework are music, comedies, and viral videos. Also, studies show that tutorials or how-to videos get more engagement.
49% of Companies Create Videos a mix of In-House & Agency
37% of companies exclusively create their own video content in-house, while 14% rely on an agency. But the high percentage, 49%, shares a mix of agency and in-house-created video content. (Source: Hubspot)
69% of marketers say they already have the production equipment used to create video; however, they still don't produce the video constantly.
Additionally, the most popular video editing software marketers use is Adobe Premiere Pro.
73% of Customers Have Been Influenced by a Brand's Social Media Presence
Users see videos increasingly on every social media platform. For example, you can see videos on Facebook, Instagram, Youtube, blogs, Tiktok, and others.
Whether it's placed, users are expecting more video content.
Moreover, videos are a consumer's favourite type to see from a brand on social media. (Source: Animoto).
Additionally, 73% of customers claim that they have been influenced by the brands' social media presence before marketing a purchasing decision. (Source: State of Social Video Marketer Trends)
64% of consumers confirmed their order after watching branded social videos. (Source: Tubular)
This statistic is sufficient evidence of how videos are getting so popular with time. It alone shows how significant videos are in this era, and you can never make any progress in the digital landscape without showing yourself through a video.
With this type of content becoming a considerable influence on consumer decisions, it comes as no wonder that Instagram is on track to become the fastest-growing social website that uses video content to drive traffic and punches.
88% of Users Spend More Time Browsing Websites With Videos
People spend 88% more time browning on websites with video content as they tend to open these videos, which will keep your website KPI higher. (Source: Social Media Week)
More interesting! 6 out of 10 users prefer watching online video content as opposed to TV. (Source: Think with Google)
More than 55% of shoppers globally mention that they use videos while shopping in-store to ensure that their decision is well-fit and that the product or brand has positive feedback.
While in 2019, internet users consumed an average of 6h and 48m watching videos weekly (Source: Limelight), they spent more than 100 minutes per day watching these videos in 2022. (Source: Zenith Media)
Additionally, consumers who end up on an e-commerce website through user-generated videos on Youtube or their platforms are 84% more likely to purchase and spend 45% more time. (Source: Wordstream).
The platform's total search volume exceeds Bing, Yahoo, Ask.com, and AOL combined, reaching 210 million viewers. (Source: Statista)
96% of People Watched an explainer and Review Video to Lean more about a Product
Before placing an order, 96% of people watched an explainer video to learn more about your service or product. (Source: WordStream).
At the same time, 86% of people would like to watch more videos about your brand to ensure that your product is the best for them. (Source: Wyzowl).
68% of users prefer watching videos to learn about new offerings compared to activities, ebooks, infographics, and presentations. (Source: Wyzowl).
82% of online users would rather watch live videos than check social media posts (Source: Cisco's Visual Networking Index (VNI) Forecast)
Thus, the most popular video types produced by marketers include explainer (72%), presentation (49%), testimonial (48%), and sales and video ads (42%). (Source: Oberlo)
73% of Marketers Use Live Streaming
Many companies have realised the power of going live and communicating with consumers and potential consumers to help them know more about you. That's why 73% of global marketers use live streaming to increase engagement and enhance organic traffic. (Source: Statista)
*Note: all these video marketing statistics show the importance of video marketing, but it doesn't mean social media posts and blogging are dead. All of these are significant components of your marketing strategy. All of these forms of content are a critical part of your digital marketing plan, especially for building reputation, enhancing SEO, and your website authority.
94% of Video Marketers Plan to Continue Using the Same Tool in the Future
The sudden popularity of video marketing doesn't mean it will be a flash in the pan, either. The vast majority of marketers, 94%, plan to keep this approach to grow into the future, diversifying long and short videos. (Source: Biteable).
Also, they said that their video marketing plan helped consumers to know more about their product.
Product Videos Are Much Important to B2B Companies
For B2B companies, video content is a critical part of their go-to-marketing strategy. However, the most popular type of video to create during the last years was product videos, in which you can share details about your business and offers. (Source: Statista)
That will be an effective way to push your sales.
Also, 47% of global B2B marketers are more concerned about creating training videos, and 41% focus on developing social ads and some media buying tricks.
44% of Marketers Use Their iPhone Camera as their Primary Device for Video
It's one of the most surprising stat. Yes, 44% of video creators' business purposes only depend on their iPhones.
Also, 88% of companies that have come a long way with their video content have a team dedicated to creating it. 45% of companies with a whole video support team have two to five persons in their video marketing department. (Source: Hubspot)
Regarding the budget, 81% of marketers suggest that their primary company has allocated a separate budget for video and 52% of them said their video marketing budget might remain for the following year.
However, if this seems a lot to you to hire such a team and afford other photography costs, you can assign this mission to a digital marketing services agency.
42% of Marketers Say Agency-Created Videos Were Much Better
However, creating content in-house will give you more control and flexibility; the outcome of marketing activities by digital marketing providers will be much better.
The result will be more satisfying when assigning a task to more professionals. That's the same case when depending on an outside agency— 42% see that an outsourcing agency is better. (Source: Hubspot)
Video Marketing increases ROI
Many marketers find that video marketing equals profits. Indeed, No one cares about marketing if it doesn't generate something tangible, which is money. So, it all comes down to how much the return on investment (ROI) stockholders will see at the end of the year.
Thankfully, if we look at the numbers, 88% of marketers are satisfied with ROI generated by the video marketing efforts published on social media. (Source: Animoto)
Based on the same report, 80% of marketers also claim to be satisfied by the ROI they achieved, thanks to video ads posted on social media.
Also, 51% of marketing professionals from different countries name video as the best type of content with the best ROI. (Source: Insivia)
Broadly speaking, companies use video marketing to bring up sales and build awareness. Also, they use video to build trust with their current customers, keep them in the sales funnel, and inform their followers of recent offers. Videos also play a significant role in reaching out to prospects and potential customers.
Instagram and Facebook are Most Commonly Used by Marketers
Today, almost all platforms support video content; however, YouTube, Instagram, and Facebook are the most commonly used video ads and social media marketing videos. (Source: Oberlo)
Men Cosnsum Videos More Than Women
Regarding gender, men spend more time watching online videos 40% more than women. (Source: WordStream)
75% of Videos Played on Mobile
People tend to watch videos more on mobile devices— 75% of all video content is played through phones. (Source: eMarketer)
Not just that, 75% of viewers prefer watching a video in a horizontal setting as compared to 25% who perfect vertical. (Source: Social Media Week)
The Most Preferred Video length is 6-10 Seconds
The sweet spot and trend for video ad length are between 6 to 10 seconds. (Source: Design Shack)
69% of people said they'd perfect watching short videos on products and services if they were willing to buy or at least learn more about them. (Source: Wyzowl).
That compares to 18% who'd instead choose to read a text-based article.
Side stat: Google shows a video thumbnail next to any search result about 26% of the time, and searchers are more likely to click through that listing to watch the video. (Source: WordStream)
YouTube Shorts Gain 5 Trillion Views
YouTube Shorts was released in late 2020 in response to TikTok and Instagram reels.
With its vertical format, it has been steadily growing in popularity. These short videos became more favourable to many users gaining more than 5 trillion views. (Source: Design Shack)
It has surpassed Facebook as the most desired outlet for influencing consumer behaviour.
So, it's pretty obvious for every business that this style is trending, and they have to diversify their content strategy to embrace all these formats.
These videos are only a few seconds, just like a quick story.
In fact, much of the content is regular user or influencer-generated, but, of course, it has some value for marketing. But, most importantly, the competition is less fierce than you might face when publishing on other platforms.

Video Uploads Increased By 263.4% in 5 Years
The growth of uploads on the platform reflects a much broader trend. Yes, it's a huge number compared to a couple of years ago— 263.4%; wow, it's incredible! (Source: Wistia)
It seems you know at least someone who is actively creating and uploading videos on a different platform.
Interestingly, the most significant jump in uploads happened between 2019 and 2020, with the total number of files created in a video format doubling from around 9 million to more than 17.5 million.
That is compared to a much smaller increase of 32% in 2018.
And, of course, the global pandemic has accelerated video marketing production. Everyone was eager to do something cool to kill time while we were stuck in our house.
Saudi Arabia and Turkey Watched Video More
In a list of most countries that consume video content, Saudi Arabia and Turkey topped it, with 95% of their internet users preferring to watch video content online on mobile, laptop, or tablet. (Source: Statista).
TikTok is the Most Downloaded App
Tiktok is a well-liked social media platform that has expanded rapidly in recent years. It is quickly becoming the number one downloaded app. (Source: Apple)
Tiktok stands out from other social networks because it provides users an entertaining way to express themselves creatively through short video clips.
What's more, its algorithm for promoting content allows businesses to reach their target audience quickly and easily.
And many businesses have started to enhance their online appearance to attract their audience. By creating engaging videos that showcase products or services, companies can gain exposure to a broad audience.
Many Marketers Feel Their Organisation Doesn't Use Video in the Right Way
Even though the value and impact are made clear by these mind-blowing video marketing statistics, a number of marketers face challenges when creating video content. (Source: Statista)
That is what we have concluded after a survey with a group of marketers based in the US who are actively producing this type of content to figure out what their biggest video content challenges were.
Here's the survey's outcome:
48% feel that their organisation is still missing out on the full potential of video marketing.
40% find that their biggest barrier to creating a video is the lack of a budget dedicated to this unique content.
43% say lack of in-house skills (filming, editing, and so) was one of their biggest challenges.
Also, 77% of marketers say their company often uses YouTube to host marketing videos. (Source: Hubspot)
Companies Spend Between $7,000 to $10,000 to Create a Video
14% of marketers focusing on creating video content say their company allocates between $7,000 to $10,000 to make one video. (Source: Hubspot)
And when asked how long it takes for them to create a video from scratch to finish, 30% say it takes around two weeks!
The most expensive part of the video production process is filming, lighting, and audio, according to 65% of marketers.
Otherwise, 38% of marketers refer to the pre-production process, including ideation, casting, and writing scripts, as the most time-consuming part of video creation.
In terms of the style of videos created by marketers, 74% say that their companies optimise videos for silent mode by adding creative captions or a voiceover.
Video Marketing Generates 66% More Qualified Leads
Marketers say that video marketing attracts 66% more qualified leads per year. (Source: Optinmonster).
Moreover, video marketers achieve more than a 54 increase in brand awareness. Plus, 93% of marketers say they've successfully landed a new customer thanks to a video published on social media.
Marketers say that the increased quality of leads comes from the quality of education that video brings to the audience attributing how much they have benefited from information and tutorials.
Not only do companies earn their customers' trust, but they also educate their prospects about their business or product through interactive visuals.
It was a great tool to gain new people interested in their offering at some point.
87% of Business-Related Videos Are Played on a DeskTop
We have mentioned before the importance of creating phone-oriented videos, but you can ignore this static as well— 87% of videos promoting business are still viewed on a desktop. (Source: VidYard)
2-Minute Videos Get the Most Engagement
In terms of the optimal video length, many statics showed that videos up to 2 minutes long gain the most engagement. (Source: Wistia)
However, there is a considerable drop in engagement when it comes to videos after 2 minutes. It seems people lose their internet after this duration if it is a purely promoting video.
But it's only part of the story; if you have a long video and people make it past the first 6 minutes, there will be hardly any drop-offs in engagement.
Why?
Listen to these statistics: 52% of viewers watch a video all the way through when they find an interesting topic using engaging elements to wow the audience. At the same time, only 25% finish watching a video if they make it more than 20 minutes. (Source: VidYard)
92% of Users Watch Videos With a Sound-off Mood
Don't spend so much time searching for the perfect music. The majority of people turn off sound when watching videos, and 50% of people rely on captions only to catch on what you're displaying in the video. (Source: Verizon & Publicis)
Pro tip: You can quickly do this using some intuitive tools such as InVideo online editor that enables you to easily add and edit any text to your videos within a minute. Also, you can activate caption generation on Instagram and YouTube, which will create an automated script for your video.
Video Marketing Grow Renvue 49% Faster
Marketers who make videos grow revenue 49% faster than non-video users.
Also, marketers who incorporate video into their content experience 34% higher conversion rates. (Source: VidYard)
One of the most high-impact video marketing statistics is this one; shoppable video is starting to gain higher conversion and click-through rates than other non-video ads. Interesting, right?
Digital Video Will Increase by 41.9% by 2024
It's projected that digital video ad expenditure will continue to increase by 41.9% by 2024. (Source: Statista)
Just remember that the global streaming market grew 55% from 2019 (Source: Oberlo), pushing from 104.11 billion to 161.37 billion.
Trending Audio Presents a Successful Factor
Another video marketing trend fueled by TikTok and Instagram is trending audio clips on Videos.
Some statics showed that videos with a viral sound had been viewed 1.8 billion times. (Source: Shopify)
These sound clips might include voiceovers, popular songs, or other sound effects that videos try to match.
These videos may get a lot of play and trend with other elements, such as hashtags and how funny the video is.
As a general rule of thumb, for video marketing purposes, trending audio can be a quick way to renovate a trend with a personal touch and generate engagement. Just hop on the right one that aligns with your business style.
Pro tip: when using a trending sound, be well-prepared with a creative idea because you will have a limited time window to act and post your video before the trend fades over again.
However, original audio can add an advantage to your video if it's inspiring.
32% of Enterprises Use Video as a Sales Tool
Yes, you can use video content as a sales tool. (Source: Biteable).
But there are other popular non-marketing uses of video, including use in operations and administration messages (29%), product management (20%), leadership messages (24%), human resources messages (27%), and customer support (19%).
These video marketing statistics show that there is no need to second-guess to explore the benefits of video for business. As for video creation in your marketing strategy, it will be a great way to push your network and grow your customer base, not just now but also for years to come.
What Does This Mean For Every Business Owner?
If your market segment is between 12-44 years old, you must create video content to target them.
You will lose your position among your competitors if you do not consider establishing video marketing because they are already there.
You lose a huge market volume if you don't plan to adopt video content as a marketing tool.
Your audience is waiting for you to watch your video content. Be proactive and start planning to gain an advantage over your competitors by producing catchy, captivating, and inspiring content.
Creating a video has many benefits for you as an entrepreneur, but if you are willing to enhance your brand awareness, this type of content is a must.
Video content gives you a chance for more reach and engagement, which will keep your audience coming to your page or account to check more.
It doesn't mean that when creating one video, your account will be loaded with potential customers who are asking about your product and service and are willing to pay for it. You need a video marketing strategy that makes you excel and offer what your audience wants to hear from you.
Creating videos has become much more accessible; many templates, very short versions, and new trends. All these tools can help you generate ideas and start producing something to grab your audience's attention without spending money on high-end equipment and long photography hours.
Your sales strategy should be included creating video marketing. It's a great tool to push your revenues and effectively increase conversions.
If you plan to expand your business scale, you should create video content. It's a way to go to reach a worldwide audience.
After defining your niche, objectives, goals, and lifestyle, consider creating tutorial or guide videos to help them solve their problems while showing empathy for them, as you already understand their pain points and can help them.
If you can't produce your own videos, many digital marketing agencies can help you. We at Profiletree have a seasoned video team who will help you find the best idea, choose the right hook to captivate your audience's attention, write the perfect video script, and promote the video throughout different channels.
Your social media strategy needs to include video content, as It's a great way to prove to your target market that you're up-to-date and so is your product.
Don't forget to include your videos within your blog and website.
Consider influencer marketing when building your marketing strategy. People trust reviews from real consumers. They like to watch review videos about your offering before making a purchase decision. And if they find someone they love and trust talking about your product, they are most likely to give you a try and buy from you.
Consider conducting live sessions for your audience frequently to get engaged with your audience, listen to them, and learn more about their pain points.
If you have a B2B business, consider creating product videos to convince your clients of your offer.
You can use your mobile phone even if you don't have expensive video equipment to create content.
Creating video in-house has many benefits, but having creative, high-quality well-targeted video content is not one of them.
Video is favoured as a marketing tool due to its potential to explain everything in a form that users prefer, the visual form. Explainer videos are essentially popular among other end-users.
If your target segment is only men, it means you need to produce more video content than any other content type. Otherwise, it would help if you considered designing customised infographics and writing compelling copy with more details.
As a business owner looking for ways to promote your products or services, YouTube Shorts could be an excellent option for creatively amplifying your message.
Small businesses have the potential to reach millions of viewers through their global network. Plus, you can easily track the performance of your videos by using YouTube Analytics to adjust or refine your approach according to the results.
Common video topics on YouTube shorts include pranks, how-tos, and silly animals. But you can create your own style based on your business goals.
You can't risk not publishing on Tiktok and losing this opportunity to grow. By posting creative videos on TikTok, you have a large scale to increase brand awareness, engage potential customers, and boost sales conversions.
While most marketers are focusing on Youtube videos, you have a great potential to grow on other platforms such as Instagram, Facebook, and TikTok. You can consider it in your next content strategy.
You don't have to spend so much on creating one video. Using sufficient resources will save you thousands. Also, hiring a digital video marketing team will be a lifesaver.
Don't be afraid to create long videos if it has real value to your audience with a perfect hook, interesting visuals, and well- a targeted script.
When creating a video, don't ignore the power of subtitles. It seems imperative to make it optimised for silent viewing.
You have thousands of ways to use video content. Don't focus on only sales pieces. Gather your team for brainstorming, and you will be surprised by how you can take advantage of your services and resources to create educational content.
How Can Profiletree Help You?
We know you want to create video content because you have noticed how powerful it becomes. Still, you don't have the resources or time to do it effectively and professionally that reflect your unique brand.
Producing content is a superb way to connect with your customers and potential customers, but it can be expensive and challenging to do on your own.
Thankfully, we have a result-driven team creating innovative, high-impact videos that work beautifully for your business and audience.
Our staff of knowledgeable experts is here to assist you. They will produce video content that captures your message and let your viewers engage with you.
We'll take care of everything from writing compelling scripts to shooting and editing, so you can focus on what you do best and what you need.
Book your appointment today, and let's chat about how we can bring awesomeness to your business. Let's bring out the best in your brand!