Thinking of starting your career as a social media consultant? Then the next question should be, HOW. Being exposed to too much might overload your brain. This guide will put you on the right track.
These days, you can't grow your business or promote it effectively without a social media strategy. Over 3.2 billion people are using social media around the globe. Social media embraces substantial customer bases you don't want to ignore. As a business owner, you need to rethink this to penetrate new markets, manage well-targeted campaigns, increase your brand awareness, and post about your products to let people know who you're.
However, in practice, it often appears more complicated than it actually is. Although it's possible for small businesses to set up a social media marketing campaign with just some cash and a little effort, thanks to free insights provided by social media platforms, simple campaign creation steps, and a low-to-moderate budget, the process requires more, especially when businesses need more resources to create high-quality, authoritative content.
It's harder than you thought, right? Many businesses, especially those with limited resources, face the same problem daily. Hiring an entire social media team? Mmm… it might not be an option!
They have to make the right move by trying to make it on their own, but that rarely works out well.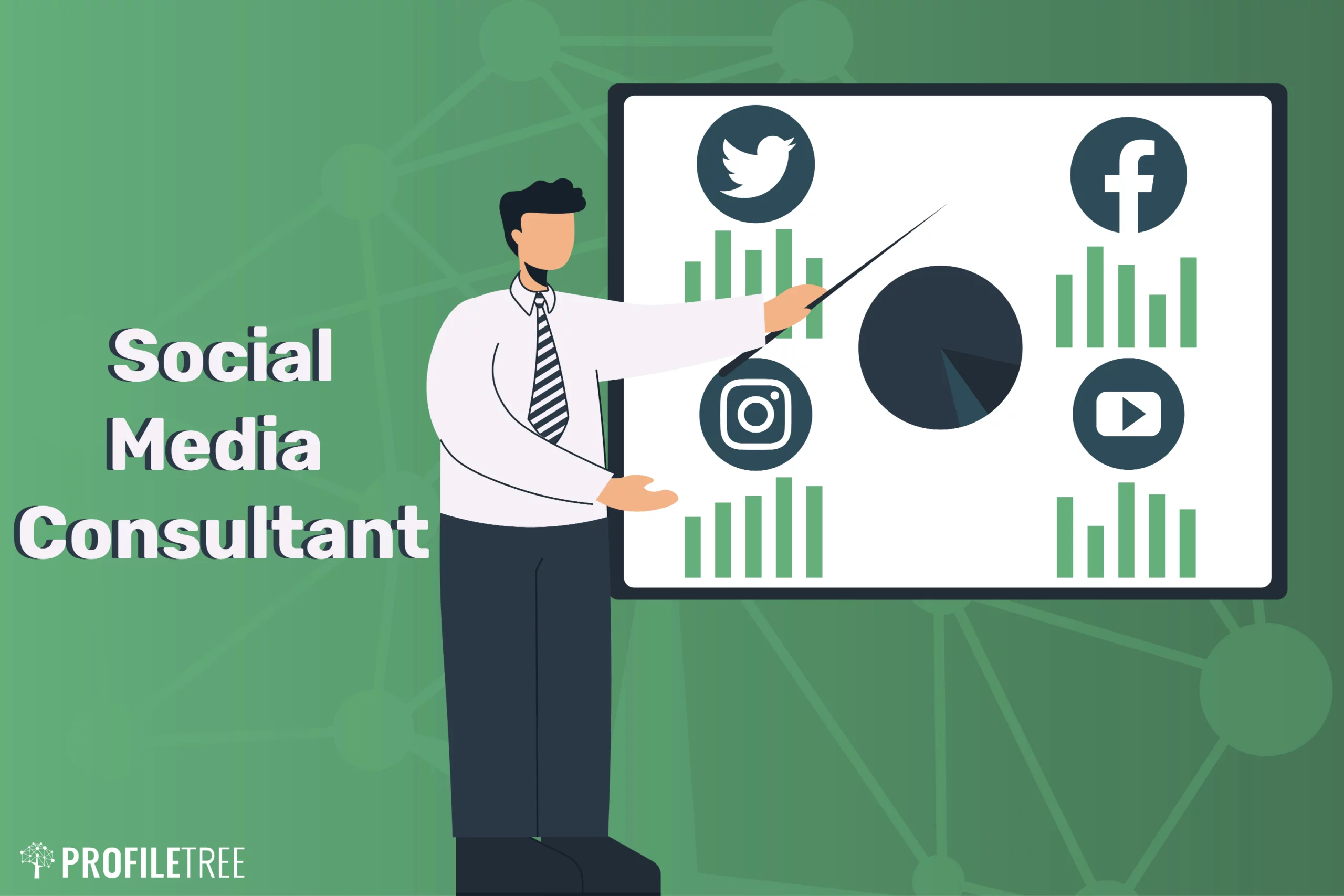 Fortunately, other businesses that lack the means to employ a full-fledged social media department in-house have begun investigating viable alternatives.
So, suppose you're planning to start a new marketing career. Congratulations! You have made such a good decision! Many companies are looking for a social media consultant to help them magnify their social media presence, generate traffic to their websites or accounts, and convert followers into buyers.
As a social media consultant, you should be the assistant of your client in everything related to their social appearance. You have to engage with the audience and grow a fan base properly.
Well, it's an undoubtedly rewarding role, isn't it?
Yes and no. The short answer is it's tricky. That's why we've gathered insights and tips you should follow to find yourself a place in this competitive market.
Also, you can find guidance and suggestions from social media gurus. So if you want to be a successful social media consultant but aren't sure how and where to get started, or you run a business and want to hire one for your team but aren't sure what you should consider, keep reading.
What Do You Do as a Social Media Consultant?
Consultation services can be offered by an individual or a company. The definite goal is to help clients reach their audience, keep them engaged, and generate revenues through social media. They spend long hours improving upon more engaging content that captivates the audience.
A social media consultant's typical day can vary depending on the company's size and industry. You might deliver a single service or undertake a hundred tasks. We will review your responsibilities and what you expect from this prominent position.
Responsibilities and Expectations
As a social media consultant, you should help your clients achieve the following:
Higher acquisition and retention rates
Effective social media strategy
Better ROI from social media activities
Deeper knowledge of social media throughout different departments 
You should have the skills and know-how to be qualified to help them produce profitable and effective social media campaigns. Then, you can give them advice and strategic planning to deliver an overall social media strategy that boosts your client's needs.
But how can I do so?
Welcome to the club. Everyone knows what they have to do precisely, and no one knows how they can do it.
Let's see the most important topics you need to master as a social media consultant.
Strategic Skills
The success of your client's social media campaigns depends on your ability to evaluate their efficacy. Having a trained eye to see what is working well, what should be shifted, and what needs amendments would be helpful.
Indeed, you need to weigh up your client's business goals to come up with a well-laid strategy aligned with what they're targeting. Also, feel free to ask your client to adjust their goals accordingly if you think they might be irrelevant or unrealistic.
The whole social media strategy should support the marketing strategy objectives. That will enable you to lay out a personalised social media plan your client can implement to help easily reach their business goals and improve online identity and presence.
Techniques to Bring Higher ROI
An improved return on investment (ROI) is one of the distinguished services provided by social media marketing agencies. You, too, must learn the tactics for improving ROI if you want to advance in your chosen field.
Often, companies not investing in effective social media strategies never achieve a notable ROI. They are most likely left with poor sales and are still asking why!
It's a great chance to launch or advance your social media consulting career. Bright ideas can come from you, so don't be shy.
In addition to providing an overview of the client's efforts and the results, you should dive in and address the underlying issue preventing a higher return on investment.
Want to see a real-life example?
Okay, assume your client wants to expand their social media followers and build an online community. You will guide them on how to grow their social media community, engage with the audience, and increase follower counts.
Then, you should be ready with a content strategy to help your clients accelerate genuine progress resulting from generating leads, bringing more prospects, driving traffic to the website, and more.
Eventually, you will help your client foster customer relationships so they will trust, listen to, and buy from your client. All of these factors will lead to good numbers and higher ROI.
Analyse, Test, Do All Again 
Analytical skills are essential if you intend to take your career seriously. Maintaining an eye on how everything is doing on social media is a must.
You should learn how to monitor analytics and see how to meet your client's goals and objectives. If something goes down, you need to make improvements.  
Manually doing this, however, can be a daunting and novel task. Analytics and raw data will be piled high on your plate, and you'll have to sort through a lot of it. It could be difficult to tell if everything is functioning normally.
Fortunately, there are unique analytic tools to help you gather and study this data. So that's where you should work to find the right social media management tools that best match your client's business.  
Also, be open to teaching your clients how to decipher and pick out critical information to use to measure marketing performance and ROI.
How to Become Social Media Constant in 8 Simple Steps 
Assuming that you have the previous skills, you're now qualified for the job and committed to starting your social media consultation journey.
You need to invest time and resources to help your business succeed. Here are the insider steps we teach our attendees in digital training sessions, with the most important expert advice on getting started now.    
1. Improve Your Capacity for Marketing on Social Media
If you intend to undertake a social media consulting role, enrich your social media marketing skills.
Specifically, this calls for developing an in-depth understanding of social media from both a business and user perspective.
In other words, you need to be enlightened with the features of each platform and the nature of their audience and how they interact with online content.
Speaking generally, you should acquire the knowledge of these areas:
Ads on Facebook and Instagram: you need to learn how to use them to expand businesses.
A social media post's organic reach: explore the best practices for increasing unpaid reach through the strategic use of hashtags and mentions.
Twitter advertisements: Learn the ins and outs of using Twitter for your client's advantage.
Social media strategy: How to get more "likes" and "shares" by implementing both paid and unpaid strategies.
Enhance sales funnel: Learn how to optimise social media to serve your digital marketing strategy and boost your buyer journey.
Manage different accounts: Invest in one dashboard to handle more accounts and how export reports to help you make an informed decision.
Measure your performance: Set your KPIs and learn how to assess the success of a social media marketing effort.
Set relevant metrics: Define the appropriate metrics before getting started.
Be open to updates: Invest in many social media management and analytics tools to find out how your campaigns are performing.
Know the limits of social ads: Before even running a campaign, answer this question: To what extent can social ads increase user engagement?
Online advertising: Know the difference between different types of digital advertising.
Explore all social media capabilities: Accept change and figure out how to benefit from new social media platforms (like TikTok or Clubhouse) for enterprise use.
Accept failures: be ready for some obstacles but uncover the reasons for unfulfilled campaigns.
What's on the list up top is just the tip of the iceberg of what you need to know. It might seem like a lot, but that's what you need to do to guarantee a successful social media consultation career. 
If you're a beginner, the best approach to establish this knowledge is to allow yourself to go wild and explore many areas till you find a specific service to offer to your client.
Expert Advice
Don't waste your time on so many resources. Instead, take thorough training or register for a course to learn more about management and moderation skills. 
Here is the thing: If you want to learn something new quickly, stop asking the wrong people or checking multiple articles. Enrol in an online course, and if you think you still need more, go for it. Remember that mastering media buying and running successful campaigns across multiple social platforms is crucial if you want to establish a distinguished career in the field of social media.
2. Choose Your Niche 
Have you heard about the concept of "doing it all" before? It works with handling daily chores for a full-time mother, but in business, you have to say a big NO!
Don't try to sell this when you want to pitch a client when you work as a social media consultant.
Why?
Because what works for one brand, say a food and beverages brand, will not work for a brand that offers sports products. So, those who aspire to navigate across industries should instead turn to be specific within only one industry.
Although not all businesses will go to such distances to carve out a specific market for a few products, knowing which market segment you excel in will lend credibility to your operation and ensure happy customers.
It becomes much easier for you to market a service with the right message.
When advising a client on marketing sugar candies, for instance, you might suggest taking high-quality photos and videos of the baking process to pique their interest.
Here is the truth.
It's not always a good idea to only consider a niche market. Alright, the "general vs niche" mentality is a common controversial topic among consultants. So, what should you go for now?
Well, let's break it down. First, define your goal. For example, is your ultimate goal to handle any social media marketing campaigns in any industry or to be a specialist in one niche you're passionate about? There is no short answer! Each approach has its pros and cons.
Yes, working within one niche can bring you success, keeping you ahead of the competition, but you need to have a strategy to position yourself in the market. In other words, make sure you have enough projects to work on.
Expert Advice
During your research process, expand your possibilities. Consider both your offerings and the demographic that would be interested in them. For more explanation, if you're interested in developing a social media strategy for clothing boutiques specifically, you might check with local clothing boutiques to see if any of them require assistance.
Also, consider using social listening to find out what the audience says about your client's brand. That's how you can track any mentions and conversations to adjust your marketing strategy accordingly.
You should be curious about the size of the potential market for your consulting services if you decide to focus on kid's clothing stores. How will you differentiate yourself from others in your field?
First and foremost, you should look for work in the field in which you have the most knowledge and experience.
3. Show What You Will Offer
The scope of social media consultation work is as large as an ocean.
In many cases, a social media specialist's responsibilities in the areas of content creation, search engine optimization, and marketing strategy will overlap.
In the consulting industry, you can choose from a wide variety of services. Some examples are as follows:
Training
Examination of activity on social networking sites
Social media strategy
Community management
Creating a new account to launch an enterprise.
You don't have to offer all, but providing a mix of services and products enables you to diversify your income stream. At the same time, having too many is not recommended as it'll distract you. Some even go extreme and emphasise that offering all consulting services is prohibitive in today's market. 
Whichever you choose, ensure you're as specific as possible about what you'll do for your clients and how you will deliver work.
Expert Advice
Setting boundaries from the beginning is key in any healthy professional relationship to give your clients what they expect. 
4. Set Your Fees 
Setting your quota can be mind-numbing. Though it's not required, offering a variety of services and products increases your chances of maintaining a steady flow of revenue. Having too many, however, can be distracting.
Whichever route you take, be as detailed as possible in your descriptions of the services you will provide and the methods you will use to get the job done.
Carefully investigate what other consultants are charging during the research phase. Use Quora to get the opinion of the general public.
Alternatively, to invoice by the hour, you can opt to bill by the project. Consulting and search engine optimization (SEO) jobs can take anywhere from a few hours to a few days, so charging by the project is a viable option. However, if hour-based payment works for you, go for it.  
Expert Advice
To uncover whether you should charge by the hour or by the project, make a spreadsheet listing everything you need to get done.
Additionally, you need to set a day rate and identify your salary target. How do you define an adequate salary? Divide the average working days in a year, calculating holidays and sick days.
As a social media expert, know what value you add to your client. It's tempting to offer a moderate rate to pitch more prospects but trust me, you'll regret it later on. Pay attention to who will pay for good quality and hunt a win-win deal.

Sooner or later, you'll need to factor in the cost of accomplishing business on your own, such as taxes, your internet bills, and other work-related expenses. Freelance rate calculators are a brilliant tool to help you decide whether to take it or leave it.
5. Gain Enough Experience 
Opportunities for beginner or entry-level social media consultants are available on many hiring websites. Consulting positions are in high demand, but most companies require at least some relevant work experience before recruiting.
If you want to be a freelance consultant, you have no choice but to gain experience through separate projects.
You can seize your chance of getting hired as a social media consultant can be increased if, for instance, you volunteer to manage the social media channels of friends or acquaintances who run small businesses.
In this case, if you want to become a consultant with expertise in copywriting, working as a copywriter first can help you gain valuable knowledge about the industry. That will aid you in advancing into a consulting role. 
6. Start With Establishing Credibility 
Credibility is a no-brainer when it comes to being a freelance consultant. Without it, trust me, no one will trust you (which means no hiring, no contracts, and no career!).
To know what it takes to establish credibility as an advisor or consultant, you need to lead a separate conversation, putting yourself in the client's shoes.
Try to put yourself in the other party's shoes: why would they hire you to manage their social media if you were in this negotiation?
It's a hard question, isn't it? Assuming you don't have any experience consulting with clients, what would you bring to the table?
Expert Advice
A given here is that you already have solid social media existence, and you can showcase your online brand to build credibility in this relationship with potential clients.  
Having a website and a blog is highly recommended by our experts as a means to showcase expertise, share insights, and earn credibility. You need to have live evidence of how to maintain a consistent body of followers.
Why not write your ebooks or host a webinar to increase your following base to stand your ground?
All these ways will significantly impact establishing credibility through having something to show off and prove you can build a successful social network strategy.
7. Build Your Network
When starting your social consultation career, focus on socialising and networking with others in person and online.   
Expert Advice
Building relationships with others is another aspect of being a successful social media consultant. This network will assist you in building up a client following, learning from others, sharing your expertise, gaining referrals, and discovering job opportunities.
8. Build Your Portfolio: Include Case Studies and Content That Proves Your Value
The portfolio only can't work anymore. So instead, anyone who is trying to build a professional portfolio of clients as a social media expert would need to do a few things to get a good deal.
Enrich your portfolio with case studies. All clients want to see how the work you have done before has performed and what you can offer similarly.
Case studies not only showcase the skills and knowledge of a professional but also demonstrate their ability to apply them in a real-world setting. They present a comprehensive look at how someone has approached and tackled complex challenges, allowing employers to understand better what someone can bring to the table.
Expert Advice
Produce and publish content that shows your knowledge in the field of social media marketing. Having a blog or even writing a publication for a channel like Medium can help you overshine and stand out from other consultants.
How Can Profiletree Help You?
With over 20 years in the market, we are familiar with the most reputable social media techniques, strategies, and secrets. Therefore, you can join our training programs supported by the most admirable management tools to surprise your clients with actual results.
If you are a business owner in need of a social media marketing consultant, we are here for you! We assist you with all your data, software, and process needs by translating strategies into operational tactics and realities.  
Make technology the ally of your performance to bring the success you're willing!
Ready to get started? Call us now!