Sometimes things don't always go as you planned. As a company you have contacted the influencer, shot the commercial or planned the marketing campaign. Then the campaign goes live, is shared across different media platforms – but something's wrong.
The campaign starts to get bad reviews online, people are starting to address the criticism surrounding the work you have done. Online backlash is around the corner and you cannot stop it. The damage is done and you can't do much about it – maybe only an apology video can help you. A lot of the time, even when an apology video works, people start to lose faith and trust in you, and the code between the influencer and his or her followers is broken. On top of this, a bad campaign can damage an influencer's credibility and brand opportunities moving forward, as their audience no longer trusts them.
So you know what to avoid in the future, here's our top influencer marketing campaigns that got it really wrong:
Kendall Jenner's Pepsi Controversial Commercial
In April 2017, model and influencer Kendall Jenner starred in a Pepsi Commercial. The commercial starts with Jenner doing a photoshoot while there is a protest going on outside. There are people with "love" and "join the conversation" signs marching down the street. She finishes the shoot and starts to join the protestors. The protest ends in front of the police where Kendall Jenner hands a Pepsi to a police officer as a symbol of peace.
The Pepsi commercial was called "Live For The Now Moments Anthem", in an attempt to allude to past movements in history as well as on-topic movements at the time, but unfortunately this didn't go as expected.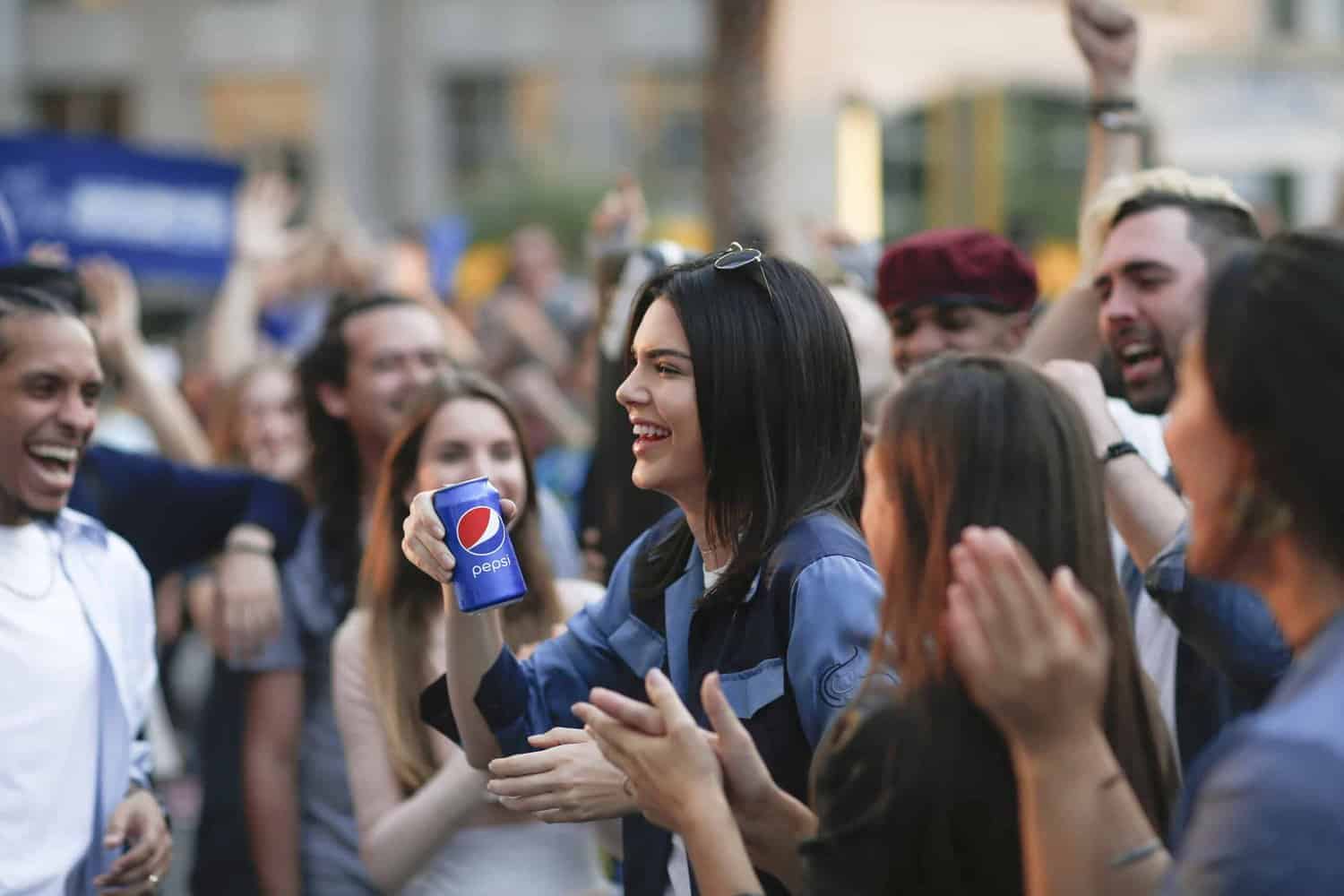 In fact, a few moments after the commercial aired, it received a lot of backlash and accusations of appropriating and using a civil rights movement as a pretext to sell a drink/product. It had to be pulled shortly after launch with even the daughter of Martin Luther King speaking out on social media:
The Washington Post reported that the brand apologised about it, that they didn't want to cause any offense and "missed the mark" with the marketing campaign. Pepsi also apologised for putting Kendall Jenner in that position as she was also receiving backlash for taking part in the campaign. Unfortunately, the internet doesn't forgive and forget very easily and the damage was done.
Shortly after Pepsi had to write an apology directly to Bernice King:
Online, users were saying that this is an outrageous appropriation of the Black Lives Matter movement and the final scene looked like a mockery of the iconic photo of the Black Lives Matter protester Leshia Evans.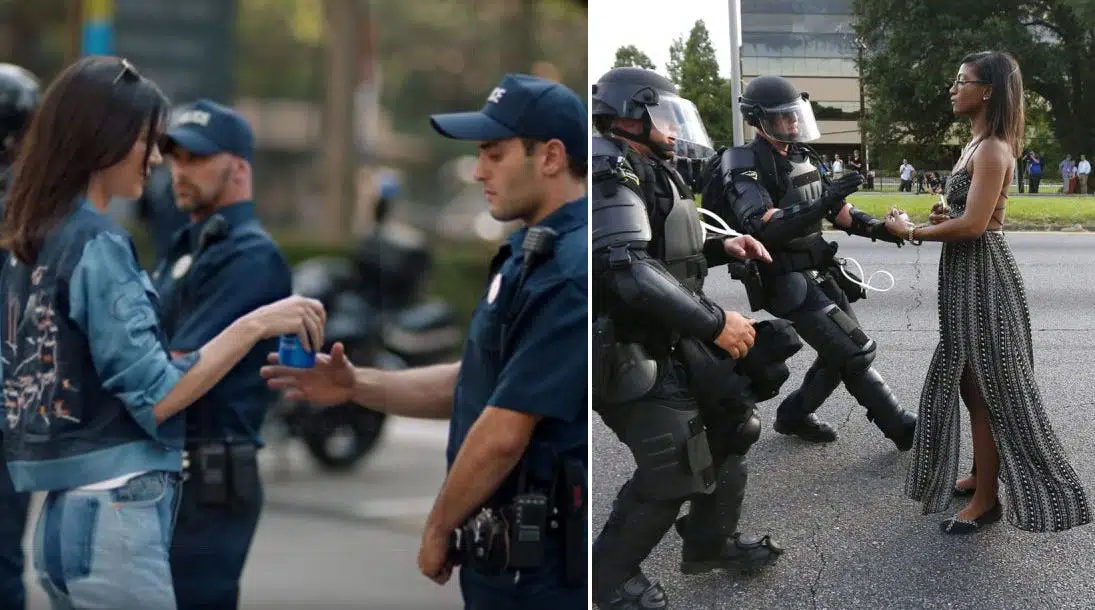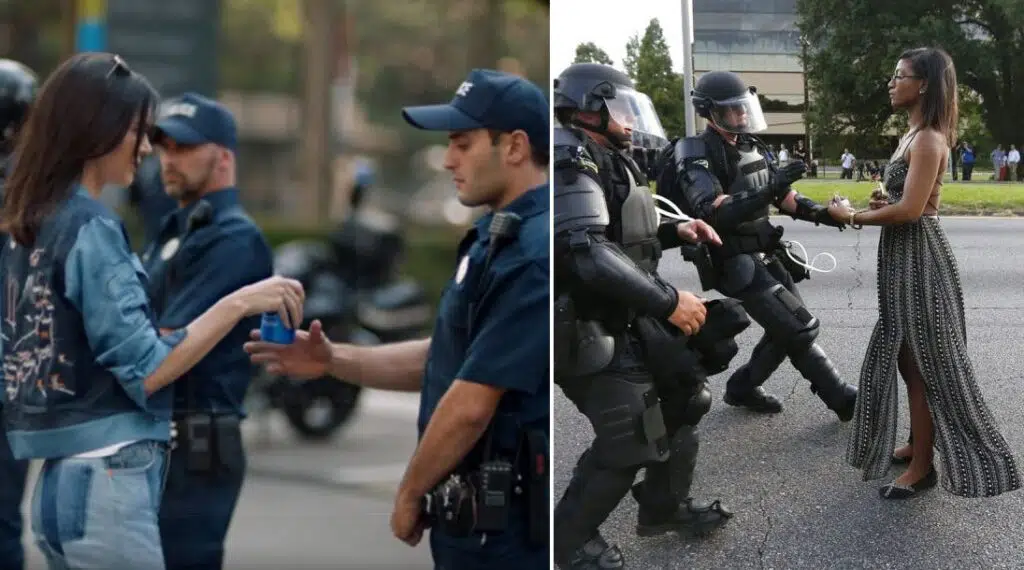 The failed marketing campaign also inspired thousands of memes across social media:
The media monitoring company Brandwatch said that Pepsi drew 1.25 million mentions on social media with 58.6% of them negative. Also, there have been 124,598 social media posts referencing it and of the 105,524 posts by members of the public, 45% (47,202) have been negative compared to 27% (28,871) that are positive.
Furthermore, in the Washington Post article, they reported that McKesson, who organized and protested in Ferguson after the death of Michael Brown, also took issue with the brand's apology. "Pepsi didn't apologize to all of the people who have been protesting for two years, didn't apologize to the people who dedicated their lives and their time to these issues and to understand the urgency of them because in so many cases, there's so much at stake including people's lives," he said.
This advertisement created the opposite effect. The company used a popular face, Kendall Jenner's one, to create something very upsetting. They used a very important social movement in order to sell soda. The campaign also had invested money that they would have never seen again. In fact, in a PEOPLE article, an industry executive said that the cost of the commercial was around $2 million to $5 million, including Kendall's fee. She might have been paid around $400,000 to $1 million for this commercial.
According to the Washington Post, Kendall Jenner tried to apologize in the first episode of the 14th season of Keeping Up With The Kardashian where, in a conversation with her sister Kim Kardashian, she says: "I trusted everyone. I trusted the teams. But after I saw the reaction and I read what people had to say about it, I most definitely saw what went wrong. I was so stuck, and I really didn't know what to do, that I completely shut down." She used the show to apologize and explain herself so she could regain the trust from her audience.
Unfortunately, here we can see that sometimes advertisements aren't as easy as they should be. Here the company had to do more research and maybe use an external point of view and try to avoid the damage. Research is really important when you want to create something meaningful.
You can still see the Pepsi commercial by clicking this link: Pepsi Commercial
McDonald's UK Insensitive Ad
In May 2017, McDonald's UK aired an advertisement where you can clearly see a kid mourning the death of his father by looking at pictures and talking with his mom about it. They are walking and at the end, when they enter a McDonald, they sit. The face of the boy lights up once his order of Filet-O-Fish arrives and his mother says: "That was your dad's favorite too."
After the air of the commercial, this started to create a lot of backlash from people online and the outside world, too. A lot of centers about children's care receive phone calls about parents upset about this commercial. In an article in The Guardian, Shelley Gilbert, a psychotherapist who founded the children's bereavement charity Grief Encounter, said "it had received a lot of phone calls from concerned parents". She continues saying that what the big company did was exploit childhood bereavement as a way to connect with young people and surviving parents alike – unsuccessfully.
In fact, "one in 29 children are bereaved of a parent or sibling by the time they are 16 years of age, so this storyline will resonate with a huge number of children and surviving parents". This creates a chain of people not happy with McDonald's trying to emotionally manipulate its customers. Some other companies said that it is very insensitive to use grief as a tool to sell fast food. The advertisement was produced by a company in London which didn't do much research about children and how this can upset them. Some parents had to explain to their child why smiling at a McDonald's meal is not the right way to mourn your father.
A spokesperson at McDonalds had to apologize for this advertisement by saying: "We can confirm today that we have taken the decision to withdraw our 'Dad' TV advert. The advert will be removed from all media, including TV and cinema, completely and permanently this week" – adding – "It was never our intention to cause any upset. We are particularly sorry that the advert may have disappointed those people who are most important to us: our customers."
The commercial was pulled from every platform but you can still see it online by clicking this link: McDonald's Commercial.
These are some of the comments that came up on the Twittersphere:
Zoella's Advent Calendar
In November 2017, Zoe Sugg (AKA Zoella), a YouTube personality and influencer, did an advent calendar with 12 doors that sold for £50 at Boots.
The calendar had these items in it:
a bauble
a little packet of "Make a Wish" confetti
a star-shaped cookie cutter
a packet of seven (7) stickers
a make-up bag/pencil case
a "Festive Cookie" candle (130g)
a mini bottle of "Christmas Clementine" room spray
a pen
a fluffy key ring
a second, this time gingerbread man-shaped cookie cutter
a mini notepad
a "Cozy Christmas" candle (130g)
After the calendar came out, the controversy started. First people online started to say that the items were worth half the price and the calendar was overpriced. The YouTuber Jaack Maate made a video where he made clear that the calendar was a total scam. In a very funny and sarcastic way, he unboxed the calendar while putting out every exact price of every item, proving that the items were worth less than £50 as a whole. For example, the cookie cutters could be bought on Amazon for £0.77 each, mini jotter pads bigger than the Zoella ones cost £1.50 at Wilko, and also some of them could be found on Primark and Poundland too. This means that the actual price of the calendar ranged between £12 to £21, and the people paid for the name instead of paying for the actual products.
The online community started to trend the hashtag #ZoellaIsOverParty on Twitter.
A day later, Zoella made a 33 minutes video about her everyday life and at the end there is a 5 minutes apology for the calendar scandal. She said that overall she was happy about the calendar, but she wasn't the one that decided the price, the retail did. So she threw the retailer Boots UK under the bus. People weren't happy with this apology because it seemed fake. Thus, she started to lose followers (in two years she lost an amount of 400,000 followers) and she lost 43% of her total viewers on YouTube. In 2019 she lost 429,401 subscribers from the channel. In addition to this, the calendar backlash even brought out some old homophobic and fat shaming tweets from 2010 to 2012, which by now she has deleted.
So, when you are preparing something big like a kid advent calendar you need to remember that your audience is composed mostly of kids and tweens who have to ask their parents for permission to buy a £50 pound calendar and the things you say on the internet stay there forever in order to come back to you.
Also after the scandal, people at Boots said they were sorry and put the price for the calendar at £25.
Alfie Deyes Living Off £1 For A Day
On a bright day of the year 2018, the YouTuber Alfie Deyes, Zoella's boyfriend, had the idea to take the challenge of living off £1 for a day, where you cannot spend more than £1 pound for items. The video starts with him saying that he cannot drink coffee because it is too expensive so he drinks tap water. In the video, you can see that the budget was adjusted only for Alfie's daily food and expenditure, no travel costs where included. In fact he uses his expensive car to go around instead of walking.
As the video keeps going, you can see him going to a gym session with this personal trainer and someone gives him a free donut as a gift.
Unfortunately his lack of awareness of those who actually live with only one pound a day created the backlash and shortly after, he wrote an apology on his Twitter account.
People online started to say that the apology wasn't enough, and that he was a privileged guy mocking poverty. Other people were saying that he was making poverty an entertainment, highlighting how unaware he was of the poverty situation in the UK.
Shortly after he made a video apology called "Let's talk about the £1 video".
In this video, he tried to explain his reasons for the £1 video, why he made it and why he took it down. The comments are saying that this is a more mature apology compared to what other YouTubers have done. His viewers accepted the apology and forgave him for his mistakes. Later, he re-uploaded the video with the title "Spending £1 in 24 Hours".
Jaclyn Hill's Lipsticks Backlash
In May 2019, the YouTube personality and influencer Jaclyn Hill launched under the Jaclyn Cosmetics her 'So Rich Lipstick' line. According to an article on EliteDaily, the line is composed by 20 shades of lipstick that have different prices:
Single lipstick: $18
Trios: $49
All retail: $295
On May 23rd she introduced the fans to Jaclyn Cosmetics through a video, and then on May 30th 2019, she launched the lipstick. The first reviews were good, but more and more people started to use the lipstick. More people started to address the problems of lipstick online.
People started to complain online about those topics:
The lipstick arrived broken at home
There were micro black spots on the lipsticks
People who used them got irritation
Above the lipstick, there were things similar to white hair
They seemed to contain mold
All of these factors started to circulate online. The influencer took her Twitter account and said that the black spots were there because they used lipstick, and the thing that seemed like hair was coming from the texture of the gloves that her staff used in the lab.
She told her community who were complaining about the lipsticks that they should contact her customer service and get a full refund. Even there, people were saying that the response from the customer service came late as the refund.
After all the backlash she made an apology video of 14 minutes where she talks about the criticism surrounding her products, she shows the paperwork that her lab had to do in order to have a good product that could be sold in the stores, and she said that her and her team want to find out what went wrong with the lipstick. Moreover, she said that despite the health concern, the lipstick is still safe. Unfortunately the people didn't like this apology and many of them started to say that she needed to recall her lipstick and they felt betrayed.
Some of them started a petition on change.org to contact the FDA (Food and Drug Administration) for the health concern. The petition gained more than 200,000 signatures. After all this backlash, Jaclyn deleted all her accounts except from YouTube. Before the launch of the product, she had 6 million followers, and after the scandal she lost nearly 70,000 of them.
Now she is back with another lipstick line, saying that she has learned from her mistakes and that she wants to do better for the future. For this, she also received new support from internet personalities such as James Charles and Jeffrey Star.
Conclusions
In the end, all these campaigns went wrong because of a few factors, like:
Lack of awareness/research on social issues
Lack of interest/investment in the product
Backlash can always be around the corner, but you can better structure your campaign by:
Caring about what your community say about you
Doing a lot of research on social issues and your audience
Finding the right topic for your campaign
Not rushing things
If you put effort into what you are doing, you will see the right result. There is no right or wrong way to plan a campaign or a commercial – but research is key. Sometimes things don't go as planned, but you can avoid doing an apology video because you made a very avoidable mistake.