Technical marketing skills are more important than ever. Marketers are responsible for showing the public what the company has to offer and why they need their products or services. Their impact reflects directly on sales, which in turn controls the fate of a business.
Such a responsibility requires certain skills beyond having a marketing degree or not. When applying to a marketing position, is it better to have experience or skills? The ideal answer is both, but if you had to choose it's best to have skill.
Experience is only a way to certify your potential. This means that you can acquire the needed skills elsewhere. Getting a degree in marketing is one way, you can also gather the skills needed in another career.
The trouble here is that the technical skills needed for marketing are changing faster than ever. For this reason, it's vital to focus on transferable technical marketing skills, rather than knowledge of specific tools or even techniques.
Additionally, many people are seeking to transition into a digital marketing career, and the most in-demand marketers have transferable technical skills: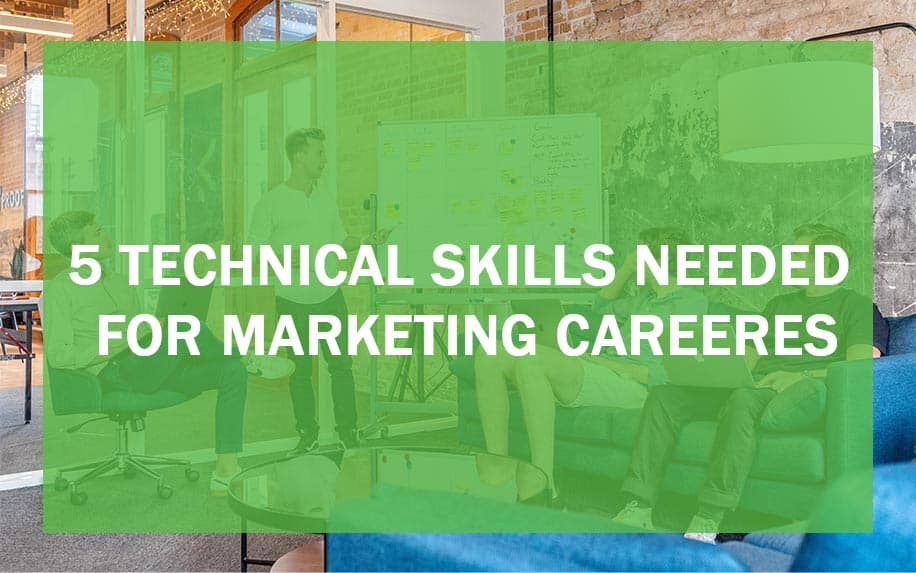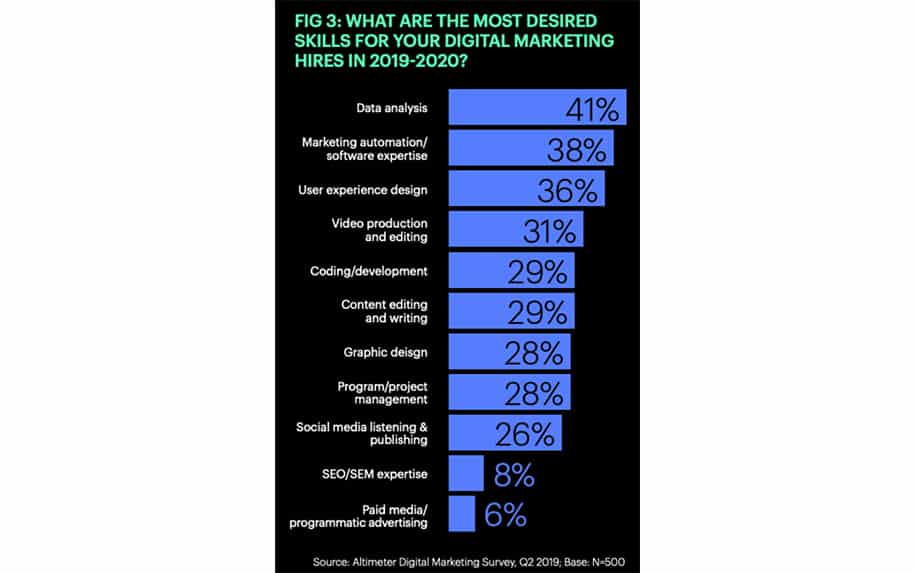 With that in mind, let's dive into the key skills you need to master in order to succeed as a modern digital marketer.
Skills Needed for Marketing
Every marketing department consists of many employees, with a variety of different responsibilities. A marketing campaign is like one giant machine. Every component has its specific role to reach one larger goal.
For this reason, everyone from the head of the department to the interns has to be in perfect sync. No matter where you are in the marketing process, it's crucial to keep your technical skills fully up to date.
However, before we get to the technical side of things, let's take a look at some of the key areas where technical nous can help your department to thrive.
1. Marketing Soft Skills
Soft skills basically mean everything related to personal attributes and traits. Soft skills needed for marketing are more of a skill tree that branches to other skills, and together they define a marketer's character.
However, there's nothing wishy washy about keen soft skills.
Indeed, soft skills can have a quantifiable financial impact on how your marketing department operates. This also overlaps with the technical side of your marketing skill stack in some surprising ways.
Emotional intelligence
One element of this is the ability to control your emotions. It's done by first acknowledging these emotions, understanding them and where they come from, and in turn being aware of them in other people's behaviour. This is a strong tool to have in the marketing business.
More importantly though, emotional intelligence helps you to understand other people's emotions. Specifically, understanding the emotional content of what other people say is important when dealing with both colleagues and clients.
On the technical side of things, you'll increasingly have to exercise your emotional intelligence across a range of different digital communication tools.
Leadership and Innovation
You might think this would only be handy if you're the head of a department. But the fact is most ideas come from further down the chain of command. You need to be able to take action and inspire others to believe in your idea.
This intersects with digital training.
Specifically, it's quite common for members of your team to have specific technical marketing skills, which others lack. This can lead to two situations where leadership skills and a teacher mentality are crucial.
In some cases, this creates an opportunity for some workers to share their technical skills with others. In others, tension can occur where someone with helpful digital skills has to convince their colleagues that a new technique is worth their while.
Communication
The whole department needs to work in perfect sync to achieve maximum efficiency. So collaboration is a must in marketing. You will also work hand in hand with other departments in efforts to maximize profits.
The rise of digital technology has added additional challenges here. The thing is, between email, video chats, instant messaging and other communication apps, things can quickly get messy.
In this context, communicating effectively across teams means staying organised and understanding how to best use a range of digital tools.
2. Marketing Strategy Skills
Virtually anyone can come up with a good marketing idea. Having a solid plan is what separates a good marketer from the rest. A good marketing plan starts with market research and ends with the expected profit from the campaign.
This requires a great amount of planning and data gathering. The most brilliant campaign would fail if it doesn't target a specific audience, with specific messages. A part of the planning process is crunching in the numbers, and making sure it's worth the expenses.
This involves technical skills like data analysis and visualisation, as well as more traditional business skills like communication and gaining stakeholder sign-off.
A marketing department can interfere with production if it serves the best interest of the campaign and hence the company. Having the skills needed for marketing means being able to sit down and use each one in drawing a comprehensive plan.
There are many marketing strategies to adopt, but choosing the right one for the task at hand is key.
3. Marketing Executive Skills and Qualities
The success of a marketing campaign is measured by how well it performs in the field compared with the plan. One of the most important skills needed for marketing is execution.
Marketing executives are basically in charge of seeing plans through from planning, to launching the campaign, to results.
Anyone aspiring to go anywhere in this profession needs to have the oversight needed for management before being a manager. Executive qualities include communication, as they work with other departments like production and research & development.
They also oversee every detail from start to finish, this requires a great amount of leadership and creativity.
4. Digital Marketing Skills
Nowadays, most of the marketing efforts are directed towards digital marketing. Even if an ad campaign is launched in the form of TV commercials you find it linked somehow on social media or YouTube.
This isn't because online marketing is cheaper, but because everyone is online now and it's the best way to appeal to them.
There are certain skills needed for marketing online that need to be added to your resume if you want a career in marketing.
Content marketing, including SEO and CRO content,
Social media marketing,
Email marketing,
YouTube.
Again, digital marketing is one of the fastest moving disciplines around. As such, it's more important to focus on transferable technical skills. A good way to do this is to think about your current skill set, and how this can help you move with industry trends.
For instance, if becoming an SEO guru has helped you to pick up skills in data analysis, coding and web development, then this sets you in a great position to pick up new technical marketing skills quickly and easily.
5. Business to Business Marketing (B2B)
Businesses need resources too, and to acquire them they don't simply go shopping at the mall. That's why business to business marketing is important. To provide other businesses with an idea on what you have to offer them.
B2B skills in marketing are fairly different from the skills required to market to consumers. B2B strategies are different from normal marketing channels as you are now dealing with larger entities with much larger shopping carts.
Again, the most in-demand B2B marketing skills have large technical elements to them: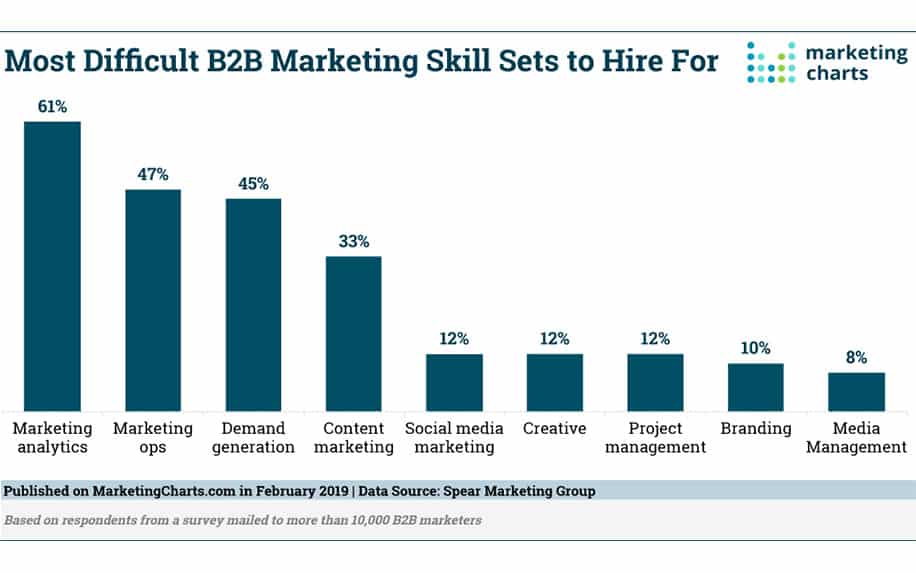 Basically, businesses won't be dazzled by anything other than cost-effectiveness.
Here, marketers essentially need most of the same technical skills as a modern accountant. Essentially, marketers need to make a cost-benefit case for their products when selling to businesses.
This involves a great deal of data analysis, as well as estimating, budgeting and presenting the business case for your services.
Why Choose a Career in Marketing?
Demand for marketing skills is growing faster than most other job fields.
This is mainly because of the amount of work and responsibility the job entails. However, not only is it financially rewarding, but marketing is one of those jobs that are satisfying to hold if you have the personality for it.
If you have the skills needed for marketing, then no other job will be able to utilize your gifts properly.
Marketing executives hold a lot of power within a company. Not because of how much they're invested in, but because they are the creative visionaries of the company. For this reason, in order to climb up the ladder in the marketing department, you need to align your vision with that of the company.
If you have the mental strength for this much responsibility, marketing is the path for you.