To begin creating an email campaign on WIX, you need to be signed into your WIX account. Once logged in, head to your WIX dashboard and select which site you wish to create a WIX email campaign for. Once on the individual site's dashboard, you will need to click on the marketing tools options in the left-hand side navigation. Here you will find a list of options including email marketing. Once you have clicked on the email campaign, you will be taken to the email campaign editor within WIX.
WIX Email Campaign Editor
To navigate to the email campaign editor, follow these steps:
Sign in to WIX,
Click marketing tools,
Select email marketing.
Once on the WIX Email campaign editor you can start to create your email for your campaign. You can add elements such as:
Text,
Images,
Subject lines,
Headings
Buttons,
Links,
Videos,
And much more.
It is good practice to create a campaign with a large, catchy header than can and will grab people's attention. It is also ideal to write a main message with the email. This will be the reason why you have made an email campaign. You can also add images to the email campaign including images already on your site or you can upload a new image. It is also best to include links and contact details within the email including your website, social media links and your phone number and address. Not only does this give your recipients all the right details, but it also makes the email look professional and not spam or dodgy. Once you have created the email, you can preview and test. Here you can check if all the links within the email are working correctly and the design of the email is nice and tidy.
Sending an Email
After you have created an email campaign, it is time to send the email. Before this step your site should have already built a mailing list. It is now more important to have this than ever before as the only people you can send emails to are people who have subscribed to be sent emails. If you don't have a mailing list, then there would be no point in creating an email campaign.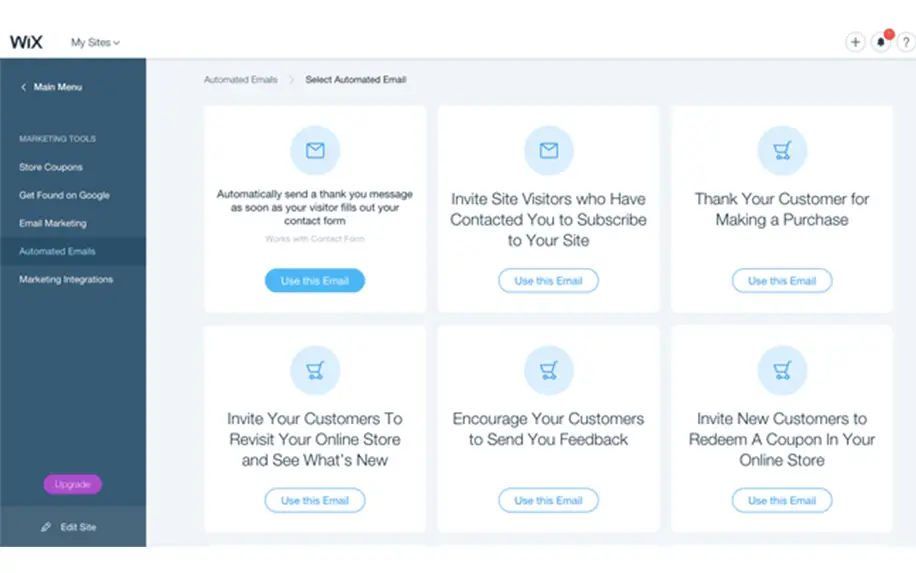 From this dashboard you can select the correct people to send the email campaign too such as all contacts or just members of the site. Once you have selected all the contacts to send the email too, it is then time to publish the campaign. When sending the campaign, WIX adverts may be placed within this. To remove these, you will need to upgrade your plan to a premium plan. This is recommended for professional and commercial sites.
Email Marketing Campaigns in WIX: 3 Tips for Success
Of course, it's one thing knowing how to set up an email marketing campaign in WIX. It's quite another to know how to create an effective email campaign. That is, there are some key email marketing principles you should also understand. Here are the best practices you should use in all of your WIX email campaigns.
Email Frequency
The frequency with which you send out marketing emails is crucial. Specifically, you want to strike a balance between two things:
Maintaining enough contact to build relationships with your customers
Being restrained enough that you aren't bothering them.
This is tricky, because the perfect balance can vary from industry to industry. As such, it's important to consult the data on your existing campaigns using. Within the
email marketing
, you should navigate to the
email statistics
tab. For each individual email, you can view the raw figures and percentages for:
Delivery,
Opens,
Unsubscribes,
Bounces,
Spam reports.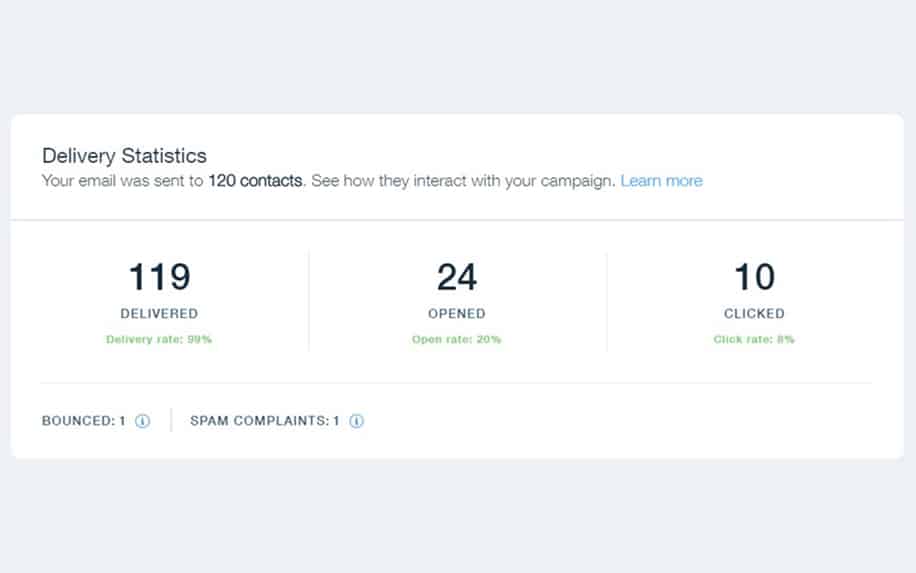 Here, the key is to compare the open rates of different emails, with reference to the amount of time which had passed since the previous email to the same recipients. However, it's important to try and be scientific about this. The thing is, you're not always comparing like with like. In fact, there are a bunch of different variables across your individual emails, most notably subject lines, and in some cases the time of day when you send them. As such, this isn't an exact science. Instead, what you're looking for is a correlation between the frequency of emails and the open rate, which is common regardless of how good or bad your subject lines are. Scientists call this a most-different-systems-design, because everything is different across the cases, except for the things you'd like to measure. This is more reliable when you have more cases, so it's important to keep experimenting with email frequencies.
Subject Lines
We've touched on this already. Subject lines are probably the biggest factor which determines the number of people who'll open your emails. Learning how to create great subject lines is the easiest way to boost the ROI of your
email marketing
. Luckily, there are a bunch of easy tips you can use with your WIX emails campaigns, such as:
Using short subject lines, of around 41 characters,
Personalising subject lines with the names of your recipients,
Including numbers and percentages,
Using emotive language,
Adding emojis,
Asking rhetorical questions.
At least, these are some of the best ways to improve the open rate of your emails. As with above, you can use the
email statistics
tool to gather data on exactly what works and what doesn't with your audience and industry. However, the ultimate weapon in email marketing is known as
A/B Testing
.
A/B Testing Email Campaigns in WIX
Essentially, A/B testing is when you choose to create two slightly different emails. You then send each of these to a portion of your mailing list. Each test segment has to be big enough to offer a reliable insight. The minimum here should be 50-100 recipients. Unfortunately, you can't do this in WIX natively. Instead, you have to integrate WIX and an
email marketing software
like
MailChimp
. Then, you'll have the option to set an A/B test while you're creating your email campaign. In MailChimp, this is largely automated. You simply set the two subject lines you'd like to test, and the number of test recipients. You can then set the amount of time you'd like to wait before the remaining emails are sent out, with whichever subject line performed best.