Many businesses don't fully understand online marketing. In fact, it's all too common to meet businesses who think occasionally posting on Facebook is enough to reach new customers.
Unlike traditional marketing, the costs of marketing online are considerably lower.
This makes online marketing incredibly accessible, especially for smaller businesses.
It is also highly adaptable to the needs of the consumers so naturally, in our technologically advanced times, the Internet has become a valuable marketing tool.
Today, we're going to cover everything you need to know about marketing your business online.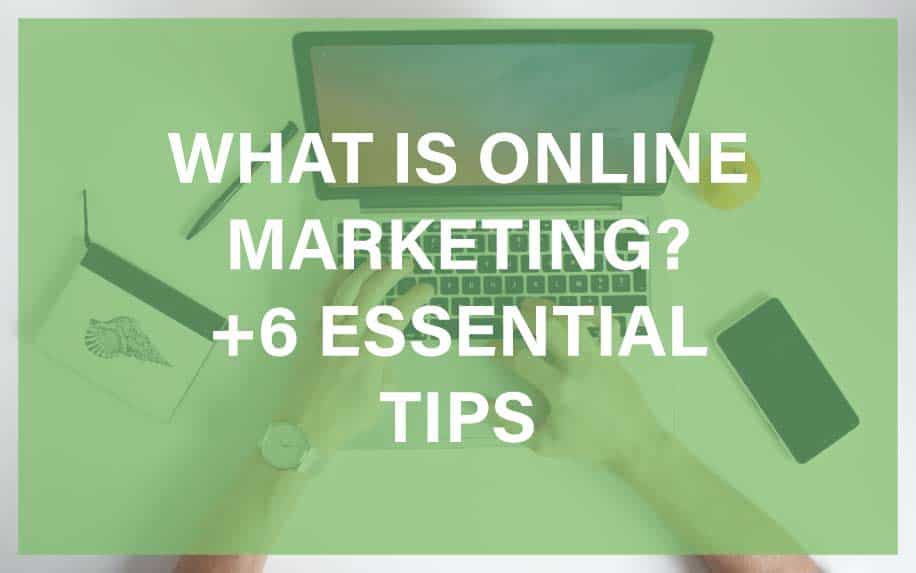 What Is Online Marketing?
Online marketing targets customers with relevant interests to ensure that it reaches a relevant audience. Its effectiveness of it comes from the fact that it is cheap compared to the number of views it generates.
Online marketing definition may be seen as utilising the Internet to reach a global audience through one-way communications, web ads and search engine optimisation, or interactive communication through social media.
Here are some of the benefits of Online Marketing in comparison to other traditional marketing mediums:
Your product reaches a global audience,
Your products reach people with relevant interests,
Relatively cheap when compared to other physical mediums,
Increases Brand Loyalty through interacting with customers,
Constant exposure to a brand boosts brand recall,
Reliable location for business updates.
Essential Online Marketing Channels
Of course, when you want to get to grips with online marketing, you'll need to understand the various channels available to you. Here are three of the most common online marketing channels which every small business should be familiar with.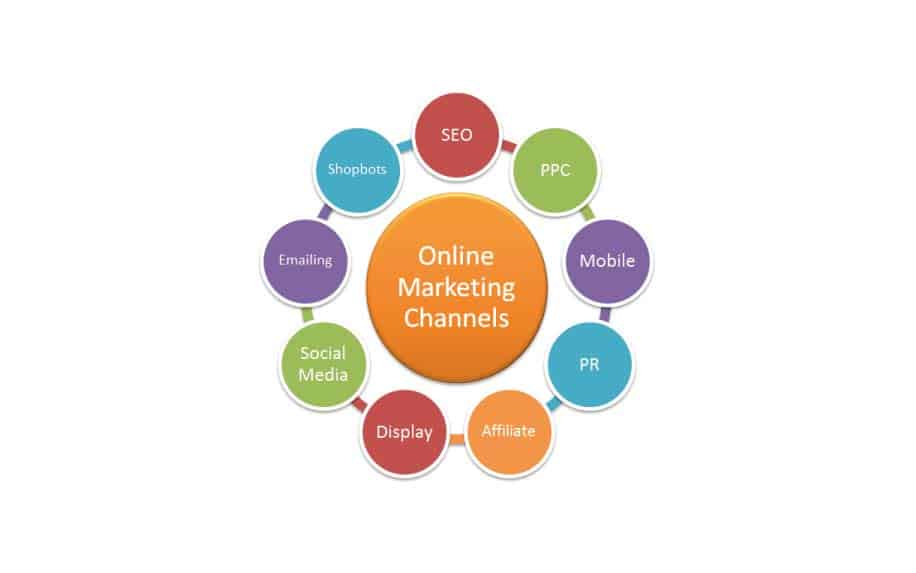 1. Display Advertising
The simplest type of online advertising involves the use of banner advertisements on 3rd party websites, usually through Google Ads. In order to avoid intrusions on the user's experience, the banners are on the sides of a page.
The key to success here is achieving high ROI for your ad campaigns. This means minimising the cost for each impression your ad makes and maximising the number of purchases that each ad leads to.
2. Search Engine Marketing
This requires a proper understanding of how search engines rank pages to maximize the traffic to your website. This is one of the most essential mediums for the natural growth of your online entity.
All views in this case, are interested in what you have to offer. This method involves adjusting your content in order to please search engine algorithms to ensure that you rank high on a results page.
3. Social Media Marketing
Arguably the most important Online Marketing Tool due to its incredible flexibility. It is for interacting in order to gain favour (brand acceptance) or to remain competitive.
It is of no doubt that online recommendations are the natural evolution of word-of-mouth marketing, which is essentially the ultimate marketing goal of any business. It provides the most exposure; however, it requires the most amount of effort.
There are several social media websites, each serving its own function. A Facebook page is essential to show the number of people who liked your product.
Twitter may be used for more instant interactions with the customer base as well as a chance at viral tweets with these tools at hand. There are several more uses of social media for marketing. We share some of our most popular articles on online marketing:
5 Essential Online Marketing Tips
When setting out an online marketing strategy, it's important to understand the best practices for different channels, as well as some tips which can be implemented across a range of different platforms.
With that in mind, here are five of our top online marketing tips.
1. Create an Effective Website
The internet is a big place. Consumers are bombarded with thousands of messages each and every day through web searches, email blasts, social media, videos and that doesn't even include their personal searches.
A website is your online storefront. It is the first impression your customers see. The great thing about a well-done website is the owner has control of the content. Unlike social media, which allows an open forum to post mostly anything, a website is in your control.
You can link social media posts and other outside content to your site only when you want. Work with website designers to create a powerful, mobile-friendly, visually appealing, easy-to-use and fast website.
An effective website is essentially a selling machine. You can measure its success by how effective it is at turning users into paying customers.
2. Start Blogging
One of the best ways to add valuable content to your website and social media platforms is through a blog. A blog is an online log or journal containing valuable content readers find interesting and helpful.
Blogs can either be written by marketing staff members, freelancers or guest writers. Mixing up the writing style keeps a blog fresh and current. The important thing is to write articles and infographics and copy readers that are helpful and valuable to them.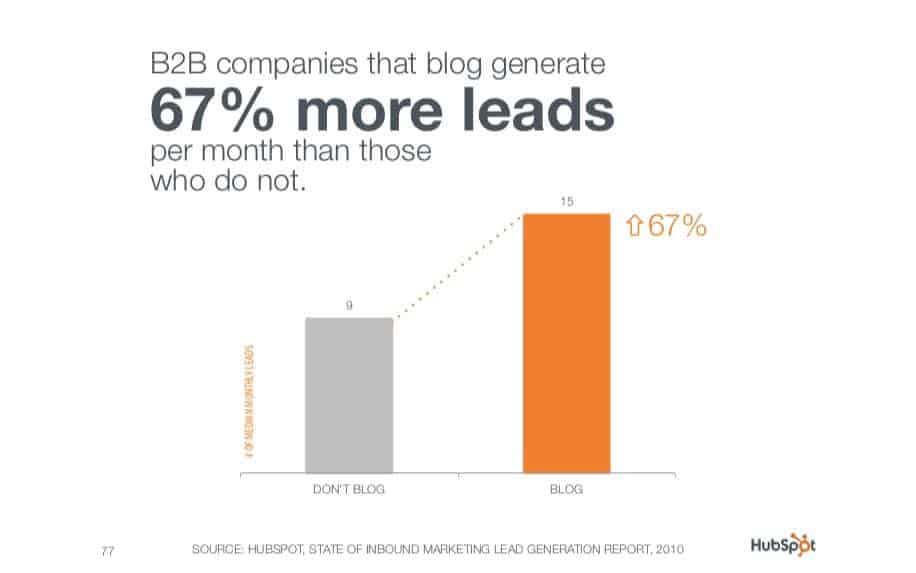 Write blog articles that focus on your industry's topics and naturally include keywords. Keywords are words search engines use to find what a user is looking for. And keep the information coming. Consistency is key in the world of blogging.
Readers will enjoy your material, return frequently to learn more and eventually convert from a reader into a customer.
Blogs are the perfect way to target users who know they have a particular problem but don't yet know that there are products or services which can help them. This makes blogging one of the most effective ways to find new customers.
3. Use the Right Social Platforms
Social media platforms like Facebook, Twitter, Instagram and even LinkedIn are another important part of online marketing strategy. Whether a company has an e-commerce site or not, social media is instrumental in driving your presence on the internet.
Sites like Facebook make it so easy to use and navigate their features that many times marketers will go to social first before their own website.
This is a bad habit to get into since your website's content can be controlled, and information posted on social media should link back to the website. Social media is a vehicle to drive traffic and sales to your website.
Once on your website, you can direct them to what they are looking for. Here is a list of the top three social media platforms:
Facebook: This is the top social media site with more than 1.59 active users, and growing daily. More than one billion log on each day and is a place where 87 per cent of users ages 18 – 29 are on Facebook, and it has the most evenly distributed demographics of any other platform.
Twitter: This social media platform is famous for the 140 or less characters or less site, use of the hashtag # for searching and has become even more famous since the 2016 presidential election. Among adults 18 and older, 19 per cent use tweets to share their thoughts.
LinkedIn is by far the most professional social site and is where more than three million businesses access a global network of more than 200 million users. Professionals find products and services and career opportunities. It is where brands are built, professionals are nurtured, and bottom lines are improved.
4. Keep Up With Online Marketing Trends
Being at the heartbeat of your industry's trends is key in content and online marketing. Content marketers should use some exciting trends as part of their strategy.
They are:
Ephemeral or short-lived content,
How-to videos and podcasts,
Real-Time videos,
Behind-the-scenes looks,
Contests and giveaways,
Recipes,
Interviews,
"Takeovers," or when a different user chooses what content to share,
Live events,
Daily or weekly video series,
Holidays,
Announcements or product reveal.
5. Track Your Results
Online marketing is a dynamic and powerful tool that is continually changing to meet the needs of consumers. Tracking results is imperative to know what strategies worked and what didn't work.
Tracking results help you determine the return on investment too. Social Media sites provide temporary statistical data that can be captured and used.
Email marketing management companies like MailChimp and Constant Contact provide click, open and bounce statistics for individual emails, among other reports. There are also marketing services, Google Analytics and online packages to track campaign results.
Simply asking consumers through questionnaires, polls and surveys are other ways to track a campaign's effectiveness.
6. Make It Mobile
Everyone has their mobile devices in their hands. We are an on-the-go culture, so businesses must be prepared to do business on the go too.
Every time a web marketing or online advertising decision is made, it must be made with cell phones and mobile devices in mind.
Websites must be compatible, mobile friendly, fast and easy to use; email content must be easy to open and read with an effective call to action; e-commerce sites must be linked to PayPal or another easy-to-use payment site maps to find brick-and-mortar storefronts must be correct.
Making your business platforms mobile-friendly will improve your ranking on search engines and in the long run, improve your bottom line. In fact, in the age of mobile-first indexing, how your site works on mobile is even more important than the desktop version.
If you'd like help with your online marketing efforts, contact our digital marketing agency. We would be delighted to help with your digital marketing, social media marketing or digital training.