Do you want to create a well-structured marketing strategy that will drive sales and bring recognition to your business? To do this we must create authentic goals. For example, we need to uncover the major components of a marketing strategy, discover what a successful strategy looks like, and learn how to know if you're going in the right direction.
Creating an effective marketing strategy can be life-changing for your business. However, it takes more than just writing out some information or bullet points about what you produce or might produce. A marketing strategy aims to achieve specific goals over the next couple of weeks, months, or even years.
Indeed, to market successfully, you need to have a bunch of solid components to focus working on. Saying you want more sales is ineffective. Instead you should plan how to get more sales using various marketing strategies. This puts the power in your hands as it is your responsibility to reach these goals.
Let's explore everything that you need to know to create a superior marketing strategy! We focus on the major components of a Marketing strategy in this article.
But first, let's put a clear definition of what marketing strategy is about.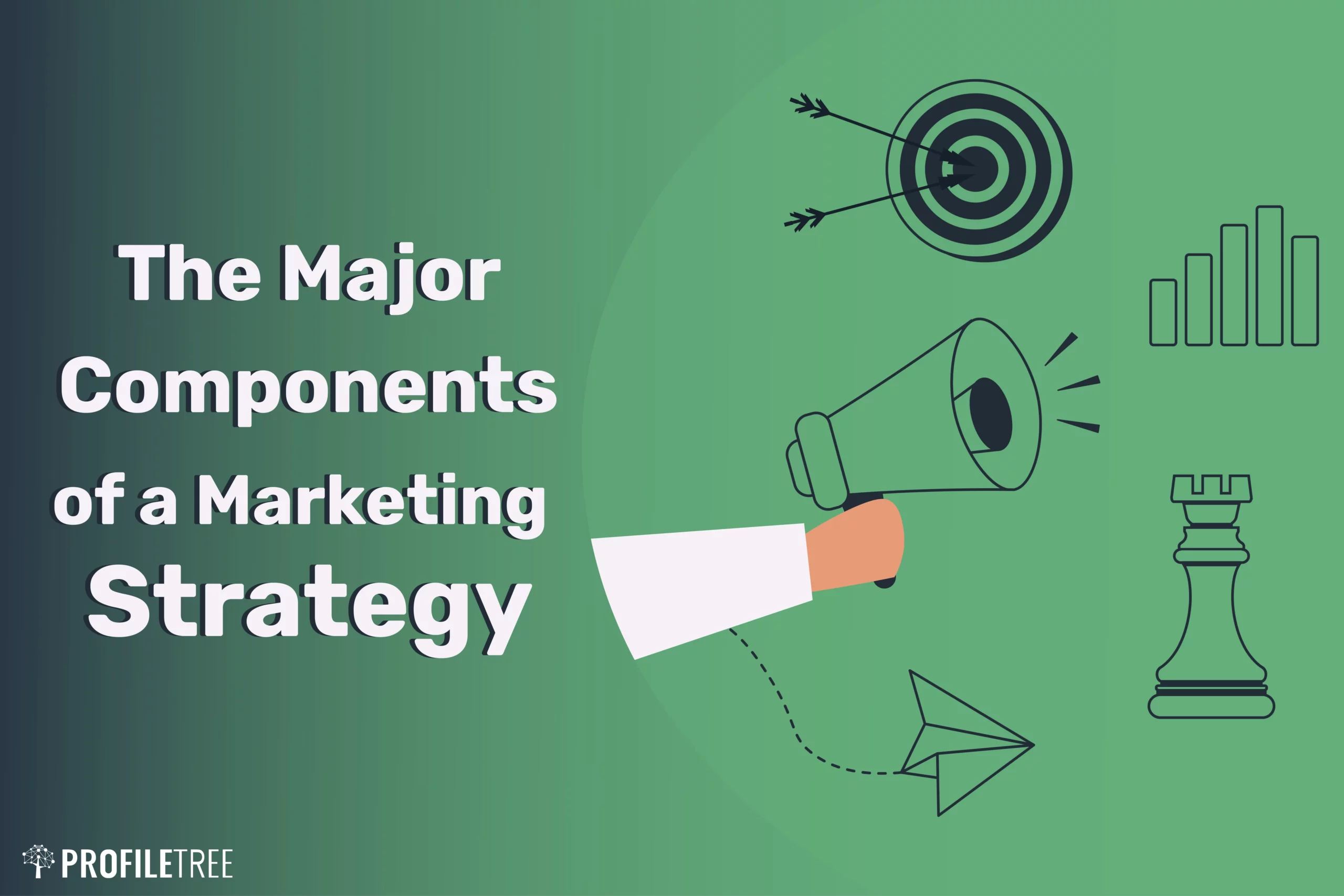 What is a Marketing Strategy?
A marketing strategy is a methodically designed plan that helps a company achieve its marketing goals and outlines as well as guiding marketing activities. Business marketers create a strategy with the aim of earning specific outcomes. It should include the company's overall marketing objectives and specific actions that they will take to achieve them.
That's why a successful marketing strategy acts as a foundation for decisions.
A good marketing strategy should focus on the right target market and align with the company's overall business objectives and campaigns. It should also be flexible enough to change as the market or the company's needs change.
The ultimate function of any marketing strategy is to align with the company's broader business goals.
The critical part of any marketing strategy is execution. Without a well-executed plan, even the best strategies will fail. That's why working with experienced marketers who can help you implement your plan and get results is important.
Major Components of a Marketing Strategy
A strategy is like a map that guides you to reach your treasure at the end. There should always be an end goal and a predefined route to get there.
What are the major components of a market strategy, and what should you spend time and effort to obtain?
Here is the answer.
Marketers use marketing strategies to fulfil their marketing objectives. Such strategies connect the dots of a marketing plan to reach the target customers, taking advantage of apt channels and aiding business growth in the short and long run.
But, it can only happen by identifying a specific target market. However, that doesn't mean you'll ignore prospective buyers who aren't interested in your offer or don't fit into the criteria you identified. Instead, you will keep them in mind later to increase your market share.
You can turn everyone into a prospective customer. And there are brands out there that use this concept of mass marketing, targeting anyone and everyone.
But this concept is only typically achievable for businesses that offer universally used and needed products without too much differentiation, such as soup, coffee or bread (everyone has their favourite flavour or brand; of course not everyone will buy them but a substantial majority of the general population will)
Also, it would be best if you narrowed all your marketing efforts to one category, which you're more likely to attract.
So, what is a target audience?
It's a group of individuals most likely to use your product and identify with your brand.
So, the first major component of a marketing strategy is to confidently understand your ideal audience so that you can turn them into leads and, of course, generate sales.
You can consider targeting several different audiences or concentrating on niche groups of people— it's always up to you and your specific product's features. You may choose to initially focus on your ideal customer segment and then expand your target audience once established.
And that process is called market segmentation which will help you define, redefine or reestablish your optimal target. So that leads us to the 4 types of customer segmentation.
Demographic: dividing your market based on one (age, occupation, gender, income, status, etc.)
Geographic: dividing your market based on one (culture, language location, climate, urbanicity, etc.)
Psychographic: dividing your market based on one (likes, dislikes, opinions, lifestyles, values, etc.)
Behavioural: It is mainly based on purchasing habits such as (online, in-store) or (heavy or rear buyer)
How can you collect this data?
You can collect all this information through interviews with different samples representing your potential buyers, creating surveys, and exploring social media where they leave comments and share their experiences.
Additionally, you can look at census data, or if you have already launched a product, you can check your data and analyse the actions of current customers.
Business Goals or Objectives
Marketing strategies are an essential cornerstone of your business. In fact, they are one of the most important elements and deciding factors of the business's success or failure in the long run.
That is why goals and objectives are the second major components of a marketing strategy.
But what is exactly considered a goal?
A goal is an object that you want to achieve. Therefore, a business goal should be a broad and overarching statement that refers to this long-term dream.
Well, what is an objective?
In marketing, an objective is more specific, targeted, and precise and involves an action or one step that will be taken to attain the overall goal.
That means you may have a bunch of objectives. But you must have one goal.
Feeling confused?
Okay, if you feel lost or aren't sure where to start, then the SWOT analysis will be an excellent place to dive deeper into your company and explore your objectives.
A SWOT analysis will help you to identify the wider market environment and some actionable targets you can take advantage of.
In any marketing strategy, it is important to know who your competitors are and what they are doing. Competitor analysis can help you to understand your competitor's strengths and weaknesses and their overall marketing strategy. This information can then be used to improve your own marketing strategy.
There are several things that you should include in your competitor analysis. First, you need to identify your competitors. That can be done by searching for them online or in directories. Then, once you have listed competitors, you need to research them thoroughly. Look at their websites, marketing materials, and any other information you can find out about them.
Next, you need to determine their strengths and weaknesses. What are they doing well? What could they improve upon? What do they offer that you do not? Knowing this information can help you to adjust your marketing strategy accordingly.
As the world of marketing rapidly changes, it's essential to be aware of the different promotion tactics you should include in your marketing strategy. By understanding the different types of promotions and why they are important, you'll be able to create a well-rounded marketing strategy that can adapt to any situation.
Content marketing is one of the critical promotion tactics to include in your marketing strategy. Content marketing is important because it allows you to share valuable information with your target audience. In addition, this type of promotion can help you build trust with potential customers and make yourself out to be a leader in your field.
Another key promotion tactic is social media marketing through different platforms like Facebook, Twitter, and Instagram. Using social media effectively can help you boost website traffic, generate leads, and increase sales.
What Should You Consider When Implementing Your Marketing Strategy?
As we see, a marketing strategy is any business's overall action plan to reach its target audience or potential customers and convert them into actual customers by selling a product or service.
That's what all business owners know. However, it can be difficult to create this strategy professionally and efficiently. Therefore, we will break down what you should consider when performing your marketing strategy.
Consider Internal and External Factors
Any good marketing strategy should take into consideration all factors that affect the company's operations. These factors are both internal and external.
According to the marketing mix, internal factors include performance analysis, marketing forces, budgetary constraints, etc. In addition, you will consider any internal factors that directly or indirectly influence your marketing initiatives.
On the other hand, external factors are elements like competitor analysis, customer experience, legal regulations and the socio-economic environment.
You can only implement a coherent strategy with accurate data because it's partially planned and partially reactive to the current market.
Understanding the Major Components of a Marketing Strategy
It's all good and well being able to grasp an overall understanding of a marketing strategy. It might sound like a straightforward concept. But knowing how to implement a successful marketing strategy is much more difficult.
That said, your strategy can only go a long way if you address elements such as the company's value proposition, key brand messaging, information related to the target customer demographics, and any other key characteristics.
Take your time to absorb the fundamental components that make up a brilliant strategy because it's your only way to maintain your skills and perform at a consistently high level.
An efficient marketing strategy always includes the famous 4Ps of marketing;
Product: Understand your offering, its features, why your customers should buy it, and how this product positions you in the market. The product must be able to meet the needs of the target market. In addition, it must be a quality product that is able to differentiate itself from the competition.
Place: The product must be offered in a suitable location and at the right time to meet the target market's needs.
Promotion: The product must be promoted to create awareness and interest among the target market.
Price: The product must be available in the exact place and at the right time to meet the target market's needs.
Apart from that, you can always analyse your competitor's 4Ps.
Focus on Three Pillars When Implementing Your Marketing Strategy
After we understand that a marketing strategy is a combination of the decisions and actions of your business to increase sales and attain a sustainable competitive advantage, your ultimate goal is to understand and fulfil your customers' needs and wants.
You might find yourself in front of a blank white sheet and don't know when to start. Well, we can explain the definition of a good marketing strategy through three key pillars:
What: A marketing strategy stands for a roadmap marketers use to reach certain goals, objectives or rewards.
Why: A marketing strategy aims to achieve a creative marketing position backed by a unique offer that results in more profits for the business.
How: You need to work closely with each element of the marketing strategy process to exceed your customer's expectations.
Set the right expectations
In simple terms, a marketing strategy means an actionable, achievable, focused set of steps. So, yes, the main component of having a successful marketing strategy is setting attainable objectives devised by marketers who will help you make it happen.
Otherwise, you will lose yourself because you are overwhelmed by unrealistic expectations. It can be daunting to set a goal for a year from now, but if you create weekly and monthly objectives that work towards your overall goal you will feel much more motivated to continue your marketing strategy.
Keep in mind marketing is not a quick fix. If you want your marketing efforts to pay off, it's important to remember it's a marathon, not a sprint.
Side tip: most marketers suggest that it takes 6-12 months before your start seeing the return on your marketing efforts.
You can say it's like rolling a snowball down a hill. This snowball starts small and takes a lot of work to expand. But once you get started, the momentum builds, making it much easier for it to grow.
It will definitely take some time and effort to lay a robust foundation for your efforts, but over time you will see the outcome you're looking for in your business.
Pro tip: ensure your company leadership, stakeholders, and client understand that. Setting relevant expectations and realistic objectives will help everyone to work efficiently.
It Doesn't Matter How Big or Small Your Marketing Strategy is
We understand a marketing plan is the first and most crucial step to creating a successful marketing program for all businesses. (You can implement a marketing strategy for a new business or update your existing business with a new marketing plan)
But wait! Let's imagine this scenario. You started a company and are now thinking about your goals and objectives. You want to develop a marketing program and many people advise you to begin with a marketing plan.
Having worked in digital marketing for over a decade, we've seen our fair share of marketing plans. Some are short on-page, to the point. Others are hundreds of pages, detailed and thick, and cost the company thousands of dollars to create.  
But that's not the issue here. The irony is that many of these heavy, expensive marketing documents end up on a shelf covered with dust and rarely get implemented.
On the other hand, if researched and implemented effectively and efficiently, simple plans with valuable insights always have a tremendous impact.
It's not a revolutionary call to only adopt simple plans. But, regardless of the scope of your marketing plan, we are here to invite you to start thinking of your marketing strategy. 
The main challenge here is to create a well-structured plan based on thorough research, attainable outcomes, and a competitive position.
Yes, it doesn't have to be complicated to work out. Instead, it must include the basis for your activities over the upcoming months. A good marketing plan should be fluid to a degree. The business environment changes constantly, so you may need to and what doesn't work exactly as you had hoped.
How Can Profiletree Help You?
The importance of a well thought out and reality-driven strategy is vital in everything you do as a business owner. You need to lead your business with a clear direction.
If you want to be a leading and inspiring entrepreneur in your field, you cannot leave your investment in the hands of a miracle. It can be daunting to market a product at the best of times, especially when you are juggling other responsibilities as a business owner.
But marketing should never be an afterthought or an optional add on to a product. Every business will benefit from a marketing strategy created by experts.
A good marketing strategy is more than a piece of paper filled with a few instructions or some bullet points. It's something more substantial than that; it will help you to have a decisive role in what your business does in the future, and the more time you invest in it, the more you will gain from it.
Profiletree can help you with your marketing goals. We can show you how to improve your digital marketing process with a hands-on approach tailored for your business.
How?
Expert knowledge. After working in marketing for more than a decade, we know what we're doing. We have worked in many different industries over the years.
You will get more than just marketing services. We offer training and advice, a handy approach to kick off your business with the right start and as you will be able to learn how to market for yourself.
We cut out the hassle caused by a lot of resources and information online. We only provide you with what you need, saving time and unnecessary costs.
You will always feel included because you will keep up with the latest marketing trends once you become a member of our team. We're always out looking for new trends and staying up to date with the current algorithms so that you can take advantage of technologies and patterns to bring more attention to your product.
We tailor a marketing strategy to your clients by conducting competitive analysis and developing innovative ideas to help you improve your traffic.
You will have more time to concentrate on other aspects of your business, while knowing that your marketing strategy is in safe hands.
Our experienced team is ready to establish a marketing strategy to help your business reach new levels of success. Contact us now or check out our services page for more details!