A website is an essential piece of your business's marketing and sales success, but how do you start, and how do you build a website strategy that aligns with your marketing and business objectives?
Everyone knows a website is good for business. Just think about it, one of the first things you do when interested in a product or service is check for a website to find out more. But a website itself is not enough; having a clear strategy for your website layout, design, and content is necessary for a great business.
Whether you're getting ready to release a website or have an existing site, your business needs to launch a website strategy. You have to develop one that elevates the effectiveness of your digital appearance and makes your website more beneficial for you and your potential customers.
Indeed, any modern marketing strategy should include a website content strategy. When a business website is well-strategized, designed, or built effectively, it can act as a super-talented salesperson showing a customer everything they want to see and even making sales on behalf of your business.
No matter what questions your customers ask, your website should have the perfect answer for them.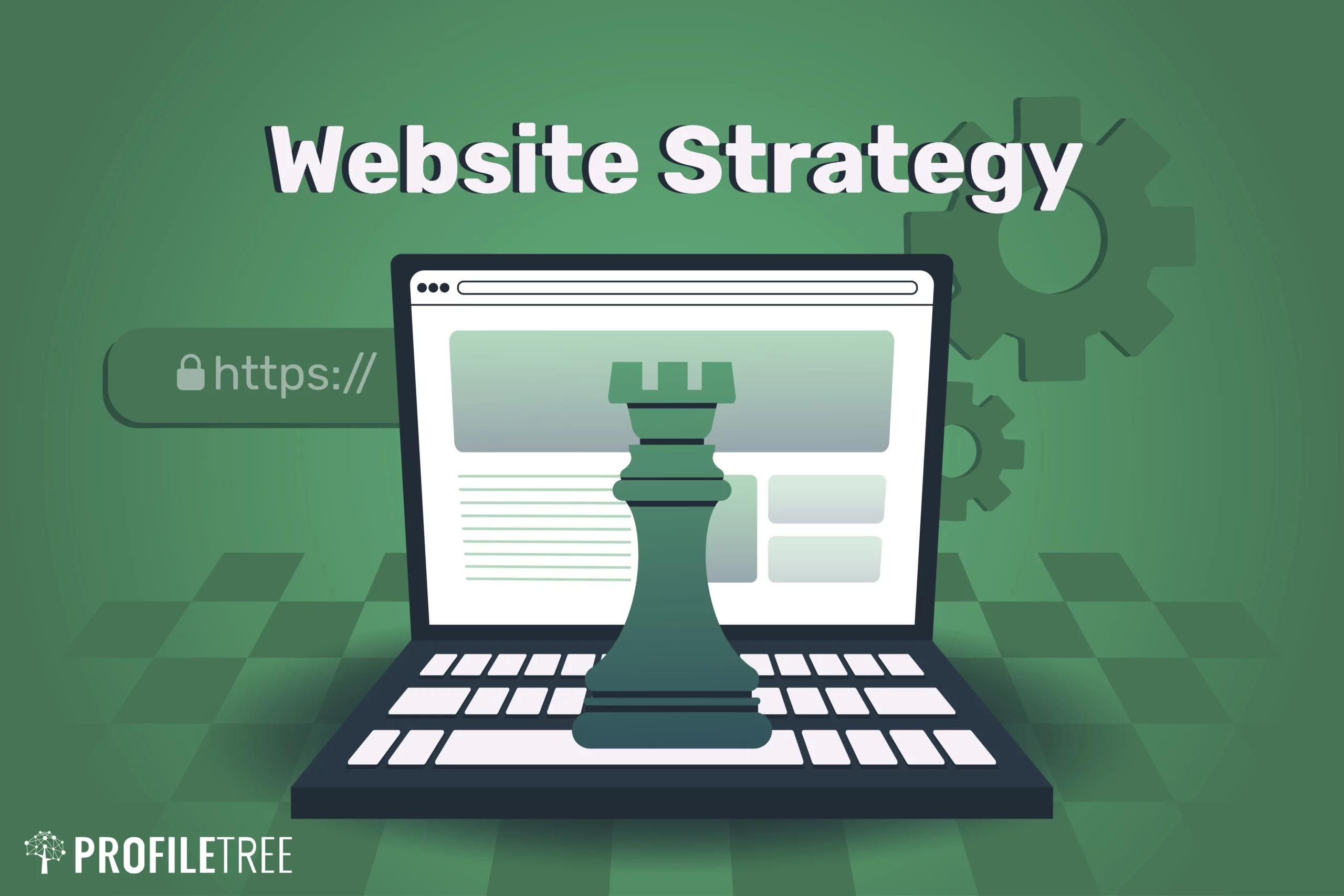 Your website will answer, collect, and nurture leads while you're asleep. It's also exciting for many small businesses to develop an international customer base and watch their organisation grow online.
But where should we start? There are so many things to consider when we want to set up a website, ranging from lead generation, content creation, design, and UX user experience —to name a few.
It can take time to explore your options and decide where to take off or even how to start planning out your website strategy.
So, this article will help you with everything, from the first things you should do to build or revamp your website strategy, to everything that comes before your site goes live.
Let's look at what Website strategy is, why you need it, and how you can come up with one in simple steps.
What is a Website Strategy?
We need to break down this question into two concepts: what is a strategy, and what is a website strategy?
A strategy is a plan of action structured to achieve an overall goal. Not just that, it should be about how you will accomplish your aim. Simply put, business strategies are a strategy that consists of the following insights:
A summary of their long-term goal: what is the most important thing for them?
A brief of the current situation: What is your business standing?
Future plans: Where are you going?
Defined objectives: what is your optimal situation?
Key performance: Where do you want to go, how to do that, and how will you measure success?
The recommended roadmap: what is the best approach to adopt? How do you plan to get there?
Seems nice?
Okay, after broadly defining strategy, let's explain "what is a website strategy?"
Website Strategy
All websites come to life for a reason. For example, in business contexts, they might exist to increase revenues and generate sales or leads. Or it can be for a non-profitable reason, like brand awareness or establishing a personal brand.
Or maybe like political websites— they exist to spread an idea or build an audience.
Regardless of any specific reason, all websites have particular objectives— desired output that justifies their existence.
That's what a website strategy is about. It will help you uncover how you plan on approaching your goal. So, every element in your process should serve your desired aim or objectives.
So, if you want to reach out to more audiences and achieve your ultimate goal, you need to increase your online presence dramatically. All these will be incredibly beneficial towards your business goals.
Why Do You Need a Website Strategy?
Very few websites are built with the complete absence of strategy. Because they understand the importance of having a website strategy. Because they know without a plan, you have no thought about how best to approach your desired outcome or to have a site explaining your brand.
However, if you look at billions of websites out there, you will discover that their strategy often lacks rigour or intention.
Stakeholders casually appreciate the marketing content. They rarely look and feel messaging and navigation. Instead, they decide on an overview approach and general concept—then quickly move into visual design.
That said, a website strategy is extremely ad-hoc.
To be honest, there are prolonged strategic discussions, but it doesn't lead to any effective strategy.
Imagine you're planning a trip to Italy, a nearby country to you. First, it seems exciting and accessible. However, would you book your flight or hop into your car and start driving without exploring how best to get there?
If so, you'd likely ruin your journey because you spend a fair amount of time trying to find out what is needed for the trip, where you want to go, and what customs and equipment you should bring up. Most importantly, you need to identify your route to get there.
Thus, you'd essentially develop a strategy for achieving your destination and getting to and into the country.
So, how is this relevant to your case of the website?
Back to websites, without having a clear strategy on hand, you will never know what you're trying to achieve.
To take our journey analogy, you possibly get Italy but think about the cost you pay for it in terms of money, fuel, energy, and your sanity!
That would be akin to going away without knowing where you wanted to approach or end up!
More commonly, there is always a gap between what you want to reach and what you will accomplish.
Yes, there is some sense as to why you say, "I need a website." But no plan for getting there will demolish all your efforts.
Figuring out how to find a bridge to fill this gap is the difference between having a website with average traffic and one that performs much better.
That's why the website strategy is nothing but inevitable.
To do so, let's explore how to redesign an existing website strategy or how to build a new one.
How to Create a Website Strategy?
These steps apply to anyone, whether updating or starting your website. It will help make your website more effective and attractive. Also, don't forget to consider browsing the internet to explore perfect website examples as you lay out a strategy for yours.
The first step is the most important one; writing down only relevant and attainable goals. So, before you set about choosing the perfect layout for your website, define some goals.
These goals should serve two purposes regarding a web strategy; put your ideas into a readable form and shape how you design or redesign various website elements to better achieve said goals.
You can answer these questions to set your aim;
What do you want to accomplish through this website?
Do you need to generate leads?
Do you like to introduce yourself as a leader?
Do you want to establish a unique personality?
Do you want to increase the credibility of your brand?
Do you want to validate your accomplishments and skills?
Take some time to think about these areas. You need to be specific about which your business is striking and where it's lacking.
Also, these goals should align with your site, allowing you to pour developmental talents and creativity into designing and incorporating aspects.
No matter your reason for creating this website, you need to establish an informative section to introduce yourself as an expert. Create a blog or more visually-oriented space with your goals in mind.
You should take advantage of any facet to improve your user experience. In the end, your goals will determine the content type you put on the website and will help you measure the performance of your strategy over time.
In short, you need to create a win-win website for you, your audience, and Google. You want to think about what this marketing tool can do for you.
Pro tip: We recommend using the SMART approach to define your goals. So, an example of a timeless plan might be "to increase leads by 20% over the upcoming 10 months."
Once you have a specific set of goals, you can define your website category. For example, create sections that sell your skill set or services, including perfect calls to action if you're looking to generate sales.
Also, you can think of creating forms so qualified leads can reach out to you.
Assume you want to be a thought leader, then create categories that promote your expertise via ebooks, guides, white papers, blog posts, and so.
So, you need to start by understanding the current situation and summarising why you're standing there. Then, you can only plan a route to your dream destination if you know which street you should take or where you're starting from.
Remember, different starting points will lead to different destinations and require different approaches.
Define Your Website Funnel
In this step, you should outline your on-site funnel through your website, a series of steps you present on each piece of content to guide your visitors closer to working with your business.
In simple words, if you want a user to do something specific on your website, you need to set up all possible visual elements to help them take this journey before leaving your site.
This action may mean entering their email address, booking a call and becoming a qualified lead, or making a purchase and becoming an actual customer.
Whatever your intended goal, you should include this in your website strategy and create an on-site funnel to help visitors know more about your business.
How can you do so?
Start with the landing pages that a new website comer opens and then take advantage of calls-to-action to lead them page by page until they can take final action.
For example, a website strategy should be an online trading business that aims to drive website visitors to create an account, try a free demo, or sign up for a newsletter.
So, the on-site funnels for this site could be:
A homepage that starts by funnelling website visitors to a page that invites users to establish either a prime or premium account for trading. This page will explain the service's details, fees, and what you can expect with a button to create now.
A blog post that speaks to traders or someone who wants to start trading about the best way to invest in markets and stocks. This post should end with a call-to-action button to sign up today or try a demo for example.
Again, that depends on your purpose for creating this website. If you want to generate leads, each page must entice visitors to do something specific with a call-to-action to guide them towards the next step to corporate with you.
Monitor Your Performance (KPI)
Each goal should have a clear Key Performance Indicator or KPI. KPIs will enable you to measure success, revealing if you accomplish each goal.
For example, if your goal is to generate leads, your KPI would likely uncover how many leads are generated from your website per month.
This way, you could track leads per month and explore if you're 20% above the baseline within 10 months.
Otherwise, KPIs can be quantitative, like the lead example or qualitative. If your objective is to enhance the perceived brand value, then your KPI could be based on feedback and customer comments on the website, for instance.
Taking inventory of your content is a very important step in developing your website strategy. This inventory should vary between blog articles, videos, and web page copies. Not just that, you need to create a newsletter to bring traffic from emails or ebooks to get a database about your potential customers.
Throughout exploring your industry and what you can publish on your website, take notes of what you already have, what you want, and what gaps need to be filled.
That will help you discover what needs to be on your site and what you should include in your website strategy. Those all will give you insights into your content strategy.
Your website team can start with a handy SEO tool. Then, they can perform a crawl of the existing content on your website and uncover its performance in search engines.
Now it's time to read the results and start analysing.
Retake notes.
Next, the business team can make the first pass at determining what pages should be kept, killed, or combined to accomplish your defined goals.
Remember that you need to create something that facilitates the buyer's journey. It's an excellent opportunity to take stock of what you obtain, what you lack, what works well, and what needs improvements.
Layer in your strategy for what new pages you need.
Eventually, your content inventory step will give you a way to an efficient site structure that includes a mixture of pages you want to create that will hold a balance with pages that may already exist on your website.
With your content in hand, a successful strategy for website structure should help you identify a few things:
How your navigation menu should work
What will be displayed in your footer
Pages you need to create that may represent a landing page
What content you have and need adjustments
The structure and information on your website
Pro tip: if you don't have an existing website, this step is also essential to explore your competitors' websites and have a look at pages you should include on your own.
How Can Profiletree Help You?
At this point, the importance of a website strategy should be obvious. Without one, you're just guessing which means you are leaving the success of your business up to chance.
It's impossible to know how to approach your site without a foundational idea of who will be visiting it or what you hope to achieve.
Your website strategy defines why you launch this site and what you want out of it. Most importantly, it explains your performance matrices, such as how to measure success, how you'll design your site to turn your goals into reality, and how to monitor the critical influencing factors.
Not just that, a web strategy will influence all other aspects of your online identity, including:
What content goes on it
The visual layout of it
How users will navigate the site
How the content is displayed and organised
How pages are built
The calls to action
Your brand image
Your tone of voice
The look and feel
How it's built
How users get to the site
Our seasoned team has over a decade of experience developing websites for our clients in many different areas while helping them create their website strategies.
We will also help you define your SMART goals, identify your optimal customer persona, build an SEO strategy to rank higher on search engines, create a website content strategy, and run your content calendar.
Your website will perform better than average with a solid strategy. Contact us to set up your effective website strategy, design or redesign.
Successfully establishing your online presence is our job too. We want to create something that resonates with your customers and establishes you as an expert within your industry.
We'll walk you through a proven action plan and a step-by-step process to ensure the next iteration of your site will help your sales and escalate your website's ROI. If that all sounds good to you, why check out our services page for the most up-to-date information about what we offer or, simply contact us right now!