Tourism businesses rely on the internet to reach new customers. Most people research their trips and holidays online before they leave home. As such, it's crucial to understand search engine marketing for tourism businesses.
The trouble is, tourism businesses have a lot on their plate. Many operate with small teams, doing everything from managing accounts, providing tours and handling customer service. This means that it's hard to find time for marketing as well.
This is a big problem for any small business, as there's a massive learning curve involved with any new marketing activity. To make things easier, we've created this guide to search engine marketing for tourism businesses.
First, let's start with the basics.
What is Search Engine Marketing for Tourism Businesses
Search engine marketing (SEM) is a broad term, comprising any strategy to attract new customers through search engines, like Google. This can include SEO, paid ads, and taking advantage of other more specific Google products and features.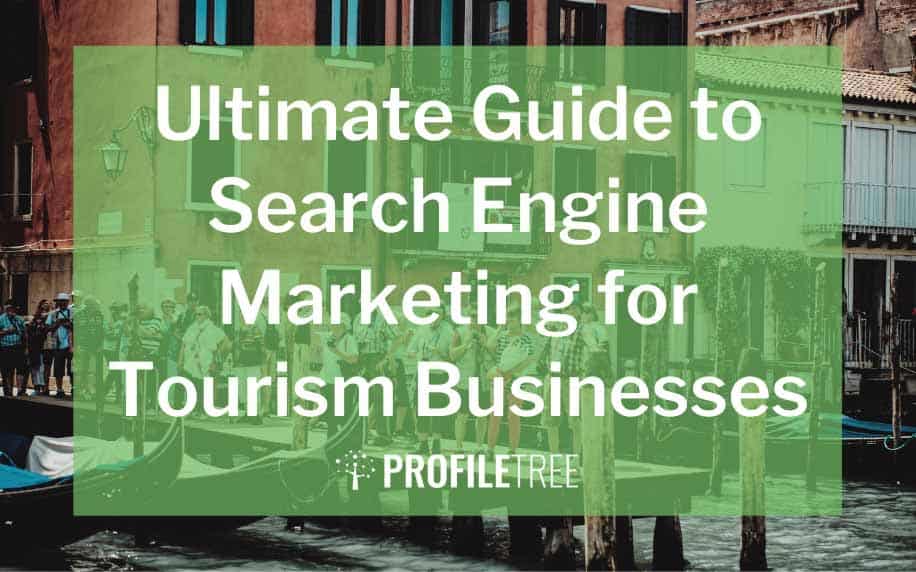 Importantly, the vast majority of web traffic across all industries comes from search engines in one form or another: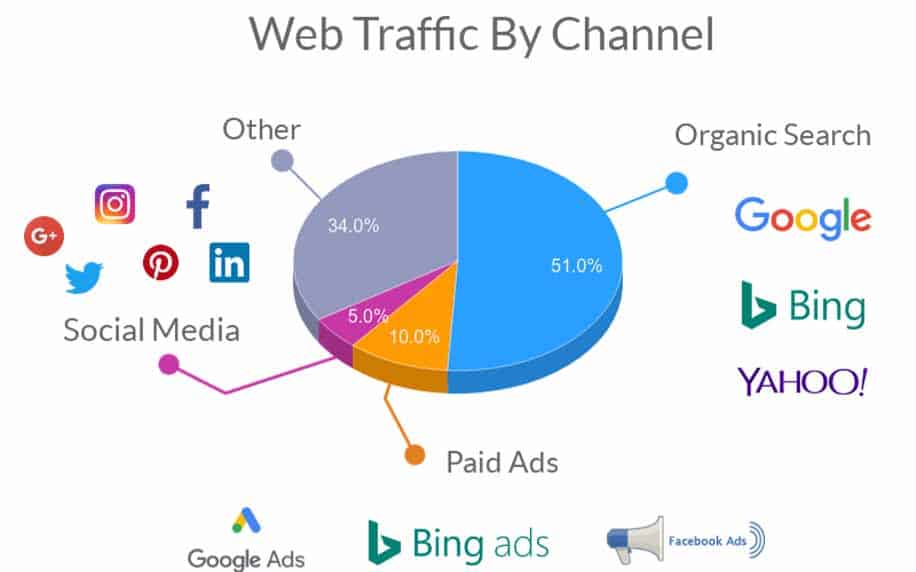 Additionally, other traffic sources typically come in to play later in your sales funnel. That is, most of your first-visit traffic normally comes from SEM, while other channels like social or email begin to drive traffic once users are already aware of your brand.
This effect is amplified for tourism businesses. The reason for this is that your target first-visit users are usually in other towns, cities or countries. As such, effective SEM in the tourism industry is absolutely critical.
In this guide, we're going to outline a two-pronged approach, using a mixture of Google Maps and content marketing. This is the most cost-effective way to build a strong SEM foundation, as PPC can often offer a poor return on investment.
First up, let's look at how you can utilise Google Maps and Google My Business to drive tourism traffic.
Google Maps and Local SEO for Tourism Businesses
Google Maps is sort of an unsung hero of SEO and search engine marketing. It's a real local SEO powerhouse, but most people underestimate the volume of traffic which can be accessed through this platform.
Even better, effective SEM through Google Maps takes almost no effort.
The crux here is that Google Maps is the top channel for users seeking information through locally modified keywords. In other words, when people are seeking information relating to a particular location, Google Maps is their first port of call: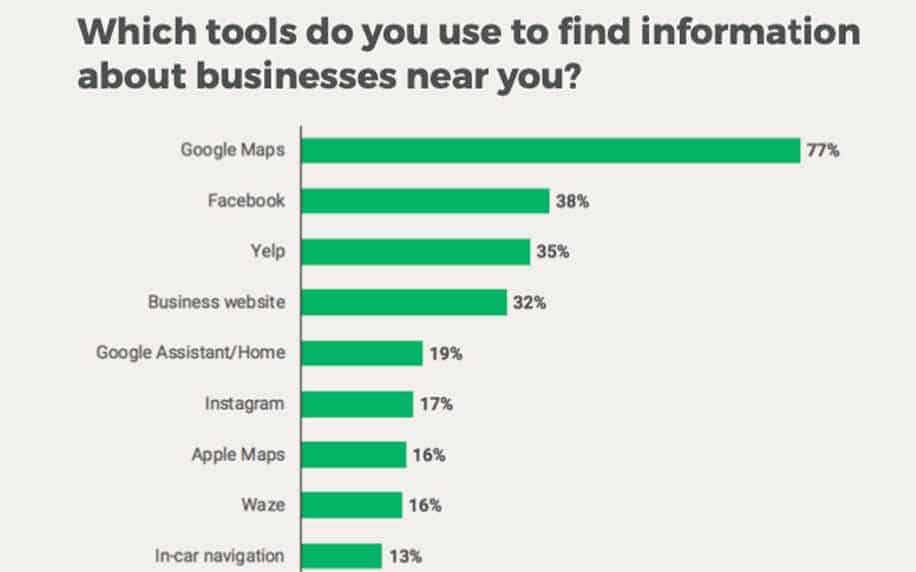 The key is to focus your SEM and local SEO around taking advantage of this fact. Let's take a look at some of the steps you can take to achieve this.
Optimise your Google My Business Profile
Google My Business is a free business listing and directory service. This might sound a little dry, but it has a huge impact on how your site attracts visitors. The key to understanding why is thinking about Google's business model.
Essentially, Google's goal is to match users to the information they're looking for. How effectively they can do this depends on what information they have about your business. Google My Business lets you give them the info they need in a neat little package.
This includes crucial information about your business like:
Name,
Address,
Contact details,
Opening hours,
Services.
The first rule here is to ensure that these are fully present, accurate, and up to date. It's also important that your Google My Business data is consistent with the information in other online directories.
Once you have these things in place, you can then start seeking out similar citations from other major online directories to boost the credibility of your Google My Business profile.
Following these steps will help your business to be displayed more prominently in local searches. However, there is still work to be done. That is, once you've got to the top of Google Maps and the local SERPs, it's time to start thinking about maximising click-throughs.
Here are two of the most effective strategies you can use to do this as a tourism business.
Encourage Customer Reviews
The key here is making your Google Maps and Google My Business presence as enticing as possible to users. This is where you need to start using your creative marketing skills. One of the best ways to do this is using social proof and FOMO marketing.
Essentially, most people trust their peers more than they trust marketing departments. Social proof is all about leveraging this fact to gain more customers for your products and services. To do this you need to use stories from previous clients to show off how much they loved your business.
The easiest way to do this is to encourage them to leave reviews at the point of sale or service delivery. The better your overall review profile, the better the chance you'll have of attracting customers.
Users' fear of missing out also comes into play here. When people read stories of others having amazing experiences, this makes them more inclined to book a tour, as they're afraid of missing out on experiencing it for themself.
Customer Questions and Answers
Google Maps also provides a very helpful question and answer section. However, many businesses fail to take advantage of this, because they don't understand the benefits on offer.
They might also have practical concerns.
Fully optimising your Google My Business profile will only get you so far. At least, it will help you cover basic information, but some users will have more specific queries. For example, if your business can accommodate certain disabilities or dietary requirements
Responding to customer queries on Google My Business is a great way to get around this. Even better, responding to queries projects the image of a business that cares about its customers, which can help to improve conversions.
Content Marketing
The second stream of your search engine marketing strategy will involve creating a mixture of on-site and off-site content to attract users for your tourism business. Different content channels can have a massive impact on the success of search engine marketing for tourism businesses.
Specifically, we're going to look at three easy to implement strategies you can start using to improve your SEM traffic.
Let's go.
Blogging for Tourism Businesses
Blogging is one of the most cost-effective ways for businesses in any niche to reach new customers. This is because using a blog is such a cheap and easy way to write content for search engines.
This is also a great chance to target customer concerns and queries. Creating content for your blog is all about identifying common search terms relating to your business or industry, and publishing articles that meet the needs of these users.
This requires a process of keyword research, in order to determine the search queries you should target, as well as what users are hoping to achieve when they search for these terms.
Video Content Strategy
Another great SEM content strategy is creating high-quality videos relating to your business, and what it has to offer. While this strategy requires more initial investment than blogging, you can also expect to see an excellent return on investment.
There are a number of huge benefits to using a video content strategy.
More searches than ever include a video carousel above the primary results list. Additionally, these spots are less competitive, as many businesses don't invest in video content at all. This means it's much easier for video content to rank highly.
Additionally, featured snippets in the SERPs often prioritise blog articles with embedded videos, meaning that creating video content is an easy way to secure the zero position for search queries, especially for keywords seeking out specific information or questions.
Finally, video content can be repurposed for use on other marketing channels. Specifically, you can use your videos to great effect as email, social and PPC collateral. This means it's easy to safeguard the ROI of your video content strategy.
User-Generated Content
As the name suggests, user-generated content is anything that is created by your customers. This can include photos, reviews, blogs and even social media posts. This is a cheap and easy way to get your name out there.
You basically don't have to lift a finger.
The key is ensuring that you have a presence on the right platforms to take advantage of user-generated content. For tourism businesses these include:
Social networks, especially Facebook and Instagram,
Review sites, like TripAdvisors,
Booking platforms that advertise experiences.
For small tourism businesses, it's generally best to centre your user-generated content strategy on known platforms. The reason for this relates to their domain authority. In terms of SEO, high authority sites have a much better chance of ranking than lower ones.
This means you'll likely have trouble competing with the major players on some generic tourism-related search terms. For example, TripAdvisor is in a much better position to rank for a term like Kayak tours Northern Ireland, than a small local watersports company.
As they say, if you can't beat 'em, join 'em.
Accepting this, your best bet is to try and take advantage of TripAdvisor's high ranking for your desired terms. User-generated content, in the form of reviews, photos and stories helps to do this. Specifically, it achieves two things:
Funnels referral traffic to your site,
Creates natural backlinks, which improves your site's domain authority.
It's easy to encourage user-generated content, either through online marketing channels or when you're face to face with your customers.