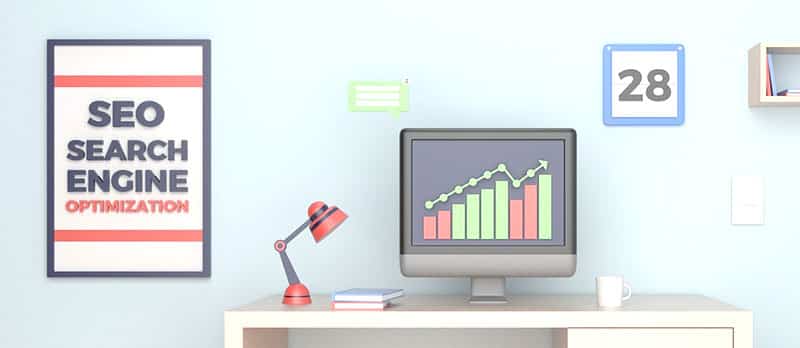 As a small business, having an optimised site that will draw traffic is key. With so much competition in the online space, utilizing the right tactics can make a tremendous difference whether or not your site will gain traction and get the conversions you are seeking. When developing the site, it is important to consider small business SEO.
What is small business SEO?
SEO for small businesses is almost like a business listing in the yellow pages. With the right keywords and involvement, local and national customers will be able to locate you and patronize your company. Many people thought SEO was dead. Not so. In fact, SEO is more alive than ever and important for you to implement into your digital marketing strategy. Here are some reasons why you need SEO:
Regardless of all the changes, Google makes, or algorithm shifts, SEO still works. According to BIZCOR, if you are focusing on the user experience while implementing SEO strategies, you will gain a higher position in your organic traffic efforts.
It will be around for a while
SEO has been around for a long time and based on how the search engines are being developed, it will continue to be an integral part of gaining traffic and results.
There are a number of tactics a business can employ to gain traction with diverse audiences. In comparison, SEO provides a good ROI. Additionally, organic SEO tends to make a lasting impact on your online presence than standard digital advertising, which may or may not garner the results you would like.
Most customers go and check the reviews of a company before making a major decision. With so many people voicing their opinion, having an organic SEO following in place will work to your advantage.
Local searches and mobile
Mobile traffic is continuously growing, with mobile digital media time in the US at 51%. According to eMarketer, adults in the UK will spend more time with their mobile devices than with desktop and laptop computers in 2017, which is an 11.8% rise over last year. Based on these statistics, the forecast for 2018 will have grown to 29.5% share of total media time spent per day.
You can damage your reputation
There are so many different algorithm changes taking place that it is vital to your organisation to have a healthy profile in place. This could severely impact your rankings and damage your business as a whole as it relates to your online presence. Your team must periodically review your social media indicators and optimize your site for continued results that are favourable.
SEO is always "on." That means your competitors are always working to improve their SEO. If you are neglecting this area, you are giving them an opportunity to capitalize on your audience and your mistakes. This is not an area that should be ignored.
There are a few things you can do to quickly get your SEO on the right track. These are easy steps that can be done by anyone in your organisation to help position your company for traffic:
Setting up a Google My Business account is the first order of business. It is a free service and will start directing local traffic to your company. Getting your foot in the door on a local level will assist in getting those SEO results in the position where you want them to be.
Mobile responsive website
Your website should be responsive and mobile friendly. Your site should be optimized so that it loads quickly. Visitors have a short attention span, and websites that take a long time to load can easily lose customers.
It is important to research keywords to see what words are not being used by major competitors. This is your opportunity to utilise those keywords to get online coverage. Google's Keyword Planner will spot those gaps for you. This may also assist in better conversion rates.
Knowing what your audience wants and needs is one of the most important things you can do to effectively optimise your site. You should know what they look like, what they like to read, what they want to know and adjust your site accordingly. This is where the power of social media comes in. You should evaluate your social media profiles and conversations, and monitor those of your competitors to get a full understanding of your current and prospective customers.
Use Google Search Console
Google Search Console, formerly known as Analytics, will give you most of the information you need to optimise your site. This tool provides information on the keywords you use, whether or not you have problems, and what is relevant for your industry.
Stay tuned in to the industry
Keep up with your industry to see what is going on. SEO is something that must continuously be monitored. As the industry shifts, so should you.
Many agencies promise the world. As a small business, you may not have the resources to waste on an agency that does not have the traction to get results. You may be better off using your own resources and get organic traffic that will have a lasting impact.
Creating content that is readable, scannable and digestible to a wide range of audiences will assist in getting organic traffic directed your way. This gives your audiences something to share and talk about and provides a platform for you and your team to engage these audiences.
It is important to remember that SEO is an asset to your organisation. While paid search advertising can give you some visibility, it does not build the organic equity you desire. When you take the time to invest in small business SEO tactics, you will build your following the right way, which will keep your customers coming back for more.
Contrary to what some may think, a small business can compete with bigger companies. Here are a few ways to accomplish this:
If you operate in a niche area, your specialization will provide relevance in a number of ways. If you are able to focus on a set number of keywords that drive consumers your way, you will achieve a higher visibility rating than a larger company that has too many keywords to be considered a speciality.
Employ long-tail keywords
Long-tail keywords also help speciality areas. People are specific when searching for certain things, and using a long-tail keyword will send them your way. Consider a long-tail keyword a short sentence, where the user will look for a phrase like what ingredients do I need for apple pie, as opposed to searching for apple pie recipes. Long-tail keywords will help your audience find exactly what they are looking for in a short time without having to go through multiple sites to get what they need.
When you publish additional content for your audience, you start to position yourself as the go-to resource in the industry. Quality content will keep a captive audience, whether you are using a blog, ebook, video or some other engagement tactics.
When having conversations with your audiences, keep it personal. Take the time to respond, like their photos and comments, and humanize your content and brand.
When paying attention to your SEO for small businesses, you will gain traction and followers that will continuously grow over time. This is the right way to attract and keep audiences.
The best small business branding agencies will embed your branding strategy within an overall SEO plan.