When developing a new website, there are many things to keep in mind. Some of the most important concerns are cost and usability. Building a Squarespace website is a fantastic option for both.
But what is Squarespace?
Basically, it's a platform which allows you to build and manage a website with very little technical skill. Just about anyone who can use a computer could build a basic site using Squarespace. It's also a much cheaper option than engaging a professional web developer.
With that in mind, let's dive into how to build a Squarespace website.
Starting Your Squarespace Ecommerce Website
To get started with Squarespace, you first need to have an account. Once you create an account or sign in, it is time to make a start on building your Squarespace Ecommerce Website. You can easily login using a Facebook or Twitter account as well as using Gmail.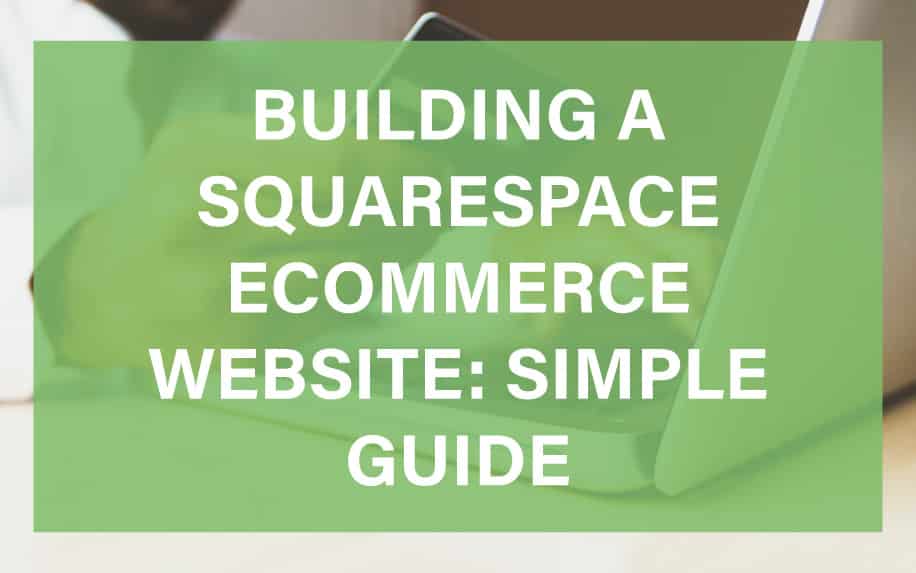 Once you log in, you will be taken straight to the Squarespace dashboard. Here you can visit any previous Squarespace sites you've created, as well as start creating a new site.
Once you have logged into your builder and start to create a new site, Squarespace will show you a range of website templates that are ideal for a range of websites.
Within the templates dashboard there are multiple categories, many of which are aimed at a single industry or business field.
These templates are created to target individual sites. Some of the categories include health and fitness and photography templates. However, this doesn't mean you need to use a photography template for a photography website.
Rather, it's what Squarespace thinks a photographer's site would probably look like.
Find the right template for you from this dashboard. A great feature is that you can preview the templates before starting your site build.
This allows you to see the template and if it suits your brand or business. It also means that a new website won't show up in your created websites that you need to delete if you decide you don't like that template.
The first thing to edit should be the site title, by clicking on the edit title within the header. You can also add a site logo here.
Squarespace also offers a logo maker. Be sure to check this out to make a quick and easy logo for your site. At ProfileTree we have also compared the Squarespace logo maker VS the WIX logo maker.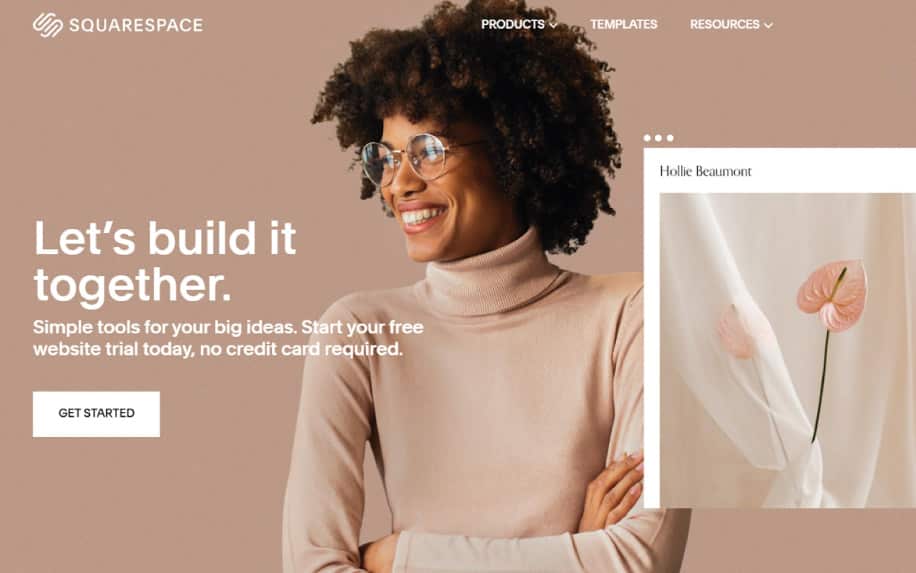 Designing on Squarespace
With Squarespace there is a lot of design flexibility. Within the design navigation menu there are options to change your template, or change site styles. You can also create a 404 error page, a checkout page and a lock screen.
Within the styles options, you can change most of the design, look and feel of the site including the colours, fonts, the navigation and header of the site. Here you can edit the width of the site and spacing between elements.
All elements within the 404 page, checkout page and a lock screen page can be edited similarly to the rest of the site. The site logo can be added as well as text information.
A 404 page appears where a user clicks on a broken link, or enters an incorrect URL on your site. Different widgets can be easily added to the 404 page, to make it as personal and friendly as possible. This prevents them from simply exiting your site when a 404 is displayed.
Most users will feel uncomfortable with a 404 error page, therefore by adding a comfortable design to it, you can use it to add value to the rest of your site.
Users can also add custom CSS to their site on Squarespace. This gives users the ability to change the design of the site as well as creating movable functions.
To add CSS to different blocks of the site, which are the different sections, we will need to use the Squarespace block identifier, which is an extension used on your browser. To get this head to the extension store of your browser and add it to your browser.
You will then click on the extension while on your site and you will see the names of all the different blocks on your site. Click on the block you wish to edit and it will copy the name to your clipboard. With this name we want to add it to the CSS.
CSS is a simple coding language which allows you to change the visual elements of your site, including text size and font, spacing, image dimensions and backgrounds.
Squarespace Upgraded Plans
When you first start to design your site on Squarespace, you have a 14 day free trial.
This means the website is published for the world to see. After the fourteen days, you will need to upgrade your Squarespace site to a premium plan otherwise the site will be taken down and be marked to be deleted.
This is a massive negative of Squarespace, as it forces you to pay for a premium plan otherwise your site could be deleted entirely.
Overall there are two Squarespace Ecommerce website plans. These are the Basic and Advanced plans. The basic plan costs £20 a month when billed yearly, otherwise the plan will cost £24 a month when billed on a monthly basis.
The advanced plan is a bit more expensive, as you might expect. The cheapest plan costs £30 a month when billed yearly and £37 a month when billed on a month by month basis. With each plan, you get access to many similar features including security, support, and a free domain if you buy an annual plan.
With ecommerce plans, sales features are essential to a website succeeding. There are no transaction fees, therefore all revenue generated by the website is yours. You can sell as many products as you want. There is a commerce metric feature, a feature for customer accounts, a checkout function and more.
You can even sell products on Instagram with the ecommerce plan. A vital feature with these plans is a mobile optimised website and checkout. This feature is essential as over half of searches online are made on a mobile/tablet device.
With the advanced plan, you receive additional features. One of these additional features is subscriptions. This will allow you to start selling a subscription based service on your site. Examples of these would be Spotify and Netflix.
Users will also be able to recover their cart on your site if they abandon it. You can also calculate advanced shipping options such as the costs for using couriers such as FedEx and UPS.
You will also get full control over your store and its discounts due to an additional flexible discount feature. Lastly users of this advanced plan can sell digital gift cards that can be redeemed within the checkout area of the site.
There's also a feature to handle all the orders of the site more efficiently called Order API. This allows you to integrate your Squarespace site with your stock management system.
If you would like to check out more of our Squarespace tutorials, check out the playlist on our YouTube channel.