At ProfileTree, we have put together a series of WordPress tutorials for beginners. These tutorials are ideal for anyone who, has little or no experience with WordPress.
Below is the first video within the WordPress tutorial series. It is a prologue video, which explains what the video series has to offer. As part of the WordPress tutorial project, we plan on giving you some tips and hints, tips on how to develop, create and manage your own WordPress website.
But first, what is WordPress? In short, WordPress is a web builder, ideal for building a website easily. There're two different types of WordPress. These are WordPress.com and WordPress.org.
WordPress.org is the most commonly used of the two, as it has a lot more to offer. Although you will need to find your own hosting for your site. WordPress.com is a web builder more suited to the likes of blog sites. The tutorials within this series are only for WordPress.org.
To find out how to make a WordPress.com site, visit part one of our WordPress.com tutorials.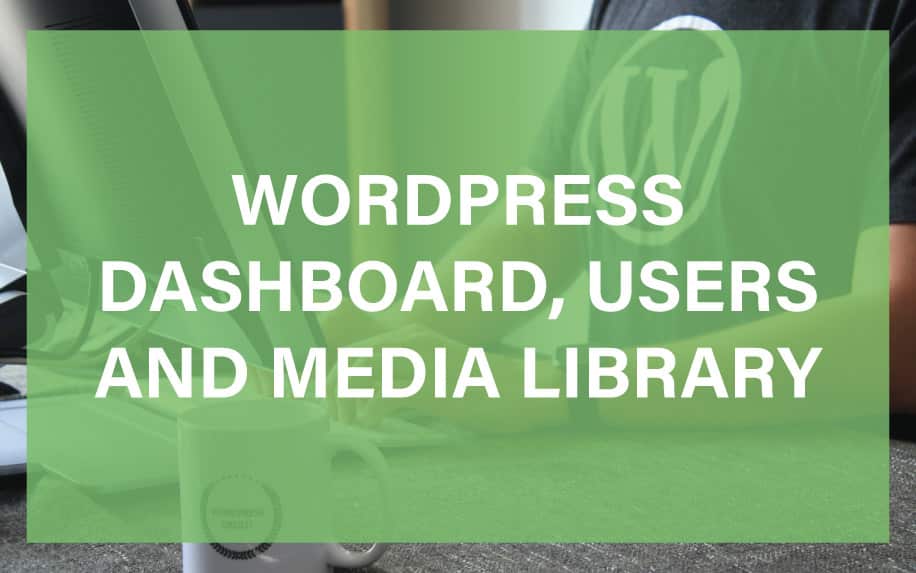 Getting Started with Your WordPress Dashboard
Once you've got your WordPress set up, you will need to access the WordPress dashboard to start editing your site. To do this, you will need to have a domain linked up to your site.
To get to your dashboard, type your domain into the web address bar. Following your domain address, type in '/wp-admin'. An example would be 'domain/wp-admin'. This also depends on your setup, but most of the time, you should be able to access your dashboard by this method.
Whenever you search for your site's dashboard. You will be brought to an administration page. Here you will need to sign into your dashboard, using a username and a password that has already been setup.
Whenever you sign into your WordPress dashboard, it may look confusing at first.
Breaking Down the Dashboard
Whenever you first login to your WordPress dashboard, you will find a number of widgets. The main widget will be the 'Welcome to WordPress!' widget. Here, it will ask you to get started customising your site. It will also give you a few ideas on how to start cutomising your site. Another widget will ask to make a quick draft for a blog post. All these widgets allow you to get started with your site easily.
To the left of the screen, you will find all of the options available to you. Here you can change from the dashboard to many of the other options including posts, pages, the media of the site, plugins, the settings of your site and many others.
The video below shows the breakdown of the WordPress dashboard. It also shows how to use the settings of your WordPress site.
Working with the WordPress Settings
At ProfileTree we recommend heading to the settings of your site before development. To get to your settings, all you need to do, is head to the settings options to the left of your dashboard. When you click on settings, a list of settings will appear. These settings include general settings, writing, reading, discussion settings and many more.
Firstly go to the general settings. Within general settings, you can change the site title, the site tagline, the WordPress URL, Site Address URL, the main email and a few other general settings.
When any changes are made to the site, the email within the general settings will be notified.
How to Add New Media to Your WordPress Site
Uploading media to your WordPress site is very simple. On the left side of your WordPress window, you will find a list of options. Within these options is an option for media. When you click into the media, WordPress will being you to the library. This library will hold all your media files including images, audio, video, documents and more. Any media already on your site, will show here.
To add any new media, click on the 'add new' button. This will open a new window within your library to add files to. If you've got your files ready to upload, you can simply drag and drop the files to this window.
You can also click on, 'select files'. Select files will open up your computer documents and you can choose which files to upload from here. Alternatively, if you hover over the 'media' button to the left, two options will appear. These options include the media library and add new. Click on add new to add files to your site this way.
When your documents are opened, you can choose a single file to upload or many files to upload at once. Once uploaded to your site, they're stored on your sites server. Although we recommend to upload new images instead of re-using images over and over.
This could possibly hinder the SEO and previous setup of the images. We also recommend to only ever upload files that you know will be used. If the files aren't being used, you can delete them easily within your media library. Also delete any duplicate images, if you know they're not being used. Having files on your site takes up server and storage space on your website.
To delete a file, simply click on the file and the file details will appear. This includes the title and description of the file and also the alt tag for images. At the bottom of the details, there're three options. 'View attachment', 'edit more details' and 'delete permanently' in red writing. Simply click on delete permanently and then 'OK', to delete permanently off your site.
Adding a New User to Your WordPress Site
Users is a very handy feature on WordPress. It is also very simple to add a new user. When you first create a site, it will have an admin user. You can edit this user by heading to users on the left side of the window and going to the 'Your Profile' option. Alternatively you can edit the user by going to 'all users' and clicking on the user you wish to edit.
Within the profile, you can edit the name of the user. The username, unfortunately can't be changed. You can also edit contact options such as email, their own website and other contact details such as social media accounts. The email is important as it is used to log into your WordPress site and any notifications to do with your user profile will be sent here.
To add a new user, click on the 'Add New' option. This will bring you to the add new user window. When brought to the add new user window, you can enter the details of a new user. The details you need are, a username and an email address for the new user. Tick the box, so that the new user gets a notification about their account. Here you can also set a role for the new user. WordPress also sets a secure password for each new user, but you can also change this within this window.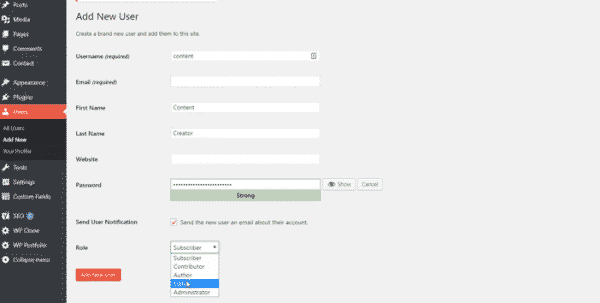 Setting a role is one of the most important features of a new user, other than their username and email. The role classifies how and what that user can access on the site. Roles include admin, editor, contributor, subscriber and author.
You can set a users role to an author. This means they have control over the content of the site. Another role is an editor. This role allows the user to edit the design of the site and can edit pages.
If you set a users role as admin, it means they can access the entire site. They have the ability to control the entire site, from the design to the tools and settings. They can install needed plugins for the site such as Yoast for SEO and many others.
Setting a user that is meant to be an author or editor, as an admin could be detrimental to a site as they could accidentally delete plugins or change certain settings. This means they can break the site and wouldn't know how to fix it.