In the world of digital marketing, things that look creative attract the attention of readers. So, when creating your website, an important aspect to decide on is the fonts you will be using and where and how you can use them. Whether you're looking to use unique serif, retro, or other fonts for your brand or within your company, ProfileTree will help you find the perfect free font for your next project.
If you want to change up your website a bit and spice up your designs, the best way to do so is by adding fonts. However, not everyone can afford the license to pay for a font or even agree to buy one. Luckily, there are several free font websites that provides free fonts if you want to just cut down on some prices and look for something free. Let's discover some of them together!
Table of Contents
10 Websites That Offer Free Fonts
There's a way to freshen up your website on a budget. This could be done by adding special fonts to a website or a couple of blog posts within the website. In the following lines, we're sharing a handful of awesome free font websites to find the font you need.
1. Google Fonts
The first free font website we have is Google Fonts. It has a collection of free, creative, open-source fonts available in different languages. You can filter your searches by category or language and adjust the font properties, including font size, family, and weight.
One of the best things Google Fonts offers is the font preview tool; You can type a sentence or a paragraph and preview it with any chosen font. You can also switch to a different style of font, from light 200 to black 900 italic. The categories it has are serif, sans-serif, display, handwriting, and monospace.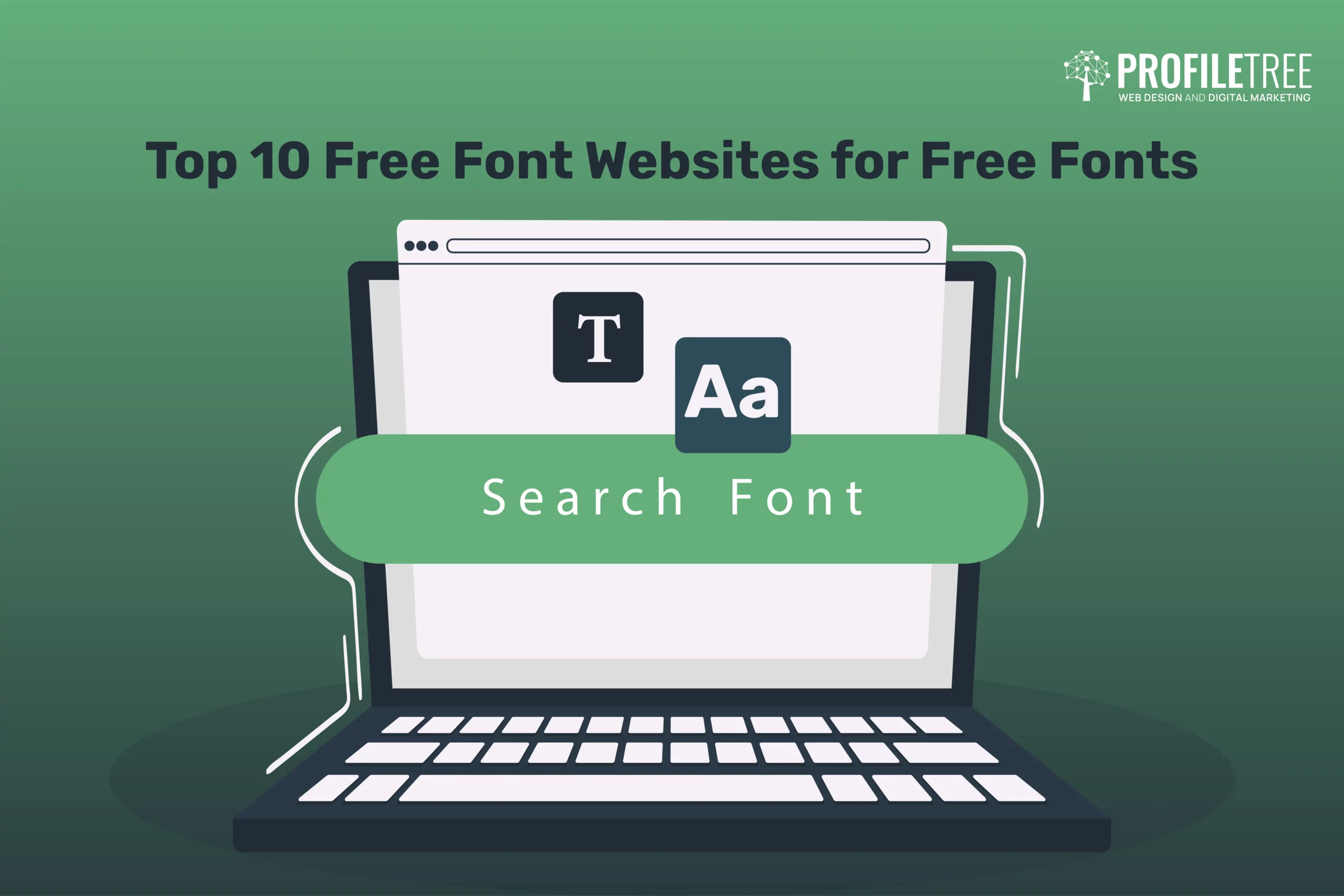 Google Fonts also has a "Fonts Knowledge" section, where you can get original guides about the typography world. Created by the Google Fonts team and some typographic experts around the world, these guides allow you to use any font with purpose and achieve the best font combination.
2. Fonts.com
The next free font website we will review is Fonts.com. Although it has some best sellers and sells a variety of fonts, fonts.com offers more than 1330 free fonts. It has a price range where you can have it set to free.
You can narrow down your searches by language, category, or property. When you're browsing through Fonts.com, you can easily pick the one you need. If you click on it, the website shows you the mediums you can use this font in.
3. Font Bundles
Moving on to the next one, Font Bundles also has a section of free fonts with various free fonts that you could use for your website once you sign up. It has some popular categories, including brush fonts, logo fonts, script fonts, and graffiti fonts. Besides the standard free fonts, you will get one premium font on the "Free Font of the Week" page.
4. Dribbble
Our next website used to download free fonts is called Dribbble. It has a wide range of fonts from which you can choose your desired fonts. When you click on it, the website shows you how this font can be advertised or used. You can follow the designer and save, like, or share any font. However, before you download, make sure the font is free so that you download the right one.
The fonts were created by Dribbble's team or other designers. If you like a font design, you can hire its designer to create or modify a specific font for you. The best part is that Dribbble has incorporated tags to make your browsing easier. Just write "free fonts" in the search bar and get started.
5. Behance
Similar to Dribbble, Behance or Hance is another popular website providing free fonts. Now, they've got a few really cool fonts, but not all of them are free. So, also, before you download a font design, ensure it is in the free section.
Behance is a great resource for non-coder designers. You will not find a complete font set with multiple versions on Behance. So, its font designs are best used in posters, social media banners, graphic design projects, and logos.
If you want to explore and download one of the free fonts there, type "fonts" in the search bar and then choose the free option. Behance allows you to like or save a font design and follow the designer.
6. UrbanFonts
Next in line, we've got UrbanFonts, another great platform to get some free fonts. It is easy to use and pleasing to the eyes. If you just scroll down, you can find numerous free fonts to choose from. You can narrow down your search by release date, category, and popularity.
What makes UrbanFonts unique is that you can change the background colour, which will automatically update the preview of all fonts. You can also type a specific text to preview before you download the font you need.
7. DaFont
Having a similar structure to UrbanFonts, DaFont is a little bit old school; however, it is still a platform to actually grab some free fonts. It is a more simplistic area to get some custom fonts to use without creating an account.
With more than 80,200 fonts, filtering can be challenging due to the huge collection it has. Nonetheless, there is a category system where you can browse fonts by style, theme, author, and popularity. We highly recommend downloading free fonts from DaFont.
8. Fontesk
The next one we have is Fontesk. It is another modernised platform where you can download some free high-quality fonts. It has a variety of different categories, including display, handwritten, and sans-serif.
All free fonts are available for personal use, with most of which are available for commercial use. Fontesk allows you to filter easily depending on your needs. The best thing is that you can download the font you need without signing up or having a quota.
9. Font Squirrel
If you are looking for free fonts for commercial use, Font Squirrel, the "Free Font Utopia," is the right platform. Although it has its own fonts, it compiles some fonts from other websites with licenses. It offers OTF and TTF formats.
You can explore the free fonts by category, language, tag, license, and more. Using the Test Drive functionality, you can preview the font with different text.
10. Fontspace
Moving on to the very last free font website, FontSpace is a great platform that we highly recommend to grab the font you want. With over 110,000 free fonts, you can search for any font easily, change the font size of the preview, and change the foreground colour.
All fonts are free for personal use; however, you can click on the commercial-use option if you want to use fonts commercially. The website has no license fees for any fonts, and it is easy to use.
How to Add A Font to Your Website
Now that we have explored the top 10 free font websites, let's find out how we can upload a font into an actual Wix website. When you choose the font you want from any platform, just click "Download", and you'll get a zip file. Extract the file, and let's get started.
To change the actual text of the website, click on the binned text item at the top. A pop-up message will appear with text settings. Click on "Fonts," and you will find an area that says "Upload Fonts" at the bottom. Click on it and upload the OTF or TTF file. Once it is uploaded, it will give a go-ahead and tick. This could apply to any other website, not just to Wix.
If you click "Done", you can go ahead and search for the font you uploaded. When you choose it from the Fonts list, the text will change accordingly. You can also change the font size until you feel it looks a lot better in your eyes.
Enjoy the Free Fonts!
Free font websites offer eye-catching free fonts that can spice up your website or design. However, always check whether the font you need is available for commercial use before you utilise it. In this article, we have explored the top 10 free font websites, learnt how to download fonts for free, and found out how to upload them into an actual website. For any questions, please leave them in the comments section below.
SEE ALSO: What is a Static Website? | What is a Website Title? | How Do I Block a Website? | How do I Find the Publisher of a Website? | How to Clear Cookies From Your Computer | How to Unblock a Website? | What is SQL? | What Makes a Good Website?.