The real estate industry is fiercely competitive, and having a strong online presence is essential for success. A well-designed website can help you reach potential clients, showcase your listings, and establish yourself as an authority in your market.
If you're considering building a website for your real estate business, you'll have a variety of options to choose from. One popular option is to use a real estate website builder. These platforms offer a user-friendly interface and a wide range of templates and features that can help you create a professional-looking website without coding.
What platforms may you utilise for website building? This article explores them in more detail. 
It will be about the top free real estate website builder. So, whether you're a beginner, intermediate designer, or a skilled web developer, there are a few platforms available for you to employ.
We have listed those four. Of course, the public has access to many more.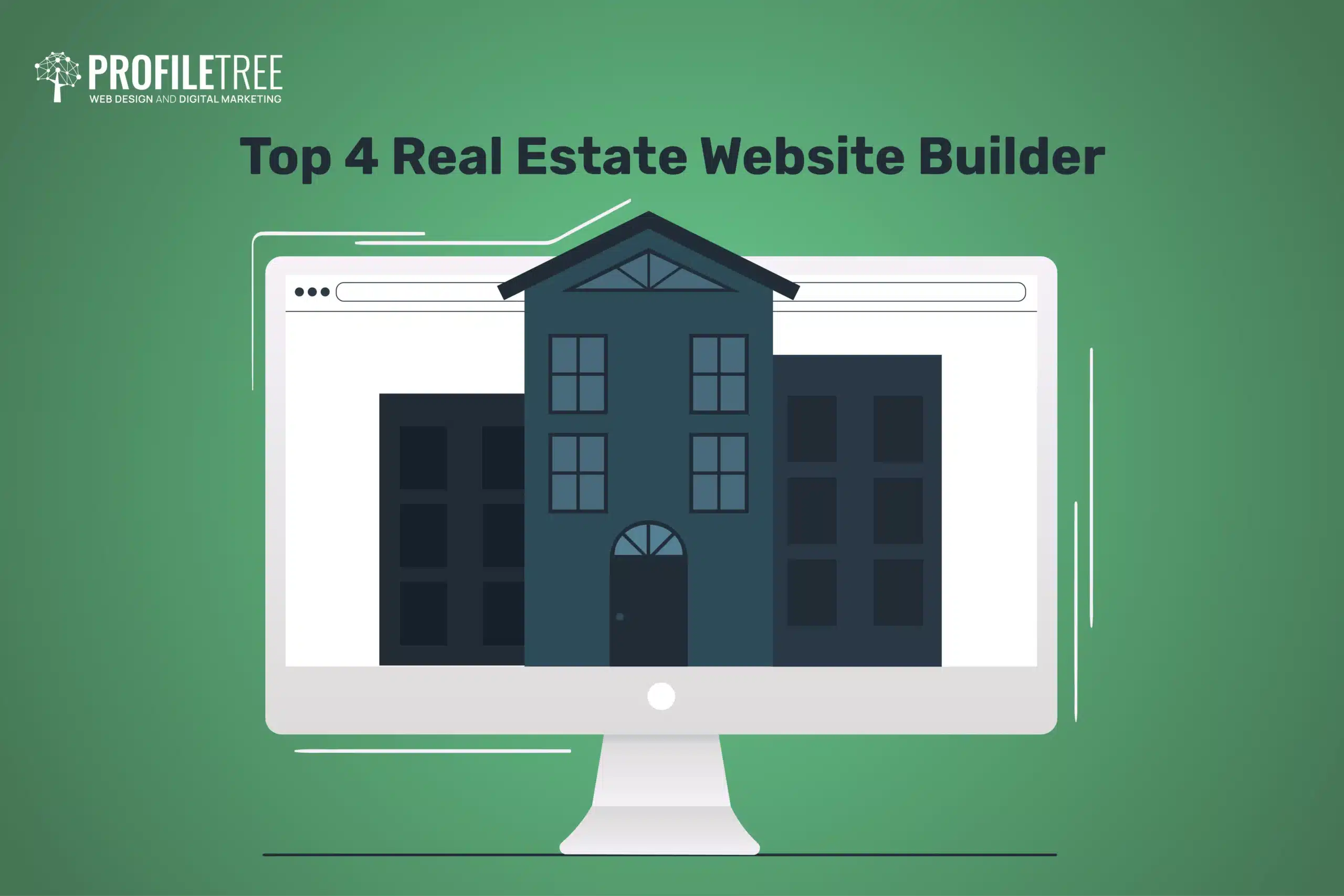 Pros and Cons of Using a Real Estate Website Builder
Pros:
Easy to use: Website builders are designed to be user-friendly, even for people with no coding experience.
Affordable: Website builders are typically more affordable than hiring a professional web designer.
Customizable: Most website builders offer a variety of templates and features that you can customize to fit your needs.
Scalable: Website builders can be easily scaled up as your business grows.
Cons:
Limited flexibility: Website builders may not offer the same flexibility as a custom-built website.
Limited support: Some website builders may not offer the same support as a professional web designer.
Limited SEO: Some website builders may not be as optimized for search engines as a custom-built website.
Choosing the Right Real Estate Website Builder
There are several factors to consider when choosing a real estate website builder. These include:
Your budget: Website builders range in price from free to hundreds of dollars per month.
Your experience level: If you have no coding experience, you'll want to choose a website builder that is easy to use.
Your needs: Consider what features are important to you, such as a drag-and-drop interface, IDX integration, and lead capture forms.
1. Wix
Wix is a platform that we have that is quite simple to utilise. There are three options for constructing a website. Editor X, ADI, and Wix Editor are fantastic platforms, particularly if you want to be creative when building a website. You should choose this. It can be challenging for some beginners because it's more than just drag and drop.
But this platform is simple if you've previously worked on website design. Squarespace is the one we have here as the next option. And once more, using this platform is simple. It's a straightforward website builder that is simple to use. Again, beginners will love this platform. We also suggest Squarespace to those who have never created a website before. Simply because you can make a website or use one of their themes is reason enough.
Almost anything is merely click and change. There isn't much dragging required, and nothing needs to be moved. You can modify that with essentially just one click.
Because of this, we also endorse Squarespace. A website builder gets the sense that it is really simple. There, Godot is next in line. It's nearly identical to Squarespace, but not quite. It is an efficient website builder with clear instructions and basic editing features. It's wonderful for those who have never used or created a website.
Both Squarespace and GoDaddy are better suited for smaller enterprises. The biggest benefit of adopting these two systems is time savings. We suggest these two programmes to get a website constructed and ready to go. The final one uses WordPress and is a bit more complicated. Of course, Godot makes use of WordPress as well. The hosting services provided by Blue Host are of the highest calibre. With WordPress integration, it is a drag-and-drop editing tool. Although we may agree that it could be more user-friendly than other platforms, it's still a fantastic platform overall. And, of course, these aren't the only four website builders available.
There are additional ones, particularly if you're building online stores. You have Shopify. Even if you're building e-commerce or brochure websites, you can use Elementor. I believe there is a gator there. There is a ton of various platforms available for you to use and discover.
Real Estate Website Builder WixThere are at least 800 different templates available. There might now be more.
It is also highly accessible to beginners. Additionally, it offers choices for several platforms. So whether you're a beginner, an intermediate, or a skilled designer, you can make a website. We have Editor X, Wix ADI, and Wix Editor.
Before proceeding, you must provide your email address and a password on this sign-up page. If you have a Google or Facebook account, you can proceed with this.
It will then ask you what kind of website you are building. Then, add content to your website. The Wix market is the key factor in this. Therefore, the Wix app store. These are some of the features they offer, including a chat box. Bookings, forms, an Instagram feed, and many different sections for blog and e-commerce sites are all available.
Wix ADI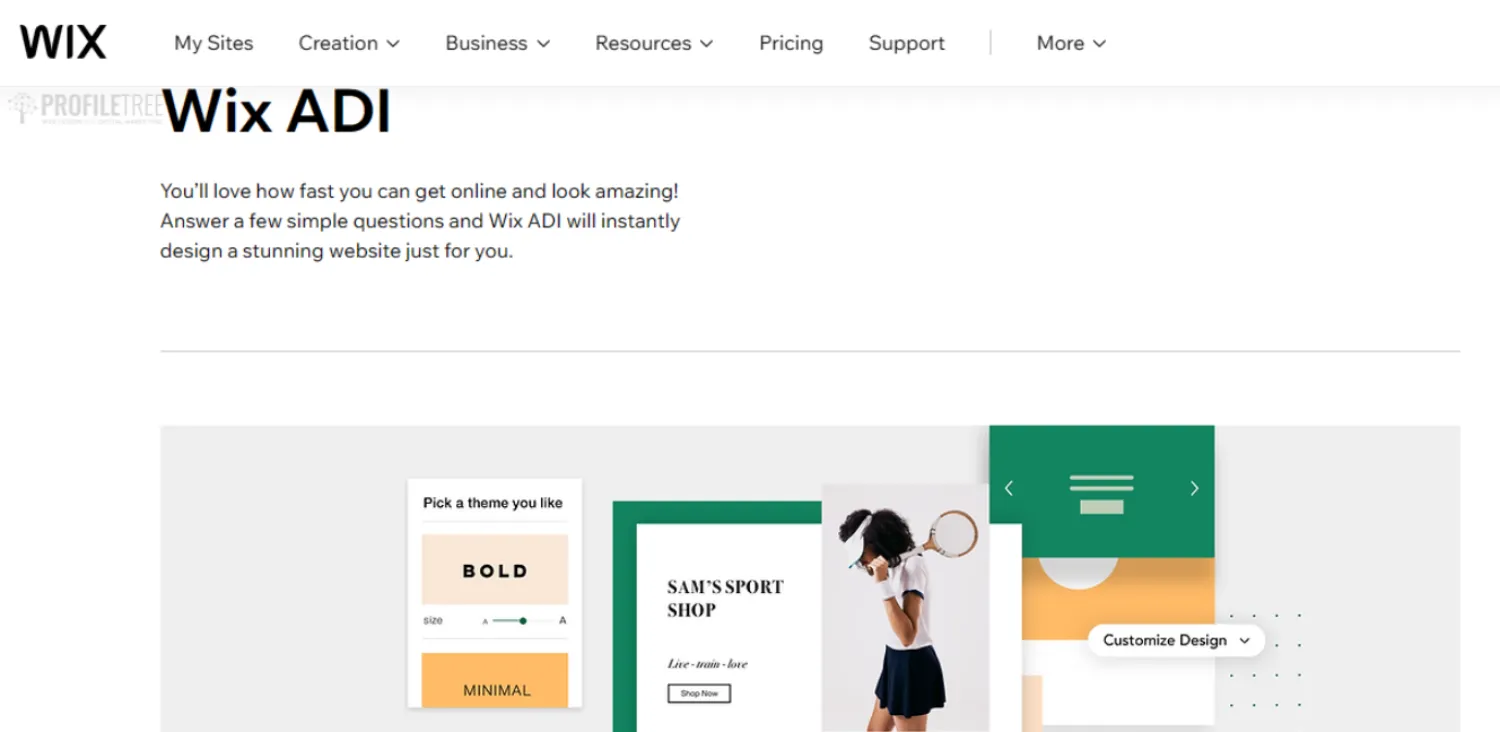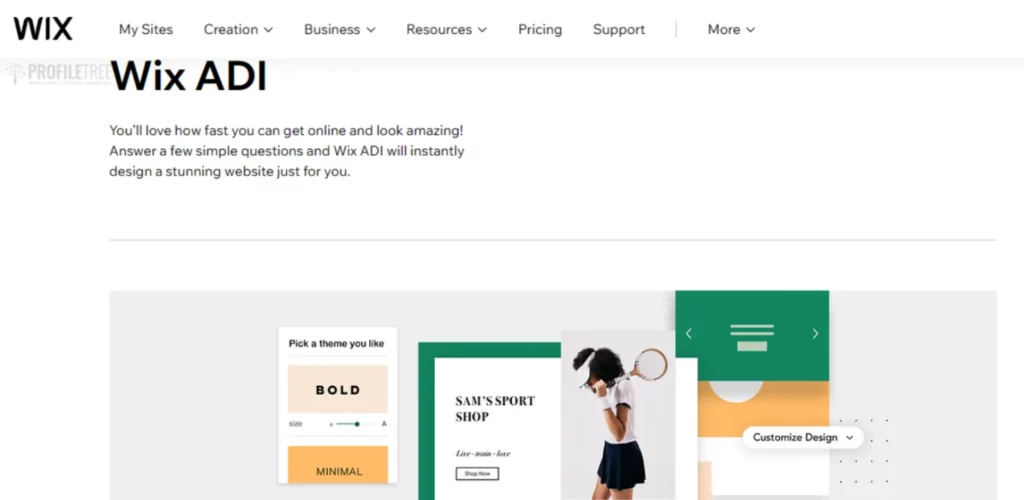 Refers to artificial design intelligence that will test you on a few topics before creating your website. It is where you might include your company's logo, name, and email address. You may list your address, contact information, and social media accounts. You may now decide whether to include these now or later while developing the website. You will then be presented with six different themes, and it will ask you which one you like best.
Clay, Soho, Fuse, High Rise, indie, and classic are on the list.
Now, these six will only sometimes be the ones you receive. You might receive something else.
For those who need to become more familiar with or develop a website, along with their services, it has a hero section, and a contact form is in the footer at the bottom. 
Wix Editor
You can start here by implementing your design, making changes you may not like, or adding elements you want to include, such as photographs, videos, or anything else.
Although Editor X has few templates available, their designs are extremely unique. These sleek, fluid designs present everything you need for a website design.
Additionally, it incorporates certain functionality from mobile and tablet devices.
However, there is a difference between the two, so you must consider this. Wix ADI and Wix Editor are significantly less expensive than Editor X in monthly subscriptions, depending on the money allocated for the real estate template you want to design.
You'll be paying this monthly or yearly when you purchase a premium plan in addition to the domain name. Because this platform for Editor X costs you at least £16 a month to run, it can get a little pricey. That comes to over £100 more than the Wix Editor.
Essential costs $22 a month and offers 10 gigabytes of storage with round-the-clock assistance.
One has priority support, and they all have varying price points. Now, if we look at the various ones, they all have scale enterprise, which is more geared towards the site's e-commerce section.
Business is more of a specialised demand. You must contact Wix directly since the price varies depending on the organisation.
Currently, the Wix Editor and Wix ADI use the same platform. Of course, there are two options: you may choose templates or create the website yourself and the other uses the Questions. Under Real Estate Agency, we have a few different templates. That is now being typed at the top. This is also available in the business and services section, where you can select Real Estate to see several landing pages for Real Estate Firm, Real Estate Consultants, and another landing page.
You can choose a blank template in their place if you don't like any of them. There are a few there for you to pick from.
There are various approaches that a real estate agency might take. Naturally, you choose to build a website for real estate. In that case, you can include features like a finance calculator, a place for customers to deposit money, and other similar features, particularly if you have solicitor fees or additional similar costs.
The space for mobile optimisation is available. And that's excellent since it's already constructed for it.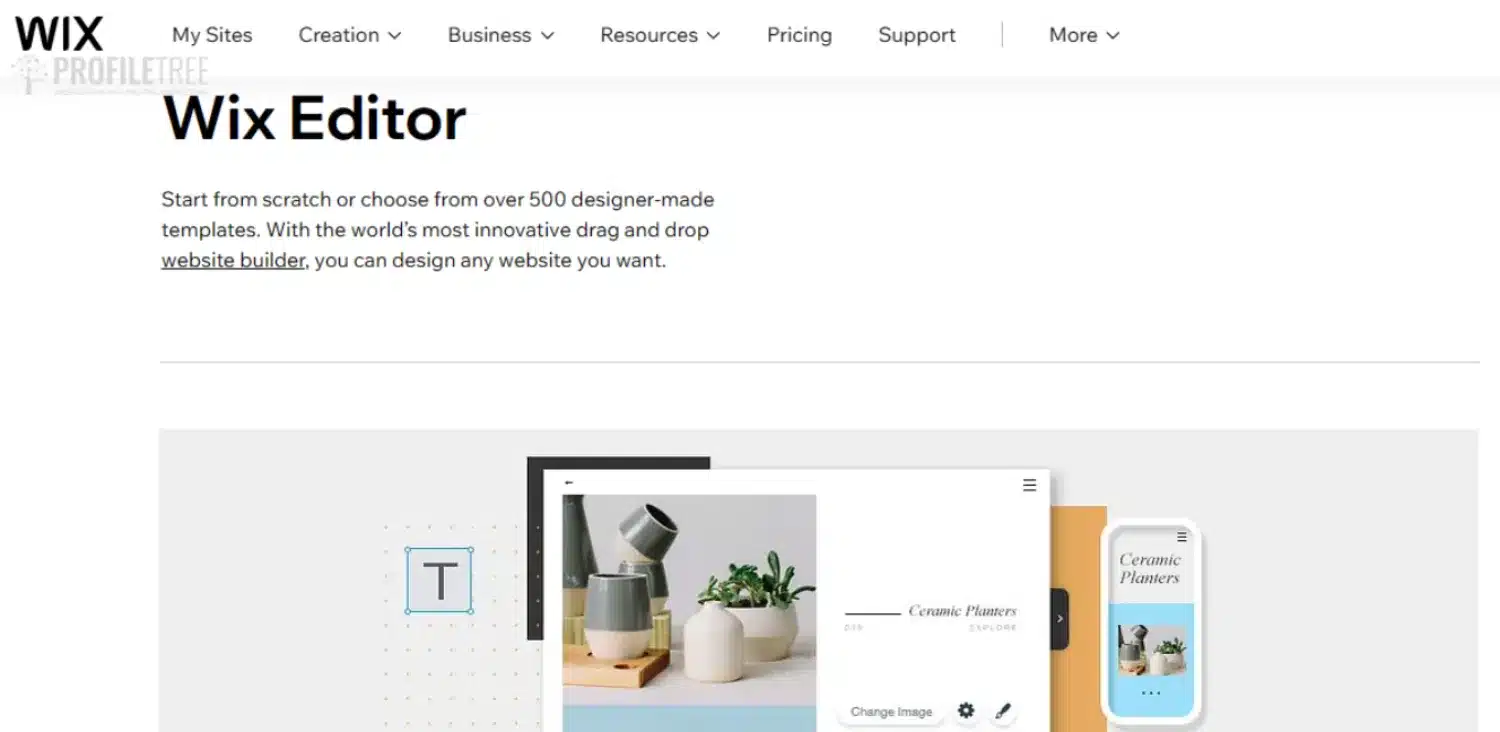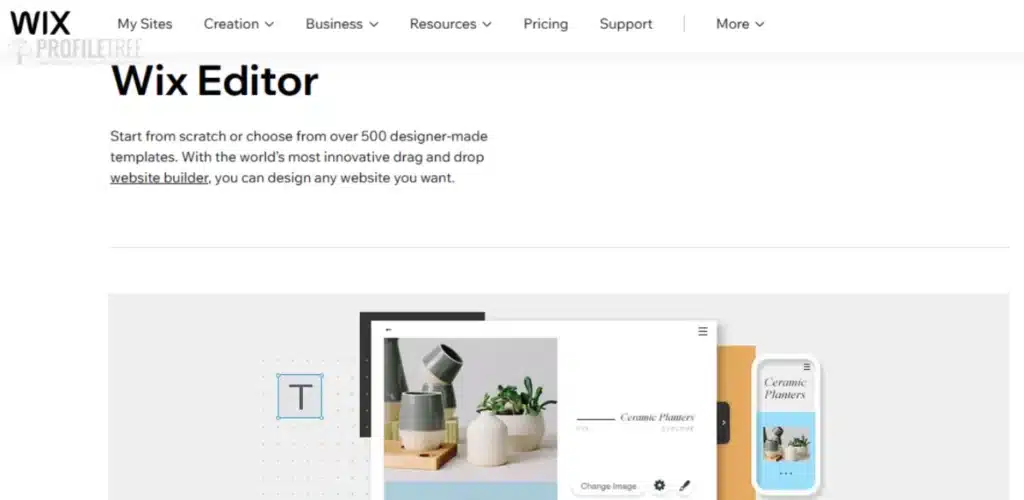 The tools only outline what you can use in a specific area. There are grid lines that snap to objects, and you can also put a ruler on the top of the page to indicate where you should add your logo, buttons, or other items. You have a toolbar, and You can change the size and position of the various components.
The background of the website has a strip, which increases its responsiveness.
If you drag an element outside the grid lines, it will be Unseen by some of your guests if they use it on a desktop or a mobile device instead.
The benefit of utilising Wix is that you can drag a line and move things about in a section, which Godot and Squarespace can't accomplish.
Several layouts are available for the landing page, projects, contact, and about services. They also have their website design. You may modify the design by altering the background colour, the transitions, or all. Technical or Savvy, which adjusts all the colours, are options if you decide to go that route.
Wix offers a few of its apps for free. Nearly 40 different templates are available. Although it indicates that Wix stores are free to set up, there are other suppliers where you can pay for it. The information about what you intend to accomplish with that is complete.
You can proceed and click Publish once you're finished and satisfied with the website. This causes this website to go active. Now, all you have to do to pay for this is visit the website to access your dashboard. This will display a section where you can pay for a domain and some pricing.
Therefore, we advise using the Wix Editor alone if you have simple web designs. Although the price ranges are a touch more there than they are for the actual Wix editor, it is still less expensive than the pricing options within Editor X.
2. Real Estate Website Builder Godot
Godot is a more basic development tool that we have here. It's excellent for people who are just getting started as well. It is something quick and easy that doesn't require much time. When you want to start creating a whole website. You are given three questions, which are like the Wix ADI.
Consequently, it is a synthetic design intelligence. Depending on your site's subject, it will construct the website for you. This may be the property on which you wish to create. Additionally, if you'd like, you can go on a tour. You can also visit the site's preview to get a quick glimpse of how it seems.
Services are also available, along with a newsletter with information about hours of operation and a chat box.
You can alter the image at the back. They have their photographs for you, precisely like Wix; you can add them to the website. If you'd like, you can also include videos and modify that video immediately.
You can submit your files, of course. So, it does make a difference. As you can see, a slideshow is currently included for you, a feature that Wix lacks and that you must add yourself. So that's a crucial aspect of using Godot. You could add pages, links to other websites, and a drop-down menu.
Of course, there are other templates available for your viewing. You can find real estate, for example, Lower Walker; they have the hill. You can also look into that. They have interior design and architecture. Instead of real estate websites, these are primarily construction websites.
3. Real Estate Website Builder GoDaddy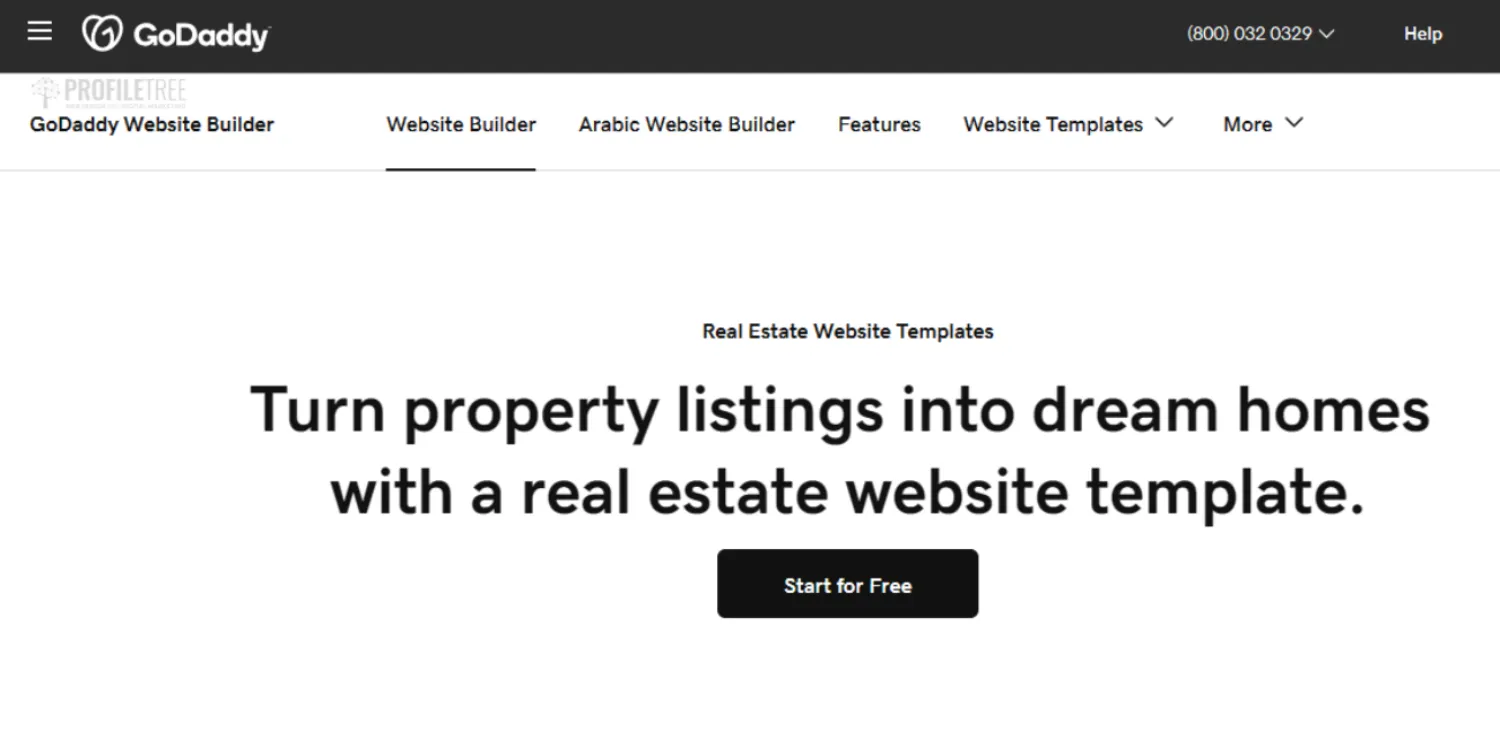 This provides 24/7 support and incredibly user-friendly and affordable subscription plans to establish your website. GoDaddy's subscription package is significantly cheaper than Wix, Squarespace, and Blue Host's plans. So that's something to consider if you're a business owner or trying to build a real estate website. If you're on a tight budget, GoDaddy can be the best option to get a quick and affordable website built.
4. Real Estate Website Builder Squarespace
Similar to GoDaddy, Squarespace is a simplistic platform. On this one, you are free to build a real estate website. It includes numerous features and a two-week free trial as well. It is also incredibly user-friendly for beginners.
There should be three templates there. Indano, Selwood, and Barbosa are all available. These are most likely the closest templates; there are just three for real estate and properties.
Now, if you have decided to make your own, you can design a website from scratch.
Naturally, it displays three of them: a desktop, a tablet, and a mobile device. Furthermore, neither the Godot tablet gadget nor the Wix editor displays the information. So that's the only variation on this, although editor X does show it. There are a few built-in pages; you can add some custom CSS.
If you want to add a logo, you can alter this header to reflect the real estate agency in your site's title. It will provide you with a few icons you might like to use, and you can save that logo and add taglines before adding it to the website.
It even displays designs for their appearance on various branding, websites, or business cards.
At times, the user interface can be difficult to navigate. Just the layout makes it difficult.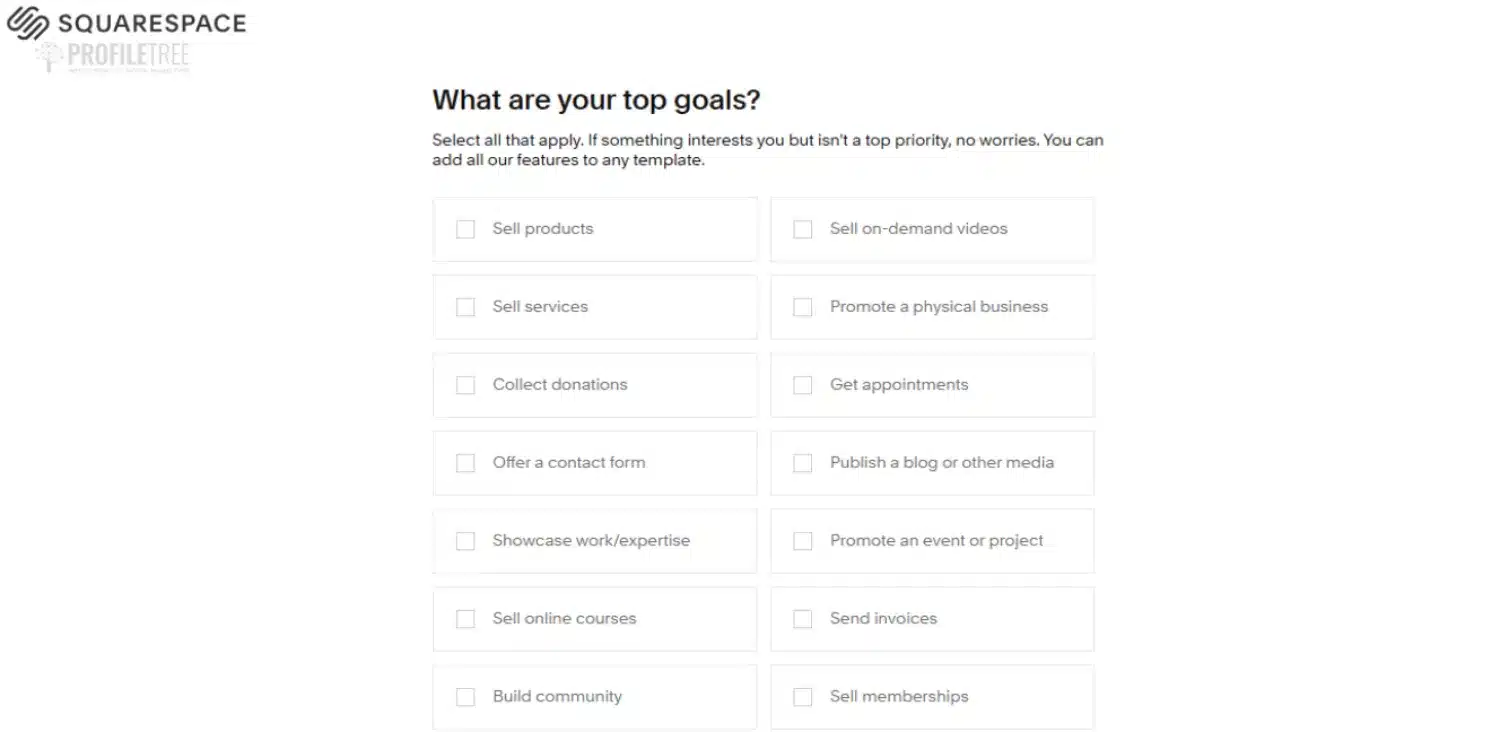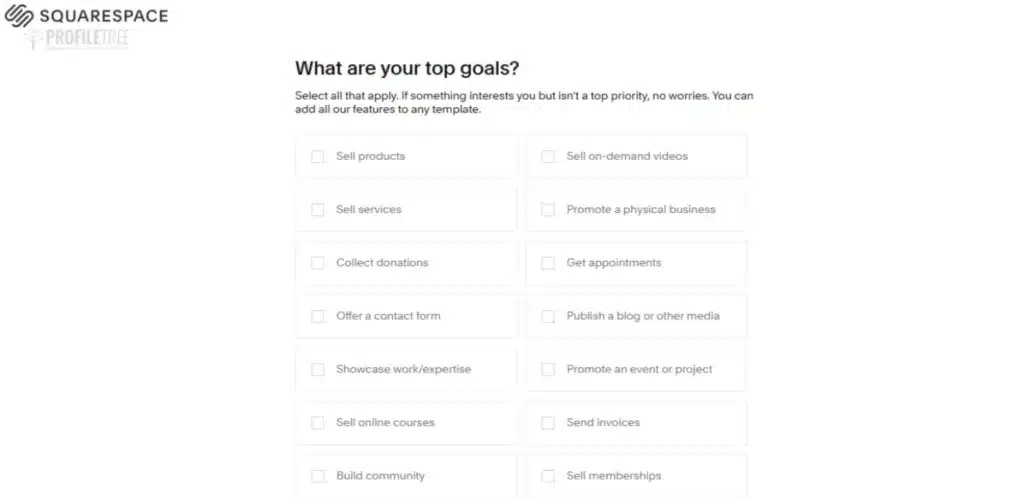 Drawbacks of These Platforms
As soon as you choose a template on Wix, you cannot change it. Although most people may view the abundance of alternatives as a benefit, newcomers may find them perplexing. It can be overwhelming for beginners to look at Wix. However, it will be fine if you have already utilised the platform.
The interface is square and only automatically stores articles and pages, making it easy to lose your work. The user interface may need some improvement and isn't entirely customisable. Like Godot, there is minimal customisation—A drop-and-go platform for developers. The search for templates is simple, too. Blue Host does not offer email accounts, monthly pricing, or the ability to switch templates like Wix.
Real Estate Websites and Real Estate Online
Real estate websites have become an essential tool for agents and brokers in today's digital age. These websites allow agents to showcase their listings, connect with potential clients, and establish themselves as experts in their market. A recent study found that 93% of real estate agents have a website, and 85% of homebuyers use websites to search for properties.
Statistics on Real Estate Websites and Real Estate Online
93% of real estate agents have a website.
85% of homebuyers use websites to search for properties.
The average time spent on a real estate website is 3 minutes and 47 seconds.
62% of real estate agents generate leads from their websites.
47% of real estate agents close deals from leads generated from their websites.
The Benefits of Real Estate Websites
There are many benefits to having a real estate website, including:
Increased visibility: A real estate website can help you get your listings in front of more potential buyers.
Credibility: A professional-looking website can help you establish yourself as an expert in your market.
Lead generation: A real estate website can help you generate leads from potential clients.
Customer service: A real estate website can provide valuable information to potential clients, such as property listings, neighbourhood information, and market trends.
In a Nutshell!
Any real estate business needs a website as a vital marketing tool. It enables you to present your listings, contact possible customers, and position yourself as a respected expert in your industry.
Wix has many features and templates, many of which are specially made for real estate enterprises. It is very user-friendly, making it a fantastic alternative for those without coding skills. Another well-liked website builder is Squarespace, which provides a selection of chic and expertly designed-layouts and is renowned for its first-rate customer service. Last, GoDaddy is a well-known domain registrar and web server providing a website builder. The website builder from GoDaddy is simple to use and has many options, including layouts explicitly tailored for the real estate industry.
These are only a few tools you may utilise for a real estate brokerage. You can certainly investigate the various ones that we have yet to mention.