GoDaddy Domain – With over 20 years of experience and 80 million domain names under management, GoDaddy remains the world's largest ICANN-accredited domain name registrar. However, with their growth they've developed a mixed reputation in some circles – known for heavily marketed products but also inconsistent customer support.
We recently conducted an extensive hands-on assessment and review of GoDaddy domains including pricing, key features, ease of use, customer support and more as of 2023. Read on for our complete 2023 Godaddy domain hosting review with all the details you need to decide if GoDaddy ́s domain registration and management services are right for your needs.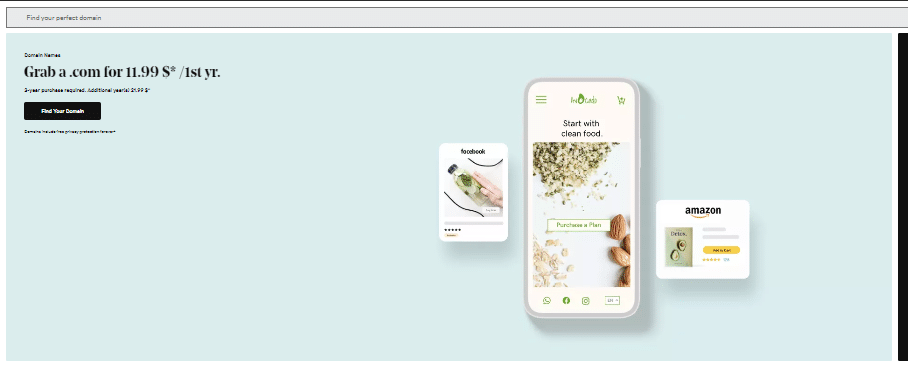 We evaluated domain features across both their higher-tier Domain Premium plans as well as their basic Domain Registrar plans to see if the upgrades are worthwhile for different users. After extensive testing and research, we found GoDaddy domains continue to offer strong core domain registration, management and DNS customization tools at reasonable costs. However, their post-purchase upsells and service limits mean they may not align with everyone's needs.
Table of Contents
GoDaddy Domain Registering
Like many other companies who offer web hosting, Go Daddy are similar as they are renowned for their Domain Registering. Overall GoDaddy is the biggest Domain Name Registrar in the world, who have over 17 million customers worldwide. In a previous GoDaddy article, linked here(GoDaddy WordPress Hosting), I even referred to GoDaddy as the Coca-cola of the web industry as almost everyone has heard of them.
GoDaddy has been around for about twenty odd years and since they were established have since become a big world player in the web industry, offering web hosting as well as domain registering.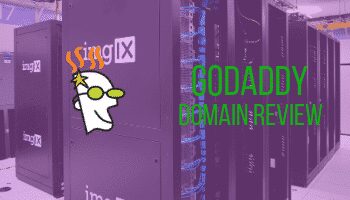 With GoDaddy, there are many ways to purchase a domain. You can search for a specific domain, get a domain in an auction, although prices can skyrocket here or even have a broker negotiate with the current holder of the domain. Below I will talk about all these features of GoDaddy's Domains.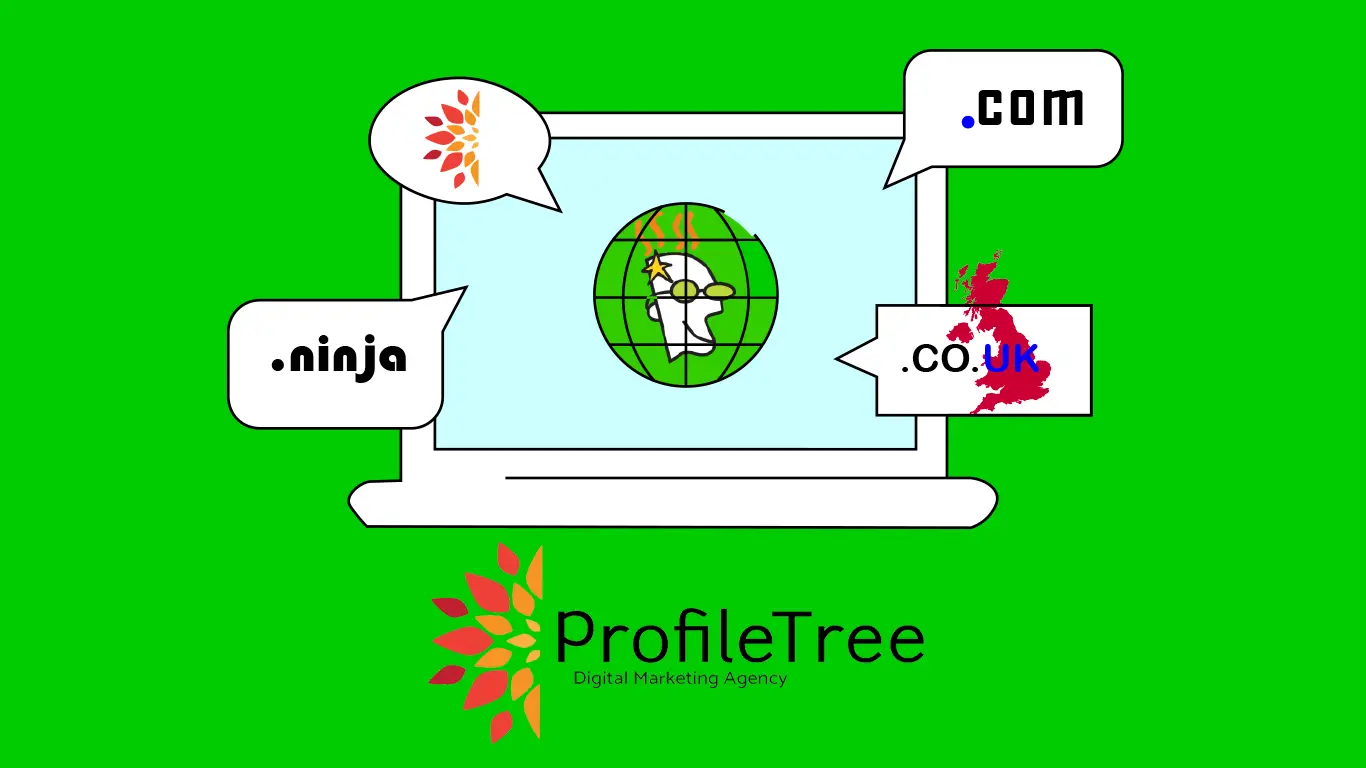 GoDaddy Domain Pricing;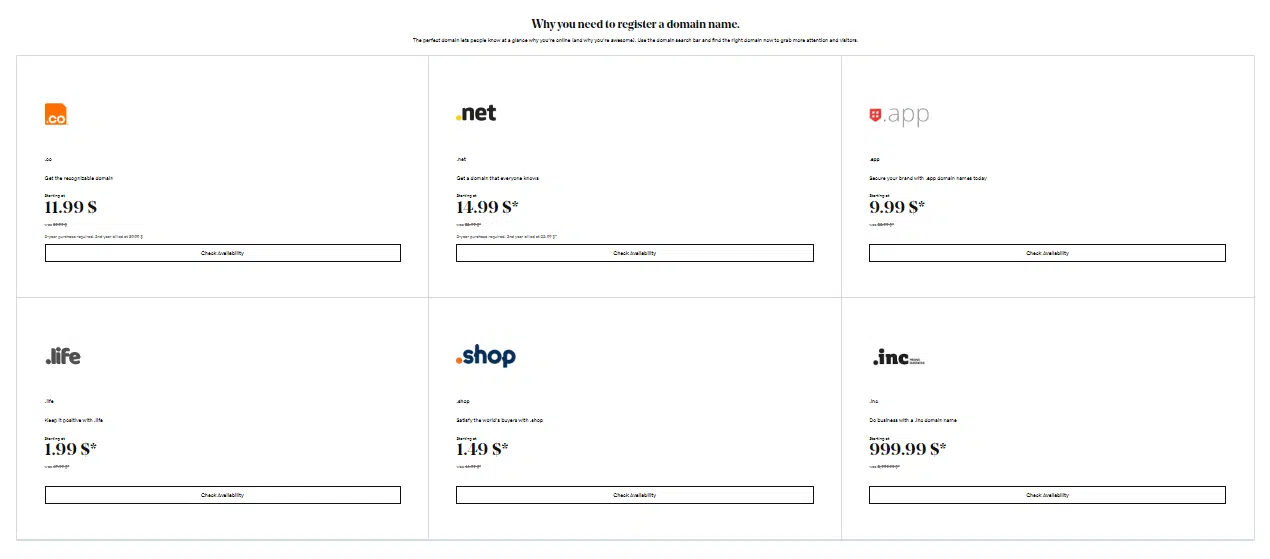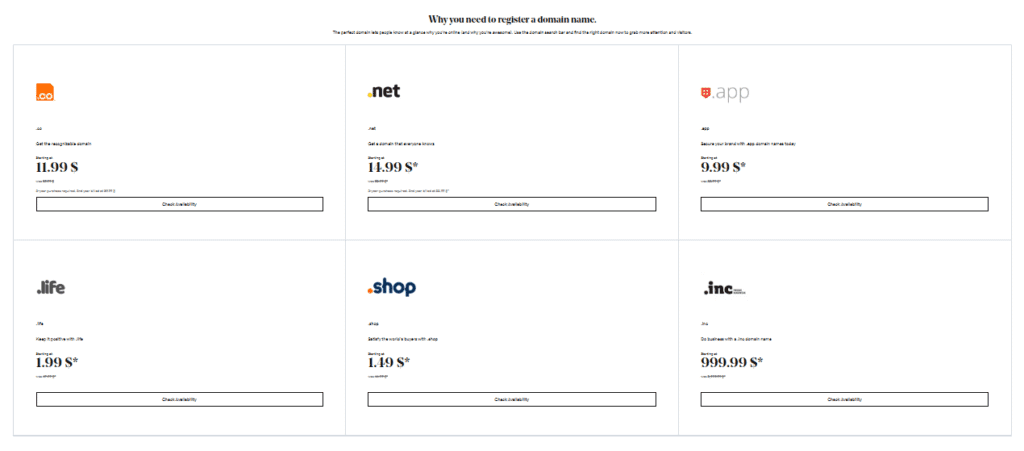 Different type of domains, will certainly come with different price tags. GoDaddy is no exception. There are many domains you can but with GoDaddy that range from the usual and well-known .com, .co.uk and .co domains to other generic Top-Level Domains (gTLD's), such as .shop and .xyz. Below will be a list of many examples of domains and their prices.
.com
.co.uk
.co
.club
.shop
.store
.cloud
.xyz
.blog
.tech
£0.99

(13.10)

£0.01

(£9.99)

£0.99

(£26.99)

£1.10

(£12.10)

£2.49

(£34.10)

£3.99

(£58.10)

£2.99

(£12.10)

£0.81

(£10.69)

£17.71

(£28.27)

£7.99

(£54.10)
.space
.today
.health
£1.49

(£9.10)

£3.62

(£17.71)

£56.54

(£70.65)
The price shown above in the tables is the price for the domain for one year the, deleted prices is the renewal price, which can change.
You're able to get many other types of domains, the prices of these can range from pennies to thousands if they are a premium domain, which I will talk about further in the article. Below is examples of other domains you're able to get with GoDaddy
| | | | | | | | | | |
| --- | --- | --- | --- | --- | --- | --- | --- | --- | --- |
| .website | .education | .vip | .guide | .legal | .rentals | .fit | .site | .school | .fitness |
| .design | .consulting | .reviews | .ninja | .vet | .care | .video | .yoga | .nrw | .info.pl |
| .com.es | .contractors | .org.es | .biz.pl | .immo | .info | .online | .net | .org | .cc |
| .tech | .photography | .life | .agency | .it | .studio | .site | .co.in | .directory | .one |
| .ink | .properties | .lease | .company | .guru | .win | .coupons | .party | .science | .loan |
| .study | .immobilien | .garden | .chat | .tips | .soccer | .barcelona | .coffee | .lgbt | .nom.es |
| .pro | .pictures | .network | .one | .movie | .reviews | .direct | .school | .rocks | .film |
| .tube | .technology | .digital | .global | .house | .money | .band | .solutions | .me.uk | .news |
| .work | .church | .place | .surf | .green | .lawyer | .cloud | .clinic | .cleaning | .expert |
| .gallery | .productions | | | | | | | | |
GoDaddy Domain: Buying a Domain/s;
One of the easiest ways to find a perfect domain for you is the domain name search. Her you will enter a domain name you would like and the search will return results for that domain. Usually it will say that the domain name you're searching for with .com is taken but there should be another 20 or so result shown. The best example of this I can give is when you look up our domain name profiletree.com. The search results will say profiletree.com is taken. Other results shown fro this search are profiletrees.com and profiletree.shop.
Users of GoDaddy are also able to buy domains in bulk. You're able to register up to 500 domains at any one time. Doing this can save you big money as domains are cheaper to buy in bulk. Almost like anything, the more you buy, the more you save.
There is also an auction section within the GoDaddy website that allows users to bid for different domains that other users have put up for auction. Here bids can reach into their thousands for different domain names. There are many ways you can search the auction on the site, this includes popular searches such as most active and ended soon. These two searches are the place to be if you are looking to get a great domain at a cheap price or a domain that is sought after.
Comparison table of key features between GoDaddy Domain and some other top domain providers:
| Feature | GoDaddy | Namecheap | Name.com | Bluehost |
| --- | --- | --- | --- | --- |
| Domain Pricing | ✓ $12.17/yr+ | ✓ $8.88/yr+ | ✓ $8.99/yr+ | ✓ $12.99/yr |
| Number of Extensions | ✓ 400+ TLDs | ✓ 200+ TLDs | ✓ 300+ TLDs | ✓ 70+ TLDs |
| Free Domain Transfer | ✓ Yes | ✓ Yes | ✓ $9.98 fee | ✓ Yes |
| 1-Click Domain Setup | ✓ Yes | ✓ Yes | ✓ Yes | ✓ No |
| Domain Backordering | ✓ Yes | ✓ No | ✓ No | ✓ No |
| Domain Auctions | ✓ Yes | ✓ No | ✓ No | ✓ No |
| DNS Management | ✓ Full Custom | ✓ Full Custom | ✓ Full Custom | ✓ Basic Only |
| Email Forwarding | ✓ Unlimited | ✓ Unlimited | ✓ 5 only | ✓ Unlimited |
| Free DNSSEC Support | ✓ Yes | ✓ No | ✓ Yes | ✓ No |
| Mobile App | ✓ Yes | ✓ No | ✓ Yes | ✓ No |
Some key differences:
GoDaddy offers the largest extension variety
Bluehost has least number of domain features
Namecheap has the cheapest domain pricing
Name.com has limitations on email forwarding
GoDaddy Domain: Buying a Domain Problems;
I personally find the bulk buy and the auction very hard to use as it's not as straight forward as you would think it would be. The bulk buying domains should be easier than it is to use. This is because you're able to search for specific domains within this feature. After trying multiple times with many different types of domains, it just showed me the same results over and over again even after changing my search details. The auction is difficult to use as the search results seem to be a bit weird as it shows you the best match than other matches to our results.
GoDaddy offers domains starting from $12.17 per year for basic TLDs. However, coupon codes can often reduce this cost, especially for your first year of registration. Their top-level pricing applies to first year registrations of TLDs like .com, .net and .org. Additional fees, around $25-$30 annually, exist for other more niche TLD extensions. Auction domains and aftermarket purchases through GoDaddy obviously vary much higher in pricing.
Transferring Domains to GoDaddy
Incoming domain transfers to GoDaddy carry no fee for most common TLDs. Their domain management dashboard makes initiating and monitoring inbound/outbound domain transfers simple. However, newly registered domains have a 60 day transfer lock meaning you cannot transfer them to another registrar during that period.
Key Features and Tools
Key features which appealed to us during testing were GoDaddy's domain name suggestion tools, domain backordering options, and their auction/aftermarket domain marketplace. Their mobile app enables managing multiple domains-on-the go with ease. For those running self-hosted sites off of GoDaddy domains, their full DNS customization and optimization features offer capabilities closer to a dedicated DNS provider over a standard registrar.
Upsells and Limitations
Once you complete domain registration or transfer to GoDaddy, they do try to aggressively upsell additional products like private registration, email, security certificates and hosting packages that may prove unnecessary for some customers.
In terms of limitations, email forwarding is capped at 100 emails per month on their basic economy domain plan which could hamper more professional use cases. And these cheaper tier domains lack some advanced DNS manipulation options available to higher tier plans.
Customer Support Analysis
GoDaddy provides 24/7 customer support via phone and live chat for U.S. based accounts, while email support covers international customers. Their documentation knowledge base resources are also reasonably extensive for self-service troubleshooting. Overall their domain technical support proves above average, especially via live chat/phone during U.S. hours – but this comes at higher costs embedded into their pricing for the privilege.
Security Practices
As an ICANN accredited registrar focused on security, GoDaddy requires multi-factor authentication safeguards and follows industry best practices around securing and encrypting customer data as well as internal credentials. They also offer domain privacy, protection and security monitoring packages to customers wanting additional safeguards beyond standard SSL certificates etc.
Top GoDaddy Alternatives for Domains
Some top alternatives to consider over GoDaddy for strict domain name registration and management include:
Namecheap: More affordable pricing overall with fewer add-ons
Name.com – Very competitive pricing with capable management tools
Google Domains – Simple, secure, easy for beginners
Hover – Privacy focused Canadian company with great support
GoDaddy Domain Broker;
One other way you can buy a domain is through a domain broker. This means that the domain you have wanted for the past few years, well it can be yours. With a very large business network and a world leader in domains, GoDaddy can usually find the owner of the domain easily and can start the negotiations for the domain on your behalf. Throughout the whole process, your name and identity will remain anonymous and you will only know if you have got it or not.
How does this work? Well, it's quite simple really, you tell GoDaddy which domain name you would like and your budget. Once GoDaddy knows the name and budget they can then start to negotiate with the owner of the domain name. Your domain broker will try and get you the domain for the cheapest price within your budget and if they can negotiate within your budget, the domain will be yours.
There are two problems with this feature and they are, you will always pay £49.99 for an attempt to obtain the domain you would like. The second problem is that the broker only has a maximum of thirty days to complete find the domain owner, negotiate and complete the sale.
GoDaddy Domain Extension;
GoDaddy also has a new domain extension. This extension allows users to purchase specific domains. Domains in which GoDaddy do not have at the moment can be seen down the side saying they are coming soon. Users are able to follow domain extensions that are not available, so when they do become available they can get the right domain for them quickly and easily. The best example is that many cities around the world have their own domain extension, but there are many that don't and they are on the waiting list to become available.
GoDaddy Domain Transfer;
Most domain companies such as GoDaddy offer a transfer service to move your domain to them. Fees for transfers depend on different domain types. To transfer a .com domain it will cost you £6.49, a .co.uk domain will cost you nothing as it is free to transfer. Other domains cost but, GoDaddy does not really advertise the costs. You can also save a bunch of money if you were to transfer more than six domains at any one time. All your subdomains will be forwarded with your domains, to cause as less hassle as possible.
Transferring domains should always be an easy task for anyone, that's why GoDaddy has an easy system for you to transfer domains. First, you will need to unlock your domain with your current registrar. Then you will need an authorization code from your current registrar to then transfer your domain. So it could never be any easier.
GoDaddy Domain Other Features;
There are a few other features that GoDaddy other their users for domains. Users are able to list their own domains on the auction part of their site. You are also able to get a value and an appraisal of your domain. To list your domain on their auction, you need to sign up to be a GoDaddy's auction member. This costs £3.99 a year. When you're listing your domain you can also add details about the type of the domain you're selling. You can also increase the visibility of your domains on the auction page by buying a home page listing feature for £13.99 or a category page listing feature for £6.99.
The GoDaddy value and domain appraisal is a feature that compares your domain name with similar domains and values your domain name based upon this. Having a better domain extension will help your domains value. Domain extensions such as .com and .co.uk are extensions that will increase your domain names value.
My Thoughts on GoDaddy;
Overall I believe GoDaddy to be a great domain registrar and I would highly recommend them when you're looking to register a domain. The prices for GoDaddy seem very reasonable for all the main extensions such as .com and .co.uk as well as gTLDs. One thing I do wish they did have would be prices advertised for more extensions, such as .design.
With the many features GoDaddy offer I think they would be perfect for registering a domain and even transferring your domain too.
Frequently Asked Questions
Does GoDaddy offer free Whois privacy?
GoDaddy includes free Whois privacy protection for all .com, .net, .org, .us, .online, .site and .store domain purchases. For other TLDs, you need to purchase their Domain Privacy and Protection product for $9.99/year.
Can I transfer my domains away from GoDaddy?
Yes, you can transfer domains away from GoDaddy by first unlocking them and then initiating a transfer with another registrar. However, there is a 60-day transfer lock after initial registration.
What happens to my domains if I fail to renew?
If your domains expire, GoDaddy will first place them in a 30 day redemption grace period. After that they go into redemption hold status for up to 30 days more before finally being removed from your account.
Does GoDaddy provide domain name suggestions?
Yes, GoDaddy's domain search tool provides suggestions for available TLDs based on keyword searches. They scan expired/deleted domains databases to find realistic alternatives to unavailable domains worth considering.
GoDaddy Domain Conclusion
GoDaddy remains the world's largest domain registrar for a reason – they offer an unmatched selection of TLDs along with capable management tools for registering, monitoring and transferring domains. Their strategic domain name suggestions, aftermarket domain marketplaces and optional products like hosting and email can provide convenience for those managing multiple properties.
However, their aggressive upsells and account limitations once purchased make them a poor choice for those wanting a simple, no-frills domain ownership experience. And while GoDaddy's prices often appear cheap at face value, you'll frequently incur additional costs over time making them less budget-friendly long term.
Considering all the pros and cons in this 2023 GoDaddy domain review, we feel they are a strongly average option. The extensive features and extension variety suit some users managing a domain portfolio well. But for those just wanting to register a single domain hassle-free, better registrar options exist.
Check out our other Domain Reviews; 123Reg | GoDaddy | NameCheap | Name.com | Gandi | Hover | Flippa.com | HostGator | 1&1 | Dreamhost