As a business owner, it's important to know how to organise a contact list on your WIX website. It could be tempting to think of this as a potentially difficult task but WIX makes it very easy, allowing users to organise their contact list with very little technical knowledge.
Whether you need to change the name of a contact, an email address, or even a contact's subscription status, it is all very simple. You can even start to filter your contact list by using labels on your site.
There's no excuse for failing to keep your mailing list in order with WIX.
Our videos and written guides explain how to perform changes within a contact list on your WIX website.
With WIX it is very easy to edit the details of your contacts. This could be because they've changed the way they interact with the site, have now bought a product after being signed up to the newsletter or have unsubscribed from the site.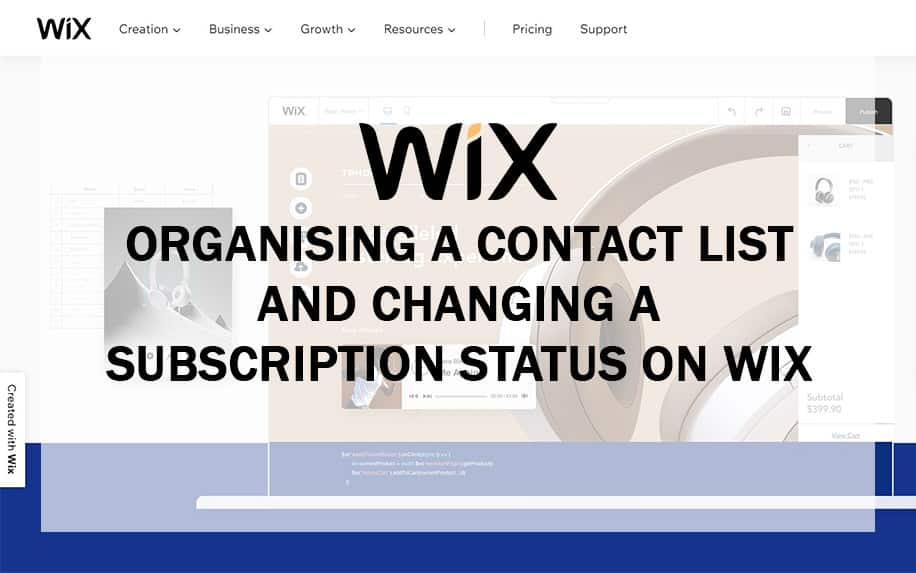 In any case, it's vital to keep your WIX mailing list up to date. This impacts both the success of your email campaigns, and your GDPR compliance.
Watch the following video tutorial below to learn exactly how to do this.
Table of Contents
1. Access Your Contact List in WIX
Accessing your contact list is simple. Every template that offers one of the services mentioned above has a contact list. If a template doesn't have any of the features mentioned above, it is simple to add one of the services to your site.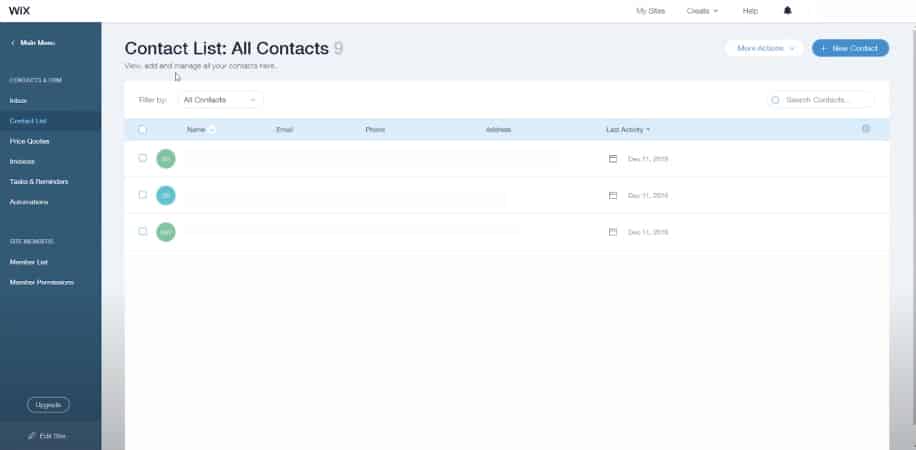 This then makes an automatic contact list on your WIX site.
To access simply go to your WIX dashboard, then head to the 'Contacts and CRM', then contact list. It will then show all of the contacts attached to your site. From this dashboard you can edit the users name, email, phone, address and also their subscription status.
If you don't have any contacts on your site as of yet, you can easily import contacts using your email account such as Gmail and Outlook using a CSV file. This file imports your email contacts.
2. Editing Your Contacts in WIX Using Labels
The first step to click on the contact list panel. This will open a right hand sidebar on the page with all the contacts information within it. The information displayed will be the name of the contact, their provided contact information as well as any labels and attachments attached to this certain contact.
To edit any of this information, you will either see a blue edit button or a blue add button. You can also find any tasks, notes and chats attached to the contact.
Labels allow users to be divided within the database of contacts. For instance you can have a label for all of your subscribers and then a label for all of your customers who have bought a product.
This can also help when sending emails, as you can then choose a label to send certain types of emails such as marketing. Attachments are any type of file that need to be sent to a contact via email.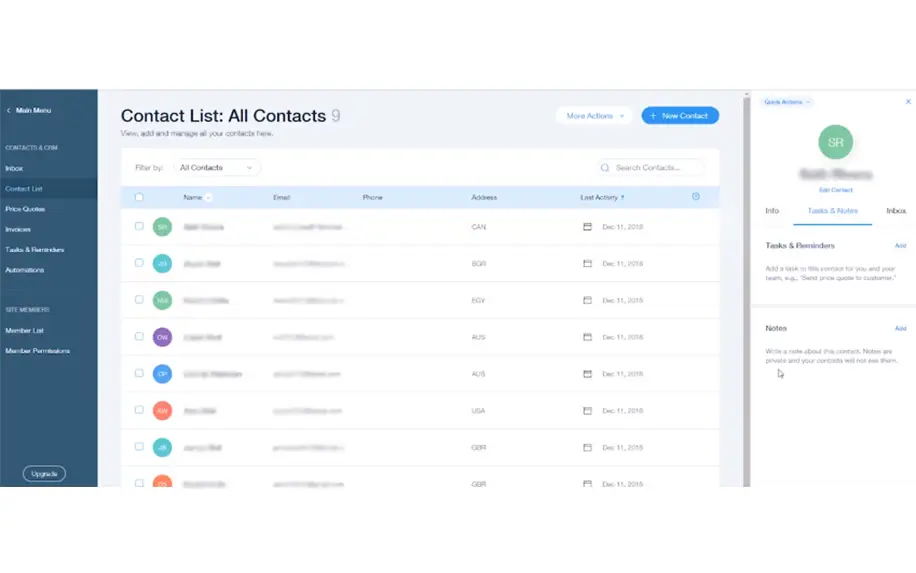 Notes and tasks are great as you can set a task for yourself to do with this certain contact. It could be a reminder to send information to a contact or to add another product to their order as a gesture of goodwill.
Notes also allow you to keep a note about any boundaries or problems that may face that contact. For example, a note could be, 'Contact using phones ONLY during 9-5, Monday to Friday and email every other time.'
It could also be a place to keep a note of any customer allergies if you sell food. This is especially helpful if you use a subscription-based model, with different recipes or items each month.
3. Organising Your Contact List in WIX
One of the easiest ways to organise your contact list on your site is to use labels. When on the dashboard of all your contacts you will see many features. This includes the customer information talked about above.
When you click on a contact, a toolbar will appear. This will include all the information about the individual, any notes on the contact and any inbox messages they have sent to your site.
To divide a large contact list, in the right sidebar you will find a feature named labels. You can use this feature to easily divide up contacts. This is only ideal for new contacts and can be quite time consuming to add a label to every contact on your site individually.
Therefore there is a small trick to make this quicker. This trick involves exporting all the contacts and re-uploading every contact to your site.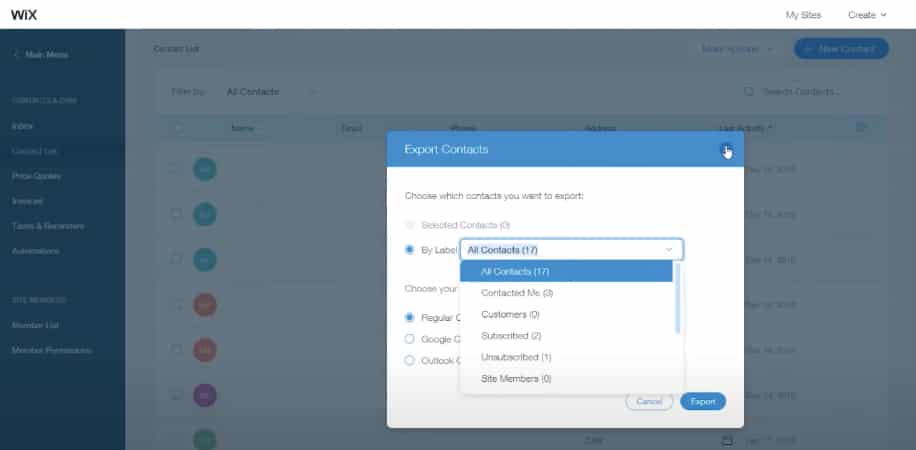 It is very easy to complete this process. Firstly export your contacts. You can do this from the 'more actions' drop-down at the top of the contact list. To access your contact list, go to your dashboard then contacts & CRM then contact list.
4. How to Export and Import your Contacts in WIX
Exporting your contacts is very easy. You will need to export them to a CSV file. This is essentially a spreadsheet format, with all of the other elements, like fonts and colours removed, leaving the raw data.
Here are the steps for exporting your WIX contacts:
Access the WIX Dashboard,
Select Contacts & CRM,
Select Contact List,
Click on More Actions,
Hit Export Contacts.
Luckily enough you only have the choice of a CSV file. Simply go to the export contacts and a window will appear. Select 'By Label' and the most appropriate CSV file for you.
There are three options to choose from. For the purpose of the tutorial, 'A regular CSV' file is the best option. This file will then download to your computer and then open the file in Microsoft Excel.
The next step to editing your contact list is to save the list as a CSV file. Name appropriately and this will be the label within your WIX dashboard. For example the first list could be called 'Import1'.
This would be every contact within your list who was added to your dashboard before a certain date. This would mean you would also have at least one other file named appropriately for after that date.
Just edit the spreadsheet to your needs, save the document and then re-edit the excel using step backwards to see all the contacts again. Repeat the steps over again for each label.
Once all the CSV files have been organised to your needs and named appropriately, you will then need to import each CSV file back into your contacts on WIX.
To import your new CSV file:
Select More Actions in your Contacts List,
Choose Import Contacts,
Select CSV File,
Select the correct file in the dialogue box which appears,
Hit Import.
One tip would be to create a specific label for a certain contact group that you would like to send emails to. For instance people who subscribe to your newsletter.
This would mean everyone subscribed will get the newsletter and no mistakes will be made and a newsletter email will be sent to an unsubscribed user. This would have potential to break internet and privacy laws such as GDPR.
5. Changing the Subscription Status of a Contact in WIX
These days, many sites have a subscription-based model to sell products and services on their site. This allows users to sign up to the likes of newsletters and to receive other email material such as promotions.
It is now law that a user has to tick a box themselves to sign up to the likes of email newsletters and promotional material, whereas before the box would've already been ticked and many users wouldn't see the ticked box then become bombarded with email.
Below in the video it will give a detailed outline of the process when changing a user's subscription status. This could be when a user feels the need to now opt-out from receiving certain types of emails.
To change a subscriber's status, you need to access your contacts dashboard. This is outlined above within the 'organising your contact list' section. When on your contacts, specifically click on a contact and then click edit. It is on the right hand side toolbar.
A new window will appear showing their name, email and other details. Under the email there is a drop-down.
This drop-down is how a subscriber's status can be changed. There are three different types of statuses available. These are subscribed, not subscribed and subscription not set. Subscribers who have a 'not set' status will receive a limited amount of emails, unlike when subscribed.
This email could be shipping notification updates and maybe the odd 'Sign-up to our newsletter'. You can't send marketing emails without the recipients explicit consent.
Follow these steps to change the status of a WIX subscriber:
Access Contacts & CRM,
Select Contact List,
Click on a contact and hit Edit,
Select Email,
Click on Set Subscription.
Repeat this process over again for other contacts.