When it comes to choosing a WIX premium plan, you have a number of different options. Overall there are seven plans on WIX, all of which are relatively cheap. The first four plans are called the Connect Domain plan, Combo Plan, Unlimited Plan and the VIP Plan.
These four plans don't allow your site to take online payments therefore there are three other plans by WIX to do this.
These plans are targeted towards more business websites that will need an online store. These plans are called the Business Basic Plan, the Business Unlimited Plan and the Business VIP Plan. In the video you will see some of the plans are on offer.
These offers are subject to change by WIX, although WIX are always adding new offers to their site, so be sure to keep an eye out for the right plan. You can also find a wider range of discount codes from affiliate sellers all over the internet.
Why Should You Purchase a WIX Premium Plan?
WIX is one of the most popular website builders on the market today. It's main selling point is the ability to quickly and easily create a professional website, at a fraction of the cost of hiring a web design agency.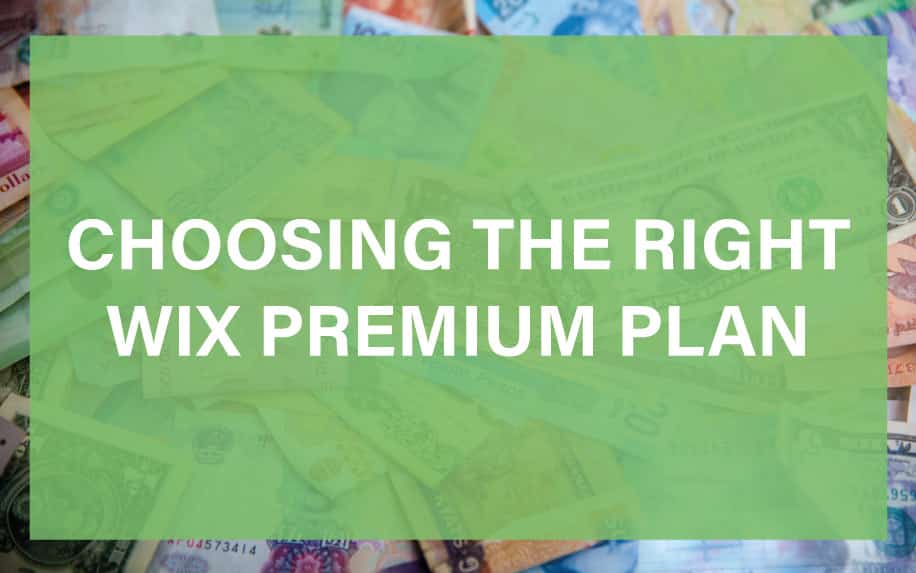 However, to get full functionality out of your WIX site, you need to pay for premium features.
The most basic among these is the ability to add a custom domain to WIX. Otherwise, your site will be stuck with a WIX domain extension. This projects a cheap and unprofessional image. It's also a real killer for your SEO efforts.
Other premium features include monetisation functions like setting up an ecommerce store, running display ads, and creating site membership. In other words, you'll need to spend money on your WIX site if you want to make money from it.
Indeed, if you're serious about your business website, you will need some form of WIX premium plan. The only question is which is best for you. With that in mind, let's take a look at each premium plan, and what they offer.
The Connect Domain Plan
The cheapest plan of all the WIX premium plans is the Connect Domain plan.
This is the most basic plan you can get on WIX and it does exactly what it says on the tin. That is, when you purchase this plan you will have your own personal website address. However, it does have its disadvantages, owing to the low cost.
The cost of this plan is £3 a month. The downside of the plan is that your site will still display WIX adverts, which will make your site unpleasing to the eye and very unprofessional. You also won't see any of the advertising revenue.
As such, if you need a professional website this plan would probably not be suitable for you.
Overall our recommendation for this plan would be for a student site or a personal portfolio website, so that the adverts don't affect you too much.
The Combo Plan
The Combo Plan is a step up on the Connect Domain Plan. This plan is ideal if you already have your own domain name to connect, but it also comes with its own domain name if you choose a plan for a year.
If you acquire your domain from WIX, top level domains available to you include, .com, .net, .org, .biz and more. After the yearly plan is over, the combo price of this plan and domain will be £10.39 thereafter.
This plan comes with a range of features, all of which are ideal for a small business website. The Combo Plan comes with 2GB of Bandwidth, 2GB of Storage, 30 minutes of video content on your site, removal of all WIX adverts and a free £75 ad voucher.
These features will allow your site to look professional due to the removal of adverts and you can also advertise the site online due to the vouchers being offered.
However, the Combo Plan may not be appropriate for all small businesses, as it does not allow you to set up an online store.
The cost of this plan is £6 a month for the first year. It is best suited towards a single person, business or company who wants to show off their services online. If you're looking for an ecommerce website, you'll have to look at another WIX premium plan.
The Unlimited Plan
The Unlimited Plan is the one we would recommend if you want to build a website on WIX without an online store. At the time of the video, WIX had an offer of 50% off on this plan. This made this plan £4.25 a month instead of £8.50.
Therefore, when you go to buy this plan, the price might vary. However, WIX runs introductory offers throughout the year, especially on their more expensive premium plans.
Aside from the price, this plan is perfect for most websites and businesses. The only downside would be, that this plan wouldn't be suitable for an Ecommerce website.
However, with this plan, users will receive an unlimited amount of bandwidth, 10GB of storage and one hour worth of video content on your site. This is double the amount of video time offered by the Combo Plan.
The Unlimited Plan comes along with a range of incentives, including the removal of all WIX adverts on your site, a free domain for a year, £75 worth of ad vouchers and two apps that can help with the building and performance of your site.
The cost of these additional applications would normally equal $108 in value, which equals around the £88 mark.
The VIP Plan
The final WIX premium plan which does not include ecommerce is the VIP Plan.
The money maker feature of this plan is that users on this plan get first priority support. That means if you have a serious issue with your site, your issue should be resolved quicker than others with the same problem on the lesser plans.
Users of this plan also get granted access to WIX premium apps such as WIX hotels, WIX restaurants, WIX bookings and WIX music.
All features of the Unlimited Plan are included with this plan with storage and video hours being doubled. Additional features include a free professional logo worth $50 and social media files.
You'll also receive versions of this logo which are optimised for use as a profile picture across a range of major social media platforms. The price of this plan is £18 a month whenever a deal isn't on.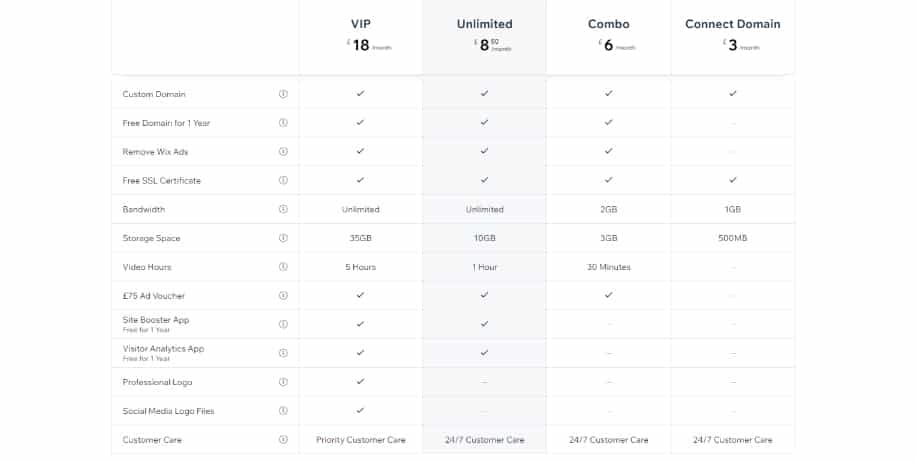 Now, let's turn our attention to the WIX premium plans which offer ecommerce functionality.
Business Basic
Business Basic is the first ecommerce plan offered by WIX. It is very similar to the plans offered that are non-ecommerce.
Features that you would expect with this plan include, bandwidth which is unlimited, storage, video hours and a free domain for a year. Overall you will receive 20GB of storage and five video hours, which is more than any of the non-ecommerce plans.
Additional features of this plan include access to the site booster and form builder apps, and access to Google Analytics. You can also accept online payments. All purchases on your site are 100% commission free.
That means you make every penny from any purchases made on your site.
The price of this plan is £13 a month, which is very good value for all the features you receive.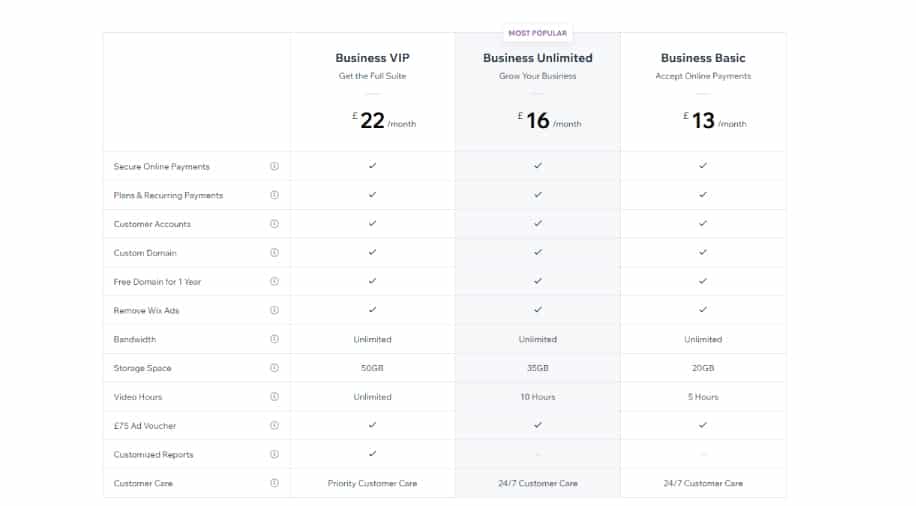 Business Unlimited
The Business Unlimited plan is another plan that is very similar to other plans. This plan comes with most of the same features of the Business Basic Plan, including the applications, free domain bandwidth, storage and video hours.
Overall the plan receives 35GB of storage and 10 video hours.
Additional users of this plan will receive a professional logo worth $50 with social media files.
The price of this plan is £16 a month. In the video shown, it was half price.
Business VIP
The final Ecommerce plan offered by WIX is the Business VIP Plan.
All features of the other Ecommerce plans feature within this plan. Additional instead of 20/35GB of storage this plan receives up to 50GB of storage and instead of 5/10 hours of video this plan receives an unlimited amount of video hours.
The selling point of this plan is the VIP support and priority response. If you were to ever have an issue with your site, your issue will be put at the top of the pile of other issues.
The price of this plan is £22 a month.
In the video shown, it was half price. If you were to ever catch this plan on a half price offer, we would recommend this plan as it would be cheaper per month than the Business Basic Plan.