Your Choice for Web Design Derry
Are you searching for Web Design Derry? At ProfileTree, we have been delivering top-notch digital projects for over a decade, giving businesses in Derry and beyond the online prominence they truly deserve. 
In today's marketplace, the ways in which we engage, interact and communicate with our favourite brands are in a constant state of change. Where we once demanded websites that were built exclusively for desktop and home computers, a technological revolution has transformed the web design industry. Tablets and smartphones now dominate our perceptions of the online world, and web users now expect to browse websites that are functioning, flowing and visually appealing on the devices they prefer to use. For businesses in Derry, the benefits of professional web design are vast.
For businesses in Derry and beyond, ProfileTree have delivered projects which place security, user experience (UX) and various search engine optimisation (SEO) features at the very core of their offering. Following this holistic approach will encourage web users to spend more time on your site, driving increased engagement and sale conversions to your online business. The success of our web design projects for clients in Derry is secured by our stringent approach to usability testing, informed by the most recent findings of UX research.
Getting a website that is stable, sleek and representative of your brand's credentials forms only the first step of your digital journey. Bringing your site to the audiences that matter requires a web design and development process that full incorporates and cohesive SEO strategy into its structure. We will embed high performance keywords across your site whilst ensuring that your design is full optimised and ready to rank on the world's leading search engines, including Google, Yahoo! and Bing. 
For web design in Derry, choose ProfileTree.
Why Choose ProfileTree?
We know how to deliver hard-working web design for Derry companies because we know a great website needs to perform behind the scenes just as much as it needs to perform for your audience.
A website made to work at the heart of your business growth means a website designed to surpass customer expectations.
It also needs to provide superb integration with your business systems, be easily adaptable to keep your content fresh and be built with knowledge of the very latest thinking in search engine performance.
Why? Because being found, delighting customers and delivering the right functions for your company are all vital.
See below to discover how we make this happen PLUS free business web design tips.
What do we ask local businesses – in Derry and beyond – when they contact us about web design? You might be surprised by the answer! We don't (well, immediately anyway) ask 'what should it look like?' or 'when is it needed?'. Our first question? What would success look like for you? What are your business needs?
If your goal is to produce more leads, to help inform existing customers, to create a resource for sales colleagues, to create an online community….we'll make this the foundations of our work. Before we can work on your solution, we want to connect to your strategic view of where you need your business and digital world to be.
The right website for your company should, of course, look great and also be delivered on-time through a seamless creative and professional process as well as perform for you now and into the future.
A cut-price – as opposed to cost-effective – 'fix and forget' website for your company misses out on three vital things…
A digital 'shop front' as unique as your company:
You survive by offering something different from your competitors. The right website, then, is a way to shout about what makes your offer unique. An 'off the shelf' site is a lost opportunity to truly connect with customers.
Making results happen:
If, for example, your company is sales-driven then your website should be as much as a member of the sales team as your sales colleagues. What would make the website work best for them? Just ask!
A digital partner for a changing world:
Our many returning customers (the kettle is always on!) tell us they keep in touch with ProfileTree to help react to digital changes before others in their industry. New devices, changes to search algorithms and much more need a digital partner you can trust.
But Why ProfileTree?

We develop highly intuitive, optimised, conversion-focused websites that sell your products and services so you don't have to. We have a highly talented and creative design team who create engaging and visually stunning sites, as well as a highly versatile team of developers who are skilled across a variety of coding languages (WordPress, CSS, PHP, HTML, JavaScript, Bootstrap).
Our web team work alongside our team of content writers and digital marketers to build intuitive and captivating digital experiences for our clients and their customers. We do things the ProfileTree way: no fuss expertise shaped around your business goals with local service, specialist advice and proven methods.
Web Design & Development Case Study 1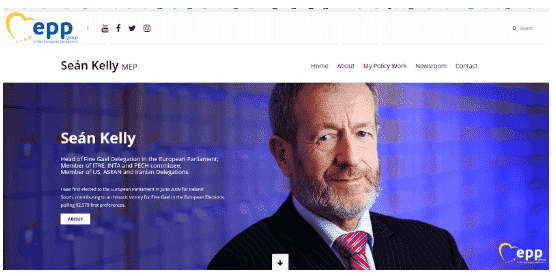 This website – SeanKelly.eu – was built in a way meaning it didn't perform in search engines, providing a poor user's experience and not allowing the client to update content. The only way the client could add content to this website was by reaching out to the developer and paying each time a new page was created.
The new design was launched in January 2018 and it is clear to see the immediate impact on the search rankings in the image below with the site already reaching its highest position since launch. We will continue to work with Mr Kelly in 2018 to improve his search results – as due to the poor original site set up he does not rank for his own name on page one of search results. We will change this in the coming months.

Web Design & Development Case Study 2 
The Rucksacks (rucksnacks.com) website was originally built in HTML, not a fully optimised content system. ProfileTree delivered review to the proposal and plan through to development and optimisation for online impact.

Our image charts Rucksacks' performance – its initial launch was weak, as the website was not built using best practice. The client could not make changes or improvements on the site due to lack of skills, but also a difficult system.
We fully rebuilt the site, improved the UI/UX and supported with content marketing. This was in July 2017. We were re-engaged by the client in January 2018 for advice on content strategy to grow the brand and we offered a video package which was delivered in the same month and enabled the client to rapidly grow his brand into 2018.

Who Will You Work With?
Stephen McClelland
Role: Lead Developer
Stephen is our Lead Developer and oversees every web project that comes through our doors. He is responsible for working with our clients to develop creative and technical website briefs and oversees the UI and UX design, development, coding and technical optimisation of every website we produce.
Stephen studied Interactive Multimedia Design at Belfast Metropolitan College and completed a placement at MadebyMint, a web development and branding agency in Belfast, This gave him a fantastic combination of theoretical and practical web development experience.
Stephen manages the ProfileTree web team, ensuring that the team is working together to deliver the results that our clients expect, and liaising with the content and marketing teams to ensure full coordination of web projects. Stephen has an acute understanding of what customers are looking for when they visit a website, and he helps our clients understand the needs of their customers and makes sure that every website is built to perform.
Stephen is highly analytical and process driven, ensuring that the management of any Web & SEO project is planned and delivered in a way that exceeds our clients' expectations.
His core skills include Graphic Design, WordPress Development, Project Management, and Search Engine Optimisation. He is fluent in coding languages and software including WordPress, Umbraco (.Net), Drupal, PHP, CSS, HTML, JavaScript and Bootstrap.
YOUR BIGGER PICTURE
Finding a web agency who'll understand your company AND be in tune with your bigger picture means an agency who'll take time to look at your business, marketing and digital strategies to deliver the right website for you.
A high-performing website can't be a 'one size fits all' investment, it can't be delivered by companies who focus on 'pushing' off-the-peg products and it can't be generic in its approach. Your business deserves better.
YOUR BIGGEST ASSET
Talk to your colleagues to find out how a new company site could help them work better and drive results. Match with your strategic targets – like more leads, more social engagement or stronger brand messaging – for superb ROI.
No one knows more about your customers or about what they need for their work than your own team. We recommend making a website project a team effort from the start for great results.
YOUR DIGITAL WORLD
The best web design companies will look at your SEO needs, your social media goals (and much more!) to create a site built around bringing your online world together to perform as a whole.
Your online presence should be seen as a whole as your customers will see it as a whole. Taking a step back to see how the element fit together will give a result that's sure to make more sense to your potential buyers.
YOUR LASTING RESULTS
A 'quick fix' or neglected site will sink from view in search results – and from the latest devices – over time. A relationship with a trusted web design agency means help with keeping your site performing at its very best.
Our clients can pick up the phone and ask us about the latest twists and turns in the online world and, more importantly, how to leverage these for their business! When you need help….just ask. We're proud to be there for our customers.