Building a website has evolved so much over the years. When websites first came out, only few businesses could afford them and even fewer benefited from building a website. Today, we're building a website for every business; big or small. Not only building 'websites,' but we're also building interactive portals with advanced features that meet the expectations of today's customers. We're optimising websites for mobile devices and creating engaging videos that entertain and educate. We're integrating customer service tools because websites have become customer service portals, information hubs, and brand marketing channels. Let's talk about choosing the requirements of your website according to your needs and the different types of websites out there, particularly blog websites.
Are You Looking for 'Web Design Derry'?
ProfileTree – Expert Web Designers and Developers with a Local Flavour Serving Businesses in Derry, County Londonderry, Northern Ireland
We are a self-made, family run agency based in Belfast and Monaghan. We've established ourselves in the Northern Irish market since 2010. We've grown the team, collected awards, and helped local and international businesses with building top-notch websites. We've also helped hundreds of small and medium sized businesses with free web design and development training through programmes funded by Northern Ireland's Councils over the course of three years. Investing in building a website for your business in Derry means making sure your new website partnership is built on proven methods. We're also SEO specialists and a leading content marketing agency, so not only can we help with building a website, but also help you get traffic for that website.
Web Design Derry: Types of Websites
Whether you want to redesign an existing website or build a new website from scratch, the starting point is to identify the type of website you need. From the outside, all websites look the same. However, there are many different types of websites to choose from. It all depends on your business objectives. Before choosing the type of website, make sure you're already aligned with your team on the objectives of building a website. Let's touch on blog websites. You can also check other articles tackling ecommerce websites and business websites.
Web Design Derry Type #3: Blog Websites
Each and every website should prioritise content and incorporate creating content as part of their website build. Websites are a tool to attract traffic and drive conversion to other services. However, blog websites are unique. They are content-oriented. Content is their guiding compass. The goal of having a blog website is to engage, inspire, and entertain. In other words, content is your product. So, the design, customer journey and features are all centred around showing how superb your content is. Think catchy titles, a strong voice, awe-inspiring aesthetics, creativity, and a lot of video content involved. Besides that, since traffic is your end goal, SEO plays a major role in the return on investment of your website as a blogger.
Homepage
Focusing on the top engaging stories and pillar content.
A mega menu at the top of the page to make navigation and discovering sections easier.
Clear categorisation and indexing of your content with calls to action that take the visitor directly to what they're interested in.
Announcements, competitions, programmes.
Some content about who you are and what visitors should expect of your blog.
Collaborations with brands, businesses, and fellow bloggers.
Featuring any user generated content or social media newsfeed.
Featuring any products like books, branded merchandise, exclusive or gated content, etc.
Contact form for brands and fellow bloggers to interact with you.
Must-Have Pages
About
blogs are personal. That's why the About page is super important to capture your audience and get them to relate to who you are. They want to connect with someone who looks like them, and faces the same daily challenges, aspirations, and quirky moments. Dedicate time to use the right words that resonate with the content you create.
Blog
It goes without saying, this is a blog website. But this is a page where you can give more depth than the home page. You can add a search feature to make it easy to find your content, index content in an alphabetical order, or by strong categories.
Contact Us
As a blogger, your goal is to inspire people to engage with your content and to grow a relevant community around your blog in order to attract business collaborations to monetise your blog. Therefore, a responsive Contact Form is a must-have to increase your chances of collaborations and partnerships.
Additional Ideas
Press and Collaborations
If you're already an established blogger, it's nice to separate your collaborations and sponsored work from your organic content. First, it shows you're transparent about sponsored content and organic content. Another advantage is that you'll be making it easy for interested brands to understand your target audience by looking at the brands you collaborated with before. For example, a blogger who collaborated with Louis Vuitton wouldn't be suitable for a value brand. So, it's an easy way of telling potential client what to associate you with.
Podcast and Video Gallery
Videos productions and podcasts need their spotlight. They're the two most powerful types of content you will ever create. So, it's a good idea to separate videos and podcasts from written content for the sake of ease and because many visitors find it way easier to watch a video or listen to a podcast.
Web Design Derry: Business Website Tips and Tricks
Web Design Derry Tip #1: Visuals Are King!
We know that content is king, but the most engaging content is visual content so that's why it's safe to say that for a blog website, visuals are king! For any website, design plays a major role in telling the story of the brand. But for a blog website, design is really a part of your content. Bloggers usually educate, inspire, and entertain. So, without powerful photography, videos, and a compelling UI/UX, your visitors wouldn't be engaged – and the 'blog website' would lose its purpose. That's why an agency with an experience in content marketing, SEO, web design, and video production makes perfect sense for building a blog website.
Web Design Derry Tip #2: Keep It Playful and Engaging
The tone of your content should be the same tone you would use with your friend – even if you're tech or a business blogger. Companies go high and low to make their cold corporates look more human. As a blogger, you already have that advantage. So, don't lose it. Write about yourself or the topic you're creating content for in the same way you would run a conversation.
Web Design Derry Tip #3: Search Engine Optimisation
We hate to sound like a broken record – but this is the only way to stress on the vitality of SEO for a blog website. Google is your best friend to reach real, interested visitors who are earnest on their quest to find out about your topic. Unlike those who merely 'stumble' upon your content on social media platforms to waste their time. Prioritise technical, on-page SEO, and behavioural SEO by hiring an SEO agency, or by having your website built by a content marketing agency!
Web Design Derry Tip #4: Transactional Pages on a Blog Website
If you have something to sell on your blog website, you must align it with your internal staff members. Who will be notified, how they should respond and what does the internal process look like. You don't want the website to become a circus for those handling your website on the backend. Remember that this is an 'experiential buy', so it should be delightful. It should bring you a step closer to your audience. So, the customer service and experience must be smooth. In case of having transactional pages on a blog website, we always recommend using a CRM to be organised and efficient with your internal work process.
Web Design Derry: How to Choose the Right Web Design Agency for Your Business
In today's marketplace, the ways in which we engage, interact, and communicate with our favourite brands are in a constant state of change. Where we once demanded websites that were built exclusively for desktop and home computers, a technological revolution has transformed the web design industry. Tablets and smartphones now dominate our perceptions of the online world, and web users now expect to browse websites that are functioning, flowing and visually appealing on the devices they prefer to use. For businesses in Derry, the benefits of professional web design are vast.
Your Choice for Web Design Derry
For businesses in Derry and beyond, ProfileTree has delivered projects which place security, user experience (UX) and search engine optimisation (SEO) features at the very core of their offering. Following this holistic approach will encourage web users to spend more time on your site, driving increased engagement and sale conversions to your online business. The success of our web design projects for clients in Derry is secured by our stringent approach to usability testing, informed by the most recent findings of UX research.
Search Engine Optimisation for Web Design Derry Projects
Getting a website that is stable, sleek, and representative of your brand's credentials forms only the first step of your digital journey. Bringing your site to the audiences that matter requires a web design and development process that fully incorporates cohesive SEO strategy into its structure. We will embed high performance keywords across your site whilst ensuring that your design is full optimised and ready to rank on the world's leading search engines, including Google, Yahoo! and Bing.
Web Design Derry: Why Choose ProfileTree?
At ProfileTree, we have been delivering top-notch digital projects for over a decade, giving businesses in Derry and beyond the online prominence they truly deserve. We know how to deliver hard-working web design for Derry companies because we know a great website needs to perform behind the scenes just as much as it needs to perform for your audience.
Web Design Derry: A 'Machine' Website
A website made to work at the heart of your business growth means a website designed to surpass customer expectations. It also needs to provide superb integration with your business systems, be easily adaptable to keep your content fresh. It should also be built with knowledge of the very latest thinking in search engine performance. Why? Because being found, delighting customers, and delivering the right functions for your company are all vital.
Web Design Derry: Aligning On Your Business Goals
What do we ask local businesses – in Derry and beyond – when they contact us about web design? You might be surprised by the answer! We don't (well, immediately anyway) ask 'what should it look like?' or 'when is it needed?' Our first question is what would success look like for you? What are your business needs? If your goal is to produce more leads, to help inform existing customers, to create a resource for sales colleagues, to create an online community, we'll make this the foundations of our work. Before we can work on your solution, we want to connect to your strategic view of where you need your business and digital world to be.
Web Design Derry: Things Your Website Cannot Afford to Miss
The right website for your company should, of course, look great and go live on-time through a seamless creative and professional process, as well as perform for you now and into the future. A cut-price – as opposed to cost-effective – 'fix and forget' website for your company misses out on three vital things:
A Digital 'Shop Front' As Unique As Your Company
You survive by offering something different from your competitors. The right website, then, is a way to shout about what makes your offer unique. An 'off the shelf' site is a lost opportunity to truly connect with customers.
Making Results Happen
If, for example, your company is sales-driven then your website should be as much as a member of the sales team as your sales colleagues. What would make the website work best for them? Just ask!
A Digital Partner for a Changing World
Our many returning customers (the kettle is always on!) tell us they keep in touch with ProfileTree to help react to digital changes before others in their industry. New devices, changes to search algorithms, and much more need a digital partner you can trust.
Web Design Derry: ProfileTree Case Studies
Web Design Derry Case Study #1: SeanKelly.eu
This website – SeanKelly.eu – was built in a way that didn't empower it to perform on search engines, providing a poor user's experience and not allowing the client to update content. The only way the client could add content to this website was by reaching out to the developer and paying each time a new page is created.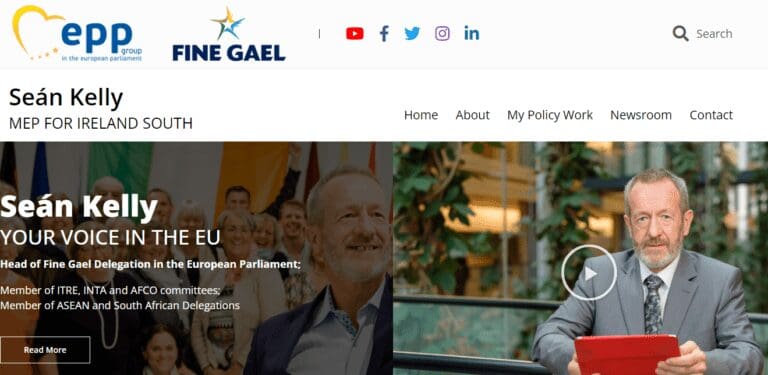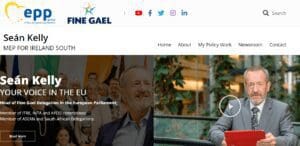 The new design was launched in January, and it is clear to see the immediate impact on the search rankings in the image below with the site already reaching its highest position since launch. We continued to work with Sean Kelly's team to improve his search results – as due to the poor original site set up, he did not rank for his own name on page one of search results.

Web Design Derry Case Study #2: Tradfesttemplebar.com
Challenge
TradFest, the well-known traditional Irish music festival had a static website that lacked the flexibility of a user-friendly backend. The homepage lacked calls to action especially when it's off season. The display and styling of the imagery wasn't as engaging as it should be. The number of web pages was huge, that it created clutter and confused the user's navigation.
Design and UI/UX
ProfileTree took on the project to re-build a WordPress website with a drag and drop visual builder that provided the maximum flexibility for TradFest's team to add content, pages, or update the website's calls to action. We created a new design with a clear customer journey, a simple site map, strong calls to action, and pleasing aesthetics that delighted enthusiastic Trad music lovers.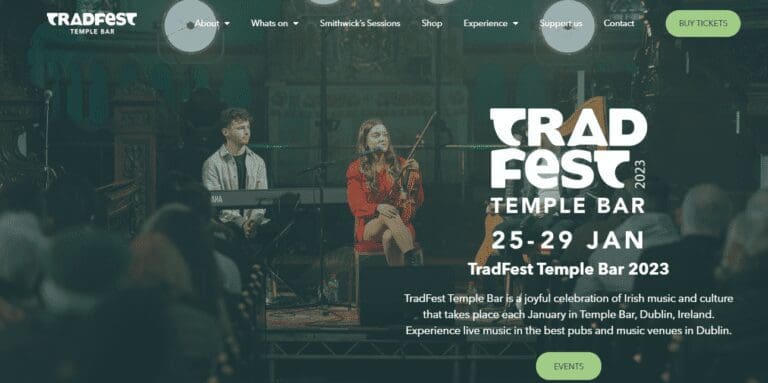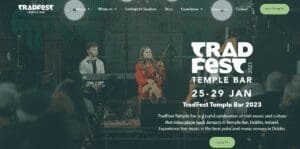 Features
TradFest is a big event with thousands of attendees every year. The process of booking the tickets used to be completed through a third-party portal. It involved manual work, and the team had no control over the insights of who bought the tickets, and so they could never contact the buyers again. This represented a barrier to engaging with their loyal fans. They needed to take control of that process, so we built a booking system on the new website to enable users to buy tickets directly from TradFest and pay online. Additionally, we added a transactional page -a mini online shop- where users can buy merchandise. That made the process smooth for the internal team and improved users' experience.
Content and SEO
We fully rebuilt the site, improved the UI/UX and supported with content marketing. TradFest's team believed in the power of content, and they trusted us with creating articles and blogs for the website focusing on the music genre and experiencing Dublin as a whole because many of the festival's attendees came from other countries in Europe and wanted to explore the city while they are here.
Web Design Derry: A 360 Team By Your Side
We develop highly intuitive, optimised, conversion-focused websites that sell your products and services, so you don't have to. We have a highly talented and creative design team who create engaging and visually stunning sites, as well as a highly versatile team of developers who are skilled across a variety of coding languages (CSS, PHP, HTML, JavaScript, Bootstrap). Our web team works alongside our team of content writers and digital marketers to build intuitive and captivating digital experiences for our clients and their customers. We do things the ProfileTree way: no fuss expertise shaped around your business goals with local service, specialist advice and proven methods.
Web Design Derry: Your Bigger Picture
Finding a web agency who'll understand your company AND be in tune with your bigger picture means an agency who'll take time to look at your business, marketing and digital strategies to deliver the right website for you. A high-performing website can't be a 'one size fits all' investment, it can't be delivered by companies who focus on 'pushing' off-the-peg products and it can't be generic in its approach. Your business deserves better.
Web Design Derry: Your Biggest Asset
Talk to your colleagues to find out how a new company site could help them work better and drive results. Match with your strategic targets – like more leads, more social engagement, or stronger brand messaging – for superb ROI. No one knows more about your customers or about what they need for their work than your own team. We recommend making a website project a team effort from the start for impressive results.
Web Design Derry: Your Digital World
The best web design companies will look at your SEO needs, your social media goals (and much more!) to create a site built around bringing your online world together to perform as a whole unit. Your online presence should be seen from a holistic point of view as your customers will see it as a whole. Taking a step back to see how the element fit together will give a result that's sure to make more sense to your potential buyers.
Web Design Derry: Your Lasting Results
A 'quick fix' or neglected site will sink from view in search results – and from the latest devices – over time. A relationship with a trusted web design agency means help with keeping your site performing at its very best. Our clients can pick up the phone and ask us about the latest twists and turns in the online world and, more importantly, how to leverage these for their business! When you need help, just ask. We're proud to be there for our customers.
Web Design Derry: How Much Does a Website Cost
Working with so many different businesses over the years taught us to work with different budgets and requirements. We have created three different packages for our web design and development projects; through which we cater for different needs and requirements. In other words, you set the requirements, we tailor a package within the limits of your spending. The average cost of a website at ProfileTree is 7000£ covering research, UI/UX design, web development, SEO, and content migration. This price figure is subject to change according to the requirements of the website and future updates to our packages.
Web Design Derry: Ready to Book a Free Website Audit?
Fill the form and send us your questions, we will be happy to answer all of them. Please do let us know if your business is registered in Derry. Alternatively, you can book a chat with one of our team members to audit your website for free and find out how we can help you establish a strong website presence in Derry, County Londonderry, Northern Ireland.
More services: Social Media Marketing Derry, SEO Derry, Digital Training Derry