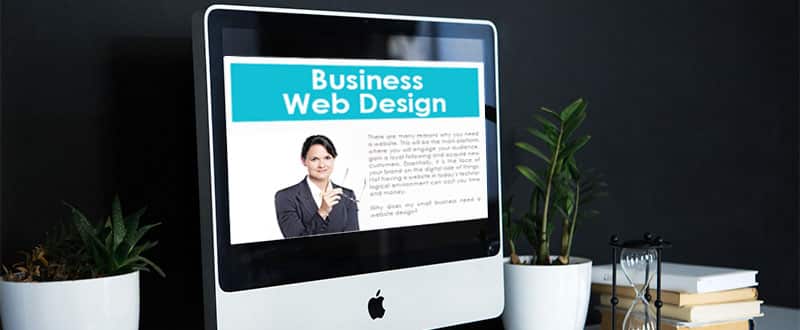 There are many reasons why you need a website. This will be the main platform where you will engage your audience, gain a loyal following and acquire new customers. Essentially, it is the face of your brand on the digital side of things. Not having a website in today's technological environment can cost you time and money.
Why does my small business need a website design?
There are a few reasons why having a website is vital to the longevity of your business and makes good business sense:
Not only do they look for it, they expect you to have one. Everyone deals in online spaces at some point. Today's customers are savvy and technologically sound. When they want to know something, they go online to get the information. If you don't have that digital imprint, your valued and prospective customers may go elsewhere.
Consider this – many customers will not use certain products or services if they cannot get information online. Solving this problem is easy. You get to speak to people and can showcase testimonials that add validity to your business.
Your website allows you to tell your story how you want, and when you want. Although you cannot control what someone says about your organisation, you can influence what different audiences think of you. Your website speaks volumes as to who you are and why your products and services outshine the competition.
There are a number of options available to create a website. There are many templates available specializing in business web design that will have you up and running in no time. To use these templates, you do not need coding or technical skills to get the results you would like. This saves on mailing costs and alternative advertising methods that were costly with no tangible ROI.
All, if not most of your competitors will have a website for their customers to learn about their products, services, and the company in general. This is where the buying journey begins. You must remain in tune or surpass what your competitors are doing, This is where you showcase why your customers should be utilizing what you have to offer.
A website allows you to operate around the clock, servicing customers all over the globe. A website that includes e-commerce features keeps your productivity going, even when the physical doors are closed. This is a powerful marketing tool that will help you keep current customers and attract new ones.
One of the best things about having a website for your small business is showing up in the search engines. With just a few keywords, customers will be able to find you based on specific needs and wants. When they find you, fulfilling those wants and needs can help steer you on the road to success.
Your content can make a tremendous difference. Once you have the right content that will continue to attract an audience, your brand will start to become viewed as an industry resource. This provides exposure and helps build loyalty.
A central place for your products and services
A website will consolidate everything into digestible areas for your readers. You can utilize whitepapers, add video and more. The website is your brand's personal showcase. You only get one time to impress your audiences.
What goes into a small business website design?
A small business website design should be developed with a larger concept in mind. It should reflect professionalism and growth. A good business website design does not differentiate. Customers will not be able to tell if it is a small, medium, or large scale organisation. The beauty of the web is that it puts everyone on the same level.
There are a few elements that should be present in the website design:
Your website should have the logo to clearly identify your brand. The logo should be prominently displayed so that people will remember it and start associating your name with the logo. This helps define your brand.
Testimonials are the key to getting the word out. Every time someone visits your site, they should encounter a reason to believe why they should be using your products and services over your competitors.
Every business, large or small, should have some social media platform. This helps them interact with their audiences and humanizes the brand. This is another outlet to connect your brand with prospective customers. Having share buttons lets your customers and other interested parties pass the information on without face-to-face interaction. Social media platforms are great marketing tools.
Your website should be visually pleasing. There should be crisp images, video, and responsive design that will allow others to be a part of the experience. Your website should tell the story and convey what your brand represents.
The site should be easy to navigate, and any e-commerce elements should break down any barriers to purchase. The experience should be just as easy as if there was a brick-and-mortar store. There should be a number of ways to pay. You want to make it as convenient as possible to conduct a transaction. Your e-commerce element should be a seamless process that makes it worth the customers' time.
You want to have content that is consistently being updated to ensure your website stays engaging and is attracting the audiences that matter to you. One way to find out what your customers want to read about – ask them. Having an open dialogue via social media can help you make those necessary changes needed to go to the next level.
In the 2015 State of Small Business Report, only 9% of the businesses interviewed said their website was not important. Little do they know – a business website helps attract more visitors, is a learning tool, and defines who you are to a larger audience. Other little things that should be included in a small business website design includes:
Your customers should know where to find you. This also helps with local search engine results.
This is important for local listings and brick-and-mortar stores.
A phone number and email address where your customers can find you is key. There should always be an email address available, and it should have the domain extension. That keeps things professional.
A contact form is important, especially if customers have questions that need answering. It should include spaces for their names, email address and phone number. There should also be a dialogue box where they can outline what they need.
There should always be an 'About Us' page that tells a little bit of history about the company. This will give insight to your customers about your brand and why you do what you do.
Products and Services Page
There should be a page that specifically outlines what products and services you have to offer. If there are a number of products, each one should be outlined in detail. For services, there should be a comprehensive listing of what you offer and a price list.
In the background, there should be unique title tags with basic search engine optimization tactics to keep you relevant in the search engines. These tips on what should be included in a small business website design should provide guidance in creating a user-friendly, accessible site that will cater to diverse customers.