Are you searching for the best social media search tool as you need a way to dive into different networks? Maybe to find a long-lost friend or an ex-colleague? Or to spy on your competitors to perform a competitive analysis?
Perhaps you're trying to catch up with trends and the weirdest music on social media to increase reach.
Of course, all social platforms have their own search engines built in. But is this enough?
How you're supposed to know whether your uncle Jony is on Twitter, Facebook, Instagram, or one of the other myriad options?
In fact, these networks are fundamentally limited in only searching their own database.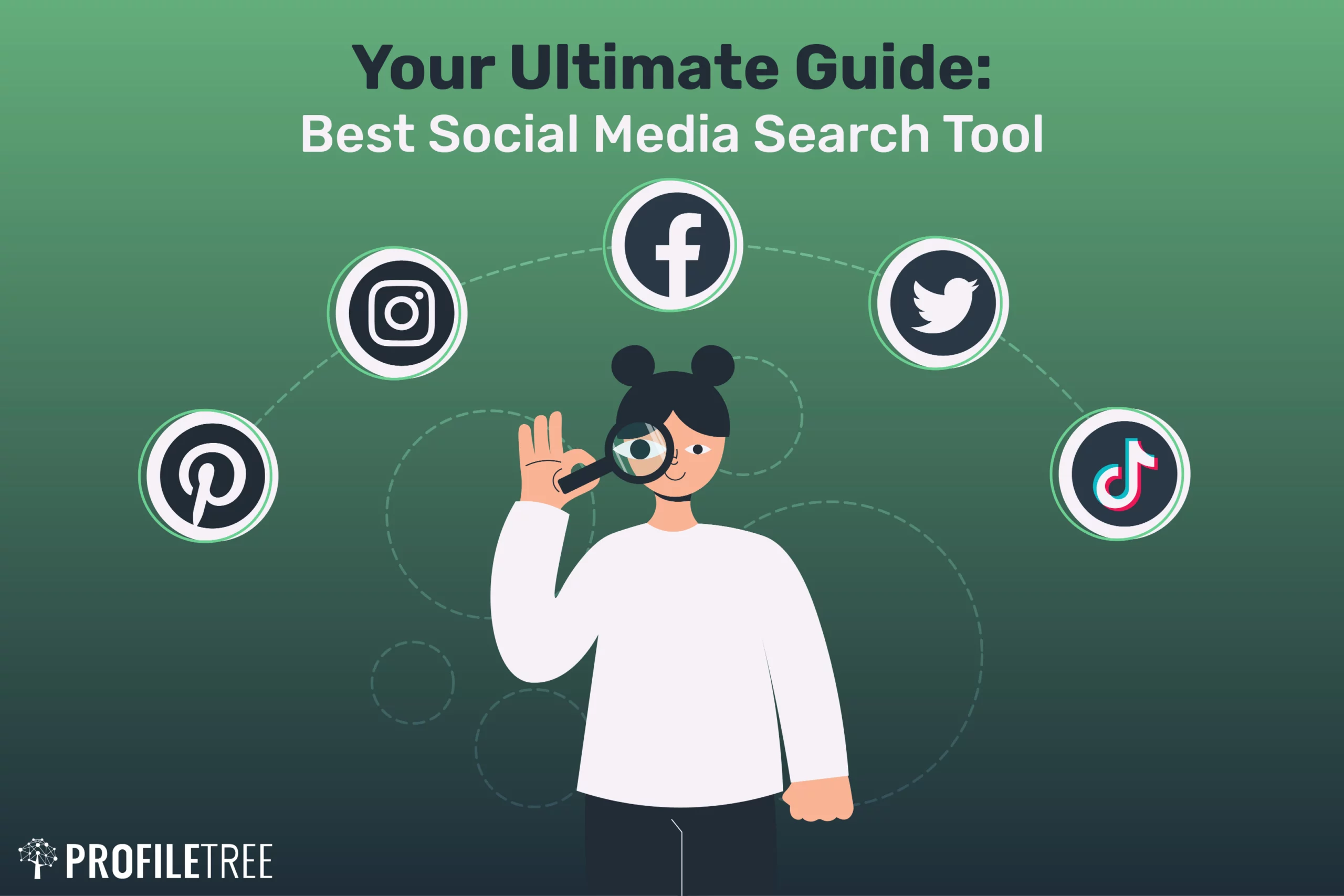 The volume of content created every single moment on social media is staggering. According to Hootsuite, users post over 500 million tweets and more than a billion stories on Meta's different apps.
And yet, many of us still have no strategy for social media searches.
If you just allow the algorithm to dictate what you see, you lose a vast content ocean— actually, you're barely skimming the surface.
The solution? Use an agnostic search tool using as a network search engine within social media. These tools can search all of the most common platforms, plus lots of the smaller and niche networks.
Getting better at social search will be very powerful, save you time, and allow you to find out exactly what you're searching for.
Below we share the most important tools and tips for improving your search tactics; eventually, you will be able to search smarter, not harder.
Social Media Search Tool: What is the Best?
Finding the best social media tool requires some research to keep track of what's happening on every platform that allows visibility of your competitors and trends. Any platform uses an agonistic social search engine to filter algorithms, elevating relevant and exciting content. Many different social search tools are available for use by businesses.
But what's right for you?
We will feature some of the best for different purposes. However, here is a top selection based on our experience.
One of the best social media search tools, Hootsuite, comes with an entire package of management tools to monitor your social media performance. However, if you want to enjoy other features, such as analytics and scheduling, you will need to subscribe to one of their plans.
Hootsuite will enable you to set up unlimited streams of content based on your selected keywords, mentions, hashtags, or locations. That means you can also manage your reputation online.
Moreover, Hootsuite integrates with another hundred apps to help you focus on all activities from one friendly dashboard and manage all posts, replies, comments, messages, and much more.
The platform supported Facebook, LinkedIn, Twitter, Instagram, blogs, forums, and more.
Prices: many plans are offered, ranging from a free account with limited features to paid packages according to your usage ($19, $99, $499) per month— along with customised enterprise plans.
It's the best social media search tool for any content published on Facebook, Twitter, Instagram, Instagram, and others.
It uncovers the behaviour of retrieving and searching on any social network that primarily explores user-generated content. This content could be news, images, videos, and texts related to search queries.
Also, it helps you search events, phrases, and mentions; however, you need help finding individual accounts or people.
Social Search is monitoring all your pages on social media and creating email alerts to be posted about any mentions to make customer care your number 1 priority to listen to all world mentions.
This tool should be on top of your list.
Prices: free account is available by creating only 2 email alerts. Otherwise, you can purchase different monthly packages (nearly $5 to $21).
It's a brilliant social media search tool for businesses that will help you discover trending topics across several platforms.
Mentionlytics will provide unique features to dig into data about your business, brand image, keywords to target, and competitors.
After performing a search, you can get a complete breakdown of top influencers, mentions, and the broader industry data available on social media.
That will give you an abundance of ideas for your marketing campaigns. Also, you will get inspired by what people say about your product or service.
It's exceptionally helpful for startups, enterprises, PR and digital marketing agencies, and SMEs. However, it's not a social media search tool for personal use.
Prices: No free account— you have to pay to get access to the platform with packers starting from $49 to $299 per month.
This social media search tool allows companies to analyse their campaigns' performance. It enables real-time analysis of brand tags and tags across different social media platforms.
Consequently, Mention will simplify your mission if you want to maintain an active identity across multiple platforms. That happens through reporting and tracking what I said about you, your brand, other brands, products, and competitors.
In other words, you can track everything easily and generate real-time reports to know your weaknesses and strengths, which will help you develop a competitive analysis.
It uses the Boolean search technique (more later) to help businesses discover specific brands or competitors; then, they can perform product marketing to conduct thorough market research.
Mention is an effective social media search tool when it comes to engaging your people across multiple platforms.
Plus, many other features are available; here is a quick overview:
Search for specific keywords within multiple social networks
Keep real-time data while tracking campaigns and performance
Provide an aggregated single stream of data
Sperate breakdown based on sentiments
Create customised email alerts
Prices: Mention doesn't offer a free account. Instead, many paid plans are designed for your business based on the benefits you need to get, starting from $41 for a solo account to $149 for more advanced features. In addition, the platform can provide customised plans for large companies.
A powerful search engine harnesses the power of your social networks to provide you with more accurate and personalised results.
With Google Social Search, you can use keywords or phrases to quickly locate photos, videos, blog posts, and other web pages related to topics that interest you.
The same team that is responsible for Social Searcher has developed this one. It works with different networks, including Instagram, Facebook, Twitter, TikTok, Pinterest, and LinkedIn.
Now, when searching online for anything from music reviews to fashion tips, you can easily find content shared by people on your social networks and pages from around the web.
You can select the checkboxes next to the networks' logos to reduce your search scope to particular sites. Also, you can take advantage of the usual Google search features.
For example, limit the search by putting quotation marks around a set of keywords. Unfortunately, that will force Google to return results with only the exact match. Also, to apply these tricks, you can add a minus sign to exclude specific words from the results or enter OR between words will let you roll multiple terms into one search result (more later).
What's even more exciting is that this will save time when looking for information and provide an up-to-date snapshot of what's trending among those in your circles.
Results will be sorted by networks, and you can click on Images or Web to toggle between the different content.
Prices: Unlike the previously mentioned tool, Google Social Search is free.
Tactics When Searching Through Social Media
While listing the most powerful social media search tools, we might miss some great ones out there. So, it will be great to get your help by mentioning some tactics when landing the best monitoring tools for small and medium businesses.
We'd love for you to share any other effective tools in the comments section below and why you love them 🙂
Make Advantage of Native Search Tools
Searching directly within social media apps can yield mixed results only if you use the right way to look for topics.
Here are some tips for searching on specific platforms:
Instagram
According to Instagram, the possibility of finding any post is influenced by popularity. Search results also are impacted by account activity.
Well, this policy can make it tricky to drill down into a subject of matter since the algorithm has the upper hand influencing what you see.
Even though you can search with the platform itself by using filters to limit results to accounts, hashtags, and places, there is no way to search terms to use. For instance, searching "dress" and filtering by location only allows you to see nearby areas with the word "dress" in their name.
Facebook
Unlike Instagram, Facebook allows you to refine your search using its filter options. You can type any keyword you want to find the most relevant posts or videos.
First, you can sort your search by type (people, videos, posts, etc.) and add additional limitations. For instance, if you're searching for posts, the Data Posted filter can be limited to today, this week, or even this month.
If you want to dive into more granular options, it's best to use advanced search tips such as Google— like defining posts by recent posts, commentary posts, posts you've seen, etc.
Twitter
You will get access to the filters on the results page once you enter your keyword. Then, you can limit your search by Latses, Top, Photos, People, or Videos.
For example, searching for a company name and filtering results by people is a brilliant way to find out who works there.
Also, Twitter's advanced search supports Boolean operators so that you can get specific search results by location, date, tweet content, and more.
TikTok
Honestly, Tiktok offers the best social media search tool among other networks. It has invested in a highly customised algorithm to provide a more personalised experience that serves people an endless feed of content. And of course, you need to have an appearance for your business on TikTok.
Along with overloaded videos on your homepage, searching is a secondary way of exploration. You can refine your search by usernames, hashtags, and keywords— alone or in a combination.
LinkedIn
It has sophisticated advanced options for searching built into this platform. For example, it starts by typing your query in the search bar to find a LinkedIn company page or people and then sorting the results by clicking "All Filters." Then you can narrow down results by employers, location, languages, jobs, school, and much more.
There is no shortage of navigating LinkedIn search.
Be Savvy When Using Google Search
Boolean searches, named after George Boole (English mathematician), use specific logic operators (like OR, AND, and NOT) to limit search results. Other tools are built upon this methodology, such as Ahrefs. The tool also creates a comprehensive guide of search operators that you can use on Google.
For instance, the (-) in your text means that the search will omit any results containing the word after the sign.
Not just that, here are a few approaches to use on Google advanced search that works like a social media search tool.
To search Instagram for specific images or videos: type this in Google: site: Instagram.com [cats] AND [London]. That means you will get results that include both search terms from a specific platform. Also, don't forget to filter the results by videos and images by clicking the icons below the search bar.
Find social influencers' profiles for partnerships. If you want to run influencer marketing for a campaign in mind, but you're unsure if they're on a platform you're looking for, you can search to find their profiles. Type [influencer name] (site:facebook.com|site:instagram.com|site:tiktok.com) to see their profile on Facebook, Instagram, or Facebook.
Search for positive sentiments. Want to find out who is posting positive content about your business? Use keywords such as favourite, love, and best in your search. For example, searching site:facebook.com [YOUR BRAND name +love] will generate Facebook posts from people who love your product or company.
Uncover your brand success timeline and challenge social media algorithms. You can search specific dates using Google. It's an excellent way to track any posts about your brand during particular periods, as social media platforms only prioritise trending and recent content. For example, write site:tiktok.com [BRAND NAME] after:2022-04-01 before:2022-04-30.
One problem with the firehouse of content published on social media is that it can be overwhelming. Every moment, no, every second, thousands of new posts are being produced and shared.
Even trending hashtags are as short as a mayfly's life cycle (24h if you don't know!) This crazy pace can confuse you and make you feel like you probably constantly monitor everything happening as you might miss something important.
But presumably, your role involves other responsibilities, and you definitely need to take a break from watching your screen now and then. In case monitoring your feeds make you overwhelmed, you can start searching at spaced intervals.
That's how you will be able to spot patterns more clearly, rather than get alerted with every fluctuation in engagement.
To avoid wasting too much time, create your search queries on platforms such as Hootsuite Streams, or another tool, then check them out at specific times.
Generate regular reports each month and monitor changes.
Refresh Your Keywords Sheets
All previous tips will enable you to get into a groove with social media searching; however, it doesn't mean you can put the process on autopilot and watch positive results.
You need to regularly update and review the search terms, accounts you're monitoring, and hashtags. That includes adding:
Look up to add new trending hashtags
New brands and competitors emerging in your industry
Revenant topics that become trendy in seasons
Locations that you're targeting
Leaders within your industry or company
Frequently refreshing your search queries once each month should keep your search results focused and relevant.
When searching for the best social media tool, you need to differentiate apps based on their vibes.
Well, different social networks can have different sentiments. For example, users often use Twitter to write brand complaints or questions but posting products they really love on their Instagram feed.
When searching for curated content on social platforms, it's essential to consider what kind of conversions or comments typically happens there.
After creating your initial social media searches, you can take the next step of honing in on one of the most important conversions and topics.
You might discover, for instance, that a trending hashtag only relates to a few relevant posts. So, rather than removing it, you can add different search terms to limit your results.
Also, you can find that your brand name or keyword commonly gets mentioned in irrelevant conversations. That is where it will be helpful to add another search operator that omits all search results with a word you're not interested in.
How Can Profiletree Help You?
Save time managing your social appearance by collaborating with our seasoned team, who will help you create a content marketing strategy, uncover all relevant trends, and build any media buying campaign. In addition, we will help you uncover all suitable conversions by engaging your audience and managing results.
Get your audience insights at your fingertips by monitoring the web, listening to your audience and improving your offering based on our market research.
Reach your business's potential online and amplify your brand awareness. Call us now!