SEMRush is a highly advanced tool. It's also pretty expensive. As such, you want to ensure that you can make the most of it. This includes analysing both your own site and the sites of your competitors.
Let's take a closer look at this leading digital marketing analysis tool and learn how it helps to analyse your marketing efforts online.
Read on to discover the essentials…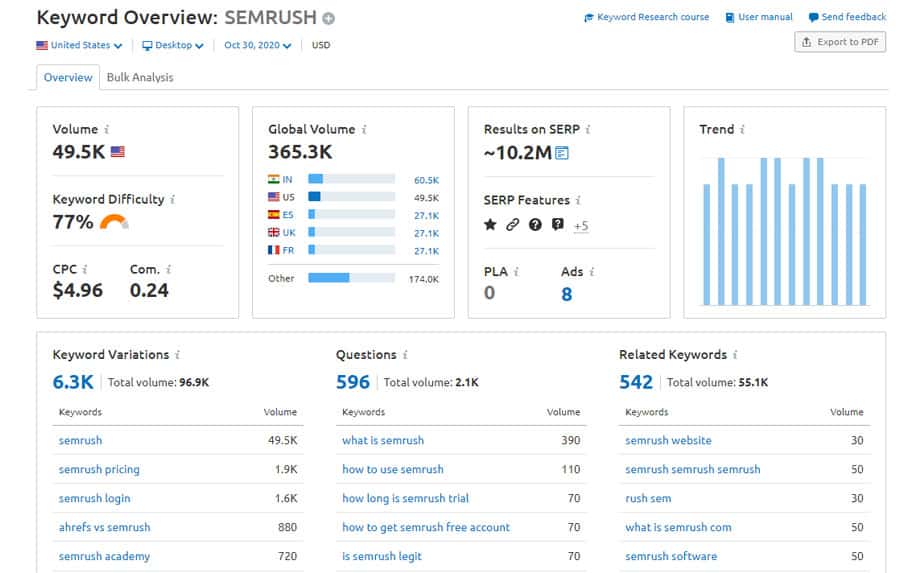 What is SEMRush?
SEMRush is a set of tools designed to help you with your digital marketing efforts. You can use these tools to analyse the competition, carry out keyword research or even manage your content.
SEMRush aims to be an all-in-one solution for your marketing analysis needs. Once you learn how to use SEMRush, you'll be able to do various digital marketing related tasks like: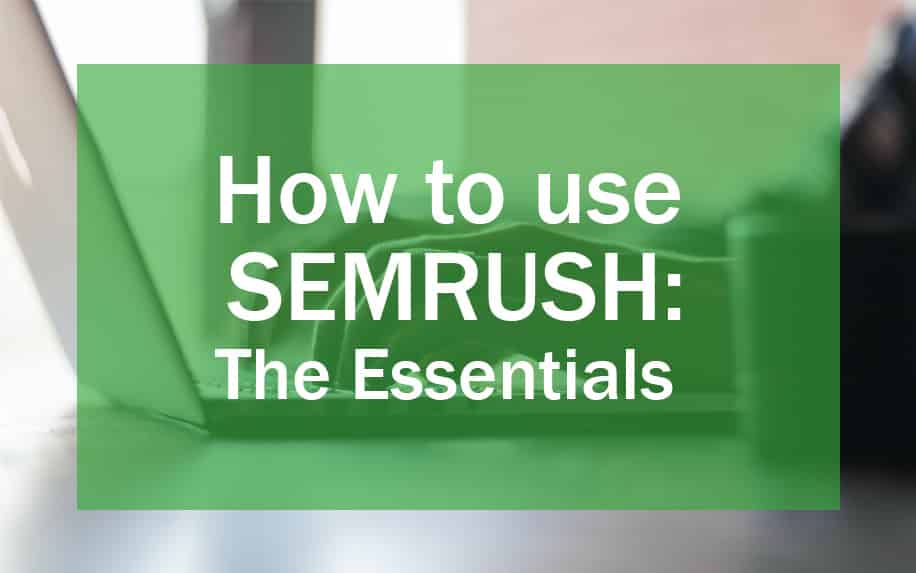 Learning how to use SEMRush will not only allow you to research and identify the current position of your company, but it will also help you track the progress you've made and the impact of the implemented improvement via projects.
How Do You Do Keyword Research with SEMRush?
SEMRush offer many great tools to help your keyword research efforts. In order to properly understand how to use SEMRush, you should first be aware of what it can do for you.
Be sure to check this keyword research guide to learn more about conducting keyword research for your content.
Competition Keyword Analysis
You can utilise keyword research to find out what people are currently searching for. This allows you to create relevant content that attracts the interests of your potential audience. By conduction proper keyword research, you'll be able to identify and predict trends, as well as address them appropriately for a significant boost in traffic.
You can use SEMRush's topic research tool to help you come up with keywords to create content for. All you have to do is enter the topic you have in mind and SEMRush will suggest various ideas that you can create content for. These keywords are usually incredibly popular so you can expect to generate a lot of traffic off these posts. All you have to do is create high-quality content that engages the readers and they'll surely come back for more.
Identify the Competition
If you're running a blog, keyword research can be a great tool to come up with content ideas for your blog posts. It's usually a good idea to identify some of your direct competition and identify some keywords that they have used.
Once you analyse your competitor's keywords, you can identify some gaps where they did not fully cover a topic or if their posted content contains outdated information. This will be a great opportunity for your blog to grow by addressing those gaps which will also allow you to surpass your competition.
Identify Gaps in Content
When you have identified a competitor's blog, you can search for their domain in the SEMRush organic search section. From there, you will be provided with an in-depth report containing all their posts and their rankings. You can even filter through these pages to look for a specific keyword that you're interested in.
Once you have chosen a page, you can click on the number displayed next to it in the keywords column. This will display all the keywords that this page is ranking for. You can then identify the keywords that the page doesn't properly address and fill in that gap with your content.
You can expect some of the traffic going to that page to eventually funnel towards your own as the readers will be interested to know more about the things that were not fully covered in the original post.
Pick Your Keywords
The number of keywords displayed might initially seem too much to handle. Thankfully, by understanding how to use SEMRush, you'll be able to filter through them using their advanced filter options. You can filter keywords by ranking, volume or even percentage of traffic.
Target Audience Keyword Research
Alternatively, you can look for what your target audience is discussion as a keyword for your upcoming content. By using a website that you know your target audience frequents, you can find keywords that you can address fairly easily.
This time, you'll be searching for that website that your audience frequents in SEMRush.
Ideally, if you are just starting out, you want to look for keywords with a large amount of traffic but with a low keyword difficulty. This will allow you to create content that is noticed by your potential audience which will ultimately lead to your growth. This can be a great way for you to establish your website's authority by addressing these low difficulty keywords.
How Do I Find the Best Keywords for My Website?
The SEMRush keyword magic tool will provide you with thousands of variants for any keyword that you enter in. You can then sort these keywords by volume, difficulty or even sort them by country. This will allow you to identify primary and secondary keywords for your content.
Additionally, knowing the country that searches a keyword the most will allow you to further cater your content to that country in order to appeal to them. Readers will appreciate the fact that you address them specifically and you can expect them to remain a loyal reader of your content.
SEMRush has a great keyword gap tool that will allow you to analyse a domain and identify their content gaps in order to obtain the traffic that they are missing out on. This can be a great way for your brand to become more competitive and will help you establish yourself as a leader in the field. They will provide you with suggested keywords that you should target and you can expect a boost in traffic once you cover those topics.
How to Use SEMRush for SEO
You can also use SEMRush to audit and improve your website's SEO. This will provide your website with a welcome boost in ranking on the results page which will definitely generate more traffic for your business. SEMRush will not only identify major SEO issues that need to be addressed, but it will also monitor and report on the progress you've made as well as the increase in traffic that your site received afterwards.
Top Organic Keywords
On the SEMRush landing page, you can enter your website in order to obtain various information about your website's SEO. First of all, you can look at your website's "top organic keywords". These are the keywords that bring the most traffic to your website.
This will allow you to identify which content is bringing in the most traffic, which you can then allocate more time to optimising in order to achieve maximum benefits from them. Alternatively, you can identify keywords that are not generating enough traffic and update their content in order to properly utilise them.
Backlinks
Backlinks are a great way for your website to gain the trust of search engines. By having trustworthy sites link back to your website, you can expect to rank much higher on search engine results pages.
SEMRush will audit your backlinks and show your website's authority score, referring domains and the total amount of backlinks. Additionally, their graphs will allow you to quickly identify the progress you are making towards increasing your backlinks.
Backlink Audit
Perhaps the most important backlink tool that you need to know about when learning how to use SEMRush is the backlink auditing tool. This tool will generate a comprehensive report telling you what changes need to be implemented in order to improve your website's authority. Each backlink will be displayed along with a "toxic score" that shows you if a backlink is potentially negatively affecting your score.
You can then choose to "disavow" these links, by generating a text file that you can then send to Google's disavow tool. This basically removes the association of your website with any other sites that might be lowering your score. Overall, this audit will give you an in-depth idea of how well your website's authority score is doing as well as help you identify any immediate issues that need to be addressed.
Full Site Audits
You can use full site audits to identify any immediate problems with your website that are affecting your SEO score. These implementations will usually result in a significant boost in SEO score and should be handled immediately. SEMRush's full site audit tool will crawl your website and produce an in-depth report showing you all the issues that they have identified.
Initially, you will be presented with a table that contains your various scores regarding your website. These include:
Health
Errors
Crawlability
Site Performance
Internal Linking
These metrics are a great indicator of the overall quality of your website and you can click each score for a more in-depth report about that score. By addressing all the immediate issues present in this report, your website will receive a significant boost in it's overall "health" which will ultimately lead to a better SEO score. This can be a great way to start working on optimizing your site as it gives you clear goals that you can work towards.
On-Page SEO
On-page audits focus on a single page in order to ensure that it is optimised for search engines. This can usually make a huge difference in the generated traffic. That is why you should always optimise your most popular content in order to ensure that you are getting the most benefit out of that content.
You can use this to complement high-quality content that you have created that you'd like everyone to see. Thankfully, by learning how to use SEMRush, you can even audit multiple pages at once using their advanced crawler. All you have to do is enter the desired pages and their corresponding keywords then just let SEMRush do all the work for you.
This saves you a lot of time that would otherwise be wasted on manually auditing these pages separately. Allowing you to allocate your valuable time to creating more high-quality content or managing your business. If you'd like to learn more about On-page SEO for your content, be sure to check our guide on how to use Yoast.
Social Media Management
In order to establish your online presence, you need to constantly be managing your social media account. This includes posting regularly, replying to users and removing and harmful content that might be negatively affecting your brand. As your social media presence grows, you might find it hard to keep up with all of that, that's why the SEMRush social media management tools will save you valuable time and effort.
Posting to Social Media
The first feature of this tool will allow you to post to all your social media accounts from one place. By linking all your social media accounts to the SEMRush tool, you'll be able to post your content to multiple websites at once with a single click of a button. You'll also be able to schedule posts for the future so you don't have to constantly go back and manually post them at a certain time.
You'll also be able to save drafts, allowing you to safely store unfinished ideas until you're ready to continue working on them. You can also set reminders to remind you to go back to a certainly saved draft that you'd like to get done before a deadline. You can also connect your own RSS feed to provide you with various content that you can share with your audience all within the SEMRush website.
Performance Tracking
Once you start working on your social media presence, you'll want to start tracking the performance of your accounts. Thankfully, SEMRush will allow you to connect and track all your social media accounts at once. This will allow you to know which sites are generating the most interest in your brand and which sites are falling behind.
Additionally, SEMRush will also analyse your audience to help you better understand the niche that you are targeting. This can be a great way for you to understand your target audience and adjust your content appropriately to maintain their interest in your brand. Once you identify your most popular content, you can start producing more of those in order to generate even more traffic to your business.
Competitor Analysis
SEMRush will also allow you to analyse the performance of your competition. This allows you to identify their marketing strategies and their growth relative to your own. Things such as their time of posting, the type of content they create and how much engagement they are getting can provide you with valuable knowledge regarding the content you should create for your own page.
SEO-Friendly Content Templates
SEMRush has a great tool that will generate SEO templates for your posts. All you have to do is enter your primary keyword and it will suggest some secondary keywords to include in your posts. Additionally, it will recommend some backlinks that you should include as well as a recommendation to the text length. SEMRush will also analyse the top 10 posts ranking in that keywords and give you their average readability score.
This will provide you with a general target that you should aim for and will allow you to create high-quality content that is both engaging for the reader and SEO friendly. SEMRush will also give you an example of how the competition is using that keyword in their posts to help you kickstart your next post. This is a great way for you to learn how to create SEO content for your website.
For your existing content, you can use the SEO writing assistant tool to analyse your content and show you any major problems with your content. This ensures that you create high-quality content that follows the SEO strategies to help ensure the maximum possible exposure.
Summary: Why Learn to Use SEMRush?
Mastering SEMRush can be a great way for you to complement your digital marketing efforts. Whether you are looking to improve your online presence through social media or boost your authority through backlinking, SEMRush has the tools to help you achieve that.
If you're looking to boost your search engine ranking, using the SEMRush SEO tools will provide you with great strategies that will produce noticeable results.