The Google Hummingbird update is known as a major algorithm revamp that took place in 2013.
You've maybe heard of Google's notorious Panda and Penguin updates, but what makes Hummingbird so different from the others? Compared to its predecessors, which were released as add-ons, the Hummingbird update saw a complete overhaul of Google's core algorithm.
This transformed the way SEO worked, but for the better or worse? Let's delve into it.
What Search Was Like Before Hummingbird
Throwback to 2013, the basics of SEO were similar to what they are today. Great content that effectively answered people's queries was still a key focus, as was link building.
However, the search results landscape was drastically different. If you entered a search term like 'games', the results gave you exactly what you put in. While this may sound perfectly fit for purpose, this type of search result was not clever or considered. As results would often be on-the-nose, they wouldn't provide any in-depth answers or resources about the query.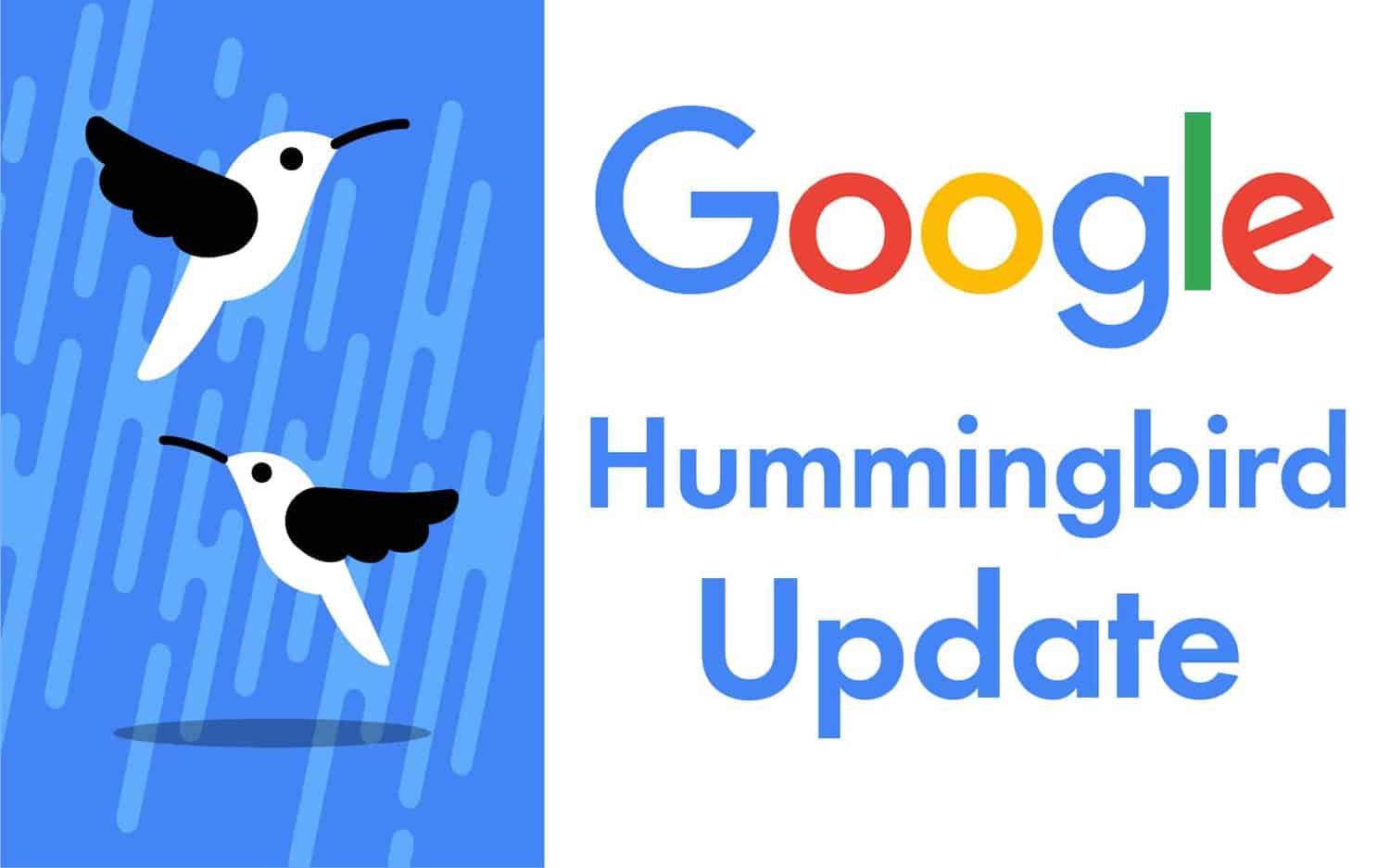 For example, if you searched for 'food' now – you would receive an endless list of possible solutions such as local restaurants, recipe ideas and even news stories. In early 2013, this search term would have generated a bog-standard Wikipedia page on what food is, with all these other useful answers not even making the cut.
What's most important to note from Google's Hummingbird update is the convenience it provides. You are much more likely to find your answer in a shorter amount of clicks. Whereas before, it could have taken you multiple clicks and additional queries to yield the result you were after.
How the Google Hummingbird Update Changed SEO
The intricacies of how the Hummingbird update revolutionised SEO can be put quite simply.
Google spotted an opportunity to be more relevant and colloquial with its users. Therefore, this update was initiated to place a greater focus on natural language queries, considering context and meaning over individual keywords.
To reflect the new and improved Google algorithm update, the update's name was derived from the speed and accuracy of the hummingbird.
But how did this change SEO practice? The introduction of Hummingbird meant marketers and searchers alike could adopt phrases as well as single words to get more tailored results. This refers to the use of long-tail keywords, comprising four words or more.
As this update focuses on phrases, the use of long-tail keywords became vital for better SEO performance. As a result, 'how to' content became more valuable, as it bridged that gap between simple and specific searches.
Semantic keywords also became a priority for SEO practitioners, as the wave of Hummingbird also introduced its smart ability to spot keyword stuffing.
Semantic keywords relate to keywords that are conceptually related to the original keyword. With Hummingbird, instead of looking for the frequency of a certain phrase, relevant results needed to be more comprehensive in what words were included in the content.
For example: a semantic version of the keyword 'digital marketing' would be 'SEO' or 'social media' as they all interlink.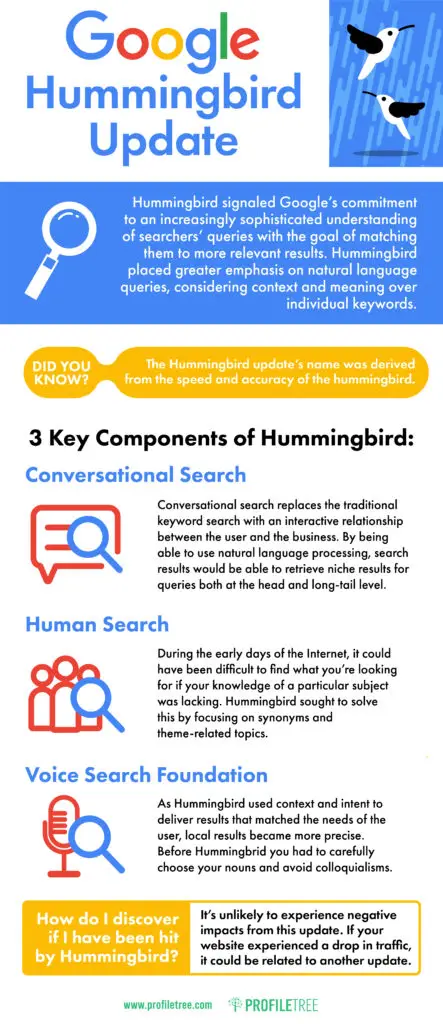 3 Key Components of the Hummingbird Update
With the Hummingbird update came with three key strands that shaped the future of SEO. These relate to: conversational search, human search and voice search. 
Conversational Search
By being able to process natural language, search results would be able to retrieve niche results for both specific and broad queries. 
By being able to gauge intent in a semantic manner, Hummingbird sought to allow users the ability to confidently search, no matter the topic. While this meant queries were answered quicker, leading to less time being spent on the search engine – this enhanced Google's reliability and value. 
This proved to be highly important to both the search engine giant and its users. As over the years Google has been praised for being more relevant than other search engines thanks to its technical infrastructure.  
Human Search
If you remember search engines from back in the day, you'll know how hard it was to find what you were looking for when you had limited knowledge of a particular subject. Often, it would consume a lot of time to grasp just the core basics due to endless querying and scrolling. 
Hummingbird sought to solve this by focusing on synonyms and theme-related topics.
By being able to allow for people to know what they don't know and curate results that help users find what they're looking for, Hummingbird helped inch Google one step closer to becoming a bit more human.
Voice Search Foundation
With context and intent at the forefront of Hummingbird, local results became more precise. 
For example, if you wanted to find a great lunch spot near where you work, you would need to carefully select your words and include only the most important details, avoiding any jargon that might confuse the search engine. 
From being able to use colloquial language in search engines, this essentially helped pave the way for voice search. Fast-forward just a few years and Google is fully equipped to understand natural language using the spoken word. This way, you can save yourself the effort of typing and fixing typos to ask your phone: "Where is the best place for lunch near me?". Before you know it, you have populated a wealth of tailored information that is trusted by Google and its other users.
Key Takeaways
Ultimately, it is unlikely to encounter a negative experience from Google's Hummingbird update. Hummingbird is an intelligent and user-focused solution, and is much less disruptive than its counterpart updates like Panda and Penguin. Out of Google's extensive list of updates, Hummingbird is probably the most innovative as it is still relevant today, despite the fast-paced nature of SEO.
Key takeaways of Google's Hummingbird update are to prioritise long-tail and semantic keywords. This way, you'll guarantee better optimisation for both online search and voice search.
For more information on SEO services, contact ProfileTree today.