Semrush is an SEO software used for keyword research and looking for back-link opportunities. There are many Semrush alternatives, serving the same purpose with different features. A company uses keyword research to enhance their digital footprint and to further understand their target audience.
Why Should You Care about Semrush Alternatives?
If you're starting a new company and you want to gain exposure, then you'll need to understand what your audience thinks of what you're selling. Using keywords that are linked to your product or service will give you an insight on the feedback of your audience.
Keyword research also gains exposure for your company and provides your business with a closer look at your competitors.
Whether you're a start-up or a major corporation, the best way to improve a company's digital reputation is by understanding SEO.
Search engine optimization will help any firm – from tracking the company's rankings to accurate analyses. All kinds of businesses use Semrush alternatives to utilize SEO and analyze of raw data.
This article will provide you with other sites that are alternatives to Semrush. It'll even show you what they're worth. You'll be able to understand the benefits of free sites similar to Semrush and learn how to use them for your company.
It will also give you all the information on these Semrush alternatives, so you'll know exactly what you're getting yourself into.
A software that tracks Search Engine Optimization is what you need to kick-start your business. First, you'll have to ask yourself, what is Search Engine Optimization?
What Is Search Engine Optimization (SEO) and How Can it Help Your Business?
According to Neil Patel, Search Engine Optimization (SEO) is "the process of optimizing your online content so that a search engine likes to show it as a top result for searches of a certain keyword".
SEO is the tool a company needs for their digital footprint to reach the top of any search engine. Whenever someone searches for a keyword that is associated with a company, SEO guarantees maximum visibility.
SEO is an internet marketing strategy that understands how search engines work. It also analyzes the algorithms that report search engine behavior, including the actual keywords typed into search engines. SEO also provides raw data of search engines and their target audiences.
Optimizing a website also involves the task of editing and adding content.
SEO also offers website optimization by removing barriers that are relevant to the specific keywords provided. Another tactic or strategy for Search Engine Optimization is the promotion of a site through an increased of the number of inbound links, or back-links.
Companies rely on Search Engine Optimization, or SEO, to give them an advantage against their competitors. However, SEO isn't an appropriate strategy for every website; other marketing strategies are efficient like pay-per-click advertisements (PPC).
Search engine marketing, also known as SEM, is the practice of designing and optimizing search engine advertising campaigns. SEO and SEM are two different practices. The difference is that SEM is paid priority ranking and SEO is unpaid priority ranking in search results.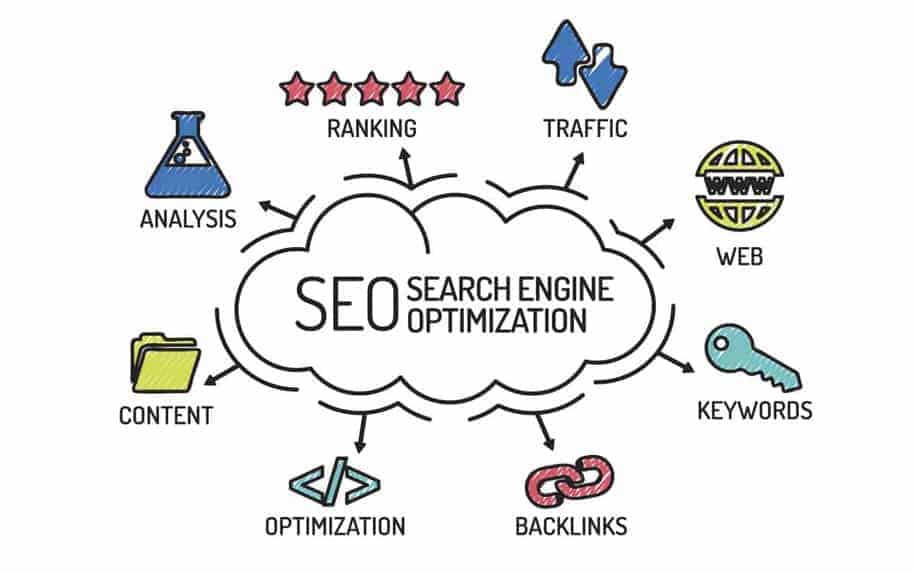 What Is Semrush?
Semrush is a software service company that provides marketing analytics and is used as a SEO tool. The software offers its clients essential information on website traffic, analysis keywords, and topic research. It also offers site audits, lead generations and other services using SEO-related data.
The tool is used by many companies for content marketing. It's considered as a trusted service by internet marketers worldwide. Many major corporations include Paypal, Forbes, eBay and Quora use Semrush.
Semrush is known for its monumental database with over 20 billion keywords, the largest on the market. It uses the keywords to track the original position of a website on Google searches and competitor analyses.
This software also offers pay-per-click advertisements, AdWords ads and their positions.
It's used by digital marketers to create and distribute quality content. The content is an effective and efficient way to attract potential customers and clients. Websites such as Semrush and Semrush alternatives allow marketers to hold on to customers, grab leads and sell products successfully.
Semrush helps with content marketing and improves the job of a digital marketer. As a digital marketer, your job will be much easier and achieve better results.
Before you decide to use Semrush or alternatives as tools for your company, experts suggest you allocate a specific budget for it.
Benefits and Drawbacks of Semrush and Semrush Alternatives
There are many benefits of Semrush alternatives, or Semrush itself. It all depends on your outlook on this software. There are three main benefits concerning Semrush and Semrush alternatives.
The first advantage is that you'll be able to utilize the SEM research tools and analytical reports. This will help rank your website higher on search engine results pages, or SERPs.
The value of the software is based on its competitive business intelligence and its use of data. Semrush and its alternatives access the best long-tail keywords for your website and business, especially in PPC.
Semrush avoids any assumptions and guesswork because it offers you clear and concise analytical reports. It also provides the opportunity to view top performing ads within your industry or business; you'll have a comparative advantage against your competitors.
Finally, Semrush and Semrush alternatives will suggest long-tail keywords with lower search volumes, and thus increase your ROI.
As for the disadvantages of Semrush and Semrush alternatives, there are two vital aspects. Semrush and its alternatives have a big database on keywords. This makes it harder to specify the keywords you need. Semrush doesn't permit saving a search or revision of the data at a later time.
The second aspect is the Semrush and Semrush alternatives are pretty direct and user-friendly. However some business owners are not very digitally literate. Such people may still struggle with Semrush
Semrush Alternatives: What Are They and How Can You Find Them?
There are many free tools like Semrush that you can choose from. There is no monopoly in Search Engine Marketing. There is a large variety of software solutions that are utilized for search engine marketing.
Semrush and Semrush alternatives have the same purpose, to help you gain insight on your competitors and reach your audience. It is essential for your website to rank high on a Google search. A high rank for your website will lead to more views and more exposure as a quality product or service.
These Semrush alternatives have the same benefits as Semrush, yet there are unique features to them. There are different software solutions that will give you the same results as Semrush. Here's a list of Semrush alternatives that will help your business skyrocket. These Semrush alternatives include well-known brands like: Moz, BuzzSumo, UpCity and Word Tracker.
Semrush alternatives include features like full technology integration, historical data of a keyword per region and a daily accurate trackers.
In order to optimize the use of these free tools, one suggests having an SEO professional beforehand, at least for training..
Semrush alternatives are tools that are used to help make your digital footprint more obvious and helpful to you. As a company, SEO tools are the main tool of enhancing your virtual reputation.
These Semrush alternatives will help you get there.
Moz
Moz is a software solution that provides basic tools to improve SEO campaigns. It offers a keyword generator, research tools and link analysis. These instruments give information on link quality and inbound links. Moz also presents tips to improve SEO strategies.
This software offers the knowledge and resources needed to make the most efficient use of SEO tools. Start-up companies can use this solution to get more traffic to their website. Also, the price packages are affordable and pretty flexible for any business.
Its key aspects are: rank tracking, open-site explorer, on page recommendations and weekly crawls.
Moz will help you keep a close track of your competitors; it will also track any important metrics and continually observe your progress. This SEM alternative provides detailed analytic reports about the top ranking pages of your website.
However, Moz doesn't show competitors' rankings, unfortunately. This Semrush alternative doesn't provide detailed reports on advertisement campaign data.
Moz helps both small and large companies with their extensive database and their continual monitoring of progress. You will know exactly how your website is improving and what your target audience is expecting.
It will also track your competitors and offer you analytic reports on your website.
Exponea
Exponea is a cloud-based advertising platform that combines engagement automation and analytics to emphasize the consumer's experience. With this app, you can make accurate predictions and carry out superior purchaser analyses. You don't want to need the help of your IT team to execute great campaigns.
Exponea has pinnacle capabilities that include: custom funnels, CRM, computerized income funnel operations, revenue analyses, and web layers.
One excellent element is that Exponea's neat interface is simple to grasp and enables marketers to achieve amazing outcomes in a short time. Further, you can improve your campaigns with synthetic intelligence and make clever use of high-intensity client data.
Plus, you can customise hints and target prospects on a couple of structures. In the end, you can effortlessly understand your customers and cater to their choices in real time.
With this Semrush alternative, you may seamlessly combine statistics collection, analytics, and execution.
However, the pricing plans are not as flexible and cheap as other Semrush alternatives. Another disadvantage is that Exponea doesn't evaluate the keywords and domains of your competitors.
Serpstat
Serpstat is a full-featured search engine optimization solution. You can use it to enhance your SEO performance in areas including pay-per-click ads, content advertising, search analytics, and marketing.
The app tells you who is ranking high on search engine result pages (SERP) and offers you the tools you want to get in advance of your competition. It provides business intelligence and up-to-date data on the promotion spending techniques of your competitors and their SERP scores.
Plus, you may find out the keywords competitors use for their campaigns. With this information, you may devise and enforce effective search engine optimization strategies to conquer the competition and increase your enterprise.
Top functions include: reports and info graphics, on-page audit, market intelligence, rank monitoring, and advertising analysis.
This Semrush alternative also gives the vital statistics of a keyword in different locations. With Serpstat, you get a detailed back link analysis report that does not exclude referring pages and domains.
However, Serpstat doesn't offer customizable reports that reveal historic overall performance and traits. It also doesn't have a lot of databases to work with, and isn't accessible in certain regions.
Agency Analytics
With the gear to monitor and report on all your clients' marketing campaigns in a single location, Agency Analytics takes digital advertising campaigns to the next level.
Its dashboards empower corporations and customers, supplying a one login technique to apprehend campaign performance across SEO, AdWords, social media platforms and more.
Agency Analytics helps you to connect to all principal advertising and marketing channels and integrate with more than 30 platforms to construct a complete marketing dashboard, which includes Facebook, Google, YouTube, Instagram, LinkedIn, Bing commercials, Google AdWords and more.
Agency Analytics provides an accurate rank tracker that's up to date with daily progress.
With this Semrush alternative, you can monitor Google My Business with listings on Google Maps. It also gives help for Bing and Google with their localized variations.
This is similar to Semrush's Listing Management tool, which can be used to distribute your NAP data to the most authoritative directories on the web. You can also edit all of your NAP citations in one place, and take care of issues with duplication or mismatching data.
The Listing Management feature in Semrush also generates reports on the performance of each of your listings, as well as actionable recommendations on how to boost your local SEO.
Additionally, Agency Analytics doesn't provide domain keyword rating. You will also not be able to view your competitors' natural positions. This Semrush alternative will not give you an assessment of your competitors' ad texts.
Raven Tools
Raven Tools is designed to manage social media platforms, online marketing campaigns, and SEO work. You may use this precise tool to collaborate with team members, generate sophisticated campaign reviews, and create and manage advert campaigns.
Raven Tools can also help you manage link building, research search engine tendencies, and conduct studies and evaluation of social media.
This software solution integrates data from various resources to allow you to make powerful campaign decisions. It dissects information from Semrush, Majestic Search Engine Optimization, and SEOMoz for distinct social, keyword, hyperlink, and competitor intelligence.
Crucial functions consist of: marketing methods, search engine optimization equipment, social media strategies, and customer care.
This Semrush alternative has a real-time Social Stream tool that permits you to monitor and participate in various social conversations straight away. You can also generate precise advertising reports. Its site auditor tool can go through your website to get information on technical search engine optimization areas.
However, with Raven Tools, you cannot compare various search engine optimization metrics. You won't be able to discover good long tail key phrases or compare numerous websites together.
BrightEdge
BrightEdge offer efficient and effective content marketing tools to empower companies to create winning content. You may use this tool to investigate your SEO efforts and enhance your content's performance.
With BrightEdge, you can optimize your content for increased ROI. It offers state-of-the-art reporting and analysis features that will help you measure content performance. BrightEdge devises effective campaigns to reinforce your position, as well.
As a result, you can be certain your content is broadly discovered and effective at generating great sales.
Top functions include: tasks and workflow control, website online audit, share of Voice Report, keyword and pay-per-click discovery, and search engine optimization suggestions.
BrightEdge can identify which channels are perfect for content distribution. It also makes your content SEO-friendly and easy to discover online. This Semrush alternative creates professional landing pages which might be superior than the ones of your competitors.
Unfortunately, BrightEdge doesn't reveal how your key phrases stacks up against your competitors on SERPs.
It also doesn't provide tools that analyze web pages. Nor does it notify you about issues such as duplicate content, broken hyperlinks, and so forth.
UpCity
UpCity helps you to save money spent on paid ads, as you need to only pay its subscription charge to boost your SEO campaigns. Start with just five key phrases and discover the links you are getting, their development, and their position compared to the competition.
Setup is simple. You simply need to offer information about your business, industry, web site, and competition. You will then need to upload your desired key phrases for tracking.
Start with six commercial enterprise categories and UpCity will give you the key phrases to track. Then, you can view the quantity of month-to-month searches for the key phrases and your web page's ranking position. You will also be able to track the effect of your competition.
Top capabilities include: sales strategies, white labelling, hyperlink analysis, SEO record card, and consumer reporting. You can also create custom social media posts and schedule them. Finally, it assists you with social media audit and setup.
The downside to UpCity is that it doesn't provide competitive intelligence on your virtual marketing campaigns.
It also doesn't utilize digital marketing campaigns for search engine optimization and pay per click strategies, and location audits.
Notably, Semrush also offers an extensive suite of social media tools, which rival even the most popular specialist tools. Crucial functions include:
Social Posting,
Competitor Tracking,
Ad Management,
Analytics.
This means that Semrush can be used as a single dashboard for managing all of your social efforts, in conjunction with your wider marketing strategy.
Optimizely
Optimizely enables you to personalize your business website and enhance your customer experience. You may optimize your site in accordance with what your visitors and prospects like. The pricing programs are completely quote-based and you get to pay only for the selected tools you need.
With Optimizely, you can track changing customer behaviours and lay out your platform to be flexible, interactive, and efficient. This software program has created over 30 billion optimized interactions for its users.
You can make use of the tool kit to make yourself familiar with its unique functions and specs. Plus, you can join up for the free trial to test the capabilities before you invest your savings.
Major features include: multi-domain assist, enterprise-grade security, campaign management, multi-page trials, and multi-variant testing.
It also provides efficient analytics to help you track user experiences on your site. You can lower the bounce rate, appeal to more site visitors and increase on-site times. Finally, it helps you to arrange webinars for your clients.
However, this Semrush alternative doesn't offer historical data on overall performance. It also cannot give domain-level keyword tracking.
BrightInfo
BrightInfo is an automatic content personalization platform that analyzes your site. It is focused on semantics, and studies how your audience interacts with it.
This Semrush alternative makes use of a proprietary set of rules to configure your website content in harmony with your visitors' response. It ensures your visitors get relevant content at the proper times so that they continue their browsing flow without interruption.
With BrightInfo, you can improve consumer engagement together with your content and enhance conversion rates. Major capabilities include: personalized emails, native advertisements, exit pop-ups, templates, and widgets.
BrightInfo enables businesses to apply their content to drive sales and grow their commercial enterprise. It offers each website visitor the content that best matches their search. BrightInfo also defines the precise needs of your website traffic and offers a unique consumer experience.
However, you won't be able to look at your competitors' positions. It also doesn't assist you in finding precise long-tail key phrases.
Luminate
Luminate is beneficial if you're trying to attract more website visitors, retain organic site visitors, and enhance your internet site ranking. This AI-powered content material optimization tool enables you to quickly discover the trending topics in your niche. This way you can create and share relatable and applicable content to your audiences.
This is made possible through the platform's machine learning and semantic searching functions. It determines a way to serve a tremendous experience for your audiences. Luminate uses diverse methods to connect website visitors onto your site.
That includes contextual data, pop-up notifications, micro surveys, and plenty more.
It allows you to discover the right content that suits the interests of your goal audiences. Luminate also encourages website visitors to spend more time on your website through various audience engagement features.
Finally, it modifies the content of your website primarily based on developments that interest your goal audiences.
However, it doesn't equip customers with statistics to better understand their enterprise or competition. It also doesn't enable customers to compare the keywords used by their competitors.
SpyFu
SpyFu, previously known as GoogSpy, is a search analytics company. This Semrush alternative suggests the key phrases that websites on Google Adwords. It also provides the key phrases that web sites are showing up for inside search results.
The tool also offers cost per click click and search volume statistics on key phrases. This makes use of that records to approximate what web sites are spending on marketing.
Historic marketing budgets offered with the aid of SpyFu additionally help advertisers predict what a marketing campaign will value for the future. The principle task or proposition is to "spy on" the key phrases that competition use, in order to improve SEM and SEO techniques.
SpyFu also can find top trending or area of niche markets.
SpyFu's information is received via web scraping, based on technological enhancements developed through VelocityScape. The accuracy of its data, in particular marketing budgets, was discovered to be rather dependent on the size of the website in question.
SpyFu refreshes its data on a month-to-month basis, and as such is used as a manual to what's happening with larger trends in SEM or SEO, rather than as an actual monitoring engine.
Buzzsumo
Buzzsumo is a tool for researching and monitoring keywords. This Semrush alternative has a fair few benefits.
You can find content that is maximally shared on social media channels. There is also the option of inputting your own domain or another domain, and analysing what has been shared socially. You can find influencers related to precise topics.
Buzzsumo will provide alerts based totally on keywords, links, author name or area. It will track competition and create an analysis based on their content. BuzzSumo has even created a search mainly for locating brilliant authors.
It doesn't only display you the most-shared content material for a topic. Buzzsumo is able to also show you the top-performing content in your area or, even better, your competitor's domain. One of the pro-capabilities of BuzzSumo is their content signals. You may also set up content alerts for competing campaigns.
Buzzsumo is considered the best Semrush alternative, due to its quality service and accurate analysis. Accuracy in SEM is a hard thing to guarantee, but Buzzsumo is fulfilling their promise.
WordTracker
WordTracker is a software solution that has developed some of the core concepts of Keyword Research, such as KEI. They continue to contribute to the industry of keyword research and digital marketing through their online resources.
The sole purpose of WordTracker is for the internet to be a mediator for effective engagement between businesses and their audiences. Their aim to facilitate this mediation is by uncovering the true language of the market. They understand how your audience talks and how you can communicate with them better.
Their core focus, and best asset, is offering the best keyword data possible. This data can be accessed directly via their Application Programming Interface, or API, keyword research tools and Reports.
All of these resources have been redesigned with the latest web technologies, making them quicker and more stable than ever before.
Conclusion: Semrush Alternatives Are Just As Useful!
Search Engine Optimization is the procedure of optimizing your online content. It is the technique every company needs for their virtual footprint to reach the top of any search engine.
Search engine marketing is the practice of designing and optimizing search engine advertising campaigns. SEO and SEM are two distinctive things. The difference is that SEM is paid precedence ranking and SEO is unpaid precedence rating in search results.
Semrush avoids any assumptions and guesswork because it gives you clear and concise analytical reports. It additionally offers the opportunity to view top performing ads within your enterprise or industry.
Finally, Semrush and Semrush alternatives  suggest long tail key phrases with lower search volumes and as a result increase your Return On Investment (ROI).
Semrush alternatives include features like technology integrations, and historic data on keywords.
This article provides you with a list of the top trending Semrush alternatives. There are currently conglomerates who use these software solutions to maintain their digital footprints. You'll find that whether you're a start-up company or a major firm, SEM is an essential tool for you, regardless of the cost.