Facebook Videos Ads can create an impressive force for your business by combining Facebook – the most popular social media social media channel – with some unmissable tools for targetting potential customers.
Facebook Video Ads are the new 'TV commercials', except that the former doesn't carry the extreme prices of the latter!
Yet, in many cases, Facebook does a better job targeting the right audience.
In this article, we'll not just go step by step to discover how to set up Facebook Video ads but also reveal the tips and tricks to maximize your audience engagement.

What Are Facebook Video Ads?
You probably know that being a free website, Facebook relies on advertisements to pay its bills. Thanks to two billion users scrolling their news-feed every day, Facebook is not falling short on ads. Facebook ads can be in written text, images, gifs, or videos. To create Facebook video ads, you must of course upload videos on Facebook's native player.
The platform allows to give your videos a name, and a description. If you are not already aware of Facebook's handful of features when it comes to targeting audience, you are missing a lot. The website allows you to target people by location, age, gender, language, relationship status, political views, interests, and likes.
The choices get as specific as you can imagine. Interests and likes are divided into different categories, such as business, entertainment, fitness, food, family and relationships, sports, etc. Each category has endless options. Nobody should find it hard to reach their target audience. Every small detail matters.
Why Choose Facebook Video Ads?
You know why you should choose Facebook. Wide reach and specific targeting. So, why should you choose videos and not any other format? Why not write a bulky text or a visually engaging image?
First, because of distractions. Facebook's news-feed today is not the same as it was back in 2009. There are many distractions on Facebook. Sponsored ads, friends' posts, page posts, group posts, friend suggestions, polls, etc. It is a circus show. Most people tend to scroll their news-feed without paying attention. Unless, something stands out to make them slow down and watch. Secondly, video marketing is now the fastest growing marketing channel, and it is expected to grow even more.
A study from Cisco estimates that by 2020, over 75% of global mobile data traffic will be video content. Finally, the online behavior on social media demands fast content. Users would rather watch a one-minute video that is rich with information than read a long, bulky text. That is the main reason behind the increasing popularity of video content.
What Is a Pre-Roll Video?
You click on a YouTube music video waiting for a smoothing Jazz track and suddenly find yourself learning about a laundry detergent. We have all been there.
According to TechTarget, "A pre-roll ad is a promotional video message that plays before the content the user has selected. Pre-roll ads are the most common form of video advertisement. There are also mid-roll and post-roll ads." You probably think this is annoying, and everyone will click "skip ad" in five seconds.
That is true, unless the first five seconds of the ad are interesting enough to keep the viewer curious. Curious enough to postpone watching what they came to watch in the first place. This is not an easy mission.
Facebook Video Ads Are Pre-Rolling Soon
Pre-rolls are notorious for annoying users to reach the content they wish to view. For years, Facebook banned Pre-roll videos because they did not believe they are worth the trouble. CEO Mark Zuckerberg had stated in a conference call with investors before, "We don't need to do pre-roll because our model is not one where you come to Facebook to watch one piece of content, you come to look at a feed." Obviously, Zuckerberg has changed his mind.
Towards the end of 2017, Facebook was getting ready to test to test video ads that will play before the start of a video. However, in order to make it less irritating, Facebook has created what they call "Watch Lab." Watch Lab introduces videos in a newsfeed-free environment.
"The company has also begun to strike licensing deals with publishing partners to seed Facebook Watch with professional content, and is moving towards longer-form shows that more directly compete not only with YouTube, but even Netflix and traditional TV," says Variety. It is clear, there is a tremendous potential for Facebook video ads in the near future.
8 Tips to Get Amazing Facebook Video Ads Results
Tip #1: Show Videos that Do Not Require Sound
Video content has many advantages. They are visually engaging, easily delivered, and authentic. However, one disadvantage that videos have is that they are not always convenient to watch.
Most of the time, users are commuting, in a public place, or on a break from work. So, watching a video with sound is not always appropriate. For that reason, creating videos that make sense without a sound increase the chances of people watching your content, even when the situation does not allow it.
What if your content obliges a dialogue? Add captions that relate to the context of your video. Alternatively, you can add text overlay to your videos using a video editing tool. That makes it easy for people to interact with the visuals of your videos on their news-feed while being on mute, and without losing the context of the message.
Tip #2: Utilize CPM Bidding to Ensure Your Ads Are on Auto-play
Do you remember when we mentioned how Facebook's news-feed is full of distractions? Auto-play is one of those distractions. However, using auto-play to grab the attention of your audience is a well-played tactic. Auto-play helps with sky-rocketing your number of views.
In addition, if your video material is catchy, auto-play can make your audience feel curious enough to stop scrolling and watch what you have. To be eligible for auto-play, you will have to employ cost per impression, instead of cost per click.
Tip #3: Get Straight to the Point
There is absolutely no reason to go in a loop of long introductions before getting down to business. Viewers do not have time for that. They will probably shut off the video before you finish your long introduction.
Video content has a different nature than that of article. Readers are patient by nature, they will go through an introduction and a final conclusion to sum up a long article. Unlike readers, video viewers are always on the go. One of the main factors whether a viewer will click "play" is the length of the video. The shorter, the better.
Yes, there are exceptions but in most scenarios, anything between 30 seconds to 2 minutes is a better choice. More than two minutes is just too much. If your video content cannot be condensed in two minutes, try separating your video in sequels where each one is no longer than a minute.
Tip#4: Put the Videos to Test before Advertising
Do not start advertising a brand new video right away. Upload a new video and put it to test before you start paying money for its promotion. Share it on different channels and see how well it does with organic reach.
Organic reach is always a good indicator of whether or not people will watch your ad. Are people engaging with it? How many views is the video getting and how do people react to it? You should not advertise all your videos. Save only the best content for advertising. Selecting what to advertise will affect your brand image, and the way people feel about your business.
Tip #5: Focus Your Audience
Although this is something that applies to online marketing in general, we had to highlight its importance again. Producing video content requires effort and detail. Nobody wants to waste high quality content on audience that does not matter to the business. Moreover, Facebook video ads cost money so you want to make sure that your investment is going to have a return.
Tip#6: Analyze Your Results
Another precaution to ensure your money is not going to waste. After your video had gained views and engagement, sit down and analyze your results through Facebook page insights. Understanding video performance is key to improving the ROI of your video marketing efforts.
If views are all your business is getting, then maybe you are not targeting the right audience. How many of those who viewed your video did take an action by visiting your website, purchasing a product, or calling for an inquiry? These are real measurements that should determine the effectiveness of your Facebook video ads.
This will give you a clue about the quality of your videos and the nature of your audience. The graph highlights at which point your audience dropped off. In other words, you will find out when you content failed to impress and find ways to improve.
This will let you know who watched your video till the first 10 seconds. Of course, if the video is only 10 seconds long, the graph will show you who completed your video.
Post engagement tracking goes beyond the number of shares and likes. It allows you to know more details about these shares, number of clicks, negative feedback, and the total number of people you video ad reached.
Tip #7: Craft a Descriptive Title and Video Tags
Search engine optimization works with Facebook, too. More than two billion search queries are made on the platform every day. That means that giving your Facebook video ads clear and descriptive titles is going to increase your visibility when users search for relevant content.
In addition, video tags are a way to connect your Facebook video ads to relevant topics. These two techniques can help you reach your target audience easily.
Tip #8: Add a Call to Action
A call to action is giving direction to your viewers. Your business created great video content and you are getting lots of views. But, what is the next step? You should ask yourself, what is the business's purpose behind this video? Are you creating brand awareness?
Do you want people to engage with your content with by liking, leaving a comment, or sharing it? Are you announcing a new vacancy and want people to go to your website to find out more? Be voiced about what you want your audience to do next and do not shy away.
How to Set Up Facebook Video Ads?
Step #1
Select "Create Ads" from the drop-down menu at the top corner of your profile.
Step #2
Choose the objective of your campaign. There are many choices that Facebook offers. In this case, your goal should be video views.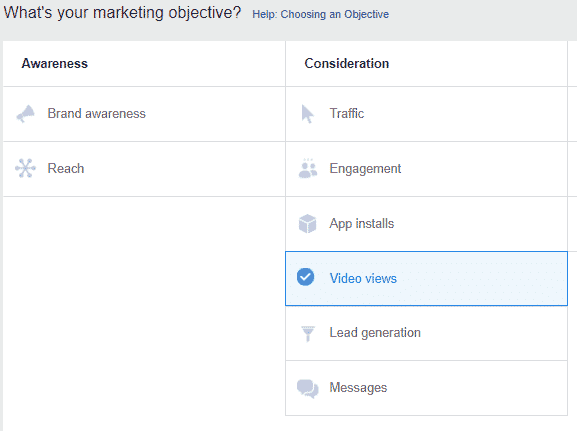 Step #3:
Select your target audience, budget, and schedule. Prior to this step, an entire analysis process should take place to define the ad's goal, time frame, and budget. In addition, when it comes to targeting an audience, Facebook loves precision. Be as specific as possible, and Facebook will help you with its multi-functional options.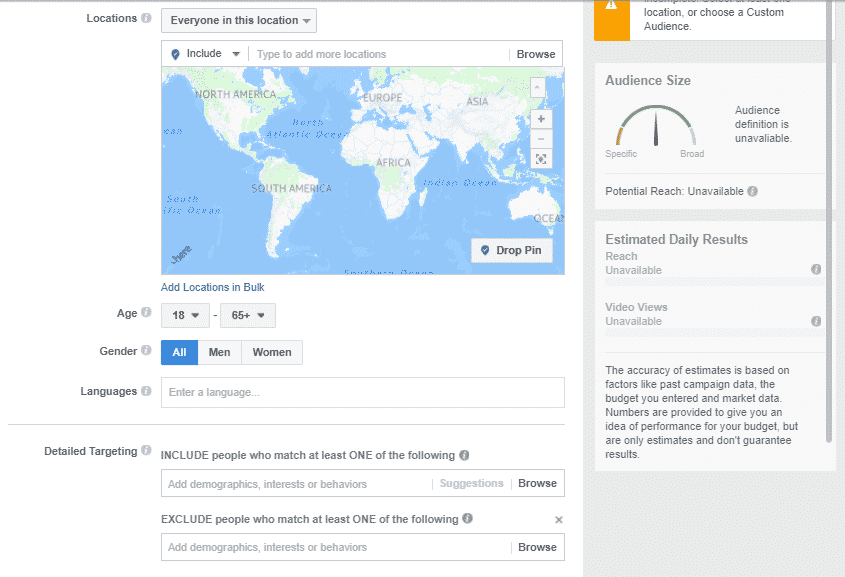 Step #4:
Create the ad. This is the moment of the truth. You can either upload a video from your PC or select one from your Facebook library. You can also create a slideshow of images. As earlier mentioned, we recommend you give time to the organic reach first. That means that most of the time, you will grab a video that you previously posted on your page.
Step #5:
While creating your video, pay attention to the recommended dimensions for Facebook video ads. Making your videos mobile friendly should be your top priority, since most of Facebook users surf their news-feed through their mobile devices.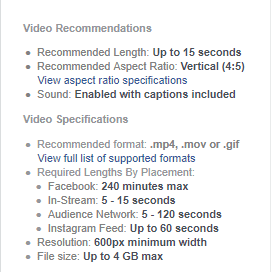 Step #6:
Customize your Facebook video ads by adding captions and attractive preview thumbnails. Finally, it is always good to preview your ad before publishing. If there are any edits that should be made, this is the time to make them. If you realize that your video dimensions are incompatible with mobile devices, you should fix the dimensions of your video before re-uploading.
Finally
Access to such a vast number of users, often directly to a hand-held device during their social time, brings a new kind of power for marketers in place of expensive TV advertisements.
For a relatively low budget, why not experiment to text what works best for your business.