Social media video marketing has become an essential tool for businesses when it comes to digital marketing. Social media video allows businesses to inform customers about their products and services while raising brand awareness in a creative and engaging way.
Social media video marketing has become increasingly popular over the past few years due to its ability to capture the user's attention and the ability to reach a large audience.
How To Utilise Social Media Video Marketing
In this blog, we'll take you through how to utilise social media video marketing for your business, including how to film a social media video, tips on lighting, editing apps, captions, and more!
Filming
An iPhone offers the capability to capture high-quality and engaging videos for social media video marketing. The disparity in camera quality across different iPhone models is significant, making it preferable, if possible, to shoot with at least the iPhone 13 for optimal results. Ensuring your videos are sharp, clear, and free from pixelation is of utmost importance when it comes to social media video marketing. To achieve this, ensure to utilise the following two tips:
When filming on your iPhone, it is crucial to adjust the camera settings to at least HD 1080p, or preferably 4K if available. Currently, Instagram and TikTok support up to HD 1080p resolution, while YouTube can handle up to 4K. Shooting social media video marketing in 4K provides the highest possible quality, but it is important to note that it consumes significant storage space and battery life. To modify these settings, navigate to Settings > Camera > Record video, and select 4K at 60 fps. 
The second tip is remarkably simple yet indispensable. Before commencing filming, ensure that you thoroughly clean your camera lens. Blurriness in videos often stems from grease or dust particles on the camera lens. Therefore, it is imperative to wipe it down meticulously to guarantee optimal image clarity for your social media video marketing!
By following these recommendations, you can maximise the visual appeal and professionalism of your social media video marketing using iPhone-recorded videos.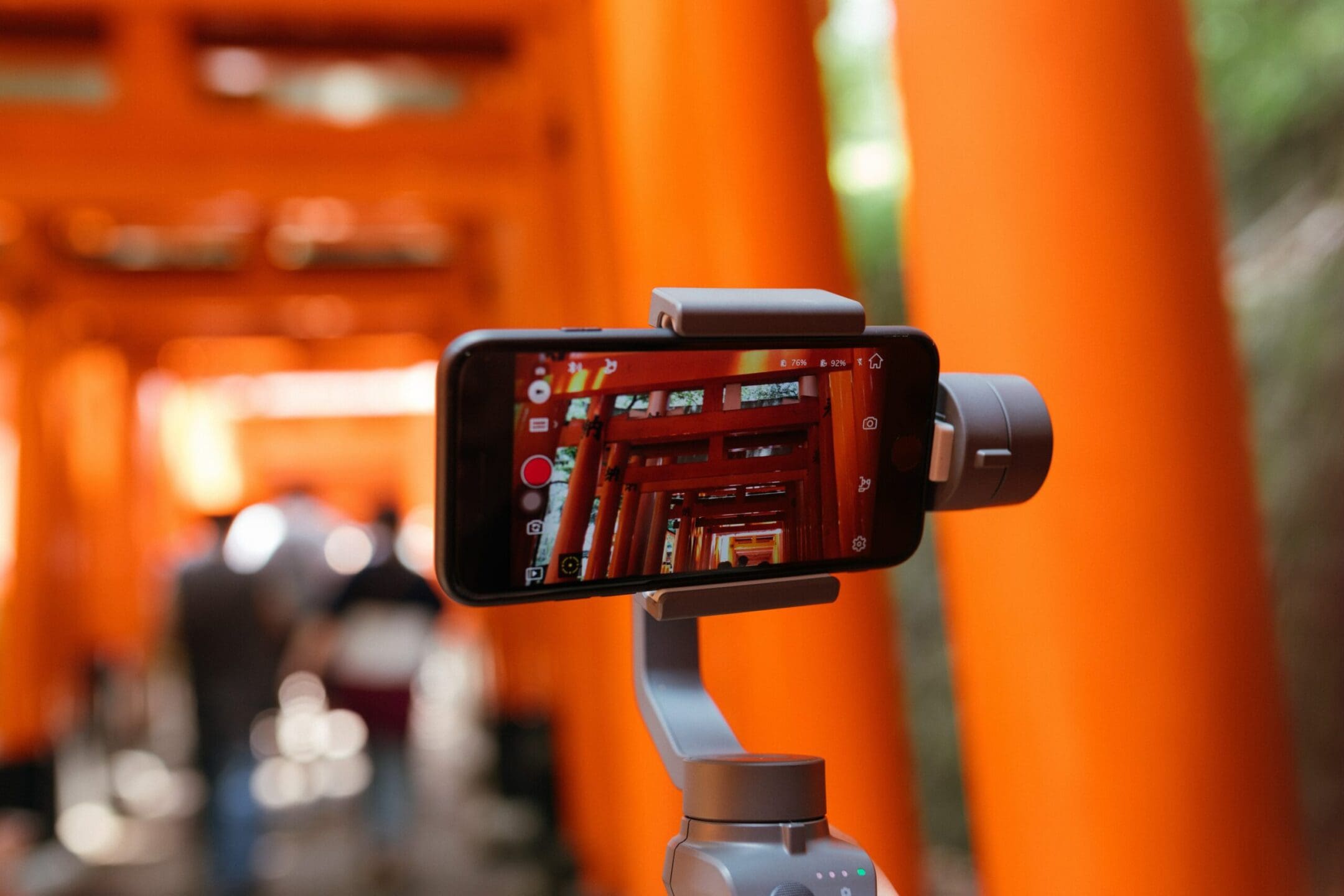 Lighting
Lighting plays a pivotal role in making your social media video marketing stand out. The timing of your shoot significantly impacts the mood and atmosphere of your video. Sunset, sunrise, and clear sunny days are particularly favourable for capturing compelling content. Conversely, grey and sombre skies lack the captivating effect. Whenever possible, aim to film during the golden hour (sunrise or sunset), as the light during this period is gentle, imparting a warm glow. 
On the other hand, shooting during the harsh midday sun can result in excessive shadows and harsh lighting, so it is advisable to avoid this scenario when creating social media video marketing. 
By paying attention to lighting conditions, you can elevate the visual quality and overall impact of your social media video marketing.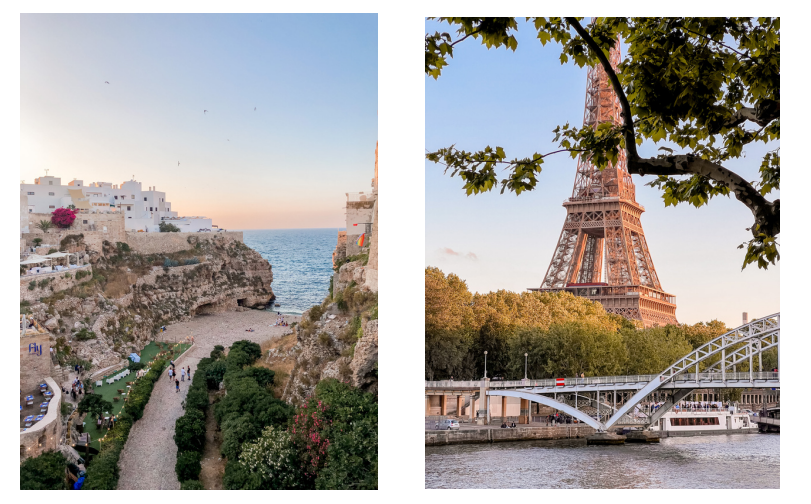 Focal Length
Depending on your iPhone model, users are provided with usually at least 2 options – a standard mode and an ultra-wide lens.
Each of these focal lengths possesses the capability to significantly alter the appearance and atmosphere of the captured images. For optimal results when creating social media video marketing, it is advisable to primarily employ the 1X (standard) focal length or resort to the 3X option when close-up shots are desired. The in-between focal lengths on the iPhone should be avoided since they rely on digital zoom, resulting in a noticeable decrease in image quality. 
Furthermore, it is important to exercise caution when using the 0.5X focal length under low light conditions, as it tends to introduce a grainy appearance. As a general rule, unless there is a specific need to capture expansive landscapes, we recommend refraining from using the 0.5X focal length when creating social media video marketing materials.
Shot Types
Using camera movements can help your videos stand out when producing social media video marketing. If possible, using a gimbal is a great option for a super smooth look, however, the inbuilt stabilisation on iPhones is becoming better and better. 
We recommend these shot types:
Tracking/Dolly shots: running/walking behind, in front or beside the subject.
Panning shots: This is a camera movement in which the camera pivots left or right so that it sweeps around the scene. The most important thing is to slow it down when doing panning shots. Try to avoid doing any fast movements. Make sure you don't pan in all one direction, change it up to make the video more interesting to watch. You can try panning side to side, moving forward or backwards.
Low to high or high to low shots: This is when you start from a low angle and move your way up to a higher one or vice versa. This can be great for scenery shots.
Content
For reels to go viral, they need to have valuable content. This can be educational, uplifting, informative, relatable or entertaining. When deciding on what type of reels you want to create, you need to think about what type of content you would like to showcase and what is the purpose of the video. To maximise the potential for viral videos, it is important to have a draw point that is engaging enough to get users to watch and keep watching!
Great tools to help with this can be unique shot types, well-selected music, interesting and informative captions, onscreen text, engaging voiceovers and visually appealing videos to elevate your social media video marketing.
Colour Grading
One crucial aspect of reel editing that should not be underestimated when it comes to social media video marketing is colour grading. Enhancing your videos through the use of filters, which can be readily purchased online, can drastically transform their appearance. You also have the flexibility to fine-tune the intensity of these filters.
It is important to avoid a flat, underexposed, and dull look in your videos and instead strive for a vibrant, colourful, and visually captivating result. Various mobile apps such as VN and Capcut offer convenient tools such as brightness, contrast, highlights, saturation, and shadows, allowing you to make simple adjustments to achieve the desired effect.
Examples of bright, vibrant and engaging imagery are below.


Editing Apps
We highly recommend downloading three primary applications for comprehensive editing purposes when creating social media video marketing. These apps are VN and CapCut, both dedicated to video editing, and Lightroom, specifically designed for editing photos. 
VN, although it offers a free version with occasional advertisements, is an excellent choice for a multitude of editing tasks. It excels in colour grading, enabling music or sound extraction from videos or screen recordings, providing music waveforms and beats for precise cutting, and accommodating the simultaneous editing of multiple videos and photos.
CapCut stands out as one of the most popular choices for social media video editing. It has a generous selection of transitions and effects, an assortment of filters, and many other great tools.
For editing the cover photo on your reel, Lightroom is my favourite app for photo editing. It is easy to use and has a lot of great features for quick photo editing. You can also purchase various filters online to use within the app.
Avoid editing in the Instagram app as it can be glitchy and isn't as user-friendly when producing social media video marketing. You can also risk losing your drafts if you log out of your Instagram account, so try and use editing applications to avoid this risk.
Text
One of the most important tools that can help with engagement and growth when it comes to social media video marketing, is having onscreen text. Keep it simple and use plain white text (unless you need to add text with a coloured background for better visibility). Try different placements and get creative with your font. But also keep an eye out for what is trending and is visually appealing.
Below features screenshots of the two fonts that regularly achieve great results.
If you are looking for something bold for social media video marketing, you can use texts from external apps to create unique looks.
Our most successful videos have featured captions with bold & engaging statements such as:
The Most Underrated Museum in Paris
3 Museums in Paris you cannot miss
5 Places you must visit in Europe
A hidden gem in Montmartre
The most Instagrammable restaurant in Paris
This is your sign to visit Italy this summer
POV: You spend your summer travelling Europe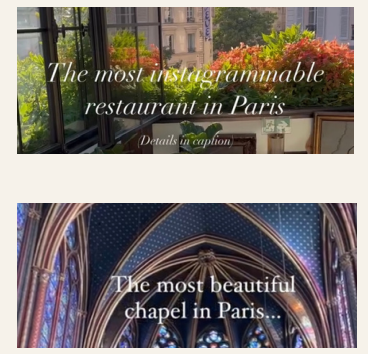 All of these texts are placed at the start of the video so that it gives your viewers a clear indication of what the video is about. While additional text can be added throughout the video, it remains important to have a call to action at the beginning of the video.
You do not need to always add text in order to have a viral video, for some videos it is better to leave it without text and have a clean, crisp look. The important thing is to make sure the video is eye-catching and visually engaging. As always, experiment and see what works best for your social media video marketing!
Caption
Captions are super important when uploading a video. You want to make sure your caption is engaging and personable and also focuses on user engagement. A caption that is well thought about and has a lot of information can get a lot of saves. The more saves and shares a post has, the better your reel will perform as your reel will be pushed to the top of the reel feed or the For You page, resulting in more views.
For example, if you are posting a video about travel, it's a good idea to include tips for the city you are recommending or recommendations on where to visit. If you are posting a video about food, you can list other cafes that are a must-visit in that area. Make sure your captions are as descriptive as possible and also invite the user to engage with your video when producing social media video marketing materials.
Be sure to also tag the location, add hashtags, and tag any accounts that may feature in the video (E.g. The cafe or the store). You can also use the collaboration feature which allows you and another account to collaborate on a post. This post will feature on both your account and their account and is a great way to increase visibility resulting in more likes, saves, comments and engagement.
Try adding some of these options in your next caption:
Tag someone that is visiting Paris soon!
Save this post to refer back to when planning your next dinner date!
Where is your dream holiday spot?
Remember to save this reel, this spot is not to be missed!
Which cafe in Dublin do you like the most?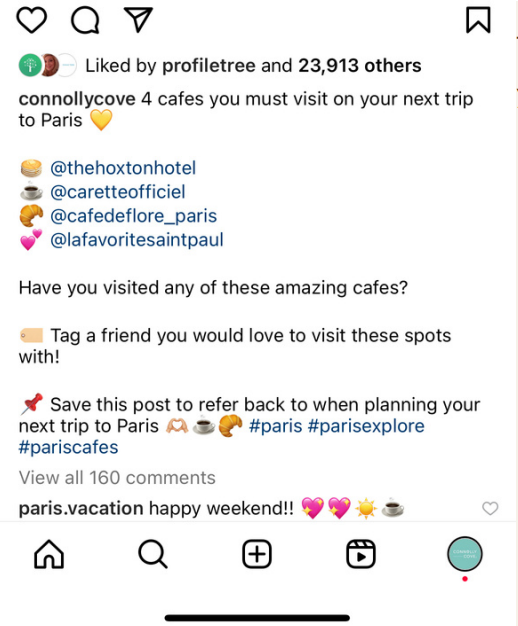 Audio
Audio plays a crucial role in crafting captivating and dynamic videos when it comes to social media video marketing. It is essential to carefully select audio that aligns with the desired atmosphere and enhances the overall impact of your video. For instance, when creating content related to Italy, incorporating Italian music can provide a nice touch, while videos featuring churches would benefit from slower-paced music that shows the solemn ambience.
It is super important that your audio is on the beat. This will really add to the viewer's video experience. On TikTok and Instagram, there are features that can help you do this, however, the apps can sometimes have problems.
When editing a larger-scale video, we recommend using external apps. An excellent app to use is VN. Within this app, you can import music and also extract music from a video. If you want to use a specific sound you have found on TikTok or Instagram, simply screen record the video with the sound and import via the extract from a video feature.
When you import audio into an app it will appear on the timeline with a waveform. This pattern will help you to see the main beats of the audio. Once you have imported your clips along with the sound, you will need to look at the waveform for the audio track to see where to line up your clips. You do this using the spikes of the music beats. This way, you will follow the rhythm of these spikes to give a flow to your social media video marketing materials.
Trending Audio
Whilst you do not need trending audio to go viral when producing social media video marketing, it can help. To discover trending audio, you can easily navigate to the Reels tab within the Instagram app. Once there, you should scroll through the content and keep an eye out for the trending arrow symbol.
By saving the audio that captures your interest, you can stay updated with the latest trends. It is generally advisable to focus on audio that is trending with fewer than 15,000 videos. When particular audio has already been extensively used, it becomes challenging to stand out and rank highly on the audio page due to the competition related to social media video marketing.
Additionally, paying attention to popular TikTok sounds can be a valuable strategy for finding trending audio. Frequently, trending sounds on Instagram originate from TikTok and later feature on Instagram. By being aware of these sounds and using them early on, you can stay ahead of the trend!
Templates
Templates are a fantastic tool introduced on Instagram last year that allows users to copy exact clip timing and pre-set music of existing reels. This tool can save you a lot of time and effort when creating reels, especially when you want to create reels that specifically align with the beat of the music.
Finding Instagram templates
Go to the Reels tab, click on the camera icon in the top right-hand corner and down the bottom switch from Reel to Templates. You should then be able to flick through various options now. 
The other option to find templates is to watch any Reels in your Reel feed and look for the Use Template option.
If you come across a template you love, remember to save the video so you can refer back to it later and use it as a template.
Please note that the template option won't be available on every reel.
Using Instagram templates
When you have found your Instagram template, click Use Template. You will then be brought to a screen where you can input your own clips into the placeholders.
Select the placeholder, which will then take you to your camera roll where you can select photos or videos and the order you want them to appear.
If you want to change the order, select the individual placeholder and choose a different clip from your camera roll. Finally, once you have selected your clips, click next.
If you use templates, you cannot change the length of the clip. However, you can select the part of the clip which is shown. To do this you simply need to click the clip you would like to change and move the white box to the part of the clip you would like to feature. Click next to move to the next step where you can add any text, filters or stickers to the reel.
Be sure to add your cover photo, location, caption and tags and then click next to publish your reel. If you don't have this template feature yet, keep in mind Instagram is still rolling out the update and be sure to regularly check back for updates.
Cover Photo
It is super important to use a high-quality cover photo for social media video marketing on Instagram and create a visually balanced feed. TikTok doesn't have this option instead you select your cover from the video and you can add text.
As Instagram has this option, it is crucial to always upload a cover photo as if you use a still from the video, it will not be of the same quality.
If you are out shooting with your camera to create social media video marketing, take a photo of the scene you are filming to use as your cover photo for the video or alternatively, you can take a photo on your iPhone.
If you want to edit this photo on a photo editing app, try using Lightroom. The photo should be bright and engaging and draw people in to watch your video. It is also important to think about balancing your Instagram feed. For example, placing too many photos of parks together will make your feed look extra green, and it would be better balanced by breaking up some of the images of parks with architecture.
On the final reels window before you share, click the edit cover option and then select add from the camera roll. Once you have selected your cover photo, you need to select profile grid. This is where you will reframe your reel cover. As reel covers are cropped to fit the Instagram square size on your main page feed, you will need to select which part of the image looks best. You can also zoom into the image.
Please do this as the last step before uploading the file as you may find that if you play around with other things such as location, tags and captions, the Instagram app will occasionally change the crop you selected which can drastically affect the overall look on your feed.
The Crop of the Cover Photo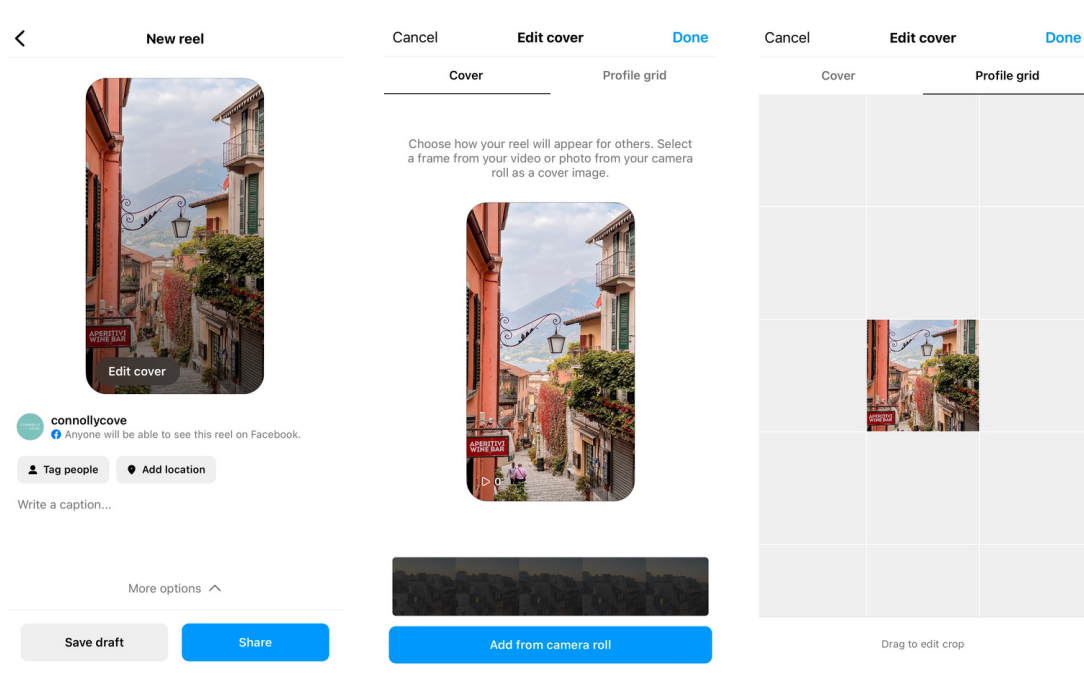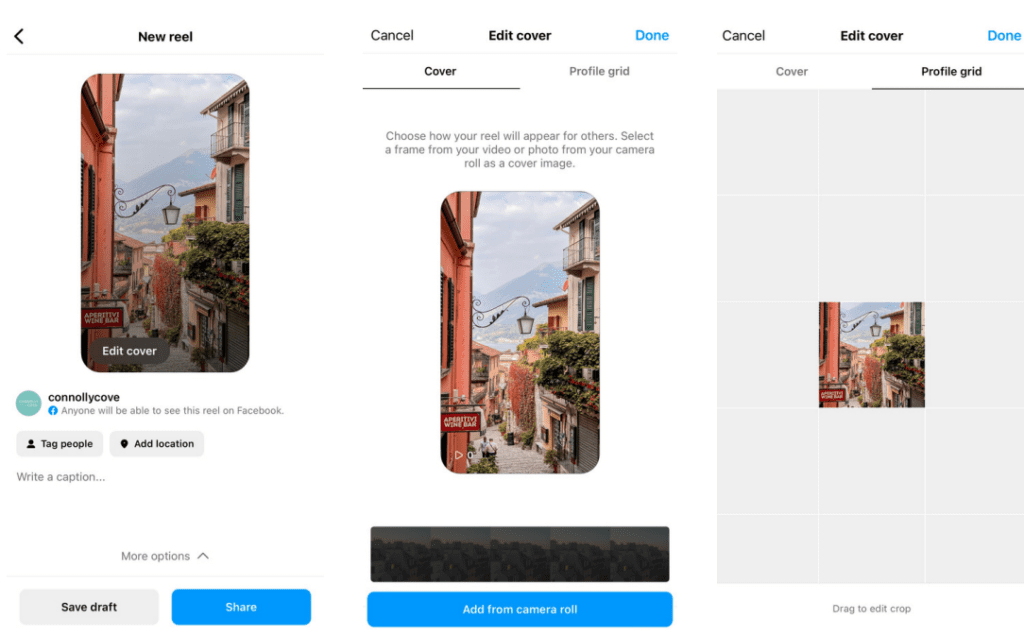 Examples of Interesting Cover Photos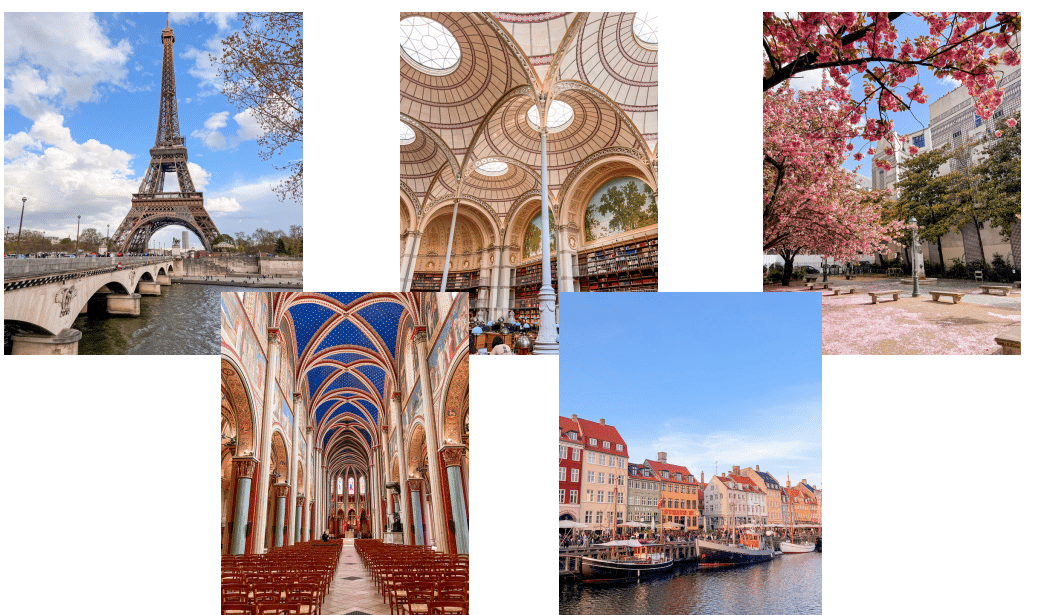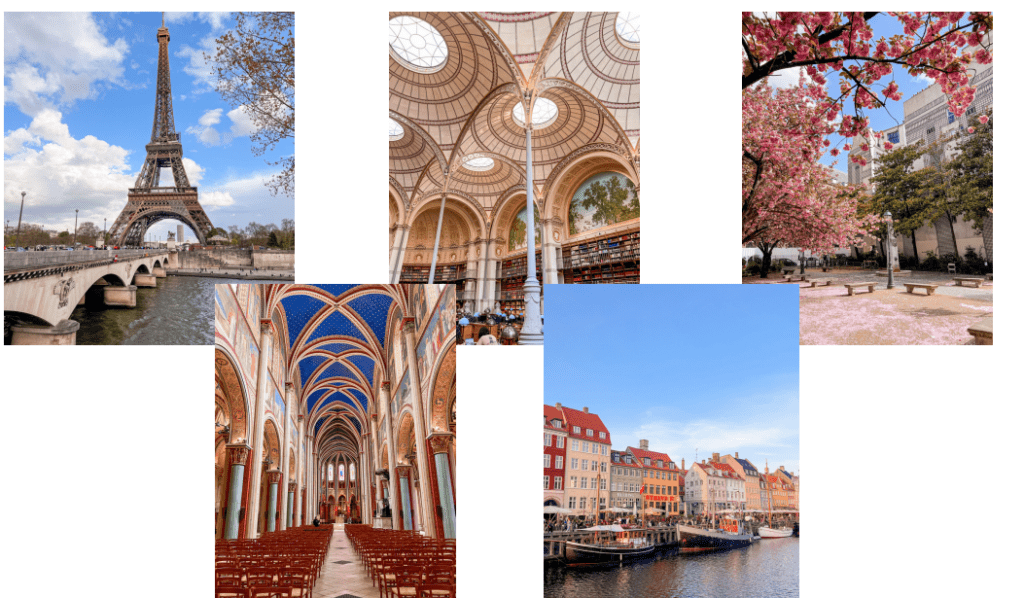 Exporting
When exporting your social media video marketing materials out of these apps, I recommend exporting at 4k at 30fps OR HD1080 at 30fps. You should always export at 30fps as all social media apps have a standard playback of 30fps.
Uploading
When uploading to Instagram make sure you have high-quality uploads turned on. To do this, open your Instagram app and go to Settings > Account > Data Usage and then turn on High-Quality Uploads. Please note that using this feature can require additional processing time due to larger file sizes, but we can assure you it's well worth it.
Finally, enjoy the process! Try to experiment with different types of videos and styles and see what works best for your social media video marketing strategy!
Want to know more about social media video marketing? Contact ProfileTree today to find out how social media video marketing can elevate your business!