Arguably the most popular search engine in the world, Google uses a variety of algorithms that rank each webpage. These are based on a variety of factors which can impact how high a website ranks. Algorithm updates are crucial for ensuring that the primary way that Google finds, ranks, and returns search results for queries best serves customers using their SERPs.
Some algorithm updates are major and some are minor. Sometimes we are made aware of them and, other times, they are a total surprise. At times these updates will boost website rankings and in other cases penalise them. We have collated an update list of all the current and past Google Algorithm updates so you can see the patterns in Google's development.
Google Updates 2021
Unconfirmed Algorithm Update – May 22nd 2021
In May 2021, a major algorithm change was reported, although it is unconfirmed by Google. This seems to have impacted a number of industries, primarily in the US, but not exclusively. This was most likely due to changes in the indexing algorithm, as many affected sites saw significant drops in traffic.
Passage Indexing/Ranking – February 10, 2021
On February 10th, 2021, Danny Sullivan, Google's Public Liaison, announced via Twitter that Passage Indexing was to be rolled out today. Made for English language queries in the United States, Google has initially estimated that this update will impact around 7% of all queries on the search engine.
Google Updates 2020
Core Update – December 3, 2020
Announced in December, Google appeared to release the majority of their Core Update on the 3rd of December 2020. This is the third core algorithm update of 2020. Moz found that some sites reported reversals a few days later but this impact appears to be limited to those sites.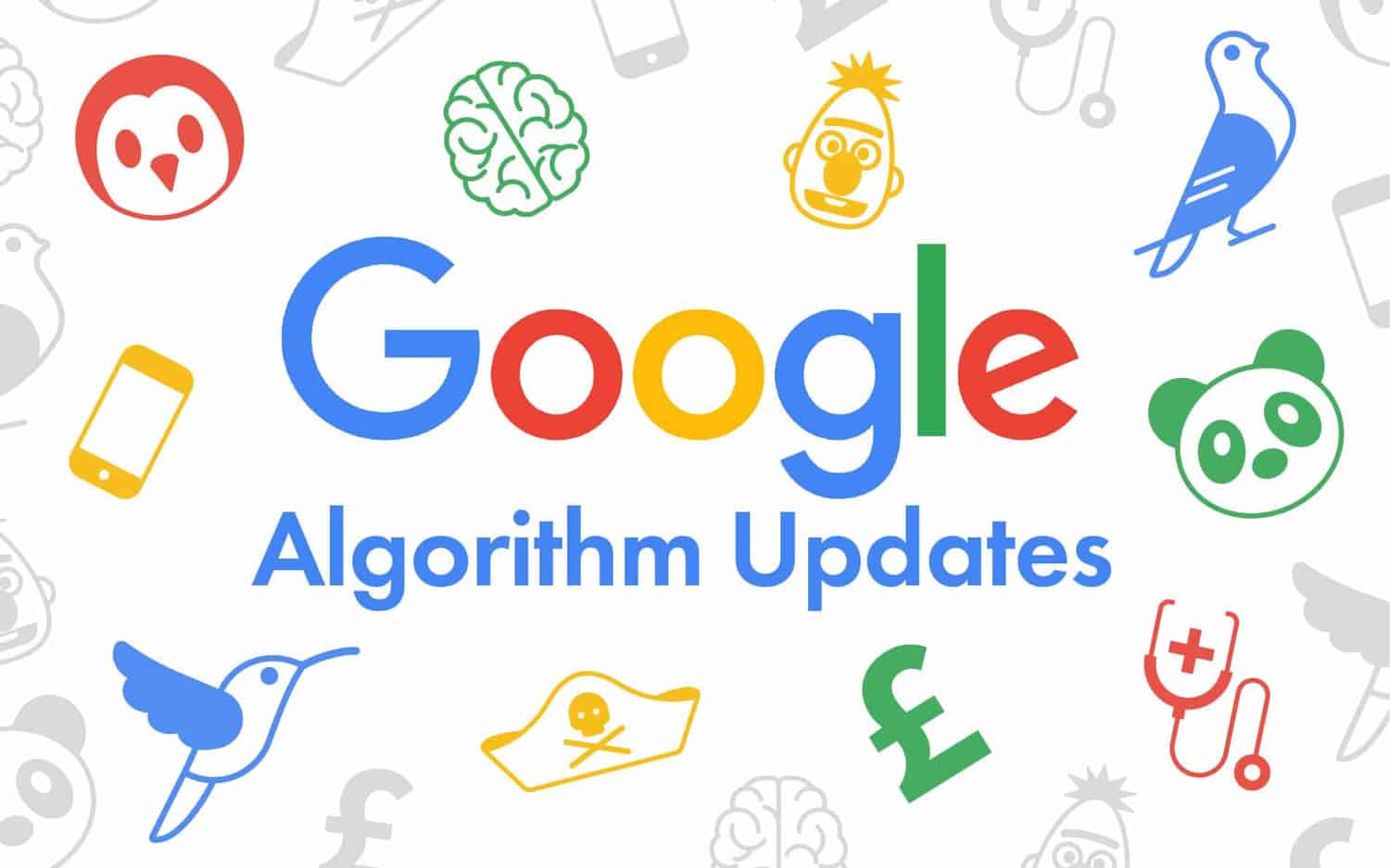 Indexing Bug, Part Two – October 12, 2020
By October 14th, Google had claimed that the bulk of the indexing and canonicalisation bus had been fixed.
Indexing Bug, Part One – September 29, 2020
Google had already confirmed in early September that they were going to roll out an indexing and canonicalisation bug. This seems to have come to ahead on September 29th and 30th with full implementation.
Google Glitch – August 10, 2020
On August 10th there were massive ranking changes due to SEO which then seemed to disappear. Later, Google confirmed that there was a glitch in their indexing systems.
Core Update – May 4, 2020
Causing a heavy rankings flux, Google's Core Update on May 4th saw this occur between then and May 6th. This was announced by Google Search Liaison, Danny Sullivan on Twitter.
Featured Snippet Deduplication – January 22, 2020
A major announcement that was tweeted by Google's Danny Sullivan, it was announced the URLs that were placed within featured snippets would no longer appear as traditional organic results.
This was a massive theory change as Google had always promoted the Featured Snippet as an organic result. Naturally, this impacted CTR as well having implications for rank tracking.
Core Update – January 13, 2020
The first core update of 2020, it was announced by Google's Danny Sulllivan on Twitter. Google provided similar guidance to that that was set out for previous broad core updates for the algorithm.
Google Updates 2019
BERT (Worldwide) – December 9, 2019
Confirmed by Google that BERT was beginning a worldwide rollout, this natural language processing algorithm was going to be available in 70 different languages. Some of the languages included were as follows:
Afrikaans, Albanian, Amharic, Arabic, Armenian, Azeri, Basque, Belarusian, Bulgarian, Catalan, Chinese (Simplified & Taiwan), Croatian, Czech, Danish, Dutch, English, Estonian, Farsi, Finnish, French, Galician, Georgian, German, Greek, Gujarati, Hebrew, Hindi, Hungarian, Icelandic, Indonesian, Italian, Japanese, Javanese, Kannada, Kazakh, Khmer, Korean, Kurdish, Kyrgyz, Lao, Latvian, Lithuanian, Macedonian Malay (Brunei Darussalam & Malaysia), Malayalam, Maltese, Marathi, Mongolian, Nepali, Norwegian, Polish, Portuguese, Punjabi, Romanian, Russian, Serbian, Sinhalese, Slovak, Slovenian, Spanish, Swahili, Swedish, Tagalog, Tajik, Tamil, Telugu, Thai, Turkish, Ukrainian, Urdu, Uzbek, and Vietnamese.
BERT Update – October 22, 2019
The Bert Update was considered one of the biggest upgrades for the algorithm and it was called the biggest update to Google Search in over 5 years. BERT is a natural language processing mode model or NLP. It is designed to help Google interpret natural language searches better, providing better answers to queries after fully understanding context.
Google claimed this update would impact featured snippets as well as search rankings. They also estimated it would be used for around 10% of U.S. English searches.
Broad Core Algorithm Update – September 24, 2019
A broad core update was announced by Google on September 24th that would take a few days to fully roll out. It seemed to only impact sites that had been affected by previous broad core updates. Google's guidance was similar to previous roll outs.
Site Diversity Update – June 6, 2019
This was pre announced by Google to try and help situations where a site may have had more than two organic listings. While marginally improving SERPS with 3-5 duplicate sites, it didn't have an overly large impact.
Core Update – June 3, 2019
While Google did announce this on June 2nd for a roll out on the 3rd, there were limited details. As with most broad core updates, Google didn't say anything specific about what it was fixing, more the broad range of factors it was going through to ensure the algorithm was functioning properly.
However, sites that have been impacted previously were also hit by this update with some UK publishers receiving some heavy losses.
Indexing Bugs – May 23, 2019
Announcing indexing bugs that would occur two days in a row, Google reported the first bug was preventing new content from being properly indexed.
Deindexing Bug – April 5, 2019
Google announced that a bug dropped pages from the search index meaning that around 4% of stable URLs were falling off page one. This was rectified and sites recovered not to long after that.
Core Update (a.k.a. Florida 2) – March 12, 2019
Third major core update since using the label, this was considered one of the biggest Google core updates in years.
Valentine's Day Update – February 13, 2019
There was some indication that an unconfirmed update took place either before or on this date. Reported positive changes from industry and algorithm trackers.
Google Updates 2018
Unconfirmed Halloween Update – October 31, 2018
Another unconfirmed update, but some webmasters reported changes around Halloween. Little evidence of a significant change here but there was an argument that there was spillover from the August broad core algorithm update with Google increasing its use of neural matching which would explain movements.
A "Small" Update – September 27, 2018
The SEO community noticed significant spikes and drops in traffic on September 27th, 2018. Some sites that had been hit by the August broad core algorithm update had made recoveries though. Danny Sullivan, Google's Search Liaison, confirmed that there had been a small update.
'Medic' Broad Core Algorithm Update – August 1, 2018
Rolled over a week but peaking on August 1st and 2nd, Google rolled out its broad core Medic algorithm update which saw widespread reports of massive impact. Interestingly, this update seemed to disproportionately affect sites in the health and wellness sector which Google denied. They said that they were specifically targeting medical sites and it was a general ranking update.
Broad Core Algorithm Update – April 16, 2018
While it wasn't actually announced, Google confirmed the release of another broad core algorithm update and indicated it was similar to March's core update, with an impact on content.
'Brackets' Broad Core Algorithm Update – March 9, 2018
Google confirmed on March 12th that it had rolled out a broad core algorithm update the previous week. It is unclear whether it was multiple updates or one prolonged rolling update.
The name 'Brackets' was coined by Glenn Gabe but no details other than it was meant to help pages that were previously under-rewarded was mentioned.
Google Updates 2017
Maccabees Update – December 12, 2017
A rare update around the holiday period which Google usually avoids due to the effect on eCommerce sites, Barry Schwartz named this the "Maccabees" update. Google would only confirm that several small updates had occurred, probably playing it down due to the time period it was done in.
Snippet Length Increase – November 30, 2017
Google had been testing longer search snippets for over two years and, on November 30th, it rolled them out across a large number of results. A new Meta Description limit was created from 155 characters to 300 characters.
Chrome Security Warnings (Forms) – October 17, 2017
Google launched Chrome 62 which helped to warn visitors of sites with unsecured forms. This might not be an algorithm update but it was an integral part of Google's push towards HTTPS and may have a material impact on site traffic.
Quality Update – August 19, 2017
It was picked up by SEO ranking tools that between August 19th and 20th there was possibly another Google quality update. Things that were affected were category pages, thin content, and other negative user experience elements including pages with aggressive advertising.
June 25 Update – June 25, 2017
Another unconfirmed update but noticeable through SEO tracking tools, Google clearly updated on this date. Some analysts found that this update caused the biggest fluctuations for pages ranking in positions 6 to 10. It seemed to impact hospitality the most but other niches were hit.
Quality Update – May 17, 2017
After SEO tracking tools noticed lots of SERP volatility, it was realised that there was a quality update underway. This appears to have targeted sites with UX issues, thin quality content, and those sites that had aggressive or deceptive advertising content within them.
Fred – March 7, 2017
Fred was named by Google's Gary Illyes and appeared to have a major impact on mainly low-value content. It was a confirmed update on March 24th but Google has refused to share specifics of the update saying that if anyone has questions about it they can find answers within their Webmaster Quality Guidelines.
February 6 Update – February 6, 2017
This was an unconfirmed update which resulted in a massive rankings shift in Google SERPs. This saw major increases and decreases for a variety of websites. It did result well for those sites with higher-quality and relevant content as they were offered the most visibility,
Intrusive Interstitial Penalty Update – January 10, 2017
This update was released after Google warned in August of 2016 that it was going to target and punish aggressive interstitials and pop-ups that might damage the mobile user experience.
A rare warning before the actual update, there was surprisingly minimal impact reported on sites that should have been affected according to SEO specialists.
Google Updates 2016
Unnamed Update – November 10, 2016
While unconfirmed, there was data from SEO tracking tools to support the idea of an unconfirmed Google update which appeared on the 10th of November.
Penguin Update 4.0 & Core Algorithm Integration – September 23, 2016
This was the final update for the Penguin Algorithm which was meant to be gentler when integrated into Google's core algorithm. This means that it was able to evaluate websites in real time.
Instead of entirely penalising sites, this update was designed to devalue bad links instead, ensuring that pages weren't downgraded with the rankings.
Quality Update – June 1, 2016
Another unconfirmed update, but it is clear from data that this was a quality update surrounded around content. After this update, there was additional search ranking volatility after it.
Mobile-Friendly Update (#2) – May 12, 2016
An update for Google's first mobile-friendly update which was meant to increase the effect of the ranking signal. It is also known as Mobilegeddon 2.
Panda Core Algorithm Incorporation – January 11, 2016
This update saw Panda being incorporated into the core Google Algorithm. This means that Panda was no longer a filter applied to the Google Algorithm but was to be incorporated as one of its core ranking signals.
Google Updates 2015
RankBrain – October 26, 2015
While Google has had RankBrain in testing from April 2015, it officially introduced it on October 26th. RankBrain was designed as a machine learning algorithm. It was meant to filter search results in order to give users a best answer to their queries.
When first rolled out, RankBrain accounted for around 15% of all queries which mostly accounted for questions that Google hadn't encountered before. Now, it is involved in nearly every query that Google receives. It is considered the third most important ranking signal by SEO specialists.
Panda Update 4.2 (#28) – July 17, 2015
A Panda refresh was announced by Google that could potentially take months to roll out. The immediate impact was unclear, but it was meant to affect 2 to 3 percent of English queries. Google did not reveal any specifics around the update.
Phantom Quality Update – May 3, 2015
Due to large-scale ranking changes, this quality update known as Phantom was confirmed to change the core ranking algorithm. This update was designed to specifically target quality signals. It appears that sites that had too many ads or content quality issues were going to be impacted by these changes.
Mobile-Friendly Update – April 21, 2015
Known as 'Mobilegeddon', this mobile-friendly update was meant to reward those websites that were mobile-friendly with better search rankings and provide better results to searchers on mobile devices. This update was for all languages.
Google Updates 2014
Penguin Update 3.0 – October 17, 2014
While this was named a major update by Google, this was actually a data refresh for Google's Penguin algorithm. This Penguin update allowed sites that have been impacted by previous updates to emerge and recover.
This also was used to deal with sites that had used spammy link practices that had escaped being penalised in previous updates. Penguin 3.0 impacted less than 1 percent of English search queries.
Panda Update 4.1 (#27) – September 23, 2014
This update was designed to add a few more signals for Panda to help identify low-quality content which would impact 3 to 5 percent of search queries on Google.
Pigeon Update – July 24, 2014
The introduction of Pigeon saw a significant update that changed traditional website ranking signals to influence local search results. This was great for Google Maps as well as it improved distance and location ranking parameters.
Payday Loan Update 3.0 – June 12, 2014
This update was designed to focus on targeting spammy queries and to offer better protection against any negative SEO attacks.
Panda Update 4.0 (#26) – May 20, 2014
On May 20th, the Panda 4.0 update was announced by Google's Matt Cutts. It was meant to impact 7.5 percent of English queries – a significant number.
Payday Loan Update 2.0 – May 16, 2014
Considered the 'next generation' of the Google Payday Loan algorithm, it was designed to target spammy queries and reveal spammy websites.
Page Layout Refresh – February 6, 2014
Also known as 'Top Heavy', Matt Cutt from Google announced a refreshed page layout algorithm. It appears that Google simply updated its index through rerunning the algorithm.
Google Updates 2013
Penguin Update 2.1 – October 4, 2013
This was the first Penguin 2.0 algorithm data refresh. Announced by Google's Matt Cutts, it was to impact less than 1% of search results.
Hummingbird Update – September 26, 2013
The Hummingbird update was launched on September 26th as a major overhaul of the core search technology present in Google. This was done to better understand queries to return the most relevant results, particularly for those queries that were regarded as more complex.
This update was rolled out to supplement the growth of conversational or voice search. It affected around 90% of searches worldwide and began in August 2013, taking over a month to roll out fully.
Payday Loan Update – June 11, 2013
This update was designed to target spammy queries which were associated with exploitative industries like porn, casinos, debt consolidation, and high-interest loan companies. It took around two months to roll out and impacted less than 1% of U.S. search queries.
Penguin Update 2.0 – May 22, 2013
This was a "next generation" of the Penguin algorithm, as Google's Matt Cutts explained in a blog post. This version looked deeper than the website homepage and top-level category pages for evidence of link spam being directed to the website. Penguin 2.0 impacted around 2.3 percent of English queries.
Panda Update (#25) – March 14, 2013
This update was not confirmed by Google though tools suggest it occurred on roughly this day. Google's Matt Cutts seemed to suggest that this would be the final update before Panda would be incorporated directly into the core Google algorithm. Instead, however, Panda data refreshes started rolling out monthly over a 10-day period, without any further confirmation from Google.
Panda Update (#24) – January 22, 2013
Affecting 1.2 percent of English language search queries, Google announced this Panda data refresh in January 2013.
Google Updates 2012
Panda Update (#23) – December 21, 2012
Impacting 1.3% of English search queries, Google announced this Panda data refresh in December 2012.
Panda Update (#22) – November 21, 2012
Affecting only 0.8% of English language queries, Google confirmed a Panda data refresh in November 2012.
Panda Update (#21) – November 5, 2012
A data refresh for Panda was confirmed by Google in November 2012 which was to impact 0.4% of worldwide queries and 1.1% of U.S. search queries.
Page Layout Update #2 – October 9, 2012
With the goal to impact 0.7% of English language queries, Google's Matt Cutts announced a page layout algorithm update. This gave websites who had been damaged by the first Google algorithm rollout the chance to recover.
Penguin Update 1.2 – October 5, 2012
The second of the Penguin Algorithm data refreshes, this update impacted 0.3% of English language queries. It was announced by Google's Matt Cutts in October 2012.
Exact Match Domain Update – September 28, 2012
Known as EMD, Google's Exact Match domain algorithm update was designed to rid SERPs of low-quality or spammy exact match domains. It was announced in September 2012.
Panda Update (#20) – September 27, 2012
Affecting 2.4% of English language search queries, this Panda Algorithm update was a significant milestone in Panda as it had a week to completely rollout.
Panda Update 3.9.2 (#19) – September 18, 2012
Impacting less than 0.7% of queries, Google announced the rollout of a Panda data refresh that would impact results for the next few days.
Panda Update 3.9.1 (#18) – August 20, 2012
Another small update that will affect less than 1% of search queries, Google confirmed the Panda data refresh in August 2012.
Panda Update 3.9 (#17) – July 24, 2012
A small update from Google in July 2012 for Panda, it affected less than 1% of search results.
Panda Update 3.8 (#16) – June 25, 2012
June 2012 saw a Panda data refresh announcement from Google which impacted less than 1% of worldwide search queries.
Panda update 3.7 (#15) – June 8, 2012
June 8th, 2012 saw Google confirm the rolling out of a Panda algorithm refresh which was to impact less than 1% of both worldwide and U.S. only search queries. Despite revealing this data, some ranking tools believe the data collated from it suggests that it was a larger Panda update than recent previous updates
Penguin Update 1.1 – May 26, 2012
A Penguin algorithm data refresh was announced by Matt Cutts of Google on May 26th 2012. This was to impact less than 0.1% of English searches. This saw websites who had been missed by Penguin the first time around taking a hit.
For those websites that had improved after having their rankings downgraded from the original Penguin launch, they saw some recovery after clearing up link profiles.
Panda Update 3.6 (#14) – April 27, 2012
An April 2012 Panda algorithm refresh was confirmed by Google on this date.
Penguin Update – April 24, 2012
After much anticipation, Google announced the Penguin update that was meant to downgrade sites that engaged in aggressive webspam. This was for sites who engaged in over-optimisation like unnatural linking and keyword stuffing as this violates Google's Webmaster Guidelines. It affected 3.1 percent of English language queries.
Panda Update 3.5 (#13) – April 19, 2012
In April 2012, a Panda data update occurred and was confirmed by Google's Matt Cutts.
Panda Update 3.4 (#12) – March 23, 2012
Impacting up to 1.6% of search queries, Google released a Panda update in March, 2012.
Panda Update 3.3 (#11) – February 27, 2012
In February 2012, Google released the Panda Update 3.3 which made it more accurate and sensitive to any changes that were made on websites.
Venice Update – February 27, 2012
The Venice Update was designed with local search in mind. It was to offer results based on the searcher's physical location or on their IP address. This also helped Google consider if a query or webpage had local intent.
Page Layout Update – January 19, 2012
Known as 'Above the Fold', this update targeted websites that hosted too many ads above the fold. This is where users had to scroll down before being greeted by the website's content. This update affected less than 1% of websites according to Google.
Panda Update 3.2 (#10) – January 18, 2012
A Panda Data refresh was confirmed by Google in January of 2012.
Google Updates 2011
Panda Update 3.1 (#9) – November 18, 2011
A minor Panda update occurred on November 18th, 2011 that impacted less than 1% of searches according to Google.
Freshness Update – November 3, 2011
The Freshness update was designed to alter the ranking algorithm to deliver search results that were considered hot topics or current events in order to be more relevant to searchers. A rather large update, it impacted 35% of all searches.
Panda Update 3.0 (#8) – October 19, 2011
New signals were added with the Panda update which recalculated how the algorithm impacted websites. This was released in October 2011.
Panda Update 2.5 (#7) – September 28, 2011
This was another update for the Panda algorithm, it was announced by Matt Cutts from Google that there would be Panda-related updates in the coming weeks.
Panda Update 2.4 (#6) – August 12, 2011
A Panda update was rolled out for all English-speaking countries and every non-English speaking country bar Japan, China, and Korea. This was announced in August 2011.
Panda Update 2.3 (#5) – July 23, 2011
It appears Google has rolled out another Panda update though it is unclear whether new factors were introduced or whether this Panda update was simply implementing continuing ranking and data factors.
Panda Update 2.2 (#4) – June 21, 2011
A continued Panda update, these were implemented by Google to occur separately from the main index, meaning they weren't happening in real time.
Panda Update 2.1 (#3) – May 9, 2011
While this is sometimes referred to as the update Panda 3.0, it was confirmed by Google that it was a simple data refresh as there were continuing updates to come within Panda.
Panda Update 2.0 (#2) – April 11, 2011
This was the first major update in the core Panda Algorithm. This included new signals being rolled out and integrated included data around site users that were blocked via the Chrome browser or directly by SERPs.
Panda Update – February 23, 2011
Originally an unnamed Google algorithm update, Panda was a major algorithm update that impacted a whopping 12 percent of queries. This shocked the SEO industry and ended the concept of the 'content farm' which was a business model that had existed for some time.
Named after the engineer who came up with the primary algorithm breakthrough, it cracked down on sites with high ad-ti cibtebt ratios and other sites with quality issues. It rolled out over a period of months starting in the U.S. in February 2011.
Google Updates 2010
MayDay Update – April 28, 2010
This update saw a change on how Google assessed sites that were best for long-tail search queries, Rolled out between April 28th and May 3rd, this algorithm change was confirmed by Matt Cutts at Google.
Google Updates 2009
Caffeine Update – August 10, 2009
The Caffeine update saw a new web indexing system being introduced by Google. This gave Google the ability to crawl and store data more efficiently. This update resulted in 50% of fresher results.
Google offered developers early access in August 2009 before rolling out the update officially in June 2010.
Vince Update – January 18, 2009
Rolled out in January 2009, the Vince update was designed to favour first page rankings for big brand domains in comparison to sites that had been ranking despite being less authoritative and had won visibility simply through SEO efforts. It also sorted affiliate sites. This update created noticeable change for broad-level and competitive keyword terms
Google Updates 2005
Big Daddy Update – December 15, 2005
A gradual update for Google's infrastructure, it was rolled out in December 2005 and was completed by March 2006. The update was designed to handle technical issues like URL canonicalisation and redirects.
Big Daddy didn't accept all websites into its data centre due to linking issues. These issues included things like paid links, spammy links, and excessive reciprocal linking.
Jagger Update – September 1, 2005
Released in three phases, the Jagger update was designed to crack down on unnatural link building as well as other types of spam including paid linking. The second phase in October saw the most impact before being completed in November.
Google Updates 2003
Florida Update – November 16, 2003
With the Florida update, Google highlighted a change in how SEO was to be done. Many websites, including retailers who relied on affiliate marketing, were going to be prevented from using spammy tactics to aid growth.
This update was to prevent keyword stuffing and using multiple sites under the same brand as well as hidden links and invisible text. This allowed for sites to truthfully rank for high-commercial keywords. Sites that relied on these previous methods saw their rankings decimated before the holidays – terrible for eCommerce sites.