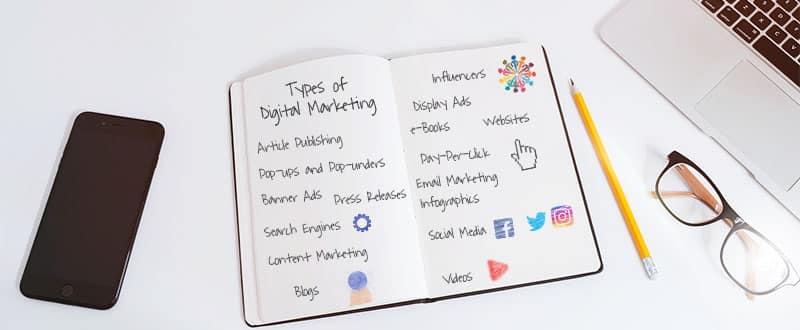 The importance of digital marketing to the success of any organization has become paramount over most, if not all, other media. While other marketing methods still have some importance, digital marketing, especially on mobile devices, has become the most effective way to find new customers and retain existing ones. Even when using other media for marketing campaigns, these efforts are enhanced by having a digital marketing campaign running in parallel.
SEE ALSO: How to Learn Digital Marketing
The Importance of Digital Marketing
Digital marketing is increasingly becoming automated. This automation is managed using artificial intelligence systems to give a consistent response to customers and for data mining of the organization's database to look for patterns that create opportunities for more sales.
Companies that develop a comprehensive strategy to coordinate digital marketing efforts with the strategic goals of the organization do better than those who do not pay attention to their digital marketing campaigns. One advantage found in managing digital marketing campaigns is that success or failure happens in real-time.
For example, using the principle of A/B testing, it is easy to put up two (or more) landing pages at the same time, send some of the web traffic to one of the web pages and an equal amount of the web traffic to the other ones, and then determine, which landing page has the highest click-through ratios and the highest conversion rates (making sales).
Digital marketing enhances brand engagement by using multiple contact points and presenting marketing messages in a creative and dynamic way with wonderful visuals. Consumer behaviour can be tracked online and customer loyalty rewarded by using a gift points program.
Here is a guideline, in alphabetical order, which identifies the most commonly used types of digital marketing:
For companies who have a consumer product to sell, the opportunities for digital marketing on Amazon are extraordinary. Besides selling through Amazon and using Amazon for order fulfilment, Amazon also offers pay-per-click (PPC) advertising to generate more sales.
Many manufacturers introduce new products on Amazon before attempting to place the products for sale in brick and mortar retail stores. The sales on Amazon help them determine the potential popularity of new products with consumers before they make the investment necessary to get the same product in regular offline stores. Others sell exclusively online and product placement on Amazon is critical to their digital marketing success.
Alibaba focuses on business-to-business (B2B) wholesale transactions. Businesses buy or sell on Alibaba. It is the largest source for online import and export transactions, with product listings from all over the world. If your product sells wholesale to other companies, you need to list it on Alibaba as part of your digital marketing strategy.
Article Publishing
Writing articles as a form of self-promotion helps establish your reputation as an expert in a certain market niche. There are many article publishing websites that allow posting of articles for others to reprint. These articles can contain links back to your website.
Some examples of article publishing websites are:
ArticlesBase
ArticlesGratuits
Banner Ads
Banner Ads are the old-school style. The click-through rates are abysmal now. By using the Google Display Benchmark Tool, it is easy to discover that the average click-through rates are around .00014% to .0002% depending on the industry sector. That is the equivalent of two clicks per 1,000 displays. If you pay per view of the banner ad, it can be a very big waste of advertising money. It is best to pay-per-click and you will need many thousands of impressions to have an effective digital marketing campaign using banner ads.
Blogs
Blogging and video blogs (vlogs) are good ways for professionals to establish themselves as experts on a particular subject matter. Bloggers can also make guest posts on the blogs of others.
Content Marketing
Content marketing is a digital marketing strategy, which includes the creation and the distribution of content in the form of articles, newsletters, how-to guides, infographics, videos, podcasts, and e-books in order to attract members of a target market and stay in contact with them so that they ultimately become customers.
Craigslist
Craigslist is the free online classified ads system and can be used effectively to generate business leads by placing ads on the various lists for all the major cities around the world.
Display Ads
Display Ads perform almost exactly the same as banner ads. The only difference between the two types is the location on the web page. Banner as is at the top of the web page. Display as can be anywhere else on the web page.
eBay
eBay is an online system that can be used to sell new or used items on either an online auction basis to the highest bidder (with minimum reserves possible) or on a "buy-now" basis.
e-Books
e-Books can be written on any subject. They are usually short and around 10 to 100 pages long. They can be used as giveaways or sold from promotional websites and/or sold on Amazon.
Email Marketing
Email marketing consists of collecting email addresses to create an email list and then sending regular emails or newsletters to the people on the list. Best practices include using a double opt-in method, which requires a person to sign-up for the email list on a website and then confirms their sign-up by responding to an email sent to their email address. Unsubscribe methods need to be featured at the bottom of each email to make it easy for those not wanting to receive the emails to stop their email subscription.
It is possible to rent email lists; however, it is very important not to be creating spam, by sending out unsolicited emails in bulk, which is illegal in most jurisdictions.
Growth Hackers
Growth hackers are marketing experts who specialize in using digital marketing to grow a business.
Influencers
Influencers are people who have developed a significant following on social media. A person who publishes rich, interesting content has the chance to build up a significant number of followers on social media systems. Examples of this are those that have many subscribers to their YouTube Channel.
Popular influencers can have one million followers or more. Companies can sponsor such influencers to have them mention the company or the company's products in their posts or vlogs. Companies can also advertise using commercials placed at breaks during these vlogs while they are being viewed.
Infographics
Infographics are artistically designed one-sheet summaries of information that is presented using drawings or photos mixed with short captions. They are meant to convey a message in a clear, easy-to-understand way, and in a summary fashion. There are free online infographic makers that use templates, making it simple to create them.
Mobile Apps
Mobile apps are software applications that run on smartphones, which can be purchased or downloaded for free from the Apple iTunes store to use on the iPhone or iPad and from the Google Play store for Android phones.
Organizations create these mobile apps to give them away for promotional purposes or sell them as an additional revenue stream.
Online Yellow Pages
The old-style printed Yellow Pages now usually sits on the floor collecting dust or is put in the recycle bin. Online Yellow Pages directories have replaced the printed versions. Wikipedia has a long list of online Yellow pages from around the world.
Pay-Per-Click
Pay-per-click also is known as PPC advertising is a type pf digital marketing campaign where web users click on an advertisement that could be a display ad or embedded links in the text. The advertisers typically bid through systems like Google Adwords on the price they are willing to pay for each click and pay that amount for every click the advertisement receives.
Podcasts
Podcasts are audio recordings broadcast on the Internet.
Pop-ups and Pop-unders
These are web pages that load automatically either above or below the web page being viewed. Many Internet users have pop-up blocking software to prevent this from happening because it is very annoying.
Press Releases
Creating press releases about newsworthy events that happen for an organization helps get more attention. These press releases can be distributed through free systems such as Free-Press-Release.com, Newswire.com, OnlinePRNews.com, PRLog.org or paid systems such as PRweb.com.
Retargeting
Retargeting (also known as remarketing) uses browser tracking cookies to show ads to web users more than once on a network of websites of things that they had an interest in viewing or searching for before.
Sales Funnels
This is a method of qualifying customers to identify the best sales leads.
Search Engines
Organic (non-paid) search results are responsible for up to 60% of an average website's traffic according to Search Engine Land. Search engine optimization (SEO) techniques are used to make a web page rank higher on the search engine results page (SERP).
Social Media
Social media continues to be a dominant force, especially among mobile users, with Facebook being reported by Statistica as the most popular social media system that has over one billion global users. YouTube is second. Twitter is third, followed by all of the rest.
Videos
Videos that are uploaded to YouTube or Vimeo can be live-action, animation, 3D animation, or live streaming.
Websites
Every organization needs a website that is easy to use and that displays properly on any type of device.
Summary
We hope this guide to digital marketing was helpful to explore and to use as a checklist in the development of your comprehensive digital marketing strategy.