How can startups afford software development? A successful tech entrepreneur who specialises in development for new businesses called into the ProfileTree studio to take part in an insightful discussion.
Tom Hughes, of 3rd Digital, explained his own fascinating background and took us behind the scenes of his award-winning company.
He began by outlining his route to becoming CEO of a Northern Ireland-based software development business.
"I had more than 20 years in mechanical engineering, ten of those were in automotive supply chain and a few years in general industrial. I had ten years in industrial hydraulics, a very specialised market, and worked all over the world.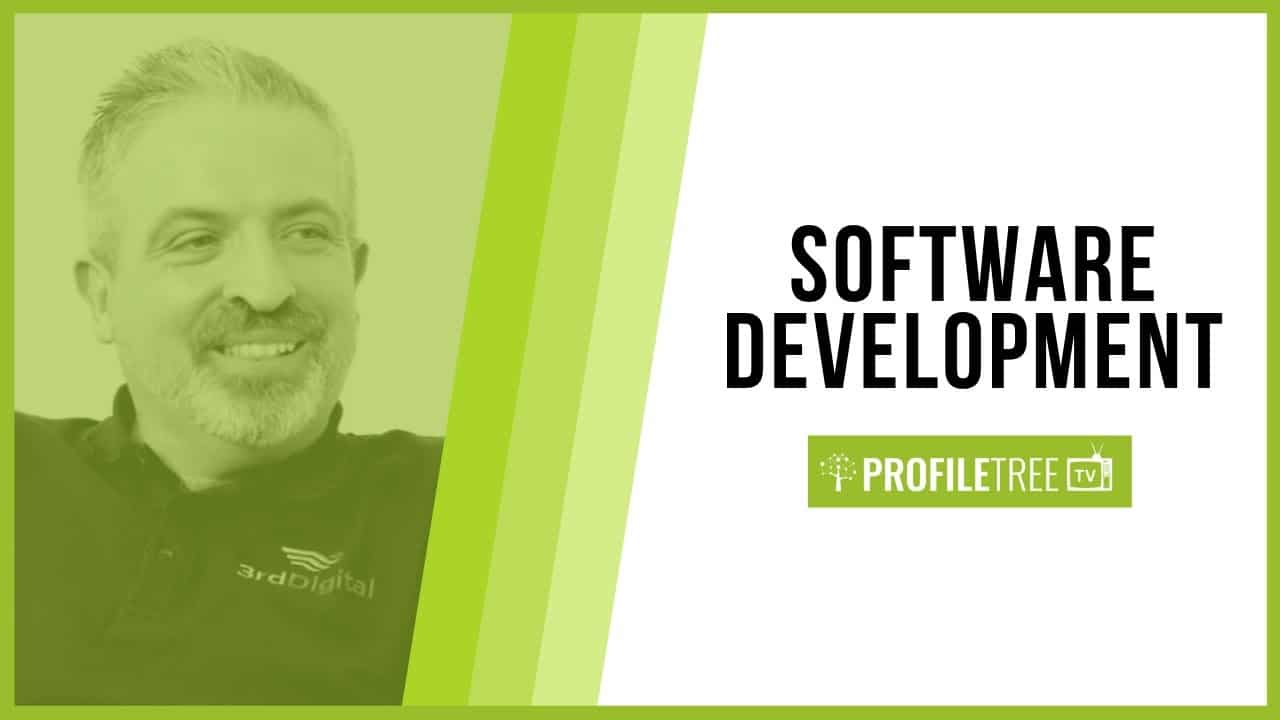 "I was lucky enough to own a few percent of my last business, we grew that into a couple of hundred million dollar business and sold it in 2013.
"From there, a total change of lifestyle: instead of flying more than 200 times per year, I wanted to spend more time with my family and do more based in Northern Ireland. I ended up mentoring some startups and other businesses plus invested in one or two.
"In 2015, I thought I'd have my own product startup. It was called JumbleFund, basically Gumtree crossed with JustGiving, and that was my first foray into the into the tech start-up world. Everything was great but when we wanted to develop the product it was a complete nightmare in terms of time as well as cost."
The turning point came when a colleague asked a contact he already knew in India for help.
"We started to give him bits of work and within a few months we had set up a company of our own, today we have 20 developers.
"We have worked on another couple of our own products, but since August 2019 I've really been focusing on selling our development to startups because that's what we know about."
Tom's business offers development expertise including web and native mobile apps and can draw on their own experiences with in-house projects.
"Our products have not been stellar successes, we've made so many mistakes ourselves we're proud of it!
"I used to joke when I was in industrial hydraulics that 'if you learn by your screw-ups then I'm a genius'. That's how I feel about where we're at. I don't describe myself as a genius, but we've been on a really steep curve and we can share our experience authentically with other startups to stop them doing the same silly things that we've done ourselves.
"We've been on both sides of the table."
Tom, who has a huge interest in Eastern spirituality and plans to live in India part-time in the future, added some essential insights into outsourcing work to India.
"Whilst I love working with colleagues in India, it shouldn't be a secret there's a real cultural gap between Western people and Eastern people. I wouldn't recommend that any startup, or grown-up company, outsource to India without a lot of homework.
"That's part of the value we add because let's say you go online and find a dev house in India or answer an email, you're going to have a nightmare. This is also the fault of the person who doesn't know how to communicate properly to someone who is in a very different culture with a very different way of communicating from us.
"We're good at this, because it's what we do. We're more expensive, therefore, than going direct to India but you're going to have all the advantage of working with an Northern Ireland or European-based house with all the extra flexibility.
"We basically charge three to four times more than we charge our Indian company, I'm very open with our customers about our business model."
Tom explained that working with colleagues in India meant it was less of a serious issue when a project slips a little from the original time estimate due to the project not carrying the cost of a developer in Northern Ireland.
"We have a lot more freedom in this way, it's a big advantage. We can practically dedicate a person to a startup for not big money."
He also explained that availability of a developer is almost immediate in India compared to a lead-in time of up to three months for a developer in Northern Ireland.
To discover much more about software development for startups, and how outsourcing can help, see our full video interview. From software development startups to companies who supply software development services for start ups, it is clearly a complex and fast growing opportunity for more businesses to support within.
Insights from ProfileTree Business Leaders
What is Energy Monitoring | What is Sustainable Tourism | How to Create Digital Products | Online Learning for Business | Why is FDI Important | How to Create a Culture of Innovation | What is Augmented Reality | How to Manage a Restaurant | Do you have a Tourism Strategy | What is Conflict Resolution | Intercultural Training | How to use Mindfulness at Work | Bookkeeping for Small Businesses | How to get a Better Job | How to Start an eCommerce Business| What is Learning Technology | Starting a Business| Advice for Developers