WordPress has played a massive role in making it possible for businesses of all sizes to start, own and manage a website. This is largely thanks to its accessible pricing and ease of use.
However, many business owners still need a little bit of help getting started with WordPress.
With that in mind, we've created a series of WordPress tutorials, for users with even the most basic levels of knowledge. Since not everyone can be a tech whizz, we'll assume no prior knowledge.
In the first part of this series, we'll start with the complete basics of buying, configuring, and launching a WordPress site for your business.
With that in mind, let's start with the most basic question of all.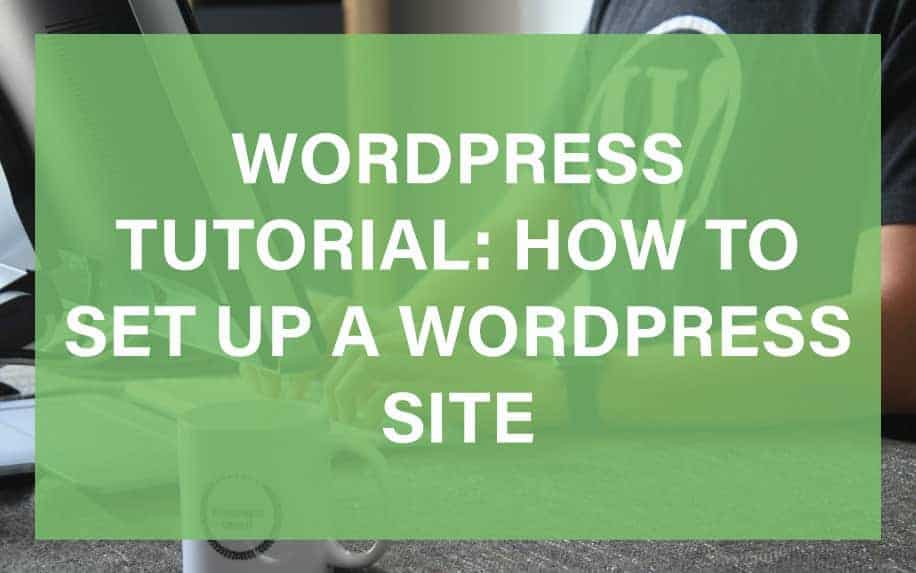 What is WordPress?
WordPress is one of the world's biggest blogging and website management platforms. Essentially, WordPress offers a combination of an easy to use content management system and other features, like hosting and a front-end design tool.
This makes WordPress the perfect option for people with relatively little technical expertise to create and manage professional looking websites.
Beyond this, WordPress offers a number of additional features to ensure your website is as well optimised as possible for search engines, conversion rates and user experience. Some of these are native, while others are offered using third-party tools known as plugins.
With that definition in mind, here's our step-by-step guide to creating a WordPress site from scratch.
Step 1: Choosing your Site Name & Other Details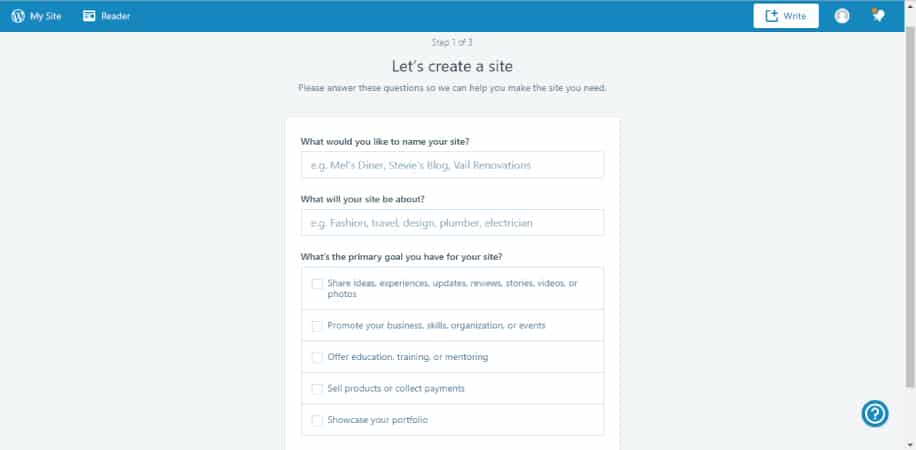 The first step to creating a WordPress site is navigating to the website itself. You can see in the above image the URL/web address of this. When you are on the site you will be brought to a place to sign in to your account, or create a new one.
Here you can also hit sign up and you will be brought to the screen shown above.
The above is the first step of three to creating your WordPress.com site. Here you will choose the name of your site, explain what the site will be about. It's worth putting the effort in here, as WordPress offers a number of suggestions to help you manage your site.
These are targeted at best practices in different industries, taking the leg work out of various kinds of website optimisation.
Step 2: Choosing your Domain Name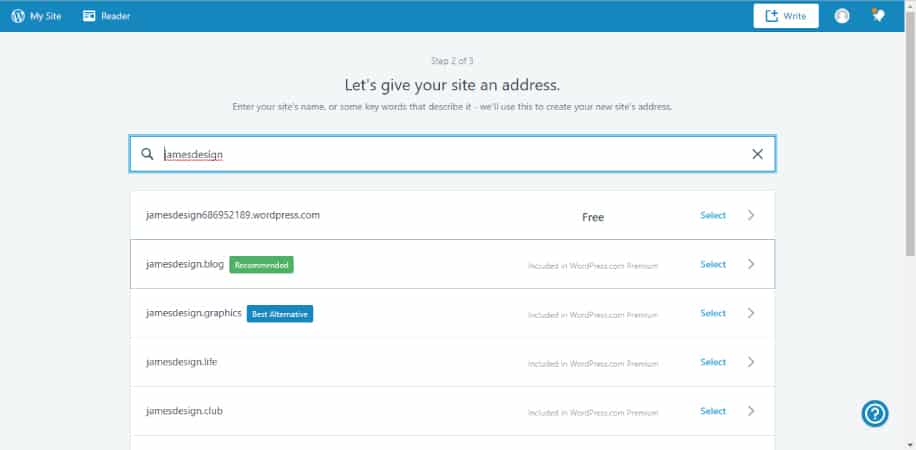 The next step to creating your WordPress.com site/blog is choosing your domain name. In the above image you can see that there is a search bar to help you define the domain name you would like. We have chosen jamesdesign.
From here WordPress.com shows you suggestions for your domain name. You can choose one of these names (which are free of charge). Once you select a name you will be brought to the third step.
This is choosing your domain name. This step is crucial, as your domain name is highly tied up with your users' ability to find your website. As a rule of thumb, your domain should be short and memorable, while also matching the main focus of your site as closely as possible.
Of course, if you're building a website for an existing company, rather than starting a new brand from scratch, your best bet is to match your domain name to your existing brand. This will save you time and effort in promoting your new site, by drawing on existing brand awareness.
Step 3: Choose a WordPress Plan that is Right for You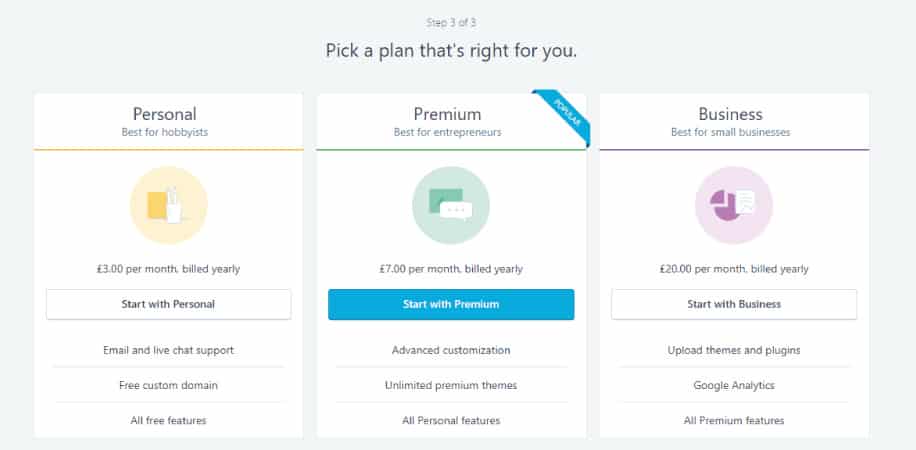 The next step in creating your WordPress site is choosing the right subscription plan for you. There are three different pricing tiers which you can choose from. There is the Personal plan, the Premium plan and the Business plan.
The Personal plan costs £3.00 a month and is perfect for a hobbyist, who would like to blog about their hobbies and their life. The features you will receive with this is email and chat WordPress.com support, free domain and all the free features.
The Premium plan is recommended by WordPress.com. It is more suited towards entrepreneurs as they would like to make their business more official with a website. With this plan you will have advanced customisation, access to more premium themes and all the personal plan features.
This plan will cost £7.00 a month.
The final plan will cost you £20.00 a month. This plan is perfect for established businesses. With this plan users will get access to all the features in the Premium plan, Google Analytics and also access to more themes and plugins.
For example, for jamesdesign.blog, we'd probably choose the Personal plan, since it's primarily aimed at blogging around personal topics. By contrast, an established digital agency like ProfileTree couldn't manage without advanced features.
Step 4: Choose Privacy Settings for your WordPress Site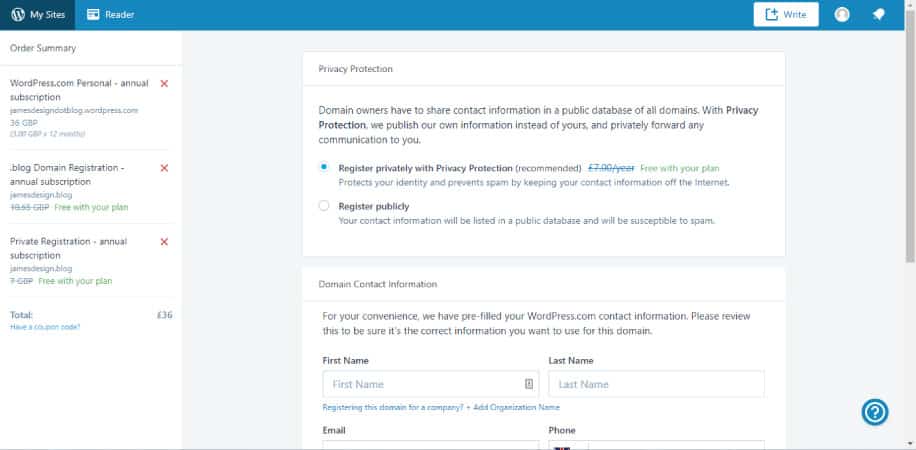 The fourth step is quite simple. You can either choose to protect your details associated with your domain name from being made public. Of course, this is highly recommended. Even if your details aren't sensitive, making your details public can have incredibly annoying consequences.
Later you can also look into adding additional security features to your WordPress site, either with external hosting or extra security plugins.
It's also worth noting at this point, it's also worth noting that you should be conscious of the security implications of any other features to your site. For instance, if you implement an email signup form, it's crucial that this is GDPR compliant.
This may feel like we're getting ahead of ourselves, but it's very important to get into the habit of considering the security implications of every decision you make while managing your site.
Step 5: Adding Contact Details
WordPress requires you to then enter contact details for your blog/site. These are the details that will be protected by the privacy protection. Here you will need to enter your name, address, email and phone number.
This process is pretty self explanatory, but there are a few things to keep in mind.
For instance, it's important to use an email address and phone number that you have regular access to, in case you ever get locked out of your site.
Additionally, if you're planning on using a custom email address for your website, there are a couple of steps you might want to take at this point. For example, it's possible to set up a mail box in WordPress, but you might equally prefer doing this through a third party.
Either option is fine, but it's best to decide what way you'd like your business emails to be hosted earlier in the process, rather than choosing one option and then backtracking down the line.
Step 6: Next Steps After Starting a WordPress Site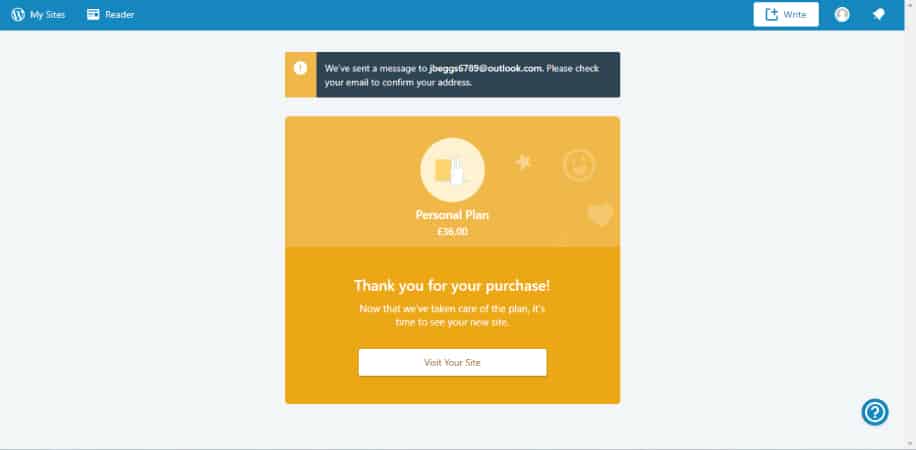 The final step in creating your site/blog is visiting your site. From here you can start to build your WordPress.com site. Here you will be able to start to write posts and create a variety of pages. At this point, it's worth beginning to think about what content will be on your WordPress site.
You'll also want to start thinking about the look and feel of your site, using WordPress themes. These are essentially premade design templates for your website.
Once you're happy with the configuration of your site, you can move onto the second tutorial in our WordPress basics series and create your first post.