Some theories say that the qualities of a great leader are inherent, meaning some are born with it as a skill and some unfortunately aren't. This is where online leadership courses can help.
We may not have the charisma of Dr. Martin Luther King Jr, or the effective public appearance of Barack Obama, but there are certain qualities we can take away from these great examples.
Prof. Richard Wiseman of the University of Hertfordshire told Forbes that charisma is '50 percent innate and 50 percent trained', meaning that with the right leadership courses, training and practice, you can be at least half as good as the greatest leaders of all time!
In the digital age, it is easier than ever to look online and find leadership courses to help unlock your abilities and start benefiting in your workplace…
What is Leadership?
What is leadership? Conventional dictionaries hint at leadership as the action of motivating a group of people or an organisation towards achieving a common goal. What could this mean for your business?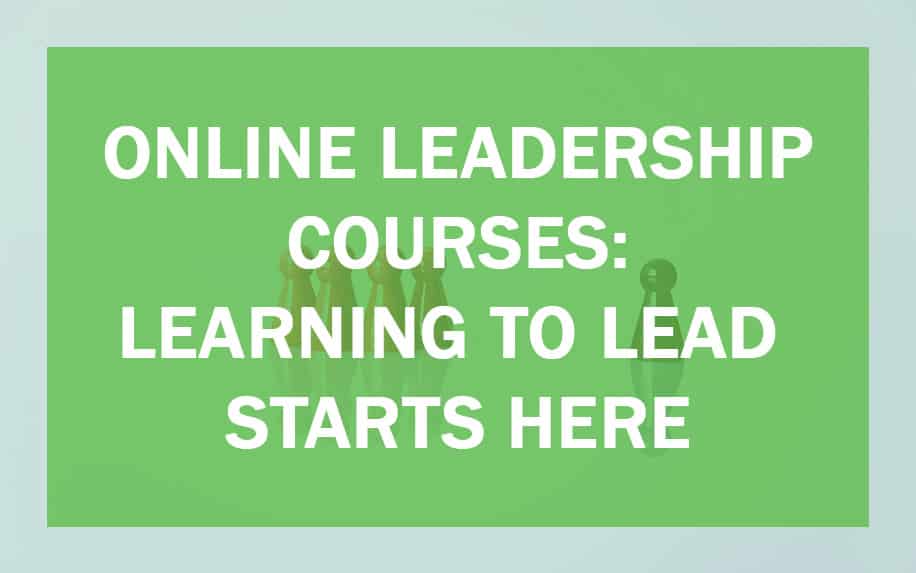 Leadership depends heavily on the communication of ideologies from one party to another with an amount of efficiency that will compel the receiver to act in the manner that the leader intends them to.
Generally, leadership entails the inspiration of action in a group or organisation.
People often use the words leadership and management interchangeably, but this is kind of a bad habit. While these skills are related, there are also a few very important differences.
One way this is often explained is that employees work for a manager because they have to, but they work for a leader because they want to. In reality, this isn't always an either or situation.
A better distinction is thinking about management as comprising things like scheduling and resourcing. This goes hand in hand with leadership, which is all about inspiration, coaching and motivation.
With that in mind, let's take a look at what makes a great leader.
Breaking Down Leadership
Leadership consists of different skills and qualities, which, when put together, make an effective leader. As we look through successful business leaders across history, we can pick out some qualities that most of them have in common.
While each quality is expressed differently depending on the leadership style and personality, focusing on these characteristics will help you become a better leader.
Online leadership courses can be specific enough to help you focus on a certain characteristic you lack. As a leader, you should be able to communicate eloquently and powerfully.
You need public speaking skills, and to become a good public speaker you need confidence and self awareness. These are only a couple examples of the leadership skills and qualities you should be focusing on.
Here are a few leadership qualities and skills to keep in mind as you are applying for online leadership courses. To ensure that you are choosing the right online leadership course, ask yourself if you're going to achieve or improve any of these traits through the workshop or course.
If yes, then it is definitely one to go for.
Leadership Qualities
Qualities are an individual's innate characteristics. In other words, these are things like attitudes, world views, experiences and priorities which make a person who they are. These can result from experience, and change greatly over time.
Let's look at some of the qualities which make someone an effective leader.
Passionate Motivation
Good leaders know how to motivate themselves and the people around them. The same motivation applies to you on a day-to-day basis. You can motivate those around you through bonuses and rewards for your teammates when they've exceeded expectations.
Recognition for a job well done and offering other kinds of encouragement will provide motivation to work harder.
Honesty and Trustworthiness
It's important to be a leader that people can trust. Through your words, your actions and personality your followers should trust you and the decisions you make in relation to the business. When something goes wrong, you go to the boss for help.
Be the figure that they can count on to ensure that things go smoothly even when they go terribly wrong. You need your employees to be able to come to you with struggles and concerns for the sake of the business' success.
Delegating and Assigning
Delegating is more than just throwing tasks at your subordinates. It's about knowing their strengths and weaknesses and placing them best where they belong. This will ensure your team's engagement with the success of the project.
Some believe that delegating is a sign of weakness. A leader should take charge of everything themselves, when in fact, delegating is a sign of strength and power.
Positive Spirit
Maintain a happy spirit and an affirmative vibe to your work and to the atmosphere around you. Maintaining a positive attitude can be done through simple acts like asking about one's vacation plans.
Taking the time to engage with them on a personal level creates a positive working environment. This way, when an employee needs longer hours, they won't mind putting them in.
Leadership Skills
Along with the right qualities, there are a range of skills that great leaders must possess. Luckily, unlike qualities, skills can be picked up with concerted time and effort. Let's take at the essential skills for effective leadership.
Powerful Communication
Verbal and nonverbal communication is extremely essential in any leadership position. You need to be able to clearly illustrate long term goals, short term goals and any tasks in between. Being in a senior position has its perks but it also has a couple downsides.
In order to appear as professional as possible, the work produced by you and the people you supervise needs to remain up to standards. For that to be possible, they need to know exactly what you want and exactly how to go about it.
Communication takes place through countless means, including one-on-one conversations, emails or team meetings. Being a good leader entitles you to be great at all forms of communication.
You can find an online leadership course on public speaking. Never underestimate the power of good public speaking skills and the impact this could have on your communication skills.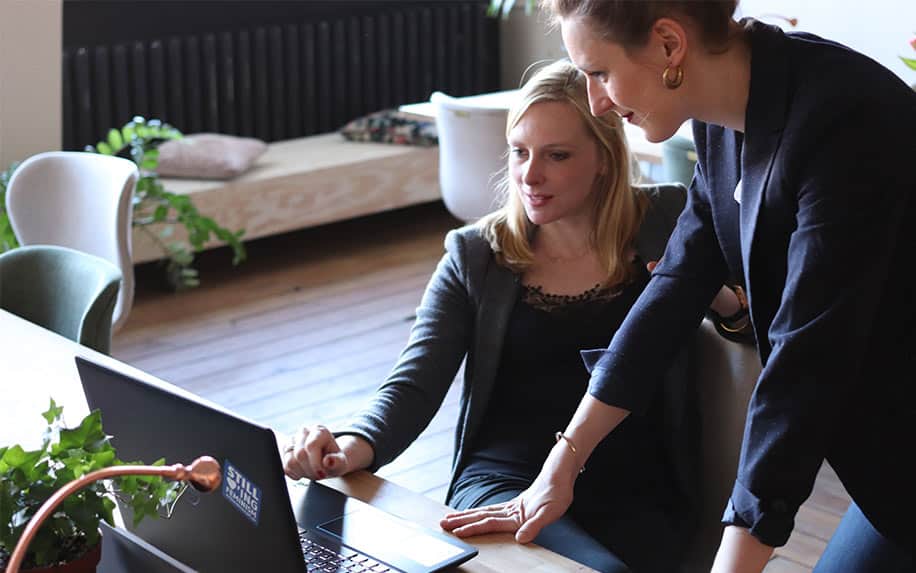 Creative Innovation
Being innovative is a skill essential to every leader. When your workmates come to you with an issue, you're in charge of finding ways to solve it. Sometimes the answer isn't as clear.
Try to revert to non-traditional ways of approaching a problem in order to solve it. That way you've solved the problem at hand and also inspired your workmates to not always choose the easy way.
Commitment and Responsibility
Being a leader comes with immense responsibility and commitment. Commit to your people and to the tasks at hand, and your followers will take you as an example.
You must be willing to put in extra effort and work to complete tasks and commit to what you've agreed to do. Commitment and responsibility also falls under your ability to take the blame for your teammates and accept the mistakes of your workmates.
Leadership Styles
Leaders lead in their own way, but we can categorise every leader into a leadership style. Many online leadership courses will offer specific leadership styles, but it all depends on the situation and your own circumstances.
Many leaders like to place themselves above the rest. Others prefer to blend in with the crowd.
These types of leaders and everything in between is split up into:
Coercive – 'do as I say',
Pace-setting – 'do as I do, right now',
Authoritative – 'come with me',
Affiliative – 'people come first',
Democratic – 'what do you think?',
Coaching – 'try it and see'.
Moreover, there are countless other types of leadership. When looking for leadership training, look for the leadership style that the course is advocating and assess whether or not it fits you and your environment.
Different Leadership Techniques
In addition to the various skills, qualities and leadership styles, experienced leaders have a number of techniques to get the most out of their employees in their arsenal.
Autocratic Leadership
While this type of leadership may not be the most favorable one, in many cases it gets the job done. Autocratic leadership occurs when a team is led by a single individual or organisation.
The team members have no say in decision making and only do as they're told.
In autocratic leadership systems, there is usually little or flexibility. Guidelines and rules are strict and policies are in place to support the decisions of the leader.
Democratic Leadership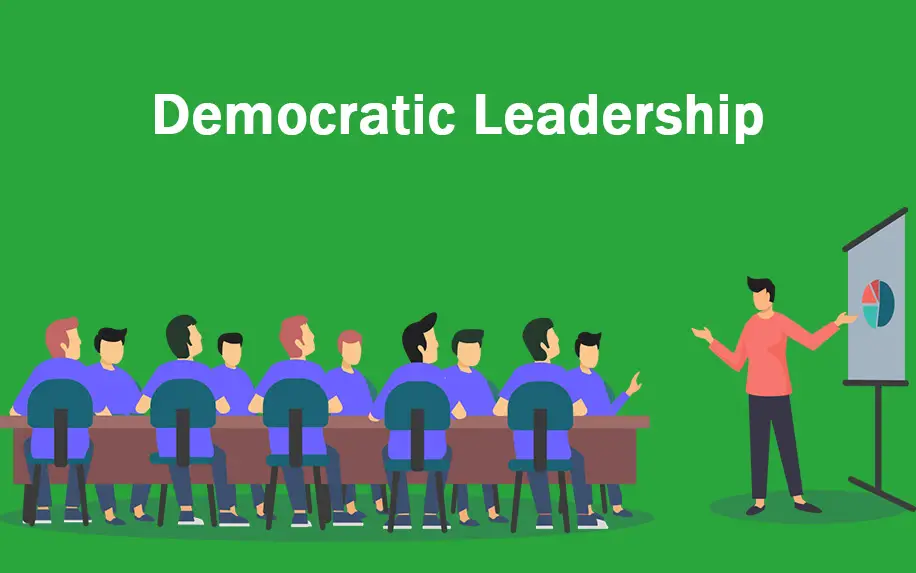 Unlike autocratic leadership, in democracies everyone is involved in the decision making process. The leader usually holds the final responsibility, however tasks determining the decision are delegated amongst team members.
Democracy is based on fairness, competence, courage and honesty. That's why it is one of the most preferred styles of leadership.
Strategic Leadership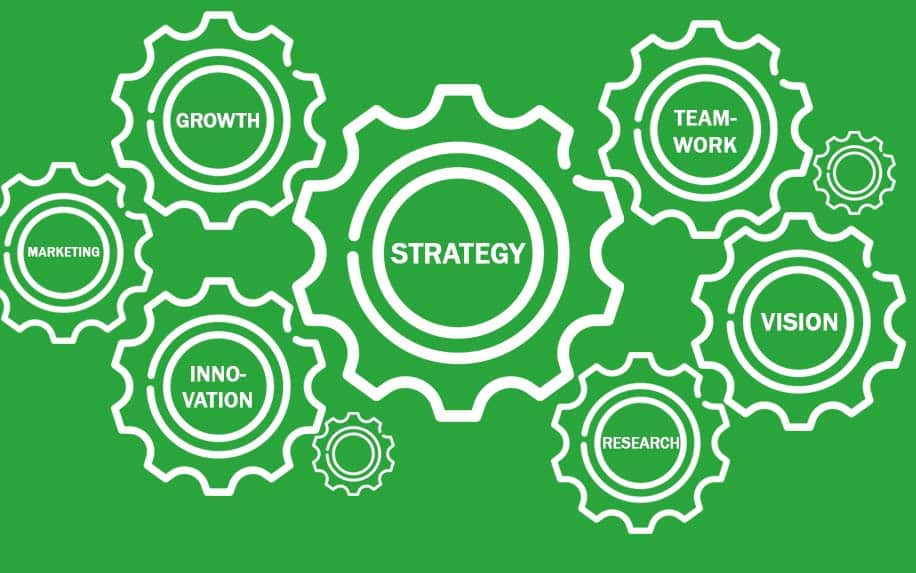 A strategic leadership style involves someone who acts as the leader of a group. Strategic leadership is not limited to those of a high rank of their organisation, but intended for a wider audience at any position in their team.
This leadership style bridges gaps that can develop between what is possible and what is practical. A strategic leader is perhaps most often most leaned upon in times of change. Well over half of the skills required for this style are heavily related to strategic thinking.
Transformational Leadership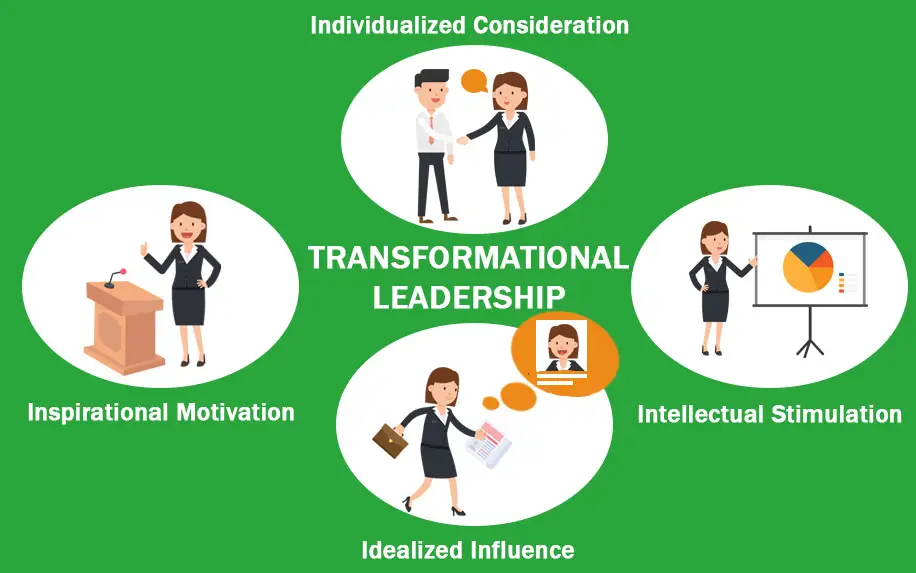 In contrast to most leadership styles, transformational leadership is mostly about the establishment of change. Transformational leaders often take on a motivational role, where they encourage others to do the best they can, and on rare occasions and often even more than they imagine they can do.
Transformational leaders often set even more challenging goals, but are usually rewarded with even greater results. A transformational leader empowers the people under them, and tends to have more inspired followers.
Leadership in the Workplace
In business, it's important to know where you stand. Sometimes, overstepping your boundaries can lead you to trouble, but if it's done right it will take you to great places. In the workplace, online leadership courses will help you make the right leadership moves to make yourself stand out amongst your peers.
The benefits this will bring you in the workplace are endless, they vary from social to financial benefits and it all depends on how you plan it out. Even if you are not specifically assigned a supervisory role, showing that you have the power to lead a team will put you at an advantage.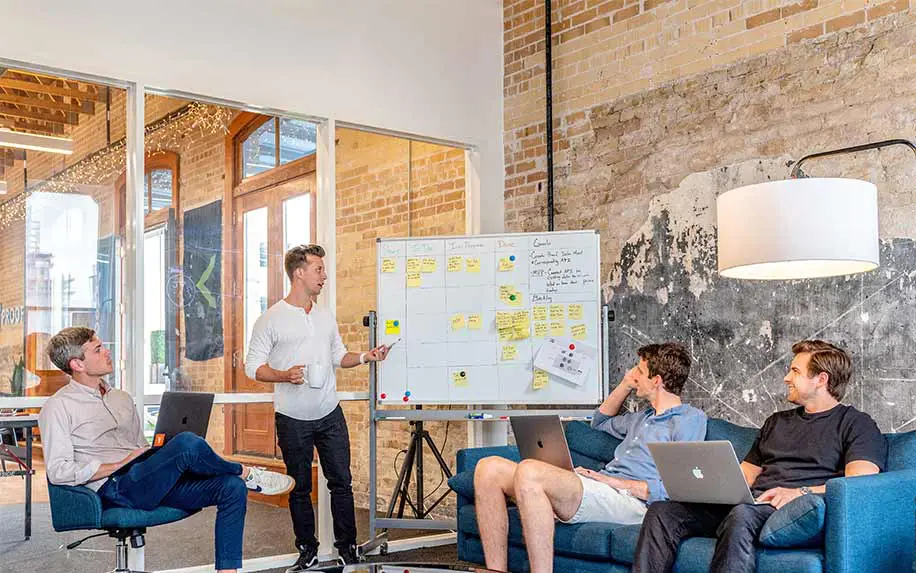 There are hundreds of online leadership courses available to help you enhance your business leadership skills through online leadership training. Although, here are three key steps to become a leader in the workplace.
Online Leadership Courses
Knowing what leadership is is not enough on the business playing field. For employees and business owners, online leadership courses are bound to benefit your own performance and your business' revenue. Here are some examples of online leadership courses you may choose to enrol in.
HBX Becoming a Better Manager from Harvard Business School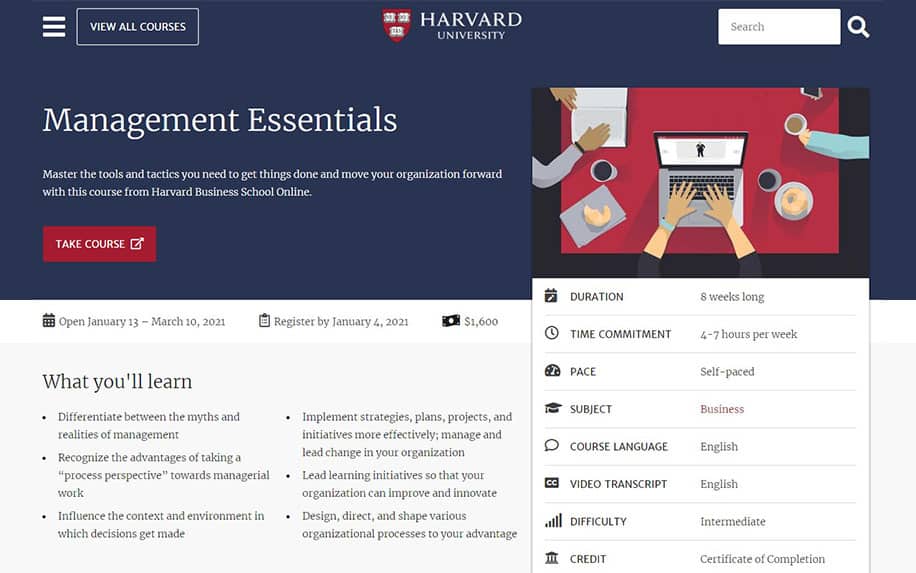 This online leadership course is one of the HBX certificate programs. These types of programs usually focus on one specific aspect of business management. The approach to HBX programs combines the rigor and quality of Harvard education, as well as the flexibility of it being an online leadership course.
The Becoming a Better Manager course takes six weeks, the flexibility of the online leadership courses allows you to log in at any time to complete the required 30 – 35 hours and meet the set deadlines.
In this course, skills you'll develop include recognising the advantages of taking a 'process perspective' towards managerial work, leading learning initiatives in order for your organisation to develop, and managing teams of varying sizes.
Leadership: Practical Leadership Skills from Udemy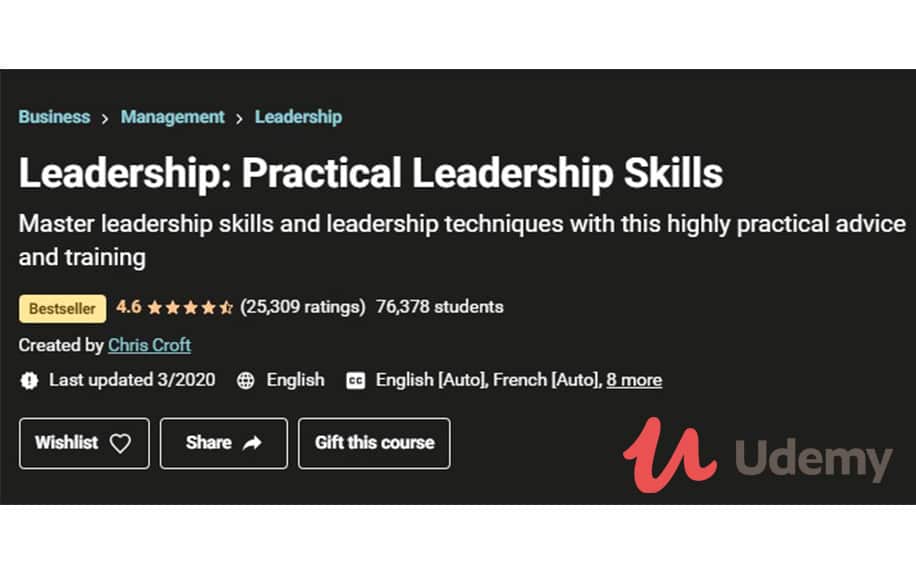 Take advantage of Udemy's attractive prices through their online courses on leadership and other business tips and tricks. Their course on practical leadership skills guides and trains you through mastering leadership skills and techniques.
The online leadership course package includes 2.5 hours of on-demand video and 15 supplemental resources. The Croft's course targets any person who manages at least two people in any context.
How to be a Great Manager and Great Leader from Master Class Management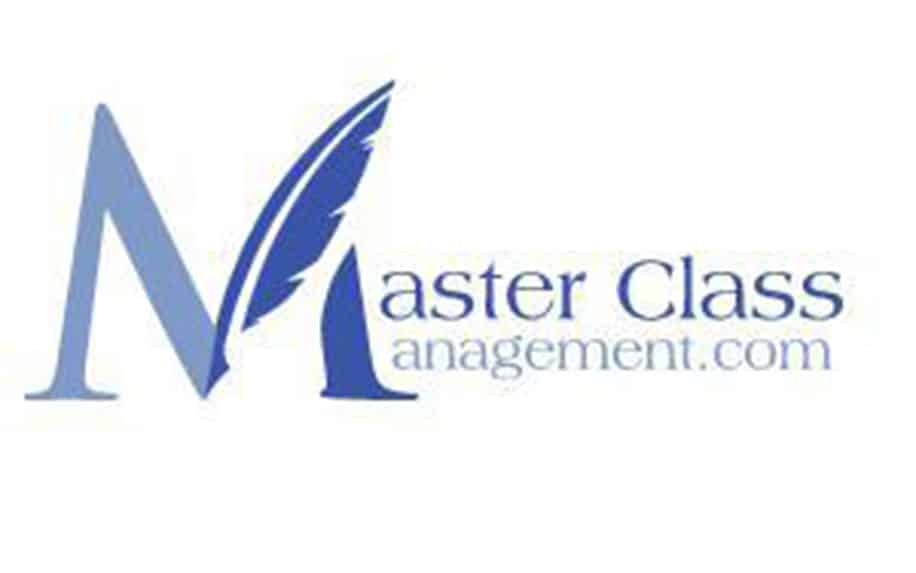 Master Class Management offers a set of online leadership courses under the theme of management. Through several courses available on the website, you will learn the fundamentals of leadership and its effect in management.
How to be a Great Manager and Great Leader is one of the courses available on the website. It tackles the means of becoming a great leader from a great manager by addressing the characteristics and skills needed to achieve that.
Each topic is divided into parts that include a quiz at the end to ensure your learning.
Inspirational Leadership: Leading with Sense Specialisation from Coursera
Through Coursera you can register for an online leadership course offered by the HEC Paris. This specialisation entails four courses and projects. Learners receive a certificate at the completion of the course.
The final project of this course allows you to apply the skills you learned to overcome a personal leadership challenge.
The course offers flexibility to match everyone's own commitments. however it does require around 2-4 hours per week for three weeks. The course is taught by leaders from different sectors of the HEC Paris.
The experts will help guide you through the course, even with no prior experience. The content of the course revolves around raising self-awareness and confidence. These skills enable you to act as a leader and develop your own relational skills and leadership style.
Think Like a Leader with Brian Tracy from Udemy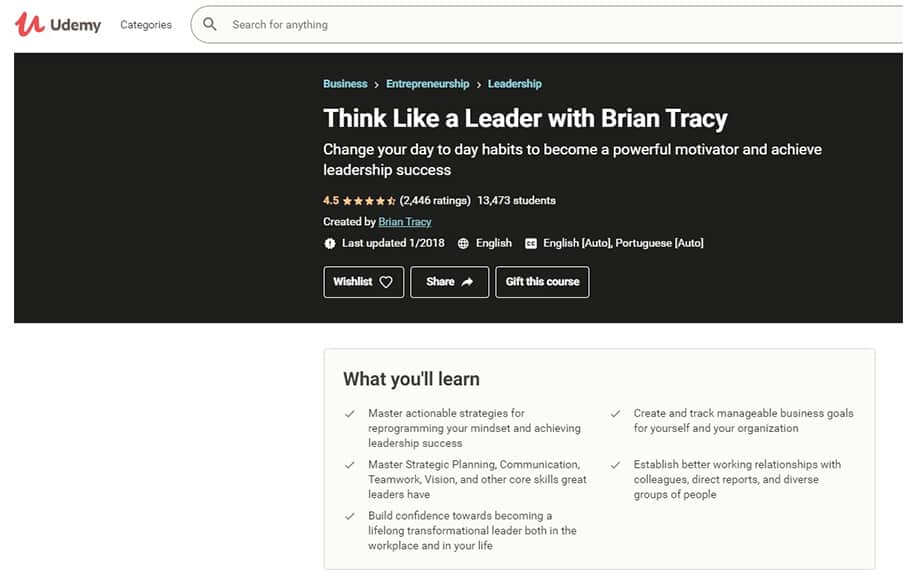 As the title gives it away, learn to think like a leader through the online leadership course with Brian Tracy. Through this course you will be able to tackle the root of cognition in order to become a leader.
The course includes 3 hours of on-demand video and 9 supplemental resources. However, having some background ideas on leadership from books or articles will be helpful.
You need to learn to think like a leader in order to become one. Brian Tracy will help you create and manage personal and organisational goals. The course helps establish effective relational skills and comes up with more developed strategies of approach within your leadership role.
Online Leadership Courses: Are They Right for You?
Ultimately, it is hard to imagine a working situation where you couldn't benefit from unlocking the skills involved in becoming a better leader. Public speaking, interpersonal communication and strategic thinking are just some of these skills.
Additionally, you don't have to already be in a leadership role in order to reap the benefits of exceptional leadership. In fact, the sooner you can utilise these skills and qualities in your career, the better.
Not only will this leave you better prepared for the next step in your career progression, it will also help you to get noticed and score that next opportunity faster than you'd imagine.