To develop an online business, it's important to know how to add an online store to your WIX site. You may want to add a store to your website after it has been set up for a range of reasons.
In this article, we'll show you how.
For example, a trend in 2018 for Youtube content creators was to set up their own clothing range focusing on their identity on YouTube. This was used as an additional way to monetise their audience.
Some of the biggest names such as PewDiePie, Jake Paul, Markiplier, Dodie and many others have their very own clothing range as a result of being able to add an online store to their websites.
Therefore, following this trend, it could be essential to add a store to your website even after the site is already established.if ecommerce is not your primary revenue stream.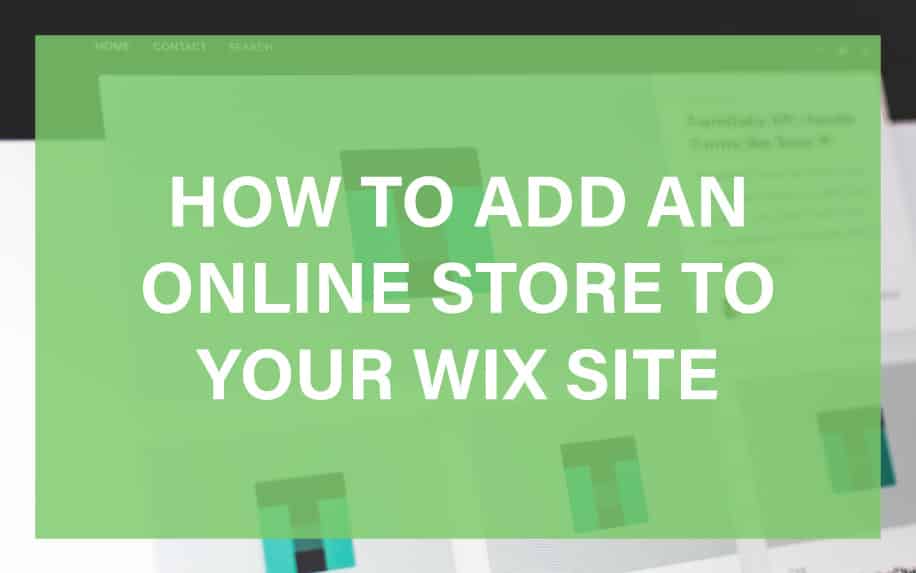 Let's explore how to add an online store to your WIX site.
How to Add an Online Store to Your WIX Site
Adding a store to an existing WIX site is very easy. As with all WIX functions, adding a site requires very little technical knowledge or expertise. This is why WIX is one of the most used web builders in the world for amateurs.
The first step to adding a WIX store to your site is to go to the apps element on the left hand side of your admin dashboard. There are between four and eight elements here and the apps element is the circle with four squares within it.
Once you click on the element, a new window will show, showing a range of apps including the likes of WIX forms and WIX chat. In the search bar, search for the store and the first app shown in the list would be WIX stores.
Beside the app you'll see a button reading 'Add to Site'. Click this button and a new page will be created in your site. A new element will also appear in the left hand side.
How to Use the Online Store in WIX
Whenever the store has been added, you will see that WIX has inserted examples of products into the store. You have full control of the design and the products of the store.
Within the new 'My Store' element there are five more elements.
There is the store manager element which allows a user to manage their entire store. You can also add a new product to your store from here.
Another element within My Store is the Store pages. Here you can edit the design of the different pages of your store by adding different elements such as store elements that best suit your site.

The last elements include 'Add Store Elements', 'Learn More' and an option to upgrade to accept payments. Whenever you have set up your site and store, you would need to upgrade your WIX plan to start accepting payments online once your site is published.
Some of the accepted payment methods include Visa, Mastercard and American Express. The upgraded plan is very much a premium plan and comes with a range of benefits.
How to Add a New Item to the Store
One of the most important aspects of an online store is to sell products.
There are many ways to manage products in the store. One of the best ways to add a product is to go to Manage Products when on the element within the editor. This is the method shown in the video.
In the window that is shown, in the top right there is a button which says New Product. When adding a new product, WIX will then ask if the product is a physical or digital product as each type of product has a different setup.
Most people will choose Physical Product. When clicked on, a new window will show. Within this window you're able to add the name, images of the product, information of the product such as the price and description.
Once the product is complete, click save. When done you will see the new product within the list of store products.
Select New Product,
Hit Physical/Digital Product,
Click Product Information,
Press Save.
Editing the Items Page
Whenever you have added a shop to the site, you will see the cart and items pages. It is essential to edit these pages to your site's theme. This makes the site look more professional and it makes the buyer of products feel more comfortable using your site to buy products.
To edit the items page, head to the 'My Store' element and then store pages. Click on the items/products page. This will make the items page appear. Then click settings and then customise page.

Use the following steps:
Go to My Store,
Choose Product Page,
Click Settings,
Select Customise Page.
From here, the user can edit the layout of the items page, change the colour and fonts used, to make it consistent with the rest of your site.
Adding a WIX Store: Tips and Tricks
Depending on your website you may want users of the site to be able click to get to the shop. This is done mainly on sites that don't offer too many products such as the example site we used.
To do this create a new shop page and place the store page as a hidden secondary page. Link a button to the store page from the shop page, just like in the example video.
Another tip would be, always add a SKU code to every product. By having a SKU code it can help you understand stock levels a lot easier and it also makes it easier for the customer to reference certain products.
For example a SKU code of 'CHAIR127890' could mean a type of chair and it makes it easy to identify the type of product. This would be the same for 'TABLE127890'.
Finally, it's important to promote your new WIX store across your existing marketing channels. Most importantly, you should collect email addresses on your store in order to use drip-fed marketing campaigns.