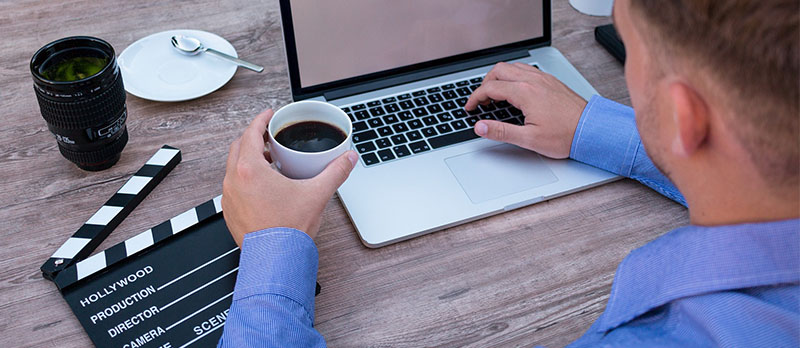 Many organizations and businesses are using video production services to make high-quality videos for educational, instructional, and promotional purposes. A video can give a compelling message and is far more likely to result in a click-through by a web visitor wanting to learn more about the subject.
SEE ALSO: Snapchat for Business
The Power of Video
After the Google search engine, YouTube has the second largest amount of web traffic. YouTube statistics notes that over one billion people watch videos on YouTube in the hundreds of millions of hours each day. This number represents about one-third of the people that use the Internet. The most popular videos on YouTube are music videos. Each of the top ten music videos has been viewed over one billion times and the number one spot is still held by "Gangnam Style" performed by Psy, which currently has over 2.6 billion views.
Besides music videos, there are many other types of videos that have gone "viral," (become immensely popular).
Videos can be used as commercials on television and also placed on YouTube. Five of the top ten commercials shown on YouTube during 2016 were also aired during the Super Bowl. It is interesting to note that YouTube users are purposefully seeking out television commercials on YouTube in order to watch them and perhaps more than once. Such is the power of high-quality, professionally produced videos that are so distinctive that people want to watch them over and over again.
Business Insider reported on the number of viewers that watched the top ten commercials for 2016 as the following:
10. This tenth spot in the top ten for 2016 is held by a 50th Super Bowl commercial made for Skittles called "The Portrait," featuring Steve Tyler of Aerosmith with over 24 million views.
9. The ninth spot for 2016 is a 50th Super Bowl commercial called "#Pokemon20" with over 25 million views.
8. Eighth place goes to the Super Bowl commercial for Hyundai called "The Chase" with over 26 million views.
7. In seventh place is a commercial for Always #LikeAGirl called "Keep Playing" with over 28 million views.
6. Sixth place is a Mountain Dew's Super Bowl commercial for the Kickstart drink called "Puppymonkeybaby" with over 28 million views.
5. In fifth place is the television advertisement for Clash Royale called "Theme Song" with over 38 million views.
4. Fourth place went to an ad for Samsung Mobile Galaxy S7 and S7 edge called "Official Introduction" with over 46 million views.
3. Third place was captured by an ad for Nike Football called "The Switch ft. Cristiano Ronaldo, Harry Kane, Anthony Martial & More" with over 58 million views.
2. The Knoor ad for #LoveAtFirstTaste came in second with over 60 million views.
1. Arnold Schwarzenegger starred in the Super Bowl ad for Mobile Strike called "Arnold's Fight," which dominated all the others at over 103 million views to capture first place for 2016 on YouTube.
On YouTube, it is possible to create a video channel and regularly invite subscribers to watch new videos as they are released. Videos can also be placed on Vimeo, which is used by over 45 million people worldwide. Vimeo focuses on high-definition (HD) video quality so it is frequently used to showcase work from professional production companies and documentary filmmakers.
The Stages of Video Production Services
The reason why organizations use professional video production services is because of their expertise in producing a high-quality result. Consumers and business clients all expect to see a high-quality video because the cost of the equipment for making an HD quality video has come way down in the past decade. An HD quality video camera that used to cost 50,000 Euros ten years ago, costs only about 5,000 Euros today.
In this stage, the client who the video is being made for meets with the video production team to brainstorm together about ideas for the video. Perhaps an ad agency is also involved in helping to come up with a creative concept.
A first draft of the script for the video is made and then the client meets again with the video production team to discuss it. Changes may require the script to be re-written many times and fine-tuned until everything is acceptable to the client for the budget required to shoot and edit the video. Once the final draft is approved the next step is to create a storyboard and shooting script.
A storyboard is a collection of an artist's drawings that depict what the video will look like shot-by-shot. From the final, approved storyboard a shooting script is created. Actors are hired if needed and a shooting schedule is made. The scenes are usually shot out of order based on the locations needed, actors' availability and other concerns that make the shoot as efficient and cost effective as possible.
If the shoot takes more than one day, at the end of each day the "dailies" are reviewed by the video director with some of the production staff to make sure the shots needed for the video were captured well and that there is no need for any re-shoots.
After the video shoot is complete, the director and editor assemble the scenes in the correct order to prepare a rough cut as the foundation for adding other elements.
Stage 6 – Special Effects
If any special effects are used they are inserted in the video to make the scenes complete. Actors are frequently shot in front of a "green screen," which is a chartreuse (bright green) coloured backdrop and then the digitally created special effects are dropped in to replace the green screen with another background. A special effect can be almost anything, such as a street from another historical period, a monster, an explosion, or some futuristic, fantasy view depending on what is in the script.
If the script calls for any voice-overs, such as the voice of a narrator, these voice-overs are added in this stage at the appropriate times in the video.
Foley work is the adding of sounds to the video of things that normally we associate with making a sound, such as a door slamming shut, people taking steps, or the glass breaking of a window hit by a rock thrown at it. Sometimes sounds that are not the same as the real sounds are added as well to increase the impact of a dramatic element.
Music is added to tie the whole video together and to enhance its overall appeal. The music is mixed in strategically so it does not overrun the actor's dialogue, any voice-overs, and any Foley work that needs to be heard as well.
The director and the editor work together to make a "final cut," which will be presented to the client for their approval. Fine-tuning of this edited version is made to create a version that is ready for duplication in the formats needed to complete the project.
Formats for the Final Outcome
Because the video is shot in HD, which is the highest quality standard, it can be reproduced in multiple formats depending on how it will be shown. If it is going to be used for a convention or conference the full HD version can be used. If the video is going to be used for a television commercial it needs to be formatted according to the needs of the various broadcasters that may have different requirements. If the video is going up on a website, being put on Vimeo or YouTube, a compressed format will be used that is optimized for video streaming on the web and for faster downloads.
Video Production Services for Specialized Video
Beside videos used for commercials or to promote a product or services, there are special types of videos that require additional functionality, such as creating an interactive video for use in a kiosk display or making a video display well on any type of mobile device with various screen sizes. For a kiosk, the video may playback automatically in a loop that repeats or the playback can be trigged by motion sensors as someone physically approaches the kiosk.
Corporate videos use for training or demonstration can be interactive and allow the viewer to change a shot angle, zoom in or out, run the video in slow motion, and direct the flow of the video's progress during playback.
Another specialized use for video is to document legal depositions. The video used in legal cases must be shot according to the court rules of that jurisdiction, such as the camera being held stable on a tripod at eye level with the person giving answers in the deposition. The rules of lighting and how the video needs to be shot must be followed explicitly in order to be accepted as evidence in a court.
Summary
Professional video production services are being used extensively to create videos that have a powerful impact and meet specific needs. Most organizations and companies find a great benefit using videos for their marketing efforts and training programs that are professionally shot and edited.