Picture this; it's midnight, and you're home scrolling down social media apps. Suddenly, a huge stuffed-with-melted-cheese-and-other-goodies burger sandwich video makes you stop scrolling and immediately compels you to order this sandwich. Well, this is the power of good video marketing for food businesses!
Whether you own a restaurant or have a food blogging page on social media platforms like Instagram or TikTok, you need to master food and restaurant video marketing techniques to help your business grow. While posting photos is a nice way to show off your food or restaurant, videos have a stronger effect on your audience. Every element used in these videos, including colours, angles, motion, quality, and pace, has a huge impact on making or breaking your business.
That said, we'll share with you some excellent food and restaurant video marketing techniques that will make your business stand out.
What Is Video Marketing for Food Businesses?
Simply put, video marketing for food businesses is best defined as taking videos of the products you want to market in order to grow your business, gain as many customers as possible, and increase your social media and online engagement. When you think of it, video marketing has been there for God knows how long, and it's proven to be a tremendously successful means of marketing that we're used to seeing on television. However, nowadays, video marketing has taken a more modern approach. It's no longer exclusive to international brands or large national franchises; anyone can do it!
The content of your videos can include anything you think can help promote your business. From how-to videos and easy recipes to coming-soon special events at your restaurant and sneak peeks at your menu, the options are limitless.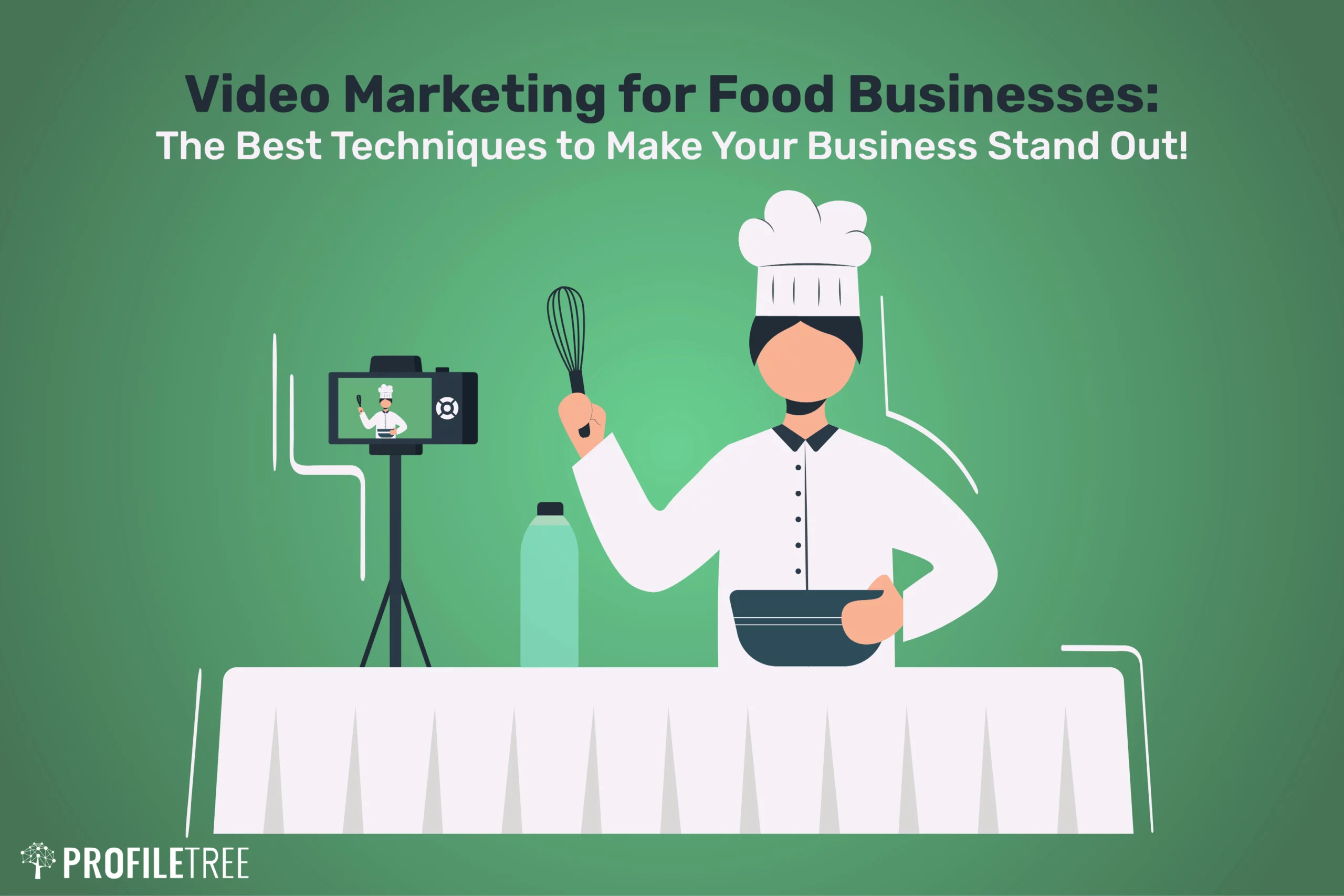 Why Is Video Marketing Important for Food Businesses?
Absolutely! Big companies and international brands benefit from food marketing videos since they keep their customers engaged and loyal while keeping them up-to-date with their new products and deals. However, small restaurants and start-up businesses can benefit even more from marketing videos since they can be affordable and budget-friendly. If you have a small restaurant or a new food blog, your profit is likely to increase once you use video marketing and social media ads. Check out the following tried-and-true benefits of video marketing for food businesses:
Online Engagement
Compared to all the types of posts on social media (including Instagram, TikTok, Facebook, LinkedIn, and Twitter), people are likely to engage the most with videos since they're more vibrant, attractive, and entertaining. Your videos can also be controversial or argumentative, which will lead people to comment on or interact with them. The comments, likes, and shares will get your brand more reach on all social media platforms, and with the right SEO strategy, your video can appear on the first page of Google search.
One of the techniques that can encourage your audience to interact with your videos is including the call-to-action strategy. Instead of simply showcasing your products, you can ask people to say their opinion about something, do a poll, or choose between a couple of options. By applying this strategy, you're indirectly urging people to comment and engage with your videos, hence improving your business.
Gain Traffic
Your food blog or email marketing strategy can benefit a great deal from video marketing because they're likely to receive a high click rate and gain more traffic. We'll even prove it to you. According to 2023 video marketing statistics, 91% of marketers report that video marketing has significantly improved businesses and increased traffic.
Sharing Is Caring!
When your current and potential followers like your videos and start sharing them, they're unknowingly caring about your products or services. On top of that, people like videos more than any other (possibly boring) type of post and are likely to share them more than any other type, like texts or images.
Proven Sale Increase
It only makes sense that when you reach more people, get them to like your content (consequently like your products), and encourage them to engage with your videos, your sales are going to increase significantly. Even if your food blogging page doesn't offer services or sell products, you'll still witness a significant improvement in your social media accounts in the form of gaining more followers, receiving gifts, getting paid partnerships with well-known brands, and more. If you need actual video marketing statistics, 89% of people who viewed marketing videos got convinced to make a purchase immediately. Do we need to say more?
Videos Are More Attractive and Memorable
Did you know that social media users are likely to stare at your video 5 times more than a photo post? The combination of sound, motion, and colours attract people more than still, lifeless pictures. To top it off, by posting marketing videos, your audience is likely to keep it at the back of their head whenever they want to eat in a fine restaurant or find good recipes to make dinners!
Video Marketing Ideas And Tips for Food Businesses
Now that we've talked about what video marketing is and its importance for food businesses, it's time to list some creative and unique ideas and tips for your marketing videos.
Target Your Local Audience
If you own a restaurant, it only makes sense that you target your local audience that is likely to visit it—that's one of the basic rules of restaurant video marketing. People living nearby your restaurant will probably be your most loyal customers, so make sure your videos target those individuals. But you don't have to stop at that! Keep in mind others who live in your country or city that may be tempted to travel the extra mile to your diner to grab a bite.
Your online food blog will also benefit a lot from local audience targeting since they're the ones that will most likely visit your page, especially if you use your native language to voice-over your videos or write the description.
Mind Your Video Optimisation
While the quality of your video content is a given, optimising your videos to be visible on all platforms and devices is another thing you should always pay attention to. Your audience is probably going to watch your videos on their smartphones on social media platforms, so make sure you optimise your videos to be visible to them properly and tailored to fit each and every platform. You can use a video compressor to help achieve this goal. These tools can reduce file sizes without compromising quality, making it easier for viewers to stream your content seamlessly, especially on mobile devices with limited bandwidth and storage capacity.
Choose Unique Moments to Film
Has your account reached 10k followers? Is it the opening of a new branch of your restaurant? Share these unique moments with your followers and potential customers in a high-quality, entertaining video. Nothing beats business/personal special moments when it comes to filming a food marketing video.
Instruct and Share Tips
People on social media are hungry for handy information delivered in the easiest and quickest way possible. Make your videos help people learn new information or share useful cooking tricks that will make their life easier. You'll most likely gain more followers and, most importantly, gain their trust and loyalty as long as you're delivering correct and simple information.
This is one example demonstrating this idea:
Invest in a Professional Videographer
Yes, you can watch as many YouTube tutorial videos as you can and learn how to take stunning shots, but they'll still be missing the spark of a professional videographer. When you invest in one, they'll know how to make your dishes look irresistible and concentrate on the bits that will attract the viewers, thanks to their experience.
Pick Your Music Carefully!
A great food video with lousy music won't have the impact you're looking for. People will either mute the sound, making them instantly less interested, or simply continue scrolling down. Always go for appropriate, catchy, trendy, and pleasant music for your marketing videos. Not only that, but the music you choose should match the overall vibe of the video. For example, if your video is sentimental or touching, steer clear from upbeat music.
Grant Your Followers a Chance to Know You Better
Humans are curious creatures, even when they pretend not to be. Use this to your advantage and feed their curiosity by sharing bits of your personal life, how you started, how you established your business, your educational/business background, and more.
If, for example, you're the manager of a family-owned business, share your family's story and even introduce your family members to the followers through an engaging and entertaining video. Instead of simply stating their names or sharing basic information that may not concern the viewers, choose touching content that hits the soft spot of your followers and even makes them shed a tear or two.
Make Them Brief and To The Point
Long, boring, or shallow videos will instantly make your audience lose interest in whatever you're sharing with them, even if you're offering free products. Short and pleasant videos are the answer! Generally speaking, 30-second videos are appropriate, but if you think your video needs more time, make sure you only include interesting content that compels your audience to keep watching. Also, note that it depends on the platform you're sharing your videos on. 30-second videos may be a bit short for Facebook, for instance.
Use Inspiration
We're all about uniqueness and creativity, but it doesn't hurt to draw some inspiration from other food blogs or similar businesses (never copycatting). Inspiration will help open your mind to come up with new, enticing ideas for your business. Take notes of every aspect and learn how others gain more followers and increase their audiences.
Have Fun!
Finally, have fun while doing it and enjoy the process. Don't think of it as a burden or duty. You're marketing your products or services, so the process of doing so should be enjoyable to you so that your feelings can reflect on your videos, in which you can pass the vibe to your audiences.
How Can Profiletree Help You?
As Northern Ireland's leading video marketing agency, we can help craft the best videos for your business to draw in your audience while keeping your brand's personality, thanks to our result-driven team. Our experts are here to assist you in every step of your video marketing journey, from writing compelling scripts to shooting and editing and finally delivering the finest results.