Anything in the world classifies into only two categories: things that need an explanation and things that are clear enough. It's for this reason that the term "explainer video production" has become so commonplace. If you've ever thought of making an explanation video, here is your one-stop shop for doing so.
These short clips have risen in popularity in the last few years as people spend more time on their phones, working online and researching many topics.
Are you considering investing in any explainer videos? Do you want to make a video explaining your offering in 60-90 seconds?
Using an explainer film to connect with potential customers and introduce them to your company is a smart move. The challenge is in mastering the art of the explainer video.
Since these videos may smack dab on your YouTube channels or your homepage and are the first element your visitors' eyes will catch, it's significant to nail it the first time. This will display how effective your product is.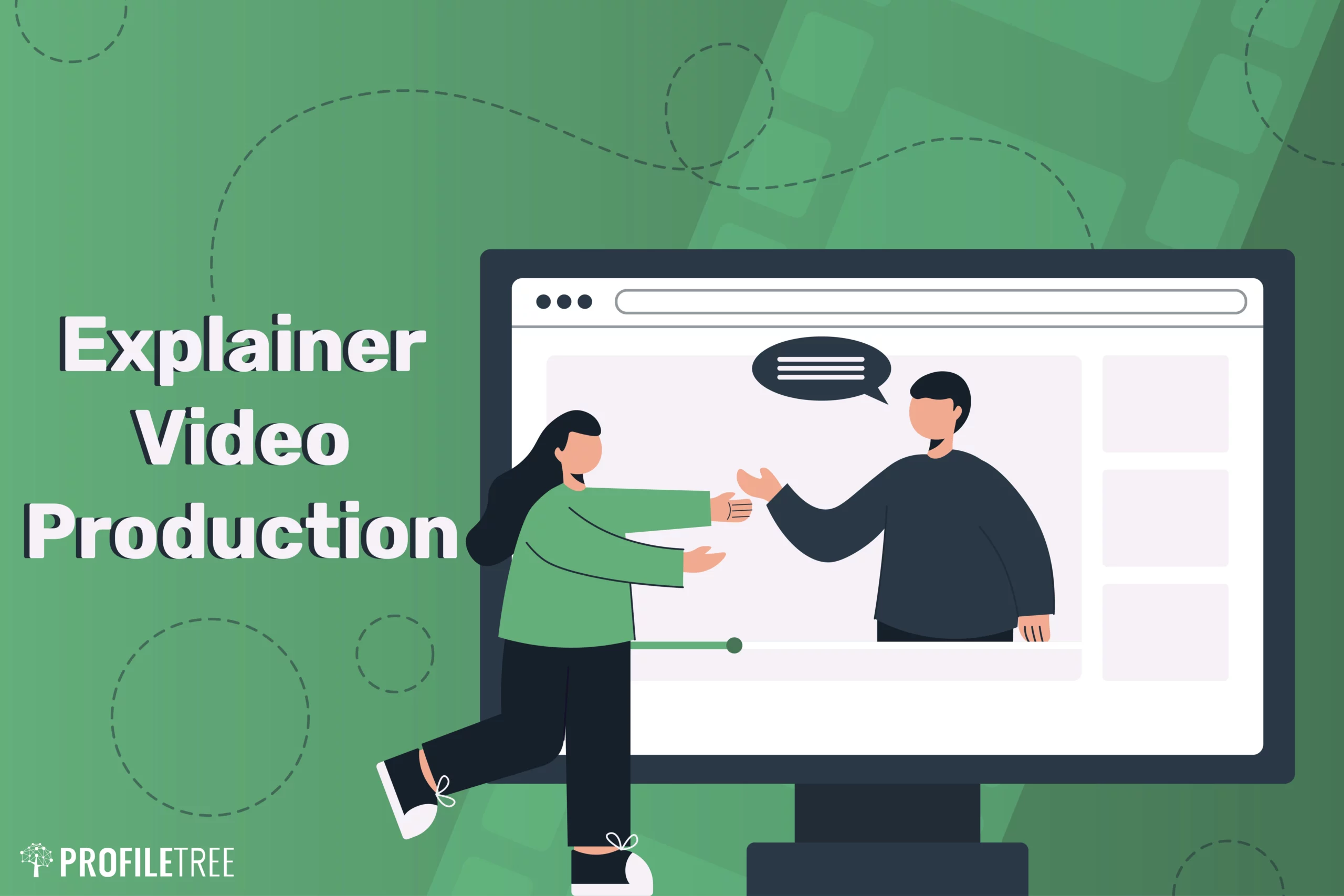 The following tips reveal our best-kept secrets for creating an explainer video to position your company vividly, generate more revenue, and attract leads.
We will help you create your own easy-to-use video version to spell out the details of any service and product to educate your customers in an impressively entertaining way.
OK, let's get to work.
What is an Explainer Video?
You've undoubtedly seen them in and around business, where they serve what their name entails. They aid in clarifying the services your company provides.
A short video format to grasp the viewer's attention long enough. This video should be engaging and entertaining, where you will introduce your product or service or explain something about your company.
The main purpose of your explainer video production is to make it easy for everyone to understand your concept and business idea— even if it is complex! You need to break it down into an interactive piece that everyone, mainly your target audience, loves to watch and share.
Everyone may go from knowing nothing about your product to being eager to learn more after seeing this short movie. Try to get those unfamiliar with your brand excited so they can easily describe its core values to someone else.
Now, we will explore the difference between explainer video production and other traditional marketing mediums or any way of business communications.
First, if you want to showcase your product's features to your target audience to convince them to purchase your offer, the explainer video is perfect! Let your audience know why they should care about your business and buy your product.
So, it's not a pushy piece to sell. Instead, you need to justify your audience's buying from you after spelling out the solution to their problem.
Now, you might still see how there would be an overlap between traditional ads and explainer videos. No worries! We will dive into some of the hallmarks to create your unique explained video and what makes a great one.
Why Explainer Video Production
Before providing a how-to guide, let's break down why brands use explainer videos.
So, imagine that your employer has asked you to find a suitable team communication tool or platform for the organisation, and you have a lot of work to do before lunchtime.
If you type this in Google, "intelligent communication platform for the project team, " you will see software tools that complicate your mission. Consequently, you will visit their websites in search for details.
If the content on the first website's front page is overwhelming, you will leave the page instantly. If the second one has so many graphics with complicated steps for installation, CLOSE the tab. The most recent one is broken up in the middle with a 90-minute video tour of the tool's features.
So, which one will you give a chance?- or at least will you explore first? You will most likely watch the explainer video and share it with your boss.
That's not our assumption. But it's what Oberlo's report pinpointed (In fact, 54% of all internet users would rather watch a video than read text.) That's why when written material becomes ineffective and bland, an explainer video will make magic.
Your only mission now is to make something enchanting and persuasive. You need to motivate your audience to take the desired action. So, how can you put this into action?
There are several advantages to using explainer films in your marketing, sales, and onboarding efforts. All right, let's briefly examine a couple of them.
It's said that: "One picture is worth a thousand words!" We say a video is worth millions. It's no secret that video has proven to be the most profitable form of content marketing for businesses. Many researchers have found that people can process images 600 times faster than written blocks.
Creating an engaging video that explains your product features and benefits is a perfect approach to increasing your brand awareness because people tend to watch more than read.
These days, anyone may launch a professionally designed, eye-catching website. If you need to know how to set your brand apart from your competitors, explainer video production is a good place to start. It can quickly position your brand ahead of your competitors, entice your audience to try your offering, and increase credibility.
More Effective
The typical human being can only focus on something for up to six seconds, according to research. Therefore, if you have a helpful product or software, don't expect the regular internet user to be willing to read a 2,000-word post demonstrating your concept. That's why it's helpful to see an explanatory or explainer video.
You don't need to consume your brain, energy, and time to persuade your audience to give your product or service a chance by generating multiple blog posts. You can summarise your value proposition or selling points in a short video.
However, that doesn't mean your written content is useless. But you just need to make a balance between two things:
What you have to create something more interactive and engaging to capture attention and pique viewers' interest.
When you need to talk more in long posts.
Also, your video will be a great way to persuade your audience to keep reading and exploring your website.
More Memorable
If you're concerned about retention rate, explainer videos can help.
Famous psychologist and writer Dr Haig Kouyoumdjian has some words about the subject: "Visuals are concrete and, as such, more easily remembered." Words, he said, are immaterial and hard for the mind to store.
If you want to persuade customers to buy your product, an explanation video of professional quality is essential. This can also increase the likelihood of conversions, engagements, and word-of-mouth promotion among your target demographic.
Explainer Video Production in 6 Simple Tips
In what follows, you'll learn how to make an explainer video that does double duty as a lead generator and a conversion driver.
What is the Purpose of Your Explainer Video
It seems you need to create this type of content. So, here is the question: is it an explainer video, an extension video or a screencast? Maybe it explains an app?
You also need to define the purpose of your video; is it for sale, teaching, training, or just explanation? Should the tone be informal or formal? Who will display the features? Create an outline of all these details and prepare for the most important part of this process.
Start With Compelling Script
Your explainer video's potential can be significantly increased by a script successfully performing its job. It's a key to successful video content—a foundation upon which everything else will be built.
But it might be tricky to write about your service. Why? Because you will talk from a business owner's perspective. Thus, in most cases, it helps to hire an "outsider" writer to create the script. Choose a content creator or a freelancer who can take a fresh look at your business vision and explain it in a way everyone will understand.
A creative application or brief is typically required before working with professional explainer video production companies. Then, you can book a preparation consultation call. It encourages in-depth, strategic consideration of the big picture of your company and forces you to focus on what is really important.
But if you want to elicit all valuable ideas before going to any video marketing provider, go through the following similar exercise.
What is your product or service about?
What is the best about your product or service?
Who is your target audience?
What problems can your product solve?
Explain the process through which your product or service achieves its desired results. (at least 3 features)
How does your product or service work?
What kind of voice does your company use?
Do you have any preferred creative direction?
What is the call to action you want to emphasise?
How do people see your company or product?
Give the results of your brainstorming to a talented scriptwriter. The team could keep on track because of this detailed creative brief.
Build a Storyboarding
In doing so, check if the visual tone and storyline are what you had envisioned. Also, it will keep revisions and surprises to a minimum. Why? Because this way will help everyone get a clear picture of the video plot, and if any edits are needed, the photography crew will be able to make them before even starting filming.
In addition, if your film features any characters, the production agency can work with you at this time to finalise the look and feel of each one.
The Shorter, the Better
The ideal length for your explainer video is around two minutes. On the other hand, if you can do it in under 90 seconds, you'll be in fantastic shape. The less you have to say, the more attention you will get.
We know there's a lot more you'd like to say about the features and benefits of your product, but keep in mind that this is only an explainer video. So, focus on the "hook" that gets people glued to the screen to take them to the next step.
How Many Words Can You Spell Out?
The standard rule of thumb in the video production industry is 150 words per minute. You could talk even quicker than that, but remember that people need time for what you say to grasp and make sense to them.
You want a little breathing room, so keep your script concise. In addition, the longer your video is, the less attention it will receive because viewers have plenty of other exciting options to choose from.
We know it's tempting to tell everything about your product. But, unfortunately, it's the hardest part. The trick here is to be very concise and cut your script down. Put yourself in the viewer's shoes and find out what they want to hear most from you.
Make it Super Simple
To keep it short, you need to simplify your idea so that everyone will be invested in what you're saying. Let's learn more about the four aspects that make the explainer video more successful.
The primary issue: depending on your market research, address the pain areas your clients have in the introduction (0:20).
The solution: now you have a few seconds to introduce your product, service, or offer as the answer to their problem.
How it works: after the first 25 seconds, you can briefly describe how your offering works or how to get started.
CTA: before your video is complete, tell people what to do next—a call to action.
Create Something Focused and Efficient
We realise you have much information and little time to explain it. Therefore, you should strive towards simplicity. This method of communicating aids in clarity by requiring you to ask follow-up questions about your message. You can now determine what information is essential and what your audience can go without.
Also, there is no need to tell your viewers about everything about your company or offer. Your explainer video production should give your audience a direction, and other marketing efforts can do the rest. Instead, you will show them what they need to know on their first hearing.
That also adds a side benefit of honing in on your ideal audience by cutting down your information to only what they care about. As a bonus, you'll be able to zero in on your target audience by removing any irrelevant details from your content. It's far more likely that they'll watch the rest of your video if they feel like you're addressing their specific concerns.
Make Your Video Narrated
Things in your explainer video will be moving quickly. If you're going to use animation or motion graphics, you don't have to bother syncing lip motions to speech.
To guarantee a positive experience for your listeners, having someone with a kind, authoritative voice is crucial. This also tends to be where business owners are willing to slack off or not pay the total price, but please refrain from skimping or going unprofessional second-rate on the voice. It's incredibly important.
Stick to Benefits, Not Features
Whether you have a new app, web service, or physical product, the temptation is to demonstrate as many features as possible.
Imagine you want to promote cybersecurity software. What is more meaningful and impactful for your audience; the robust monitoring and anti-virus system or how this program will make their company safe due to blocking malware? Undoubtedly, it's the benefits that really make sense to your customers.
If you drone on about technical noses, no one will even continue watching your explainer video. Inquiring minds want to know how YOUR PRODUCT will IMPROVE their lives. For example, if you have a new device for them, swap out the storage feature for plenty of space to store your lovely photos. You get the idea!
Where to Put Your Explainer Videos
To increase interaction with your audience, share your explainer films across many channels. Let's see where most companies tend to post their explainer videos.
Your Website's Homepage
Since an explainer video production will help you reach your audience and convey your point, the best place for it is your website homepage.
Now, you have a great tool to demonstrate your offer clearly and entice your audience to stay on your page for much longer to subscribe, sign up, or follow any other CTA because they will become more knowledgeable about your product features and how it can help them make their lives better.
What if you don't know where you can start?
Go around and browse the internet to find the most asked questions about the solution you provide. That can only happen by conducting marketing research and analysis. Then write down a well-structured script that answers those questions.
About Page/Brand Story
Most companies' second most popular page is their "About". "Company History" or "Our Story" sections–one of the most-visited pages on business websites.
Why? Because when we find a website compelling or a product or service that meets our needs, we need to explore who is behind this amazing work.
So, it's another good place to leave your explainer video to bond with your customers, display what you have, and emphasise that your product goes beyond their expectations.
Pro tip: on the About Us page, you can share your values, tell a story, and share your audience reviews which will be your selling point and help your company stand out.
Featured Pages
If you're trying to sell a technical or complicated product like software, it might be hard to describe how your product excels. That is where you should think of explainer video production, which can make your job super easy!
What if your product has many features that can solve different problems for your audience? The optimal approach is to build a video for each instead of overwhelming your viewers with long text explaining how amazing your product is. That's how you can increase your product's credibility and marketing performance.
Presentations and Conferences
Pro speakers and good presenters use a different approach depending on spanning listeners' attention by integrating an engaging explainer video that can tell more with visuals and good narration.
Forget about bland PowerPoint slides that will alienate the audience. Instead, use a high-quality explainer video that demonstrates your point of view. It will help you get your point through and give you more credibility and professionalism.
Social Media Platforms
All social media platforms support video content after we all see that it's the perfect way to be clinging to the screen. However, only a few seconds (under ten seconds) will make us decide if we will keep watching or keep scrolling. Shocking! Actually not. That explains a lot about why the short module of videos "reel" on Instagram is booming.
The lesson? Focus on well-centric, inspirational, original content. If your explainer films meet these criteria, by all means, publish them.
Marketing Campaigns
A video may greatly boost the power of your message, whether you're trying to convince investors to back your small business or get the word out about a good cause.
Donors and investors may see your plans in action with the help of a short film. This may greatly help get the word out and attract funds to your project.
Types and Examples of Explainer Videos
Explainer videos can take more than one form. Each one may be better for specific objectives that others. For this reason, it's important to have a clear understanding of the various types of explainer video.
Animated explainer videos have become the most used video format to show services and other intangible technical features such as software programmes. They are cool and digestible. Some services, however, include very few tangible elements, making producing some explainer films impossible.
Animated videos let your imagination run free, and they're also simple to modify if anything needs to be changed down the line. You can book your consolation call today to find the best way to implement your idea. Here is a brilliant example:
If you're looking for a top-notch project management application, go no further than ClickUp, which promotes itself with an engaging 2D animated explainer film. ClickUp made it right by illustrating its identity, purpose, and people who can benefit from its service. By watching this promo, you can catch up on the challenges their audience face and how their product can be game-changing.
But what we like the most about this video is that using entertaining animation with well-designed characters that will pique your interest to subscribe to their service.
Live-Action Explainer Videos
It's a promotional video that doesn't use animation to discuss your company's service or product. Business-to-consumer (B2C) enterprises can benefit greatly from live-action explainer videos, such as those offering personalised consultations or advertising restaurants.
Hiring real individuals to participate in a live-action explainer film is the ideal way to engage with viewers on an emotional level since we are all wired to identify instinctively with other humans. In other words, we love to see human faces.
Here is a brilliant example:
Let's talk more about this masterpiece!
This hilarious video comes with "Girls don't pop" as the title. They always love to create something edgy. But this one is LOVELY!
Poo-Pourri follows through and goes all in with this wacky explainer video featuring a new toilet spray that will be a lifesaver in many situations.
But what makes this explainer video production so well? Because they know their audience very well, down to a tee, this explainer video is not only clever but also so convening. This campaign has evoked one question: how have we survived all these years without this cray spray? (Actually, I have no idea!)
There is no surprise that this video has reached over 9 million after only 2 weeks and over 44 million views by now!
Live Streams on Social Media
These are pretty similar to real-life videos, except that they can be watched in real time and (this is the risky bit) cannot be edited. Yet, by displaying a large amount of uncut film, blunders and all, you will reveal more about your brand while also humanising your business. When you're done recording, you may save the video to your account.
This explainer video production is quite popular in online retail industries and the e-commerce stores that help your brand drive sales as these videos increase credibility.
Expert advice: If your product is constantly changing or if you lack expertise in shooting and interacting with people in real time, skip the live feeds.
It's hard to find a live-stream video explainer, but if you have stumbled upon one, please share it with us in the comments.
Whiteboard Explainer Videos
Whiteboard videos are animations created by hand on a whiteboard. It's one of the least expensive ways to produce an explainer video, and its success directly results from these two factors. Here is a brilliant example:
The author of "Smarter Faster Better", Charles Duhigg, created this engaging video to explain how great teams come together and the power of cooperation in workspaces on the example of Google and SNL.
Whiteboard explainer videos like this one are classics. Everything is perfect about this combination: the dynamics, music, narration, tone of voice, and effects. We highly recommend building your own if you're on a budget.
However, with whiteboard videos, you need to be careful— if the narration is not clear, the visuals are not clean, the plot is complicated, and the message is vague, no one will watch it. So, keep things simple as you can.
Want to know more about video production equipment?
Check out these reviews for the DJI Osmo 5 and the Powervision S1.
How Can Profiletree Help You?
We aim to take our experience and share it with your vision. That's why we are keen to collaborate with you to discover your customers' pain points and highlight how buying from you will allow them to have their concerns fixed. The frustrations and challenges they're currently going through or trying to overcome.
Our goal is to answer your prospects' questions and concerns.
High impact. Real results. No penny wasted. No fluff.
Let's work together.