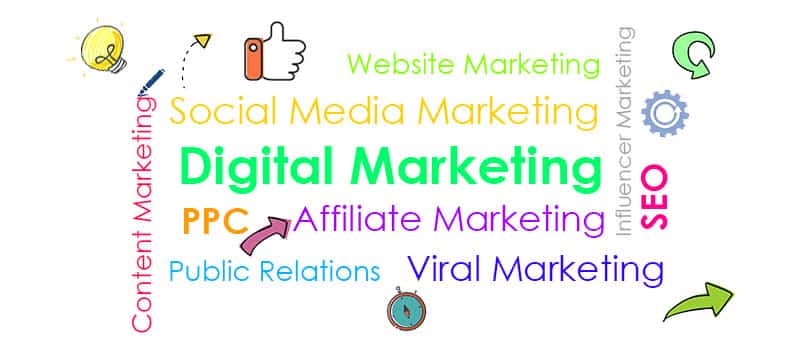 Having an online or digital marketing strategy to position your organisation is crucial in today's technological environment. It should be a strong element in your strategic efforts to acquire brand equity in the digital space during the transformation of the way customers interact and engage with businesses.
The importance of digital marketing is continuously growing, as 35% of organisations currently have a clearly defined digital marketing strategy. As an organisation, why do you really need a digital marketing strategy?
Many companies have not taken the time to create a digital marketing strategy. They have no clue what they need to do, why they need to do it, and how to go about making it happen. Having clear goals and objectives will help the marketing team structure the budget and formulate a plan of action.
To  determine market share
You won't know how well your digital efforts are doing if you do not have a strategy in place to assess your analytics. In order to fully assess your impact, you must understand your online audiences.
To compete with competitors
If your competitors have a strong online presence and you don't know why chances are your team has not researched your competitors or developed a plan to counteract their efforts.
To understand online audience
In order to be effective in a space, you must understand what drives it. If you do not know your online audiences, you will not be able to craft campaigns and implement marketing tactics that will engage and keep them coming back for more.
Budget is always a major consideration, but advertising dollars must also include a digital component. Insufficient resources used the right way can help the bottom line. Not having a budget will make it difficult to stand against the competition.
Efforts may be duplicated
When there is no strategy in place, you may have team members doing redundant work. A strategic plan will outline the steps to take, when to take them, and how you will execute your plans.
Having a website but no optimisation is just like having ice cream but no freezer. Your strategy will help you optimise every element for your audiences to continuously improve organically and through your other online elements.
There are a number of types of digital marketing that can prove useful for your organisation. All of these types of marketing can be beneficial when strategically paired with a working digital marketing plan. Each one of these digital marketing types has a purpose and can help you with the brand image, equity and longevity within the digital space. Here are some types and what they do:
Search Engine Optimisation (SEO) is one of the strongest types of digital marketing you can use to your advantage. With over 94% of all the clicks from search results, having an optimised site and other elements that attract followers to get your rankings high on the list.
Pay per Click (PPC) advertising is one of the most effective ways to get your brand noticed in the digital space. These are sponsored links you see on search engines and social platforms. The results from using PPC vary, but it is a useful tool when you have some marketing dollars to spend.
Public Relations (PR) is one of the most traditional ways to market your brand. It works within the digital and non-digital marketing spaces and provides exposure for your brand, whether it's through a press conference or a viral video.
Social media marketing helps you connect with your audiences for exposure. This is the way you will engage and have conversations, build relationships, and demonstrate why your brand is worthy of their time and attention. This is one of the fastest ways to build a following and get your brand exposed to the masses. Almost every company and brand utilizes social media to talk to their audience.
Content marketing is a combination of digital marketing elements working together for the best results. This includes SEO, social media marketing and public relations. It entails writing good content for your audiences that includes emails, blog posts, website content, and more. This is a great way to generate leads that can quickly turn into conversions. Content marketing channels the best of your digital marketing strategy for every single audience you have.
Affiliate marketing helps you work on other things while someone else markets your products and services. Consider this – you have an ad on someone else's site and it attracts visitors. When that visit turns into a sale, you make money. You have to split those profits with your affiliates, but you are generating money for your bottom line.
Viral marketing is just that – viral. It takes the best of your digital marketing efforts and makes a huge splash overnight – literally. One video that garners a lot of attention can increase your followers and your bottom line within a couple of hours. An excellent online marketing strategy, when your efforts go viral, you are doing something right.
Relatively new, this type of digital marketing is making a big splash. With influencer marketing, you drive sales by partnering with a social influencer. In this case, think spokesperson who has the clout and image already established. With someone like this on your side, you can reach a multitude of people with one click. Industry influencers have the power to make your brand a nationally recognized entity with one word.
Website marketing is the online component of digital marketing. It includes almost all of the elements already discussed with the exception of PR. This is where you take your website to the next level, offering a user-friendly, optimised site that is full of information and elements that keep visitors fully engaged.
Digital marketing has quickly taken precedence in the advertising space and has to be a major consideration when implementing marketing plans for your audiences. Customers are used to operating online through a website or mobile platform to retrieve information, research your brand and more. Without a digital marketing strategy in place, you will miss a crucial market share that your competitors will gladly accept.
Digital marketing is no longer a choice, but a requirement for any brand who is serious about retaining their customers and attracting new ones. For companies just starting out, getting the advice and assistance of a digital marketing consultant could be beneficial. It is important to take advantage of the opportunities created in the online space now and in the future for the credibility and longevity of your brand.
While employing different digital marketing types, having different marketing types on your team is key. These seven marketing types can provide what you need to be successful in the online space:
They are obsessed with analytics and data. This is beneficial in helping you understand your audiences to improve the way you market to them.
This marketer works with graphics and enjoys graphically enhanced visuals for your marketing elements.
This person is well-versed in social media and can get your brand into the spotlight and help gain followers in the online space.
This is the person working behind the scenes to ensure your marketing efforts are working, and your audiences are having a great user experience.
Consider this your PR specialist. They know where to get the word out and who to speak to so your brand will be front and centre.
The Old School Advertiser
This person realizes the value in traditional methods and uses them to enhance your marketing tactics in the digital space.
This person knows what you're doing wrong and has no problems pulling up data and facts to back it up. Every team needs one of these people on board to keep things in perspective.
Digital marketing for your brand should occur every single day. It is important to keep your audiences engaged and interested in what you have to say and why you are relevant in their world.